In our recent webinar on local ranking factors, our expert panel agreed that it's going to be important to make use of Google My Business' native features in the coming year. Today, Steady Demand's Ben Fisher explains how to use Google Posts to boost SEO and win customers.
What Are Google Posts?
One of the most powerful local SEO strategies a business can use to improve their local search rankings is claiming and optimizing their Google My Business (GMB) listing. Even though claiming your Google My Business listing doesn't guarantee ranking in Google search results, Moz and other reliable SEO sources have shown GMB listings to be a known local search ranking factor.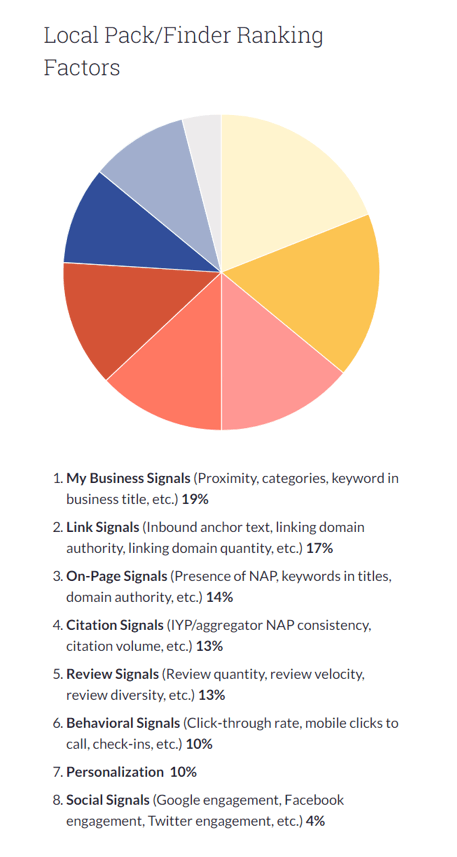 (Source: https://moz.com/local-search-ranking-factors)
Not only can your Google My Business listing help with local search rankings, but it's also one of the most important ways to connect online with potential customers or clients.
Google is taking their Google My Business program seriously. Over the years the GMB program has been in place, Google has added great features that help make local business listings more robust. These features allow business owners to include additional information so potential customers who search for your business can learn more about what you have to offer.
One of the recent enhancements added to Google My Business listings is called a "Post." The great thing about Google Posts is that when a potential customer searches for a particular business on Google, the Post shows up front-and-center in the business' Knowledge Panel: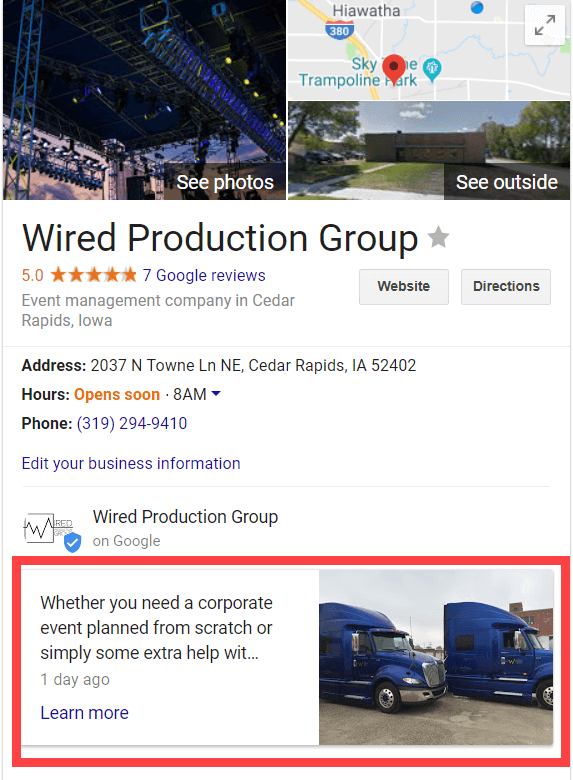 And when a searcher clicks on the Post, it expands into an amazing ad-like box that grabs visitors' attention: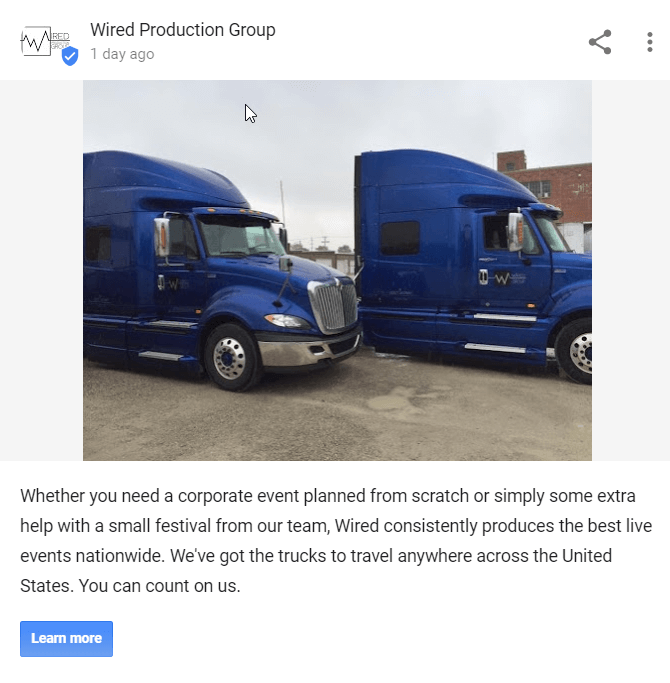 A Google My Business Post can include an image, copy, a Call To Action (CTA) and a URL that you can use to link to a landing page or your website. Each Post has a limit of 300 words, but only the first 100 characters (or fewer) of the Post appear in the business' Knowledge Panel.
Here are some general Google My Business Post tips:
Stick with 80-100 words per Post. (Even though you're allowed to write up to 300 words, depending on the device, not all those characters will be visible, and the number of characters displayed will vary – especially between mobile and desktop devices.)
Following SEO best practices, make sure to put keywords and the most important message towards the front of the paragraph of your Post.
The best image size for your Google Post is 750 x 750 and the image should be centered so that it will still look good if it gets cropped. Don't upload an image that's smaller than 250 x 250 — it won't be accepted. Be sure to preview the post before publishing. If you are not happy with the way your image looks, try uploading a 400 x 300 image.
If your image has text on it, keep in mind that the text may get cut off on mobile devices. When possible it's best to just stick with an image with no text on it.
Remember, a Post is your opportunity to talk directly to your customers, so speak semantically and use a "real-world" conversational tone in your copy.
Make sure the landing page you send visitors to matches the content of the Post and meets a visitor's expectations.
Types of Google My Business Posts
One of the great things about Google My Business Posts are they can be used to promote deals, sales, events or products directly in Google search results. To make Google My Business Posts even more versatile and appropriate for almost any type of business, there are different types of Google Posts you can create:
Book [an appointment]
Order Online
Buy
Learn More
Sign Up
Get Offer
Event
Be creative with your messaging and the CTA (button) you select to use. If you're selling a product, use the "Buy" or "Order online" option. (NOTE: To get visitors to your store or business, create a separate page on your website that shows off the product you're featuring in your Post and then include your store's contact info on that same page so it's easy for people to find your business' physical location or phone number.)
Want the visitor to book an appointment with you? Select "Book" and link to your scheduling page on your site or include your phone number so it's easy for them to call you to schedule the appointment. Want to increase your email subscriber list? Choose the "Sign up" option. Are you offering a coupon or having a sale? Pick "Get offer" and include a special offer or coupon – something that will help get that potential customer to stop in or buy from you.
You'll notice that you can also create an "Event." An Event is anything that has a start and end date (i.e. a sale that may start on January 1 and ends on January 5 or it could be an actual event like a musical event at your local theater.) Event Posts stay "live" on your Google My Business listing until right after the event end date. (The Event Post will still show up in the archive but will not show in the business' Knowledge Panel.)
How to Use Google Posts to Get Visitors' Attention
When people are searching for your business online, your company's knowledge panel takes up a lot of the search results real estate: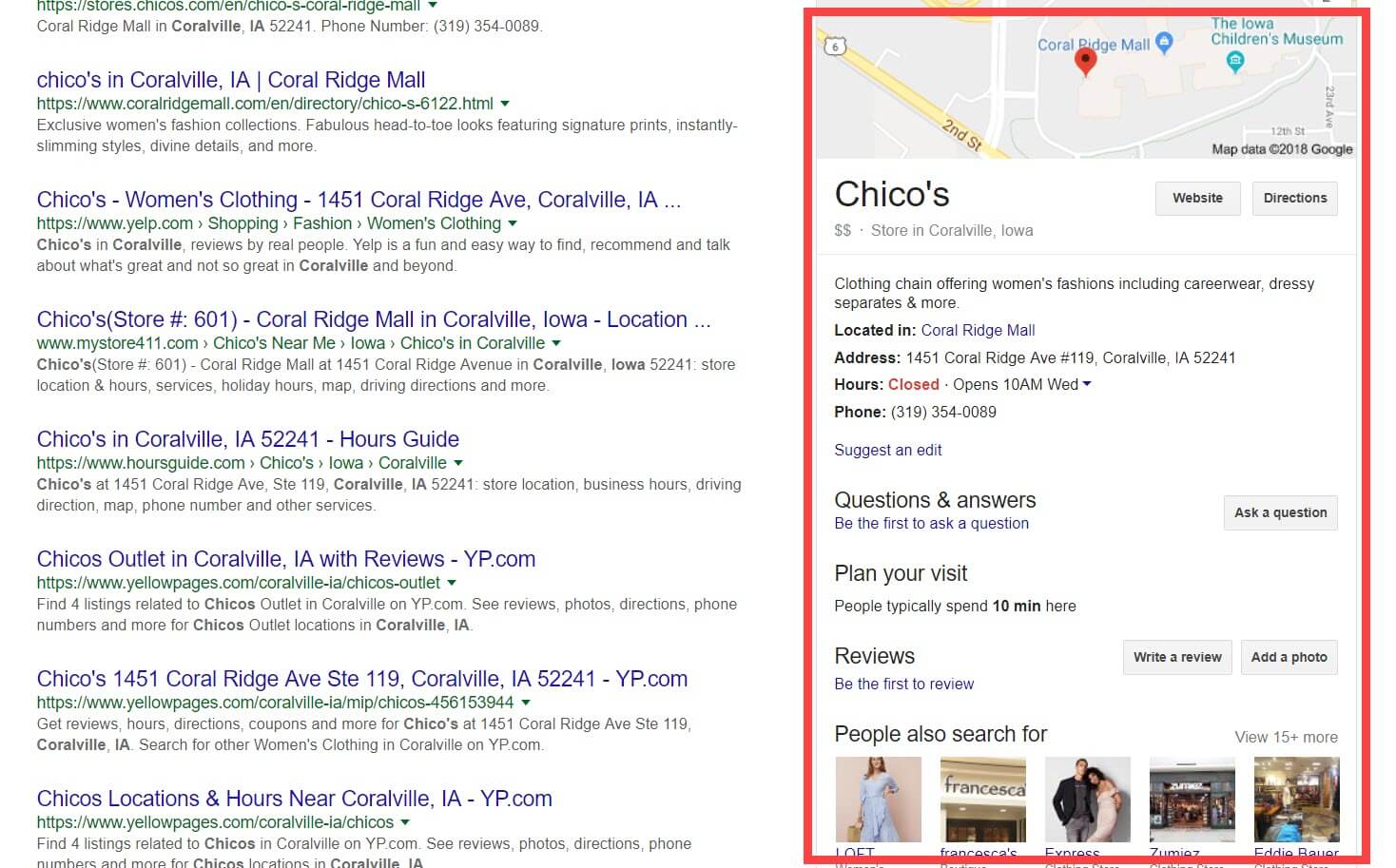 Take advantage of this space to create Posts that grab a visitor's attention. The GMB Post allows you to speak directly to the person who sees this page online – so make your message worthwhile to them.
Don't waste valuable characters with hashtags or keyword stuffing – it doesn't give you any SEO benefit and looks spammy to the user.
Use this valuable spot to feature something that is of value to your potential customers. A restaurant in Irving, TX, did just that…and got some amazing results!