On September 11th, Google released a major update to how they detect automated queries (aka 'scraping') of their pages. Here at BrightLocal we use scraping techniques to get data on search rankings, citations, and reviews, but since Google made this update it has been much harder for us to get this valuable data and so we have been rapidly implementing a new approach to ensure that we can continue to provide accurate, timely reports to customers.
The good news is that reports are all running again and populated with the data you need to analyse performance, identify trends and report back to clients. In order for this to work, we have had to make some adjustments to how our reports function so we can keep getting data from Google.  These changes are explained below along with any actions that you may need to take with some of your reports.
Rank Tracking on Google Local Results
We have updated how we identify and track your rankings in Google's Local Pack and Maps results.
Using website address still works, but Google doesn't always display websites in these results, so we have two additional ways that we can identify your listing in local results.
1. Track ranking using unique Google Places ID
Google assigns a unique ID to every business/venue/etc in their database. We can use this ID to identify and track the ranking of a business in local pack/maps results; this approach ensures total accuracy because each ID is unique and mapped to a specific business location or venue.
New Ranking Reports
When you create a new rank checker report you can now search and select your business listing via Google's API. We then store the Google Places ID and use this to pinpoint your business when we track your search rankings.
We strongly advise all users to make use of this matching option for all new reports.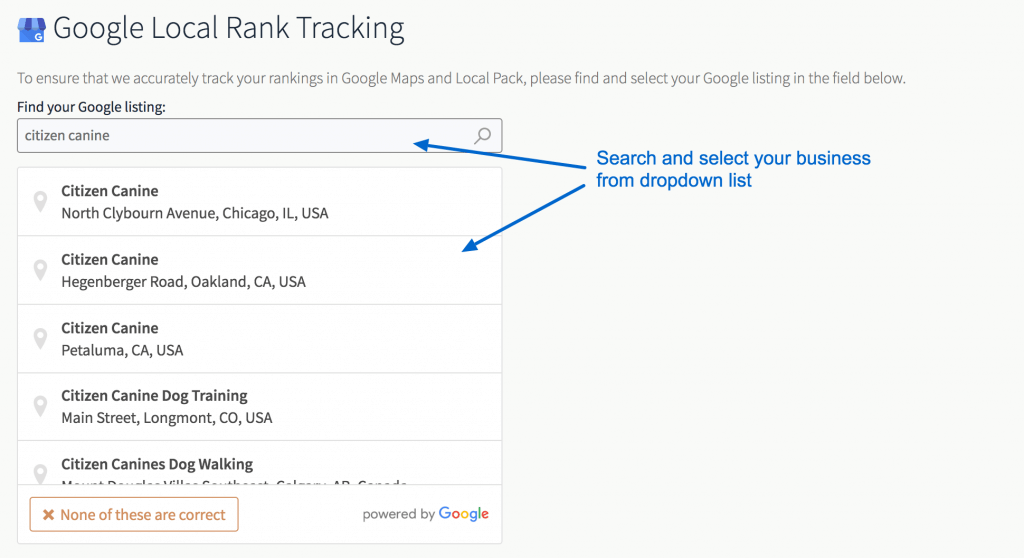 *NB – we are rolling out similar changes to our Local Search Audit and Google My Business Audit reports this week.
Existing Ranking Reports
We have already mapped the majority (approx 60%) of existing reports against their corresponding Google Places IDs, so these reports are now benefiting from this new approach. However, we haven't been able to do this for all reports and we strongly encourage users to check their report settings (go to 'Edit Report'), select their business listing in Google API if it hasn't been done already and save the report settings.
How do you know if your report/business has been mapped to Google?
When you view the edit page of a report you will see one of three different states.