Nobody likes to get a bad online review. As a business owner or employee, when you see a negative review about your business, your first reaction might be to take the reviewer's comment and low-star rating as a personal insult.
You may get upset. You might get mad. It's understandable.
However, taking it personally isn't the best way to handle negative reviews. Getting upset or angry isn't going to solve your problem. Not only do you have a dissatisfied customer, you have one who has publicly put their bad experience about your company online for the whole world to see.
57% of consumers will only use a business if it has 4 or more stars, so it's more critical than ever to ensure that your online reputation is a shining representation of your business, and that negative reviews are kept to a minimum.
Here are some tips on how to diffuse a bad online review and hopefully turn an unhappy customer into a someone who might even be willing to go back online and change their bad review into a good one.
Keep calm and take a breath
When you see a bad review about your company, the first thing you should do is stop, take a breath and think.
Don't hastily respond to the ticked-off customer without thinking things through first. (If you need to step away from your computer and walk around the block, do that. Anything to settle your emotions down.) Never respond when you're angry.
When you reply to a person who's had a bad experience with your company, it helps to have a set of standard review responses that you can use to respond. These "canned" responses will give you a starting point when you write a response to the reviewer.
Now, don't re-use the same responses over and over, but having a starting point – especially if you're upset – can help a lot. Take a canned response and customize your response for each individual reviewer's feedback.
You must respond to the negative review
If you think you can ignore a bad review, you're wrong. Not responding to a negative review is responding. It's telling everyone that sees the bad review that you don't care about your customers' feedback or experiences.

Responding to complaints can help increase customer advocacy. Not responding to a bad review decreases customer advocacy.

Often a grumpy customer just wants to be heard. If you show that customer that you've heard what they had to say and that you're happy to resolve the issue, sometimes that's enough to appease them. Replying to and resolving the issue quickly and in one "transaction" is important (known as "first contact resolution.") Customers who receive a successful first-contact problem resolution are twice as likely to buy from you again.

70% of buying experiences are based on how the customer feels they are being treated, so make sure all your customers feel loved – even the unhappy ones.

Responding to negative reviews also makes you stand out from your competitors. A lot of your competitors still won't be paying attention to reviews, so customers (and potential customers) will remember the companies that do pay attention to what their customers think. That means they'll remember you.
Resolve the issue
Don't just respond to the negative reviewer; fix the problem, too. In some cases, depending on the situation, it may mean asking the customer to contact you by phone or to stop by your place of business so you can discuss the issue/problem in person.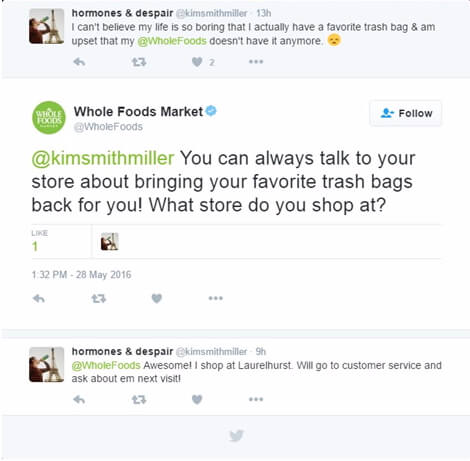 When you show you're actively trying to fix the problem, that shows the customer (and others) that you truly want to solve the issue. With trust in reviews as high as it is, going the extra mile is important. Not only does fixing the issue make that customer happier, but other potential customers will see how important satisfying your customers is to your business.
Get a second opinion
When you're responding to any type of review, good or bad, it's best to let an impartial third-party read your response before you post it online. Ask a friend, family member or co-worker to double-check your reply for message and tone to make sure it reads well to a third-party.
You know your business better than anyone, so if there's some complex process you need to explain, it could be that feedback from the uninitiated will be what makes your response easier to understand.