5 Essentials of Local Search Rank Checker
1. Track results in all main search engines
Monitor your search rankings in Google, Google Places, Yahoo, Yahoo Local, bing & bing local. Track both 'organic' and 'local' search results down to a depth of 50 results.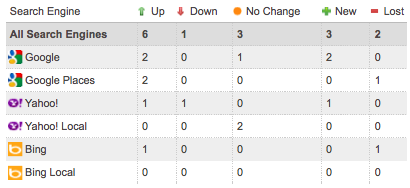 BrightLocal tools provide best of class data. Their tools are a must-have for marketers looking to optimize their organic search results.

BrightLocal has a ton of indispensable internet marketing tools that we use every day for our clients.
3. Compare current vs. past rankings
Easily compare your current search rankings to last week, last month or the very first report you ran! Select 2 date periods to review overall campaign performance or deep dive into each keyword.
Coming soon (Oct 2012) - Interactive charts to give you a clear, easy to understand view of your search rankings. Toggle the date periods and deep dive into individual search terms to really get under the skin of your search rankings.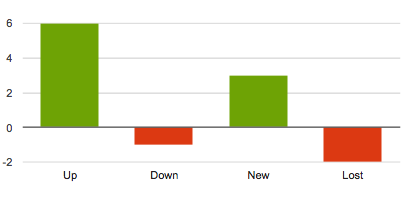 4. White-label ranking reports
Customize your ranking reports with your own logo & brand colors, and add your own introduction text. If you have multiple brands or provide white-label SEO then you can create multiple white-label profiles and apply the correct branding to each report.
White-label reports are available as PDF or as interactive, online (HTML)  reports which makes sharing with clients a cinch!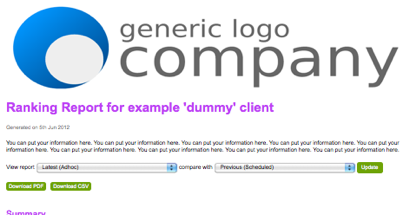 5. Search Rank Checker API
Do you have your own reporting dashboard or want to build your own SEO reporting tool? It's easy to integrate our data into your service via our API (JSON). Run scheduled reports or ad-hoc, real time look-ups. Select which search engines you want reported on and what types of results you want to see returned. API access* is charged on a per-request basis and so you only pay for what you use.
*API access is only available to customers on our SEO Pro package or custom enterprise packages.