Online reviews can be a highly effective word-of mouth marketing tool. Increasingly, customers are turning to online research to learn about a product they are interested in purchasing, a service provider they might hire, or a business that they are interested in working with. This research, of course, includes reading customer reviews from a variety of sources, including the company's own website, dedicated review sites, as well as comments on social media profiles.

Reading testimonials or reviews of a product or business is an essential part of the purchasing process for your potential customers – they want to get first hand insight from your previous or current clients. However, if your business is lacking online reviews, you may not be part of a customer's selection process at all! As an SMB, you can't afford not to have online reviews. Happy customers have the power to bring you more business. In fact, 72% of consumers say that positive reviews make them trust a local business more. These days, it's not an option to NOT have reviews for your company online.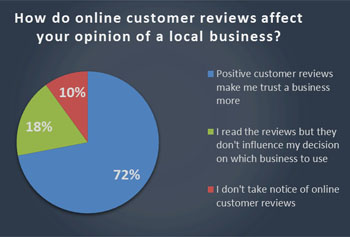 There's just one problem. It's extremely difficult for small and medium businesses to get these real, positive reviews, from actual customers. If a customer has never left a review online before, you're asking them to sign up for an unfamiliar service, figure out where your company's profile page is, type up their feedback and submit it. There are many steps involved, which can definitely deter a customer from leaving a review – and that's IF they even remember to leave you a review in the first place! The process of asking and obtaining real reviews can be a monumental task.
Whether you have just a few reviews, negative reviews, or none at all, here are some actionable tips to help you start building up your arsenal of great reviews, and make the most of the online reviews you do receive.
10 Ways to Grow Your Reviews
First and most importantly, the best way to get great reviews from your customers is to make sure they have a great experience interacting with your business, services or products. Offering outstanding customer service at all times will leave a huge impression on your customers should they choose to leave you a review online.
Just ask! It's unlikely that you'll get many online reviews if you don't start asking for them. Make it a habit to ask for feedback at some point during all business transactions.
Make sure you have a variety of platforms set up for customers to leave you reviews. If you haven't already, establish your profiles on Facebook, LinkedIn, Yelp, Google+, Bing Places and any other niche rating sites that may apply to your industry, such as TripAdvisor RateMDs.com, Angie's List, UrbanSpoon and more.
If you operate in a physical store location, ask your customers to leave you feedback immediately after their purchase. Create a handout with clear instructions for leaving a review on your Google+ page.
Send personal emails to your regular customers or VIPs, requesting that they leave you an online review.
Whenever you receive positive feedback from a client in an email, in person, or on the phone, ask the customer if they would mind turning their comments into an online review.
Include a link in your email signature that takes users directly to a review page on Yelp or Google+.
Looking to get more testimonials on your website? Make it easy for your clients. Ask them if they would feel comfortable with you drafting a testimonial, and sending it to them for approval before you post it.
Create a dedicated page on your website that features links to your profiles on Yelp, Google and other review sites, and include a message that prompts visitors to write a review.
Don't wait too long before you ask for a review. Reaching out to customers 3 months after you've done business with them isn't likely to bring you much success. Ensure you are asking your customers for feedback immediately after the transaction or soon after in a follow-up email.
10 Ways to Maximize the Benefit of Your Reviews
Having your satisfied customers leave you positive reviews is a critical factor in determining your company's reputation online. Since it can take time to accumulate these reviews, you should start using the ones you do receive to their full potential right away. Here's how you can get the most mileage out of an online review: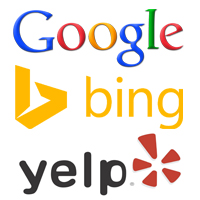 Focus on obtaining reviews on the most important review sites first. Your efforts will be more effective if you work on obtaining a few solid reviews on the most important sites like Google+, Yelp and Bing, since these reviews can increase your visibility in local search results. Once you've got things underway there, you can then think about asking customers to leave reviews on your social profiles and other secondary sites.
Prepare for negative reviews – not all your customers will leave good ones! Turn any negative reviews into a positive experience for the customer by responding promptly and politely. Following up on all negative reviews demonstrates that you and your business are truly dedicated to customer service.
Were multiple decision-makers involved in the decision to use your product or service? Sure, one of these people may have already left you a review, but there's an opportunity for anyone else involved to give their opinion as well. Ask others who were involved in the same purchase if they could also leave a review.
Did you receive a great review on Facebook? Reach out to that reviewer and ask if they would be willing to leave you another glowing review on Google or Yelp. The more people who see their review, the more it can benefit your business.
Consider implementing a regular feature on your website or social profiles in which you showcase a customer review. Not only will this give more exposure to the review, but it will also get other customers writing online reviews, each vying for their chance to be featured as the "review of the week".
If possible, encourage reviewers to incorporate your main business keywords in their review. Search engines will find these more relevant and are more likely to display them in SERPs.
Take your time when collecting reviews. If you have too many new reviews popping up on your Google+ profile in a short time frame, you'll raise a red flag. Google might take this as a sign that you are paying for reviews or otherwise using fake reviews.
Consider having a client turn their written testimonial into a video testimonial, which you can then promote on your website and social media profiles.
Incorporate the positive reviews you receive into a blog post on your company's website. Promote this blog post on social media to get more exposure for the reviews.
Always thank those who do review your business. Whether you give them a shout-out on Twitter or Facebook, or reply to them directly on Yelp or Google+, taking the time to say thank you shows them and other readers that their reviews do have an impact.