Today (25th August) we released a major update to our popular CitationBurst service.
We've been working hard behind the scenes to make CitationBurst more comprehensive & easier to use. Today's release is the first of many updates over the coming few weeks.
Summary of Main Changes:
Submit to Local Data Aggregators (&/or Manual Submissions)
Streamlined set-up steps focus on Finding & Fixing Existing Citations
Slicker, light-weight designs for all Interfaces & Reports
Improved Duplicate Removal Process
---
See Workflow Updates & Data Aggregator Submissions
Watch our short video walkthrough of the updated interfaces & how you can submit to Data Aggregators as well as manual submissions using CitationBurst.
---
Submit to All Local Data Aggregators for just $55/year
Using CitationBurst you can now push your business listing data to the big 4 US Aggregators for just $55/year (see price comparison table below)
Order Manual Submissions &/or Data Aggregators
As before, you can still order manual, direct submissions and hand-pick the sites you want us to use.
But now you also have the option to order Data Aggregator submissions at the same time. So you have complete control over what you order & the quantity of sites and aggregators. Nice!
Submit to 4 Big US Data Aggregators
We push data to the following local data aggregators. You can choose 1, some or all of them and we offer 15% discount if you choose all 4!
Note: InfoUSA, Acxiom & Neustar Localeze are US-only data aggregators; Factual is a global aggregator and works in all the countries that CitationBurst covers.
---
Cost-effective solution for submitting to local data aggregators
Our mission has always been to provide a reliable, flexible & high quality service at a price every agency & business can afford.
And we've done just that!
Here's how our data aggregator pricing compares to other, similar services:
| Aggregator Service | Cost per Location | Includes Additional Services? |
| --- | --- | --- |
| BrightLocal | $55/year | No |
| Moz Local | $89/year | Yes |
| Advice Local | $100/year | No |
| OpenLocal | $999/year | Yes |
| Whitespark | $900 (1 time fee) | Yes |
| Single Platform | $99/month | Yes |
Monthly Refresh & Free Data Updates for 12 Months
We push your data every month to each aggregator. The act of doing this refreshes the 'date-time' stamp on your data so that your data is seen as super fresh & highly-reliable to the aggregator.
If you need to update any of your data you can do this for free for 12 months after initial submission* – handy to know should you move address, change phone number or want to update your photos!

*NeustarLocaleze – they allow all data to be updated free for 12 months except for business name; they only allow business name to be updated within first 30 days – after that they treat name updates as new listings. 
---
Want to know more about Local Data Aggregators?
We have put together a list of blog posts and resources at the end of this post.
Streamlined Set-up & New Designs
We have streamlined campaign set-up to make it faster to complete and to focus on Existing Citations and cleaning these up, ahead of creating new citations.
Separate Tables for Existing & New Citations
We still submit to the same citation sites as before. But now we display your existing citations in 1 table and new, possible citation sites in a 2nd table.
You can filter the available sites based on a number of criteria –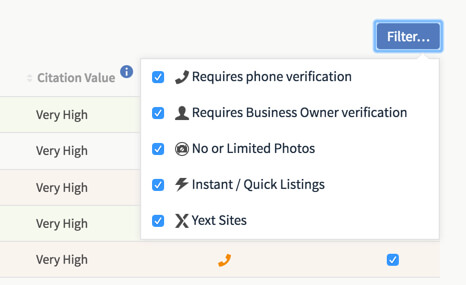 You control which sites and how many sites we submit to.
You have complete control & flexibility of your citation campaigns – which is the way it should be!
---
Slick New Designs
As part of an on-going overhaul of all report interfaces, we have updated the designs for CitationBurst set-up & reports.
The new designs are fresh, light & render nicely on tablets as well as desktop resolution screens.
---
What's coming next?
We have a number of further updates coming down the pipeline very soon:
View NAP data & issues when you order a Citation campaign
1-click ordering of citations from CitationTracker reports
Faster citation look-up & filtering to speed up campaign set-up
Audit & view NAP data on over 400 websites
We hope you like these latest updates.
If you have any feedback or questions, let us know in the chat box or comments section.
For common queries on Data Aggregator submissions, jump over to our help & FAQs section.
---
Want to know more about Local Data Aggregators?
Here are some links to some useful posts all about local data aggregators:
We also have some very relevant stats & charts from our Annual Expert Citation Survey. These provide insights from 20+ local SEO experts into the pros & cons of data aggregator submissions: