Oh boy, here we go. Google I/O is one of Google's big opportunities to make announcements. And, while it is often used to announce upgrades to tech (like the new Pixel phone), this year had some bigger announcements that will undoubtedly affect search and local business discovery.
Unsurprisingly, these announcements centered around AI. Yup, it's the bots again.
It's worth noting, though, that there were a couple of other things announced that weren't specifically AI, but could be important to local marketers across the planet (starting in the USA, as is often the case).
In this piece, we'll cover everything you need to have on your radar.
The Key Takeaways from Google I/O – May 2023
The new Search Generative Experience is here to challenge BingGPT
Links/citations/sources will be included in responses
Bard got some updates, too, including Google Maps integration
Ads will still be displayed on SERPs
Also announced: 'Perspectives' and some other features
There's a New Google Generative Search Experience
Undoubtedly the biggest change for businesses and marketers is the integration of generative AI into the search experience. It's powered by PaLM2, the Large Language Model underpinning Google's AI efforts. While they'd been toying with Google Bard's generative qualities, they were also developing this search experience.
Crucially, it's a generative AI that's been specifically designed for search. It's not just "Google Bard but in the SERPs". Bard was designed as a showcase of logic learning machine (LLM) technology. What was announced yesterday is an entirely new approach to search.
This new integration has been called Search Generative Experience, or SGE (yup, that's another acronym you'll need to learn; I'm sorry). It's their direct rival to BingGPT, and it's going to shake up how people can use search. Or at least, that's what Google is saying.
The goal appears to be to allow people to make granular searches, right off the bat, which could change the traditional search journey. A couple of key examples of what this means were highlighted in the talk.
Google AI Search for E-Commerce and Beyond
The first was a more traditional e-commerce search, for dresses. It showed that, rather than doing a series of broad searches to answer a complex question, you could just do all of it at once. It then showed a slightly more local example, which we'll come to shortly.
Basically, rather than searching for each of these individually… e.g.
Family activities Bryce Canyon
Family activities Arches National Park
Is [activity] dog friendly
…they're saying you'll be able to do all of that in one giant, long-tail search and receive granular answers.
i.e. "what's better for a family with kids under 3 and a dog, bryce canyon or arches national park"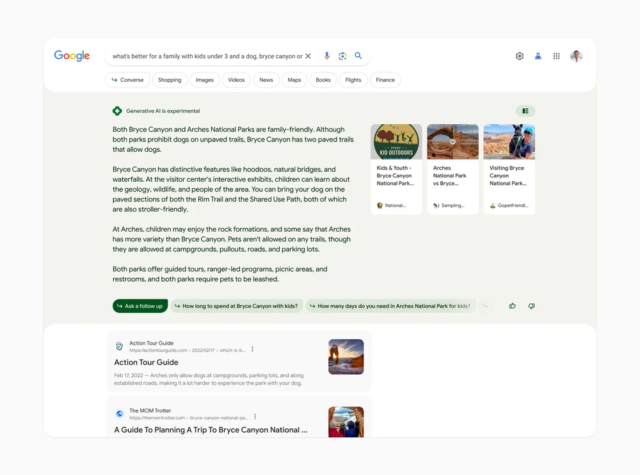 Then you can then make it more granular with the click of a button. Whether that's a 'ask a follow-up question' or selecting one of the suggested questions they offer up.
As you can see, this is displayed front-and-center at the top of the SERPs. Although for anyone worrying that Google won't want to take your money anymore, Google has confirmed that ads will still be displayed up there, too.
Currently, there's a waitlist in the US for the SGE that will eventually be rolled out to everyone.
Google AI Search and Local Business Discovery
As ever with a lot of these announcements, Google used a couple of local search examples to highlight how it can look in those instances.
Hospitality is always an example they jump to, as it has such broad appeal, and this time it really highlights how it could affect more local searches when consumers have a strong idea of what they are after.
Here's an example of them asking SGE to 'compare two lunch spots near me that are good for big groups'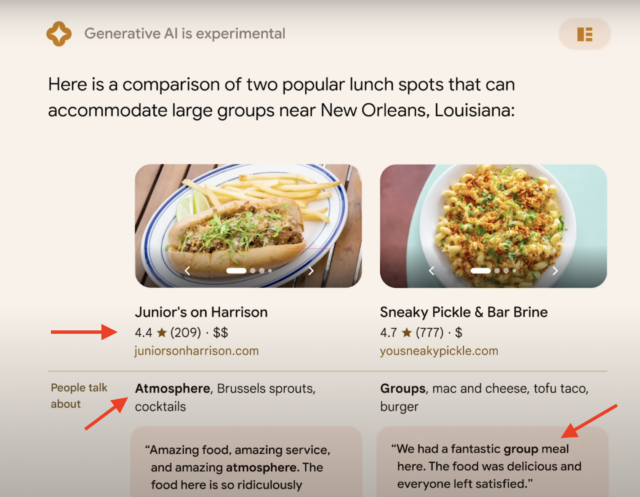 As you can see from what we've highlighted on that SERP, it surfaces key information from a business's Google Business Profile, like reviews and particular dishes, as well as overall cost.
Not only that, it's letting people directly compare a couple of institutions. This is something that the traditional Local Pack did ambiguously. It showed you all that information but it wasn't saying "Here's how they compare, side by side".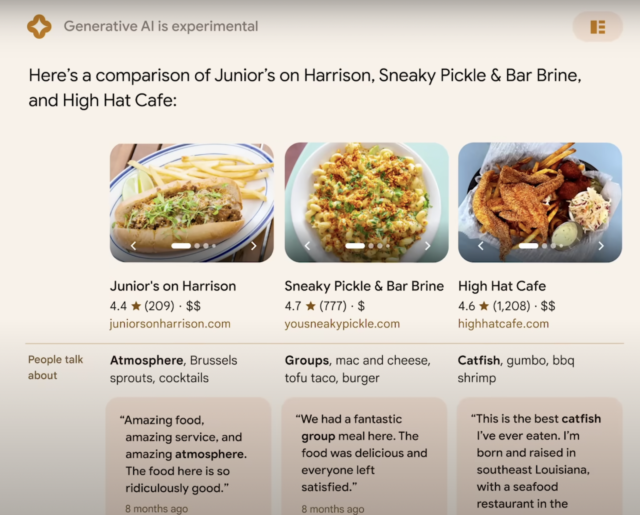 With the generative aspect of the search, it also lets you dig even deeper. So if you wanted to add a specific business to this comparison, you can do that, as shown in the follow-up question above.
And, if you wanted to search by a specific dish, somewhere that was good for groups or, by the looks of it, somewhere that just matches your vibe, you'll probably be able to do that. Basically, the context is carried over each time you ask a question within this conversation.
Google Has Learned, and Added Citations and Links to Publishers
One of the big annoyances (and concerns) that many people had about Google Bard was the lack of citations for their informational source. (For once, we aren't talking about local citations, either.)
For those that weren't aware, Google Bard didn't provide sources or links for any of the information it surfaced. The good news is that SGE absolutely does.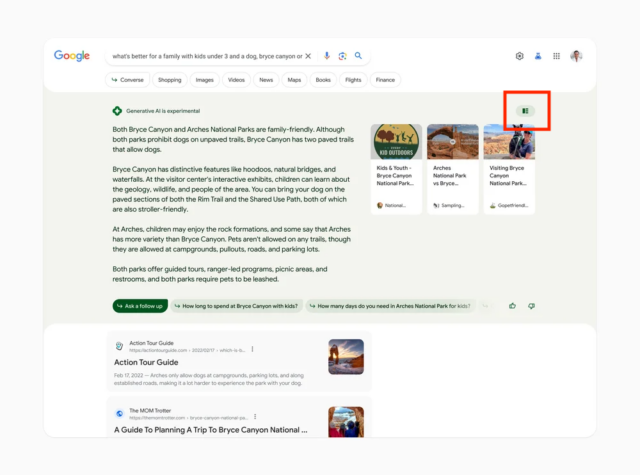 Not only does it provide sources in the immediate SERP, as highlighted above, but there's an option to 'Toggle Deeper' in the top right of the screen.
This should help reassure people that a zero-click apocalypse is slightly further off than people feared. And it highlights that creating content will still be useful, as Google will be highlighting where they got the information, even if it then merges it in the SERP.
It does still mean that zero-click searches will likely increase though, and even if you rank first you could still be a long way down the organic page due to all the non-traditional content.
I'm not freaking out about this – Google will continue answering questions and trying to meet users' needs right there in the SERP. As search marketers we'll need to assess how this will affect the search experience for our potential customers and we can do this when we get to test SGE and actually see how our potential customers will be experiencing search results based on the queries that we know are important to us as businesses. Then – as always – we'll need to get our heads around the new opportunities to gain visibility in the SERP. And – of course, we need to make sure we don't have all of our eggs in Google's basket!

Claire Carlile, Local SEO Expert, BrightLocal
Google Is Being Careful
Unsurprisingly, as the international mood around generative AI is yet to settle, Google is perhaps wary of a backlash, or of people making potentially risky decisions based on an answer generated by its own AI. This means there are certain types of questions that you can't ask in SGE.
Google has discussed responsibility at length in their documentation on SGE (which you can find here). But a quick snapshot of the kinds of things they aren't allowing currently includes anything they deem as "Your Money or Your Life" (YMYL) content such as financial and health advice, which they touch on in the previously linked document.
At the very least, if they are unsure about the safety or accuracy of something, they will include a disclaimer.
Things you currently can't ask SGE include explicit or dangerous topics, i.e. self-harm (where they'll surface helplines instead) and medical advice queries, where a disclaimer will be displayed.
The SGE Includes Vertical Search
While not specific to all local businesses, the inclusion of vertical search is an interesting one for anyone that offers e-commerce capabilities. Essentially, SGE will be able to include Vertical searches like Google Shopping and pull large lists of information that could help users find the right products for them that are available in real-time.
When you click on one of the bikes in Google's AI-generated answers (including products), it brings up a sidebar with multiple options for where to buy.

Good for merchants, not so great for product review sites.

*But* at least Google does show 3 links to publisher/review sites pic.twitter.com/TskcC6NNet

— Lily Ray 😏 (@lilyraynyc) May 10, 2023
Reminder: SGE and Bard Are Two Different Tools
Essentially, SGE is Google's attempt at catching up with Microsoft and OpenAI's BingGPT, in order to offer generative AI within search.
Bard, on the other hand, will be a completely separate thing, and be used more for content creation than search, in the same way that ChatGPT, which can do anything from writing scripts (and causing Hollywood writers to, quite rightly, strike) to website code.
To summarise, then:
Bard, ChatGPT: Generative AI tools designed to create content
Google SGE, BingGPT: Generative AI tools designed to answer questions in search
The above isn't exclusive, but it should help us define their uses a little better, especially as we're still in the relatively early days of generative AI being a popular thing and things are likely to get a lot more complicated still.
If there's a lot of goodwill behind Google on this, there's a chance that SGE could nip that sudden increased market share Bing saw for a couple of months in the bud.
I think Google is definitely re-establishing it's street-cred on all thing related to AI and the future today. Pretty cool stuff!! I love it. It does make it exciting to be an SEO – at least for me!! #GoogleIO2023

— Cindy Krum 📱 (@Suzzicks) May 10, 2023
Google Maps Got in on the Action
"What about Google Maps??" I hear you cry. Well, that got a little love, too. Not quite at the same level, with a lot of these updates being a bit smaller, but there are a few things to be aware of.
There's Now an Integration for Maps in Google Bard
While SGE and Google Bard are different things, people will still undoubtedly use Bard to perform some searches. The good news for local SEOs and businesses is that they've announced an integration to display Google Maps within the conversation on Bard.
Here's a screenshot of this captured by the good folks at Search Engine Land (excuse the low res image):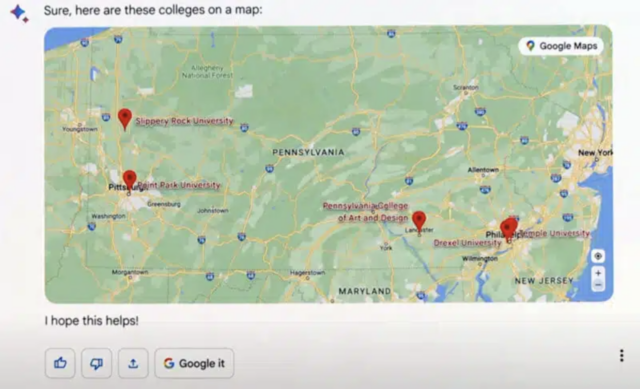 As you can see, though, we're not having quite so much luck over in BrightLocal HQ yet…

Ah, well. As the (other) bard once wrote, "To climb steep hills requires slow pace at first."
Aerial View Offers an Immersive Experience
While this won't change the game right away, they're something that some businesses may want to keep an eye on when it comes to their presence on Google Maps. They include: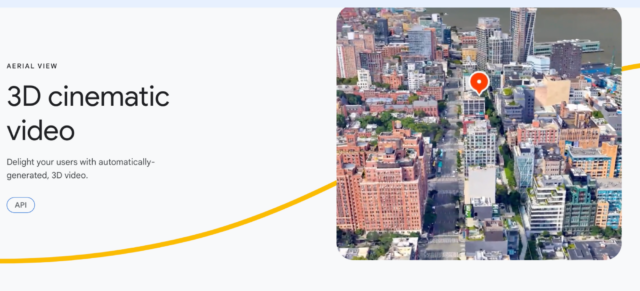 An 'Aerial View' API for developers. This will let devs include a birds-eye view video of a specific area on their website or apps. This could be a great way for businesses to showcase what they have to offer. An example, from an early partnership with Rent.com, shows how they can help renters see the surroundings of a property.
Immersive Brand Experience. Google now offers the chance for businesses to provide 3D video and a whole new experience for businesses directly in Google Maps.

These updates offer businesses new opportunities to try and stand out from the crowd in Google Maps.
Everything Else Announced, From 'About This Image' to 'Perspectives'
Okay, deep breath, you've already taken in a lot of information, but there's more to come. These ones may not require you to put so much thought into them at this stage, but are things you should keep an eye on.
About This Image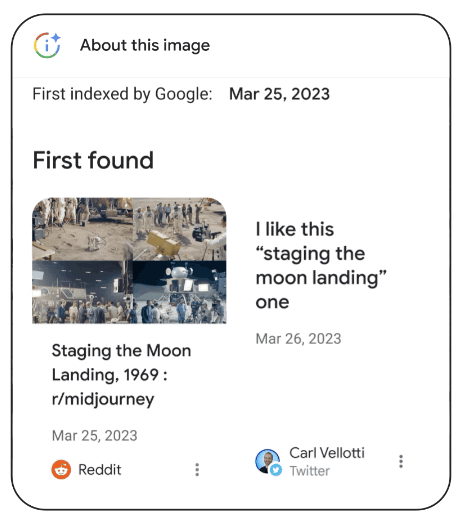 In its quest for accuracy and fight against misinformation, Google has introduced a new tool to add context to images. It will give you information on the following:

When it first got indexed by Google and when they indexed any similar images
The site it originally appeared on
Any other platforms it may have appeared on. i.e. news, fact-checking sites, or social media
It's also worth noting that they added a markup for AI-generated images that will appear in the original file when they are created through their platform.
Perspectives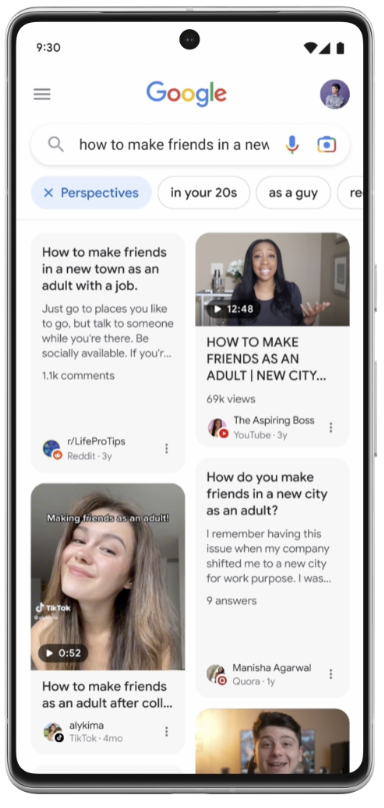 This is something Google actually started testing a little while ago and was live in some places from March. However, it's only now that they've officially announced it. It will highlight long-form written posts, videos, images, and even social media posts to help give people a diverse range of perspectives.
It's been added as part of Google's desire to offer users better ways to understand a specific topic.
The Helpful Content System is Getting an(other) Update
Since the initial rollout of the Helpful Content Update last year, Google has made some updates. This next one is apparently to help surface content that Google sees as 'hidden gems' by focusing on individual contributors' experience and expertise.
This sounds like a boosting of the much-discussed E-E-A-T ranking signals, but it will be nonetheless interesting to see what that actually means.
What do you need to do now?
Right now, there's not a lot you can do. For starters, this is all rolling out in the US first. Some of it, like the aerial views and Perspectives, is live and available to play around with. However, for the SGE you'll need to wait a little longer to truly see it live and in action, regardless of where you are.
If you're in the US you can request to join the waiting list for Google Search Labs, which will give you access to play around with the new SGE before it goes live.