New Citation Tracker Designs & Features
Ross is the former Marketing Manager for BrightLocal. With 9+ years SEO and content experience, Ross spearheaded the marketing and...
Key 'Takeaways' From This Post
View detailed count of all NAP status & error count on your most important citations

Slick, professional report designs with cleaner charts and awesome PDF designs for sharing with clients

View your citation reports on tablet & mobile devices with fast & clean responsive designs
We have completed the roll-out of a major update to our Citation Tracker tool.
Along with a full redesign of reports, we have upgraded the citation-finding process and added some great new features – such a detailed count of NAP statuses.
And we're not stopping there – we have more improvements coming soon!
NAP Status added to Citation reports
The Top Citations tab now includes a 'NAP Status' section giving you a quick-glance view of all your NAP errors on the most important citation sites.
This enables you to clearly see the scale of the issues and which areas (Name – Address – Phone) have the most issues so you/your team can focus your efforts on tackling problem sites.
NAP errors are a major cause for concern for SEOs & SMBs working on their local business listings. When you get your business listed on citation sites, you want to ensure that your business' name, address and phone number is accurate & complete on as many citation sites as possible.
Cleaner charts & Responsive designs
All Citation Tracker reports have been given a design refresh, which includes updated chart styles and responsive design so the data is easy to read on tablet & mobile devices.
When you want a quick overview of how your local citation tracking work is progressing, the ability to view your reports on not just desktop PCs, but also tablets & mobile is invaluable.


New PDF reports for Citation Tracking
As well refreshing Citation Tracker reports within the BrightLocal dashboard we have also updated our PDF designs, meaning that you can export your reports to view or share via professional looking PDF reports.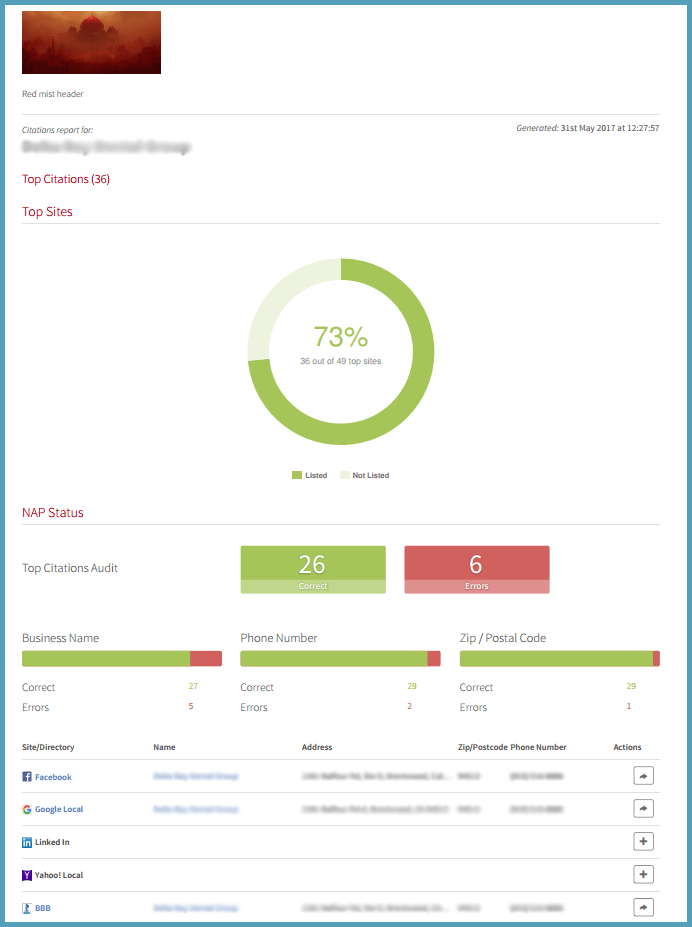 Have a comment or suggestion about these Citation tracker updates?
Whilst we love delivering new tools & features for our local SEO tools, we want to ensure that any changes are changes for the better and make your lives easier.
So please leave any comments, suggestions or ideas about these changes or changes that you'd like us to add to Citation Tracker.
You can use do this via the comment form below or contact us here.