As you'll no doubt be aware from our extensive research into online reviews for local businesses, reputation management has become a critical factor in business success.
These compelling figures paint a clear picture of local businesses competing for consumers' trust in search. This means it's more important than ever before that every local business has a solid reputation management strategy.
But with so many review sites gathering so much consumer opinion across such a wide range of industries, it is costly and time-consuming to monitor, respond, and generate online reviews.
That's why I'm incredibly excited to announce the launch of a new BrightLocal tool that will ensure you can build a business with a 5-star reputation.
It's a simple, powerful and low-cost solution that helps businesses and marketing agencies manage their online reputation. We call it Reputation Manager.
What is Reputation Manager?
Reputation Manager is an evolution of our old ReviewFlow tool. It's bigger, better and much prettier!
Put simply, Reputation Manager allows you to:
Get more reviews from existing customers
Monitor and report on review performance
Respond direct to Google and Facebook reviews
But that's not all, though; this tool is currently in BETA as we've got a lot more planned for it! Take a look at the bottom of this post for an overview of upcoming features, including review showcasing and client access.
So let's take a look at how Reputation Manager works.
Get Reviews
Using Reputation Manager you can proactively grow your online reviews by making it easy to contact your customers, request feedback and guide them to write reviews on the most important sites for your business.
How it works in 5 simple steps:
Set up a Get Reviews campaign
Customize emails and landing pages with your logo and language
Select the review sites you want to send customers to
Upload customer contact details
Activate your campaign and watch feedback and reviews come in
Handling Positive and Negative Feedback
We use the NPS (Net Promoter Score) system to gauge the experiences of your customers. They score your business 0-10 and provide a description of their experience.
You can see their scores and read their feedback in your campaign report. And you can see which review sites they clicked on to review your business.
We help you manage the experience of happy and less-happy customers by setting a threshold for 'Positive' and 'Negative' scores. Both sets of customers can leave reviews but you can ask unhappy customers for additional feedback and offer them a special offer/discount to make amends.
Coming Soon to 'Get Reviews': SMS Review Request and Kiosk Mode
We're now working on two additional ways to ask customers to review you:
Send customers requests to review via SMS
Online review page (aka 'Kiosk') that you can link to from email footers, put on business cards, etc.
Monitor Reviews
We have revamped our reviews report to make it easier to monitor and manage your reputation. You can track review growth over time, see your latest reviews, and filter and analyse them so you know exactly what's going on with your reputation on all sites, at all times.
Get the Full Picture
We track reviews on over 35 review sites, including the biggest sites like Google, Facebook and Yelp.
Your overview chart tracks the growth in reviews and star rating over time, and you can see the split of reviews by star rating and your top review sites.
Connect Google My Business and Facebook for Daily Review Tracking
Get daily review monitoring by connecting your Google My Business (GMB) and Facebook accounts to your Reputation Manager report. We'll alert you to every new review so you can stay on top of your reputation on these powerful sites.
See Every Review on Every Site
We display the full review text and reviewer names so you can see every review from every customer on all the sites we monitor.
You can filter by site, date and star rating, making it easier than ever to monitor and manage your reputation.
See a Side-by-Side Comparison of Each Review Site
It's easy to see which sites you're getting reviews on and which ones have the best ratings.
Coming soon to 'Monitor Reviews': Niche Review Sites
We're currently working on review monitoring for 40 niche review sites across 10 different industries:
Legal
Medical
Hotels
Restaurants
Contractors/Tradesmen
Home Services
Automotive
Real Estate
Wedding Services
Care Homes
Respond Directly to Reviews
We've also made it easy to respond to reviews on Google. By connecting your GMB account you can respond to Google reviews from within your Reputation Manager report.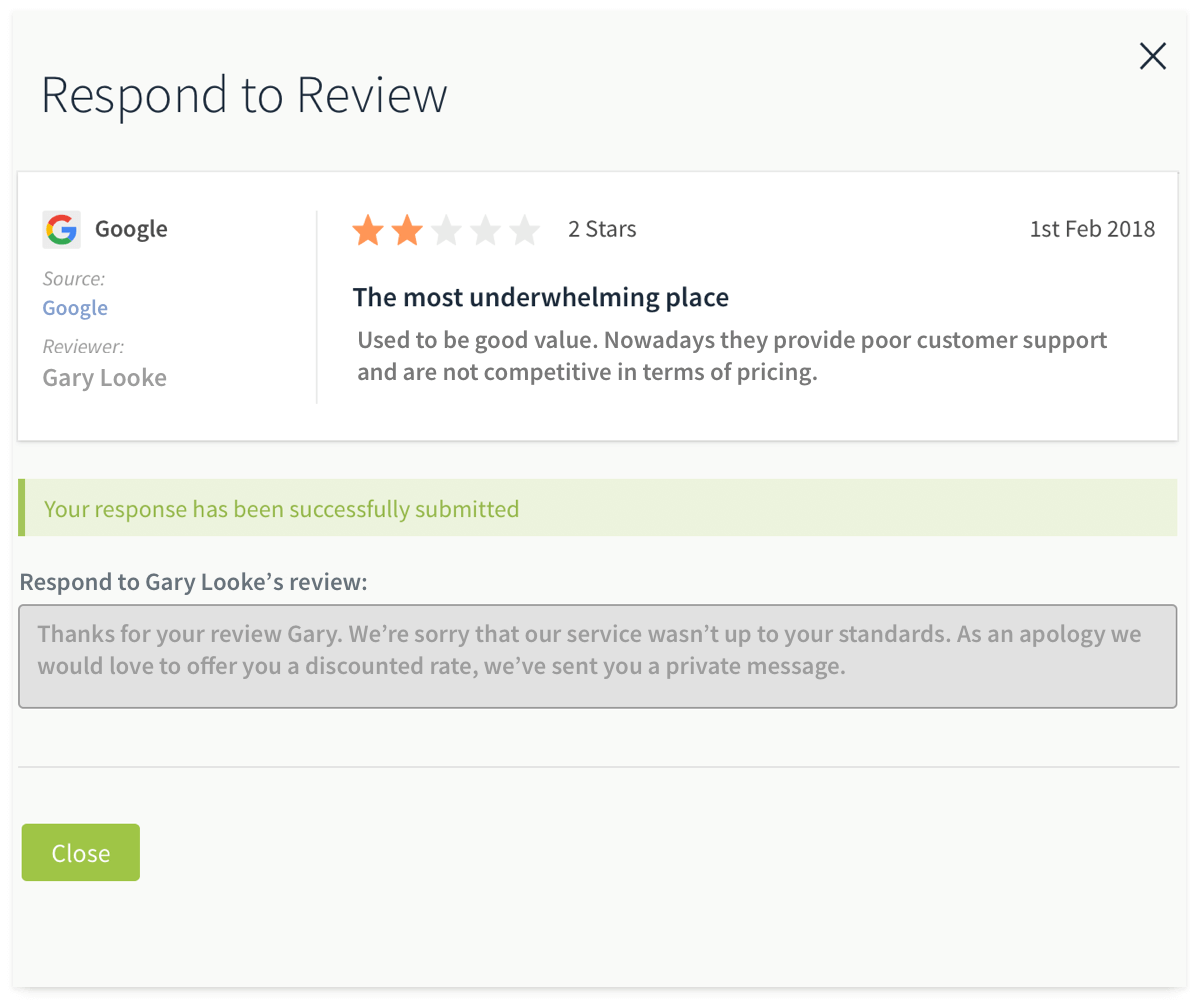 By connecting your Facebook account, you'll also have the ability to respond to Facebook recommendations, too!
What does Reputation Manager cost?
Reputation Manager is available to customers on all BrightLocal plans. There is no change to Review Monitoring credits (i.e. you can track reviews for the same number of locations) and we have added some free 'Get Reviews' campaigns to each plan.
For example, customers on our popular SEO Pro plan have 50 review monitoring reports and 8 'Get Reviews' campaigns included in their plan.
Additional locations cost just $8 per location per month. You can purchase 'addon' credits from the Billing section of your account.
For more information on our competitive cost structure, see our Reputation Manager FAQ page.
Getting Started with Reputation Manager
If you are an active BrightLocal customer, just log in and you'll find links to Reputation Manager in the Tools dropdown menu and in the Location side-bar menu.
New customers can try out this tool for free for 14 days. Simply sign up for a free trial here. (This trial includes access to all our tools, not just Reputation Manager.)
Tried BrightLocal Before and Want to Try Again?
We want to give all our past customers the chance to try out Reputation Manager. Click here to restart your 14 day trial.
What's Next for Reputation Manager?
This is just the start of our commitment to boosting your reviews and furthering your competitive advantage. Here are the planned features that we're working on to make this tool even better for you:
Send review-requests to customers via SMS
Online review page (aka 'Kiosk') for getting more reviews
Client Access portal for agencies to enable clients to upload contacts and reply to reviews
Review Showcase: display reviews on your website and Facebook
We'd love to hear what you think!
We hope you enjoy and see true benefit from using this new tool. As always, we're all ears while we continue to develop and improve it. Please feel free to get in touch to let us know what you think of Reputation Manager.