Key 'Takeaways' from Schema Demystified
What is Schema Markup?
Through natural language processing, search engines can figure out up to 80% of what your website is about. To help the search engines figure out the last 20%, Google, Yahoo and Bing created a new way for us to translate website content into a language that search engines understand. The language used to help the search engines understand certain pieces of content on your site is called Schema.org (aka Schema). Schema markup is one of the most under-appreciated yet most powerful new ways to differentiate your local business online. Today, only 31.3% of websites use Schema markup, and most are only doing the basics (acmqueue, Dec 2015).
Schema markup is code that you put on your website that explicitly tells search engines what the page is about so they can better match searchers with the content they are looking for. Why? Because Google has evolved from looking at strings of text, to identifying the "things" the text defines. This means that instead of just focusing on having great, unique content on a site, Schema markup should be used to define the "things" on the site and how they relate to other "things" on the web. When the Schema markup code is used correctly, search engines reward the website by adding additional information about the business into search results and (hopefully) sending more searchers to the site. The rewards in search are in the form of rich results, such as knowledge graph cards, review rich snippets and rich cards. Examples of these rich results are shown below — Review Snippet, Recipe Snippet and Rich Snippet Article Content Carousels.
Review Snippet
Recipe Snippet
Rich Snippet Article Content Carousels
Schema markup compliments traditional SEO and is recommended by Google.
Schema markup explains the meaning of content. For example, if a page is talking about Java, your Schema markup will clarify to search engines whether the page is about coffee, a programming language code or the Island in Indonesia. This is one of the most important benefits of Schema markup — it can be used to clarify exactly what a business is about.   
My goal for this article is to show you how Schema markup can benefit local business clients by increasing search visibility, click-through rates and providing context about the business. I'll outline the tactics that agencies should adopt to achieve the best outcomes for local businesses with Schema.
The product is powerful, the service is great, and they get the job done. BrightLocal offers the best balance of value and results in the local SEO industry.

Adam Grim
Lancaster, PA
What Are the SEO Benefits of Using Schema Markup?
The benefits of using Schema markup for local businesses is to clarify to search engines what the business is all about, what it sells and how to contact them while also increasing search visibility that can result in higher click-through rates. A higher click-through rate is the result of the eye-catching search engine result listings you can get from using Schema markup on your site. Schema markup allows the search engines to show searchers additional information to help them decide if your website has what they are looking for. While Google has claimed that Schema markup does not contribute to higher search rankings, in September 2015 Google's John Mueller said that over time, Schema markup might contribute to rankings.
By the Numbers:
When you use Schema markup to optimize a website, you are telling search engines exactly what your website is about. This clarity provides search engines information to help searchers solve a problem or provide them with relevant search results when they're on an information quest.
---
How Does Schema Markup Contribute to Local SEO? It's More Than Just Rich Results
With Schema markup you can remove unnecessary clicks and get the conversion started with potential customers directly from search results. In December 2015, Google announced a new knowledge graph card for local businesses. This knowledge graph card looks similar to the Google My Business search result, and has the option to include a "Reserve" or "Order" option — perfect for restaurants or salons that allow its customers to make reservations.
This knowledge graph card contains Schema markup on a website, and the results show up for categories (e.g. hair salons), location-based queries (e.g. nearby barbers) or names of businesses. While this feature is still in Beta, it clearly shows the direction Google is heading to showcase local business information in search results. By providing calls to action (CTA) items such as "Buy" or "Book an appointment," businesses can enjoy an increase in site traffic stemming from search.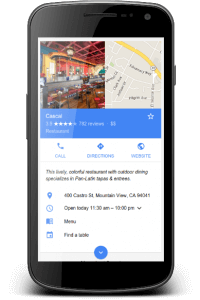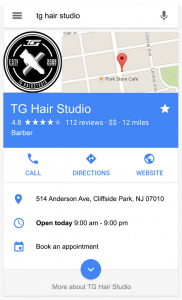 Local Knowledge Graph Cards
Define Your Business Type and Offerings for Search Engines
With Schema markup you can call out your unique business type to Google. Using Wikipedia or WikiData definitions, Schema markup can explain that the business is an orthodontist and not a dentist, that your Contact Point (e.g. Customer Service Department) is available in different languages (e.g. Spanish and English) or that you sell Apple Computers and not the fruit. Be clear. Get the people looking for you on your site faster.
Imagine if Google knew exactly what a local business offered? Define your unique services, the service outputs and the local area you provide them is so that people searching for related terms can be connected to the local business.
Promote Events In Search Results
With Schema markup you can promote events directly in search results for location-based queries "events near me" and for your business. Event information contains information about the venue, performers and ticket sellers. If a business hosts a lot of events, this is a great way to highlight the location of the events in search results.   

Event Rich Snippet
Manage Name, Address and Phone Number On Page
Using Schema markup, you can augment the business' name, address and phone number (NAP) detailed in business directories by clarifying it in your Schema markup. Combined with business address, geo coordinates, alternate names and business hours (especially exceptions — holidays, special events and closures) can contribute to results in Google's Search that stand out and contribute to higher click-through rates.
Manage Your Brand with Schema Markup
You can use Schema markup to tell search engines business details, including logos, phone numbers, founders, customer support numbers, social media accounts, blogs and more. If the business is known by multiple names or had a previous name, use Schema markup to let Google know.
Google wants to know how a business relates to distributors, suppliers, franchises, etc. Use Schema markup to let search engines know how you relate to these sub-organization brands and companies.
Don't rely on Google to choose the right images and brand elements, do it for them.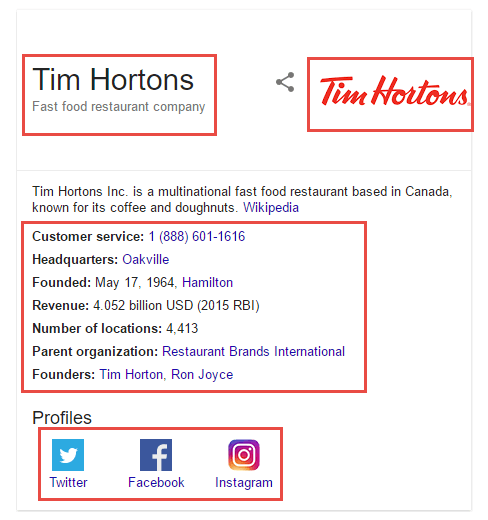 One of a handful of tools that we couldn't live without. From rank tracking, to citation bursts and tracking, BrightLocal is an invaluable local seo tool.

Damon Gochneaur
Flower Mound, Texas
What Should You Markup for a Local Business with Schema?
When developing a strategy for Schema markup, we recommend a two-step approach:
What defines the business? What makes it unique?
What Google features will improve search performance?
#1 What "Things" Are People Searching For? What "Things" Make it Unique?
When someone does a search in Google, they are usually looking for people, products, services or businesses. These "things" are what Google is trying to understand, so they can match the searcher with the "thing" that answers their query.
When we ask what are the "things" people search for about a local business. They likely include:
Contact Information: Address, Phone Numbers, Email Address
Reviews
Business Hours
Locations
Business Details (Type, Description, Logo, Website)
Products
Services
People (Founder, Owner, Sales Contact, Support, Specialties)
Events
These are the "things" to define with Schema markup so that Google can understand your business. Within the Schema markup, we recommend referring to Wikipedia and Wikidata to clarify these answers. A great article about the strategy of defining "things" can be found in the article, Proven Growth Strategies for the Semantic Web.
#2 What Google Features Will Improve Search Performance
Google provides specific Rich Cards or Knowledge Graph Cards for Schema markup. In addition to reviewing the "things" in your business, you should also review Google's structured data features. Once you review them, decide which features make sense for your business and include that Schema markup in your plan. The top three Google features we recommend local businesses use to increase search visibility performance are:
Conclusion: Start with Tactics on the Road to Higher Search Value
Adding Schema markup to a local business can result in higher search visibility and higher click-through rates. Defining NAP and enabling the Local Business every agency should do for a local business. The really exciting results from doing Schema markup happens when an agency adopts it with a bigger goal in mind. The goal of differentiating themselves with Business Intelligence derived from Knowledge Graph Cards are the basic tactics Semantic Analytics and managing the local business knowledge graph. More on this in my next post.