Key 'Takeaways' From This Post
90% of users say that product videos are helpful in the [buying] decision process
83% said they'd create more video content if there were no obstacles like time & resources
It seems like every day new social media tools come out on the market to help make your Social Media Management job easier. But how do you know which tools will help and which are a waste? Here are ten social media tools you should check out and add to your social media software arsenal.
Post Planner
Having a creative mental roadblock? It can be tough to come up with new, creative content ideas. Post Planner makes it easier. By giving you "Status Ideas" like questions, fill in the blanks, contests, motivational sayings and more, you will always have awesome, engaging post ideas. It also connects to Canva so you can easily create posts using Canva's vast gallery of images.
When searching for topic ideas, Post Planner shows you a "star rating" on each post suggestion, so you can evaluate the quality and virality of the post. It's recommended that you only share 4- and 5-star, already proven popular content.
Post Planner also lets you create a "Sharebar" with your company's branding, a message and links back to your Facebook and Twitter pages. Here's how the Post Planner Sharebar works: if you make a Facebook post that links to another website's blog post, when someone clicks on your social media post, they'll be taken to the blog and they will see your Sharebar branding on the blog post's page (you can change the position of where you want your Sharebar to appear.)
Cool, huh? You can also add your favorite RSS feeds and websites to folders to help keep your topics and ideas organized. You can schedule posts in Post Planner, post right away or share them directly from the source. Post Planner works with Facebook and Twitter. You can get started with Post Planner for as little as $9/mo.
Capzool
If I could be in LOVE with a social media tool, Capzool would be it. It was truly a great find. With a low monthly fee, you get access to 5,000+ creators and more than 120,000 ready-made posts you can use on your social media – but more importantly, on your clients' social media channels.
What post topics does Capzool have available for you? Almost anything you want! Do you have an accountant as a client? You can find great posts ready to go for your accounting client's Facebook page. Attorney? Plumber? Dentist? You name it, Capzool probably has posts all ready to go on the topic.
You can also use Capzool to create and post your own visually stunning posts (if you're feeling ambitious.) Feeling lazy? You can request Capzool designers to create posts for you – at no additional cost! Yup. You heard me correctly. Capzool connects you with a community of marketing professionals who are ready to do the research and design a post just for you. Simply fill out the Request form, give the designer an idea about the type of post you want, the industry, whether you want it Twitter ready, etc. and their contributors will get to work on your request within minutes.
One other fun thing about Capzool? They have a crazy-holiday calendar with pre-made posts to celebrate everything from World UFO Day to Bunsen Burner Day! (These types of posts beg to be shared by the people that visit your social media channels.)
The price? Capzool ranges from $29-$99/mo.
Animoto
90% of users say that product videos are helpful in the [buying] decision process. Videos are taking over social media and are a fast way to engage visitors, but many people are still overwhelmed at the thought of creating videos for their business.
According to Buffer, 83% of marketers said they'd create more video content if there were no obstacles like time, resources and budget. Animoto is a tool that can help with many of these challenges.
When Animoto first launched in 2005 it was literally nothing more than a slideshow with music video-creation tool, but over the years it has evolved into so much more. This robust video software platform allows you to make professional-looking marketing videos or slideshow videos. Making your videos is as easy as uploading images, dragging, dropping, adding text and ready-to-use music. You can even add video within the video, voiceovers, animations, transitions and much more.
Another important feature is your ability to create square videos that are more mobile friendly so you can engage with visitors who are on-the-go.
Big fans of Animoto includes Mari Smith who created this video using Animoto. Fees can be paid monthly or annually. Prices range as low as $12/mo. or as high as $68/mo.
Soapbox from Wistia
While we're talking about videos, here's a fun new video tool to consider. Wistia recently came out with a new video creation tool called Soapbox. Soapbox is a Chrome plugin that allows you to create videos using your webcam AND your computer screen – you can switch back and forth!
If you've struggled with ways to create how-to videos or explainer videos, Soapbox is a free tool you should install and play around with.
InstaQuote
InstaQuote is an Android app that allows you to make amazing text images. Let's face it. Everyone loves a great motivational or funny meme. There are 19 templates available for you to use and they have a variety of backgrounds as well. You can export your visual beauty to Instagram, Facebook or Twitter.
 Snagit
Snagit from TechSmith is an oldie but a goodie. You can use Snagit to capture images on your computer screen and annotate the images with arrows, circles, text and other markups. You can even create short videos. The annotation tools the Snagit Editor offers are awesome! You can add call-outs, words, resize images and more.
Available for PC and Mac, the price is around $49.95.
Brightlocal has a lot of cool tools that are the backbone of many SEO agencies including mine.

Julie Adams
Zephyr Cove, NV
Ripl
Let's face it, animation gets people's attention on social media. Available on Android and iOS, Ripl is just plain fun! You can create animated (or static) social media posts from your phone. Just download the app, add your branding, select a template, upload an image (or use one of theirs) and choose whether you want the image to be animated or not. (Believe me, animated is much more fun!) You can even add music. (Note: The Android version is newer and has more fun features…)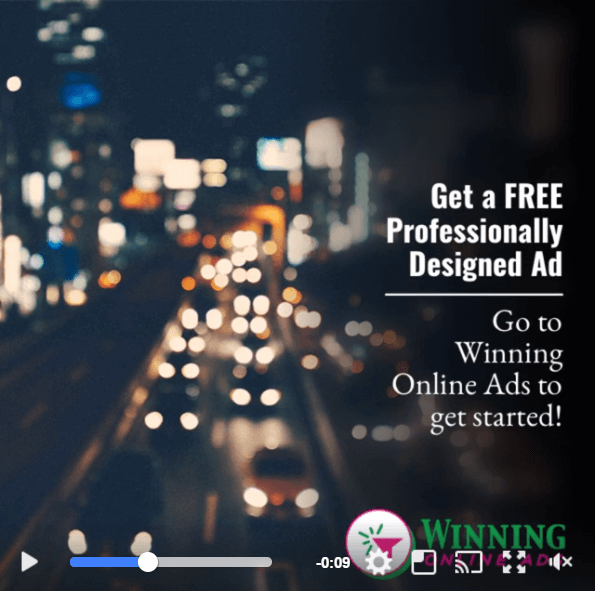 And Ripl's more than just business – you can create quick, on-the-spot posts about what you're doing right now. Ripl Pro is $9.99/mo. or $79.99/year.
Snip.ly
Sniply is another tool that allows you to drive conversions and stay connected to your visitors through the content you share on social media. Many people don't like linking to blog posts that take visitors off their social media channel or blog pages. Here's a sample of what Snip.ly can do. When someone clicks on the link to an article, your branded Sniply box appears on the blog post page with your branding and call-to-action at the bottom.
Rather than sharing links like you traditionally do, you can use Sniply to share articles along with your branding and a CTA button – so you don't lose complete touch with your visitors. There's a free and paid-for version.
vidIQ and TubeBuddy
You work hard to create videos to add to YouTube. But how do you get people to find your videos? vidIQ and TubeBuddy are two different tools that I recommend you purchase together. (These tools do have some similar features, but they each have unique features which makes it worth purchasing both.) TubeBuddy and vidIQ give you information and insights on your competitors' YouTube videos.
When optimizing your video's description and tags, you can find the great ideas for tags and descriptions by looking at competitors that are already ranking high on YouTube. Since YouTube hides tags, it's hard to determine what you should add to your video description.
vidIQ and TubeBuddy shows the tags that other videos are using, so you can get ideas for tags for your video.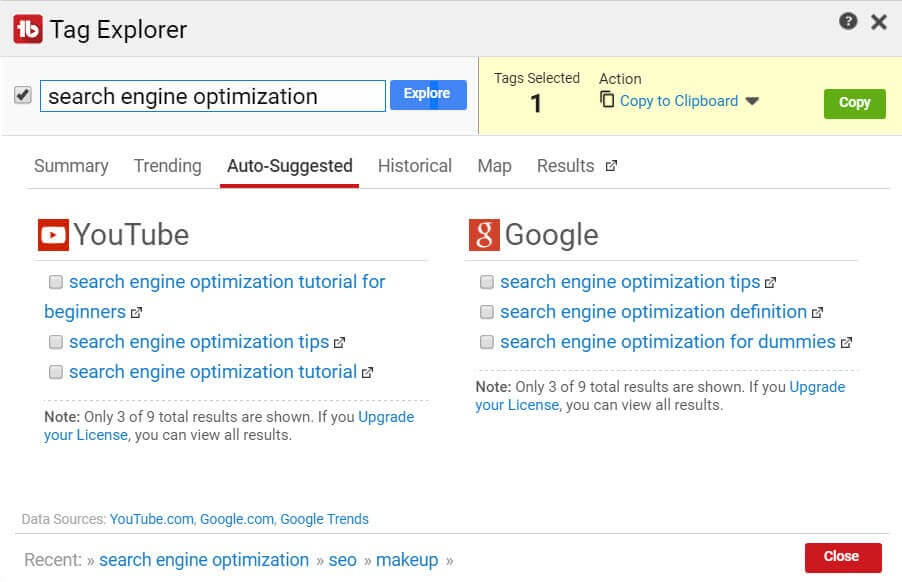 TubeBuddy even allows you to zero in on the most used tags that a competitor's channel uses. This gives you insights when you're setting up the SEO for your YouTube channel: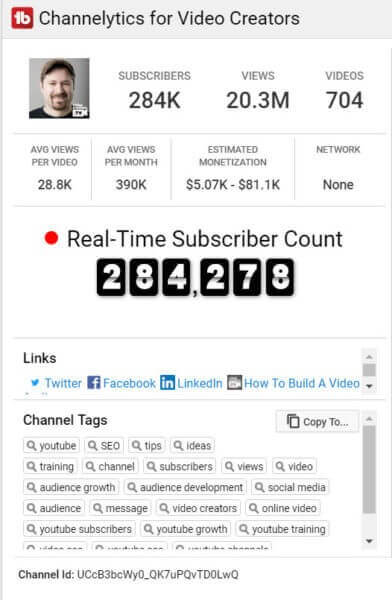 These tools allow you to see a lot of other information about your videos and your competitors' videos. For instance, you can see the number of Facebook likes, average view time duration, how many words are in their description, their SEO score, number of views and more. Think of these tools as your YouTube competitor spies!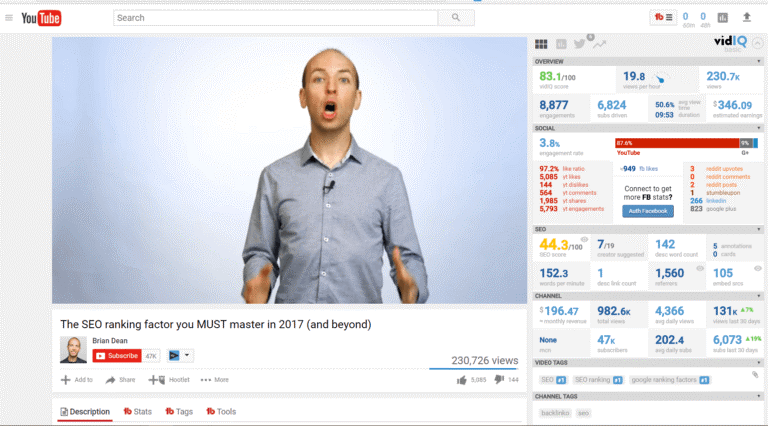 TubeBuddy also has a Tag Explorer feature, that acts like a traditional SEO keyword research tool. Simply enter the keywords you'd like to rank for, and you'll get suggested keywords you can use in your tags and video description.
As part of TubeBuddy's Tag Explorer feature, you can see a Summary section that shows the search volume, competition and overall competitiveness of a keyword.
So there you have it! Ten great new tools to try on your social media campaigns? Which ones are you going to try?