Joy Hawkins yesterday reported that Google's local 3-pack (aka 'snak-pack') will soon include an Advert in it.
Thus the 3-pack becomes the 2-pack…
Hat-tip to Colan Nielsen for using the 2pac quip first!
Joy from Imprezzio Marketing was attending SMX Advanced in Seattle when Google made the announcement in their presentation.
She was even fast-witted to photograph the 2 pack and share it with her contacts.
The photo is a bit grainy so here's a mockup created from that photo, to show what we think it may look like.
---
Paid-for Inclusion Squeezes Good Businesses
So it's here – paid-for inclusion in local results. Now any business – the good, the bad & the ugly – can get a highly prominent placement in local results by paying for it – rather than by genuinely being the best business for local consumers to use!
This will undoubtedly make life harder for local SEOs & business owners.
The 3-pack hard was challenging enough to get included in, but that job has now get tougher with 33% of the local pack space being sold to the highest bidder.
If you consider the amount of spam in certain categories then genuine, quality, play-by-the-rules business owners are being squeezed out!
The upshot for Google is clear = more revenue to satisfy bottom-line growth.
The downside is also pretty clear –
Worse experience for users
Good businesses being penalized
Lower-quality results as more businesses/SEOs employ grey-tactics to get a foot-up on rivals
---
Local Extensions for Adwords
The local pack Ad inclusion is not yet rolled out and hasn't been spotted in the wild – yet!
According to Joy these ads will be part of Adwords Extensions which will be available to local business advertisers who have their GMB listing connected to their Adwords Accounts. Presumably they'll also be available via Adwords Express which might finally make Adwords Express a viable, high performing channel for local businesses.
Intuitive dashboard, affordable, easy-to-read reports and the most accurate local rank tracking in the business. I highly recommend their service.

Jennifer Poole
Los Angeles, CA
New 'DEALS' Tag for Hotel Searches
This new development is different to the green DEAL icons which have recently featured in hotel listings.
As reported by The SEM Post, DEAL tags can feature in both the 3-pack (see screenshot below) and the Local Finder page. They display when a Hotel has rooms offered below normal rate, or lower than the rates of similar Hotels – or when a partner is offering a discounted price vs the market rate.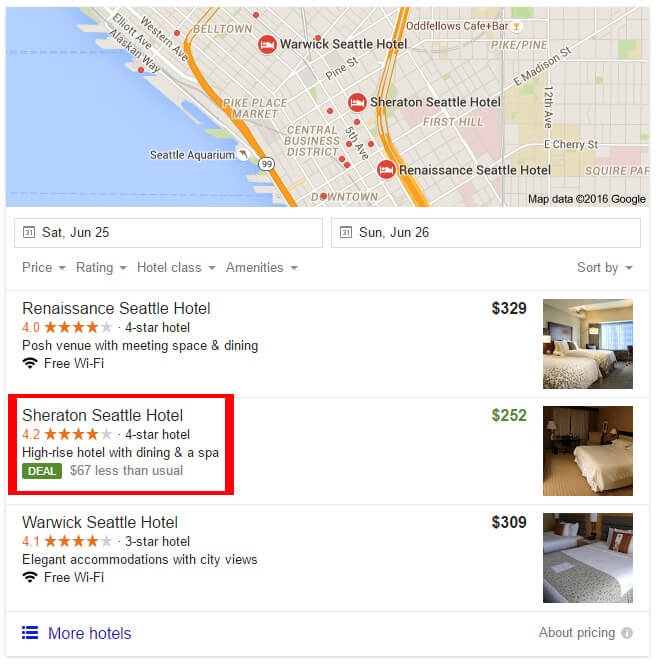 The big difference to note is that inclusion of a Deal does not put the Hotel top of the local results. The hotel still needs to rank on merit but the Deal tag helps it stand out which should boost conversion from browse to click.
---
Will Consumers Rise-Up Against Google?!
A key question is how will consumers react to this?
Will they vent their frustration at yet more ad-encroachment and flee to another search engine?
Or will they barely will notice the change, and if they do, will they really care?
Searchers have become accustomed to seeing more PPC ads in organic listings, and most consumers understand exactly what they are. However, despite the Ad label, it may take consumers a while to get used to paid ads in local results.
We've run some consumer focused research on this to find out how consumers will react to these local pack changes. In the meantime please let us know your thoughts in the comments.
Are you surprised by paid ads in the local pack?
How do you think it will affect local consumers / searchers?
What's the future for the new 2-Pack?
You can also follow the discussion with Linda & Joy on the Local Search Forum.
THUG LIFE.