Key 'Takeaways' From This Post
88% of SEOs/SMBs say that AdWords is more effective than Adwords Express
78% of SEOs/SMBs say AdWords Express delivers LOW ROI
57% of SEOs/SMBs say AdWords Express is NOT EFFECTIVE at generating traffic
30% of SEOs/SMBs say they tried Google AdWords Express but it was unsuccessful for them
[Update: In July 2018, Adwords Express was renamed 'Smart Campaigns'. For more up-to-date information on Google's ad options, visit our paid search tag.]
There are an abundance of posts about the best practice & effectiveness of regular Adwords to drive traffic & leads to all types of businesses.
But there are very few posts that specifically focus on Adwords Express (AWE) and examine its effectiveness for local businesses, its pros & cons & best practices for using it.
In this post we'll properly explore AWE and cover 4 areas –
What is Adwords Express?
Does Adwords Express provide good ROI for local businesses?
Pros & Cons of using Adwords Express
Best practices for using Adwords Express for local businesses
---
What is Google Adwords Express?
AdWords Express (AWE) is essentially a simplified version of Google AdWords (aka PPC ads, or paid-search ads)
Google has struggled to get small business owners to use Adwords because it's complex. It requires both time & knowledge to make it work cost-efficiently, and small business owners are time-strapped folks!
Adwords Express (AWE) is specifically designed for small, local businesses. It has a guided set-up process that makes it quick & easy to get up & running with paid ads on google. A business can target potential customers based on interests, location & language in just 3 clicks and put their advert live in under 5 minutes!
Sounds too good to be true. Is it? Let's find out…
Here are few key facts about AWE that you should know.
1. Businesses need to have a Google My Business (GMB) listing
To use AWE a business needs to have an active Google My Business listing. When you create an AWE campaign you first select the business's GMB profile & then create the ad campaign. Once your campaign is running you can see top-level results displayed in your GMB dashboard & can click through to your AWE dashboard to see data on views, clicks & keywords.
2. Where do Adwords Express ads appear?
They appear in all the places that normal Adwords ads appear – at the top of Google Search pages, on Google Maps pages & across the Google partner site network.
AWE ads also look identical to normal Adwords ads, so there's no telling them apart.
3. Is there a minimum budget & duration for running Adwords Express?
The minimum budget is very low – approx $1.5/day or $45/month.
You set a daily budget and Google converts this into a monthly amount. So your campaign will run for 1 month with your ads displaying each day until your daily budget is hit.
At that point your ad stops showing until the next day when your daily budget renews.
AWE also provides a guide to what your competitors are spending & the maximum size of your market. This gives an upper limit to your monthly spend which varies for each type of business & location.
---
Does Adwords Express deliver ROI for Local Businesses?
In March 2016 we ran an online survey of SMBs & Local Search marketers, asking them about their usage & experiences of AWE.
We contacted over 2,000 people but only 305 completed the survey. The main reason for the low response rate is simple – not that many people are using AWE so can't comment knowledgeably about it.
The following 5 charts give a clear view of what AWE users think about it.
How familiar are you with Google AdWords Express?
Key Findings:
64% of respondents are very familiar with Google AdWords Express
26% of respondents are unsure how Google AdWords Express works
10% of respondents have never heard of Google AdWords Express
---
Do you use AdWords or AWE for your business/clients?
Quick distinction for you –
AWE = Google Adwords Express (see explanation above)
Adwords = regular 'full-featured' Google Adwords service
Key Findings:
51% of respondents use Google AdWords for most or all of their clients
29% of respondents use AWE for at least some of their clients
9% say they have been unsuccessful with Google AdWords vs 30% with Google AdWords Express
Analysis:
So it's clear that many more people are using Adwords vs. AWE for reasons that we'll explore below.
Interestingly over 3x as many people found AWE to be unsuccessful vs Adwords.
So far Adwords is the favorite ahead of AWE.
---
How effective is AdWords Express at generating website traffic?
Key Findings:
57% say AdWords Express is NOT EFFECTIVE at generating traffic
39% say AdWords Express is EFFECTIVE at generating traffic
Just 4% say AdWords Express is VERY EFFECTIVE at generating traffic
Analysis:
Here we see why Adwords trumps AWE – AWE isn't very effective at driving clicks for the majority of people who have used it. Just 4% of respondents said it was 'very effective' at bringing customers to their site – hardly a glowing commendation!
One of a handful of tools that we couldn't live without. From Rank tracking, to citation bursts and tracking, BrightLocal is an invaluable local seo tool.

Damon Gochneaur
Flower Mound, Texas
---
 Does AdWords Express deliver good ROI for your business/clients?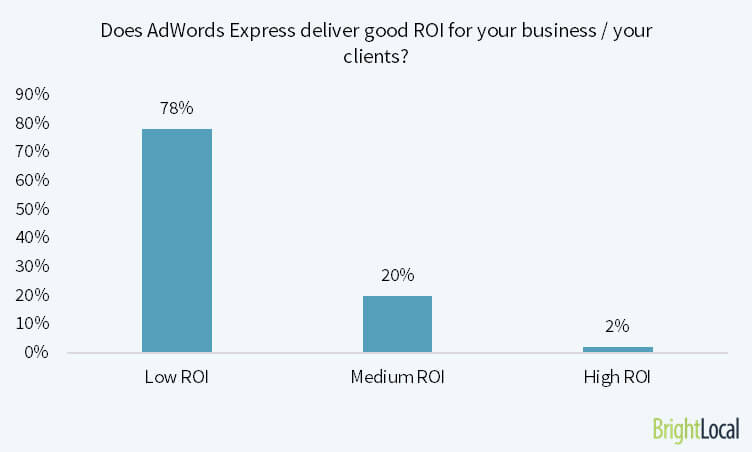 Key Findings:
78% of respondents say AdWords Express delivers LOW ROI
20% of respondents say AdWords Express delivers MEDIUM ROI
2% of respondents say AdWords Express delivers HIGH ROI
Analysis:
More fuel for the fire here! We already saw that AWE does a poor job of driving website traffic, and that translates through to ROI.
78% of people said that AWE delivers Low ROI. Ouch!
---
Is AdWords or AdWords Express more effective for your business/clients?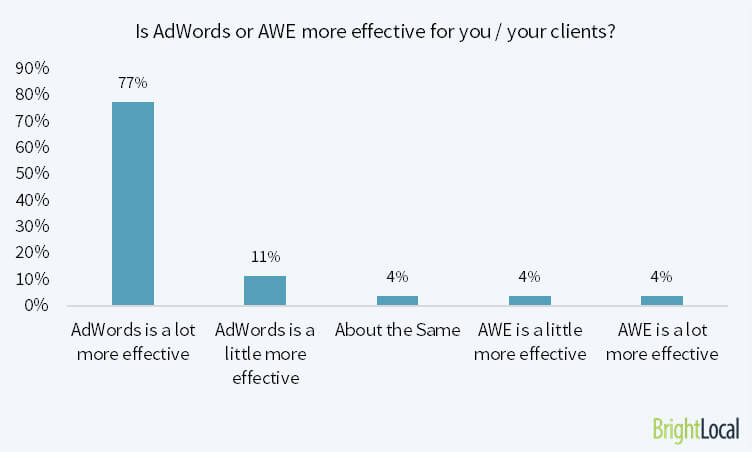 Key Findings:
88% of respondents say that AdWords is more effective
Only 8% of respondents say that Google AdWords Express is more effective
Analysis:
We have a clear winner – Adwords clearly outperforms AWE.
But 8% of people said that AWE outperforms Adwords. So clearly some people find success with it.
Next we'll examine the Pros & Cons of Adwords Express.
Pros & Cons of AdWords Express
In the survey we also asked respondents to tell us the best & worst things about AWE. We had a ton of great comments and I'd like to say a huge thank you to everyone who left comments – we salute you!
Within those comments were a number of recurring themes which we have distilled down into main Pros & Cons of AWE.
PROS
Quick & easy to get started
Simple to manage
A good entry into PPC for SMBs
CONS
Too easy to waste budget & ROI is bad
Limited control over exactly where your ads appear
Google sprays your ads across low-quality partner network
Limited keyword-matching opportunities
No location-based keyword options
No negative keywords options
No day or day-part targeting for ads
Can't set PPC levels for specific keywords
Maximum 40 mile radius for targeting users
No Ad Extensions to help ads standout
---
Is AWE it's own worst enemy?
Google designed AWE to be simple & make it easy for business owners to use. In doing so they stripped out many of the controls & targeting features that PPC practitioners use to optimize Adwords to make it cost effective.
All of the 'Cons' above relate to the 'missing' controls & features. And without these controls it's hard to make Adwords deliver positive ROI.
So AWE is in a 'catch 22' situation.
It's simple to use;
But being so simple it's very hard to make it deliver ROI
---
So where does that leave local business owners?
I think the situation is pretty clear; you have 4 options –
Leave PPC advertising well alone
Invest time in learning how to use regular Google Adwords
Understand that it takes money to make money & pay a professional (e.g. agency or freelancer) to manage it for you
Give AWE a try and see if it works for you, but limit your budget until you see if it does
BrightLocal makes our job as SEO specialists easier and faster. We would not be as successful without it.

Marc Harris
Santa Rosa, CA
Best Practices for using Adwords Express to attract customers?
So if you opt to give AWE a try then what can you do to give it the best chances of success?
I turned to my friend & well known Local Search expert Joy Hawkins to find out, and this is what she said.
1. Read all 'Help' guides before you start
Google provides some useful & concise documentation to help you use and get the best results from AWE.
So before you jump in and commit to spending your hard earned dollars, take 30 minutes to read through the docs.
Start here – Help Guides for Google Adwords Express.
2. Limit your Spend or go 'Pro'
AWE is really only good for businesses who spend <$500/month on PPC. If you find yourself spending more, then you should seriously consider switching to regular Adwords and hiring a professional to help you optimize your campaigns to deliver better ROI. 3. Link your AWE account to your Google Analytics Account
Google makes it easy(ish) to link your AWE account to Google Analytics. Doing this allows you to view the number of site visits & conversions generated by your AWE ads so you get a clear picture of performance.
To view conversions you will need to have 'Goals' set up in GA for the different conversion points – e.g. Contact Us form, Contact Us page etc…
See how to Link Adwords Express to Google Analytics here.
4. Regularly Monitor Keywords & Remove Poor Performing Terms
If you do link AWE to GA then you will see performance data for all the keywords that drive clicks via AWE.
This is invaluable because you can identify poor performing terms & irrelevant terms.
Once you have this data you can go back into your AWE dashboard and un-tick these terms so Google won't use them any more.
But the key is to do this regularly. Don't do it just once and think you're done. Google may introduce new terms into your campaign which don't work for you. Ideally you should schedule a weekly review of your terms and prune the ones that don't work for you.

5. Make Use of Free Call Reporting
AWE has a neat feature that allows you to insert free call-tracking numbers into your ads. This enables you to track both clicks & calls for your ads so you get the total picture of how it's performing.
Disclaimer – Call reporting is currently only available in a limited number of countries – see more here.
6. Use AWE as a test bed & Upgrade to Adwords if Successful
If you find success with AWE then great. This means that you can expect even more success using regular Adwords. At this time you might want to consider investing more and jumping over to Adwords.
---
Thank You!
A huge thank you to all 305 people who participated in the survey.
And a special thank you to Joy Hawkins from Imprezzio Marketing for her time & wisdom.