On September 11th, Google released a major update to how they detect automated queries (aka 'scraping') of their pages. Here at BrightLocal we use scraping techniques to get data on search rankings, citations, and reviews, but since Google made this update it has been much harder for us to get this valuable data and so we have been rapidly implementing a new approach to ensure that we can continue to provide accurate, timely reports to customers.
The good news is that reports are all running again and populated with the data you need to analyse performance, identify trends and report back to clients. In order for this to work, we have had to make some adjustments to how our reports function so we can keep getting data from Google.  These changes are explained below along with any actions that you may need to take with some of your reports.
Rank Tracking on Google Local Results
We have updated how we identify and track your rankings in Google's Local Pack and Maps results.
Using website address still works, but Google doesn't always display websites in these results, so we have two additional ways that we can identify your listing in local results.
1. Track ranking using unique Google Places ID
Google assigns a unique ID to every business/venue/etc in their database. We can use this ID to identify and track the ranking of a business in local pack/maps results; this approach ensures total accuracy because each ID is unique and mapped to a specific business location or venue.
New Ranking Reports
When you create a new local rank tracking report you can now search and select your business listing via Google's API. We then store the Google Places ID and use this to pinpoint your business when we track your search rankings.
We strongly advise all users to make use of this matching option for all new reports. 
*NB – we are rolling out similar changes to our Local Search Audit and Google My Business Audit reports this week.
Existing Ranking Reports
We have already mapped the majority (approx 60%) of existing reports against their corresponding Google Places IDs, so these reports are now benefiting from this new approach. However, we haven't been able to do this for all reports and we strongly encourage users to check their report settings (go to 'Edit Report'), select their business listing in Google API if it hasn't been done already and save the report settings.
How do you know if your report/business has been mapped to Google?
When you view the edit page of a report you will see one of three different states.
a) Report not mapped to Google ID
You should search and select your Google listing.

b) Report that is mapped to Google ID
If you see the below then your business is mapped. You can leave it as is, or select a new listing.
Also, if you don't see the Google Local Rank Tracking box on the edit screen, this also means that your business has been mapped.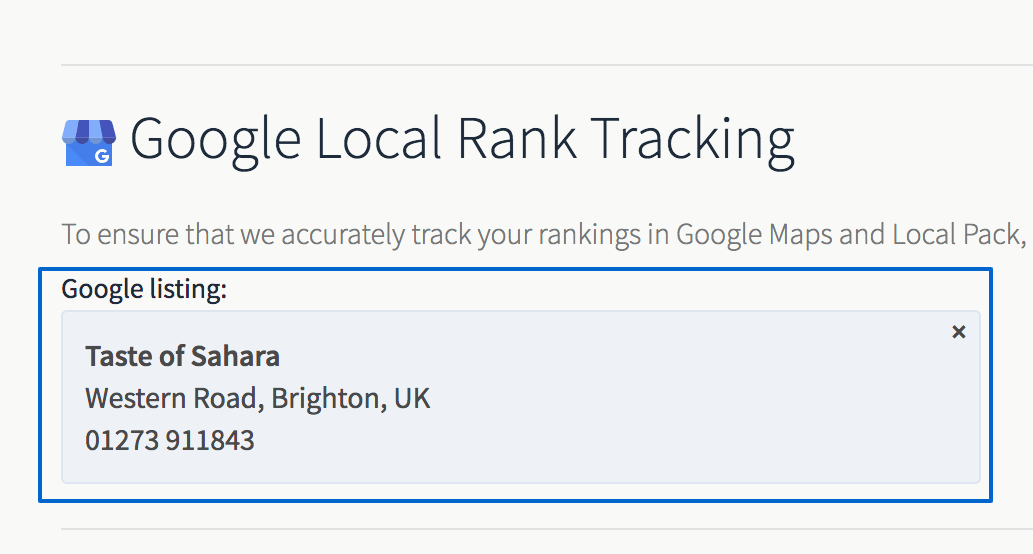 What happens if I can't find a business using Google API?
If a business doesn't have a Google listing then it won't show in the list of options (obviously).
Alternatively if a business has chosen to hide their address in Google then Google doesn't return it in the API so we can't show it.
But don't fear. If you can't find a business listing using Google API, there is a second option.
2. Track ranking using business name or phone number
In the advance settings you can enter the name of the business and the phone number. We can use both of these data points to identify and track your business in Google Local results.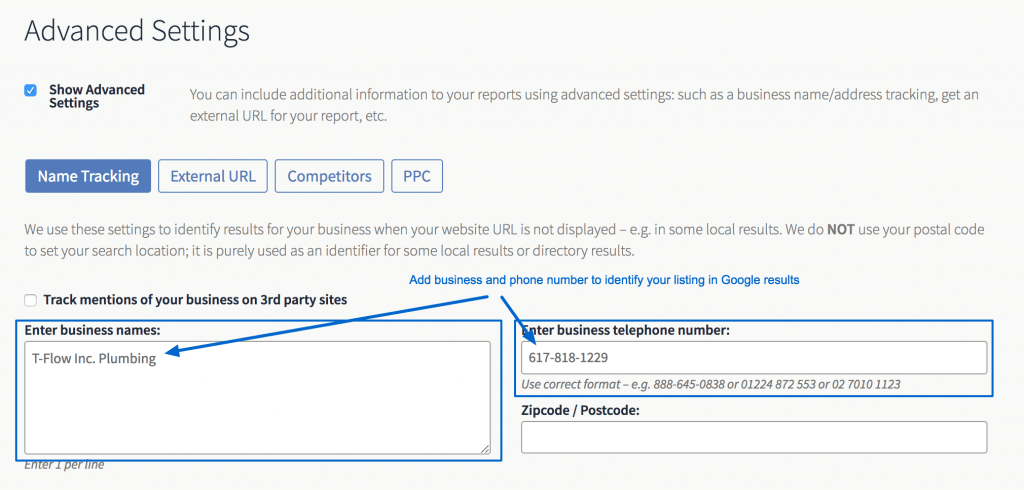 Search Location now uses a pre-defined list of Google locations
UPDATED: 12pm EST, 26.09.2018
We have updated our system to enable zipcode level tracking on reports. If you use zipcodes or postcodes as search locations you will need to re-run your reports to see zipcode-level data.
To enable our new tracking solution we have switched to using Google's official list of 'geo-targets' (i.e. a list of recognized regions, cities, towns, zipcodes). This list contains a very extensive list of towns and cities, but fewer zips/post-codes than actually exist. Where we are not able to find a location in their list we use an alternative approach to set location.
Where possible we advise users to user use either city, state or town, region as their search location instead of zip/post-code.
ORIGINAL MESSAGE: 25.09.2018
In many of our reports you are able to set a search location to localize the search results found.
In the past we've been able to take any location (city, town, zipcode) and use it in Google.
To enable our new tracking solution we have had to switch to using Google's official list of 'geo-targets' (i.e. a list of recognized regions, cities, towns, zipcodes).
There are three possible results of this change that we want you to be aware of:
Nothing has changed so no concern
Some search locations have been tweaked to match Google's list, and this will cause some changes in rankings because the location has shifted. So when you view your search results and see rank shifts this may be the cause. This is a one-time change and the next time your report updates it will reuse the new location so you won't see this fluctuation.
Google is interpreting non-specific search locations differently. By 'non-specific' I mean common town names such as Springfield or Franklin or Greenfield. There are many towns in different states with the same name and unless Google knows the state it will pick the one that it thinks you mean.
So when setting location please include the state code along with the town name (e.g. Franklin, IA or Greenfield, CA).
Google My Business Audit reports running monthly, not weekly
Because of Google's heightened sensitivity to automated queries we have removed the functionality to run Google My Business audit reports on a weekly schedule. They can still be run monthly, and ad hoc when users need fresh data.
We've made this change for two reasons:
We identified that these reports trigger Google's blocking mechanism more than any other report
Our analysis shows that users don't view these reports every week so there isn't the need to get data every week. These reports can be run 'on demand' by users at the time they need fresh data
Got Questions?
I'm sure you do! Our support team are on hand to answer these and guide you through any changes that you may need to make. Please contact us by live chat or submit a support ticket and we'll get back to you ASAP.
Are there more changes to come?
At this time it's not clear what further changes are needed. We think 'yes' but they won't be as significant as those outlined above.
On a positive note, we'll be announcing some new features very soon; these are things we've been working on for a while but have been on the back-burner while we resolve issues with Google.