What's new with Local Rank Checker?
It's been a busy few weeks for our Local Rank Tracker tool, having been the focus of a number of important updates. To summarise those changes – and to highlight some newer tweaks based on your feedback – we've produced the following short video.
It also includes a summary of more updates you can expect to see very soon.
---
Watch our quick summary video!
---
Changes to Summary Charts
At the end of last year, we rolled out a big design update for Local Rank Checker with a cleaner looking interface & mobile responsive reports.
Based on your feedback to that update, we've finalised some additional changes, as detailed below:
Size & color of Summary Charts
A major inclusion to our last update was the introduction of a Summary Chart in your Rank Checker reports. Summary Charts are designed to be a great way of showcasing your reports at a glance, therefore giving you & your clients a simple, visual overview of ranking changes.
Whilst we've had a lot of positive feedback on this feature, one of the recurring points flagged up, was that chart itself was a little too big, dominating the report screen & therefore taking attention away from other important metrics.
Today, we've amended that by reducing the overall size of the chart (see below).
We've also made revisional changes to the color scheme in Summary Charts.
Your feedback suggested that the blue / purple colors used were not actually very clear on some lower resolution screens. As many of you have clients that view your reports on a wide variety of screen resolutions, this could cause problems in terms of readability.
Therefore, we've changed this to a much clearer color scheme & also adopted the more traditional 'traffic light' system to show ranking changes more clearly.
BrightLocal makes our job as SEO specialists easier and faster. We would not be as successful without it.

Marc Harris
Santa Rosa, CA
Choose what clients DO & DON'T see
More of your feedback showed that a lot of BrightLocal users wanted the ability to hide Summary Charts on PDF & External Reports.
You can now do so, thus giving you more freedom in deciding which parts of your reports are visible to clients.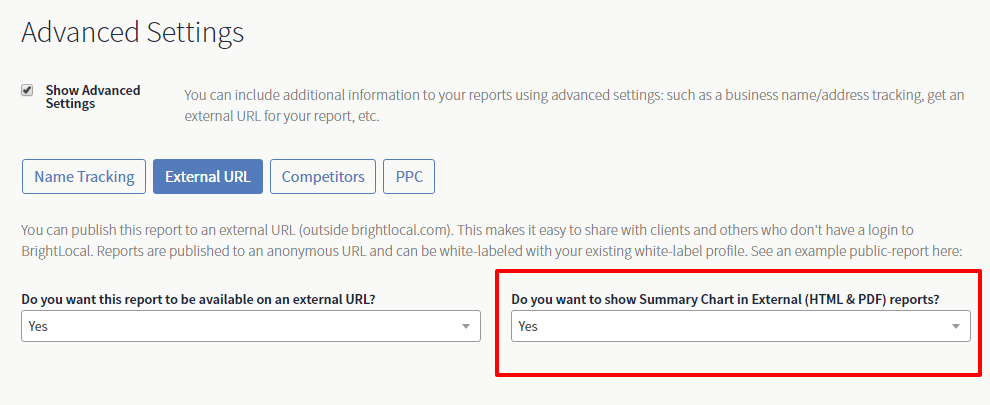 Greater control over your reporting view
Following the above updates, there are a number of other features being released.
First is the ability to hide the Summary Chart altogether from your BrightLocal interface. When you're viewing a report for a particular client, you'll soon be able to click to hide the chart, giving you less distractions as you analyze your reports.
---
Introducing 'Starred' search terms
Another new feature means you can 'star' certain search terms, therefore highlighting the keywords that are most important to you.
This feature is live now, and you can simply click on the star icon within your report, to highlight any particular search term(s). This is ideal if you are focusing on improving or monitoring a particular set of keywords over a set period of time.

---
Goodbye to Lost Rankings!
Your recent feedback told us that the 'Lost Rankings' section of the Summary Table would often only mislead or confuse clients.
For example, even if you lose rankings for a term that is of very little importance to you or your clients, these would still be highlighted – only serving to alarm clients about 'lost rankings', rather than showing off your good work.
This feature has now been removed, as below.

---
Upcoming New Releases
Search Term Count – Integrating Search Term Volume data from Google AdWords
New 'Add Keyword' function lets you add keywords from within report interface
Add your competitors to ranking reports
Search Term Tags – Group search terms together, eg, by service or product
---
Have an opinion on tool updates?
Whilst we love rolling out new updates for our local SEO tools, we want to ensure that any changes are changes for the better, and actually make your lives easier.
We also hope that the above post demonstrates that we do listen, and prioritize tool updates based on your feedback. So if you have any comments on Local Rank Checker, or any other tools, please let us know!
You can use the blog comments, or contact us section.