New Features added to Ranking Report
As part of our ongoing improvements to all our tools and reports, we have added two great features to your Search Ranking Reports.
Keyword Query Count*
For each of your keywords we now display the 'Count' of the number of searches done by searchers in Google per month.
This data is extracted directly from the AdWords Keyword Planner tool and is useful to understand the popularity of your keywords and to estimate the traffic opportunity they hold. You can quickly compare the counts for different terms and determine which terms to focus your SEO efforts on.
Localized Keyword Query Counts
We understand that local SEOs and local businesses want to know how local customers are searching for their business/service. This extends to knowing how many searches are being done for each keyword by users in their town or city.
If you set a 'Search Location' on your report, then we use that location as part of our query to Google to get search volumes. We can provide accurate local query volumes for almost every town and city around the globe.
Converting Zip Codes/Postal Codes to a Town or City
Google's Keyword Planner has a database of 85,000 towns and cities that they provide local query volumes for. We look to match your search location to a town/city in their database.
Unfortunately, Google doesn't recognize zip codes or postal codes in the Keyword Planner tool. So if you use a zip code/postcode as the search location in a report, we identify the corresponding town/city and grab the search volume based on that location. This gives you an idea of the local search volumes and enables you to compare different keywords against each other.
Show/Hide Keyword Query Count to Customers
We know that there are situations where you might not want to display these search numbers. So we have also added the ability for you to show or hide the keyword query counts on reports you provide to your customers. By default we DON'T display the counts in both external reports and external PDFs.
But you can show this data in the 'Advanced Settings' section of each of your reports.
*Available to customers on SEO Pro Plan
NOTE: This feature is only available to customers on our SEO Pro Plan. If you are on the single business or multi-business plan, then you will need to upgrade to SEO Pro to view this data.
---
I highly recommend BrightLocal and their team to anyone looking for a way to gain a competitive advantage in their online presence.

Gary Troutman
Powder Springs, GA
Keyword Groups
Keyword Groups is a powerful feature that enables you to see ranking performance for similar keywords and compare the performance across many different groups of keywords. This feature makes it easy you to see the search performance for specific products or services or locations in one report.
NOTE: This feature is available for all customers on all packages.
View Ranking Performance for Similar Keywords
Grouping keywords makes it easy to view the overall performance of similar terms and then track their ranking performance over time. You can have up to 10 keyword groups in each ranking report.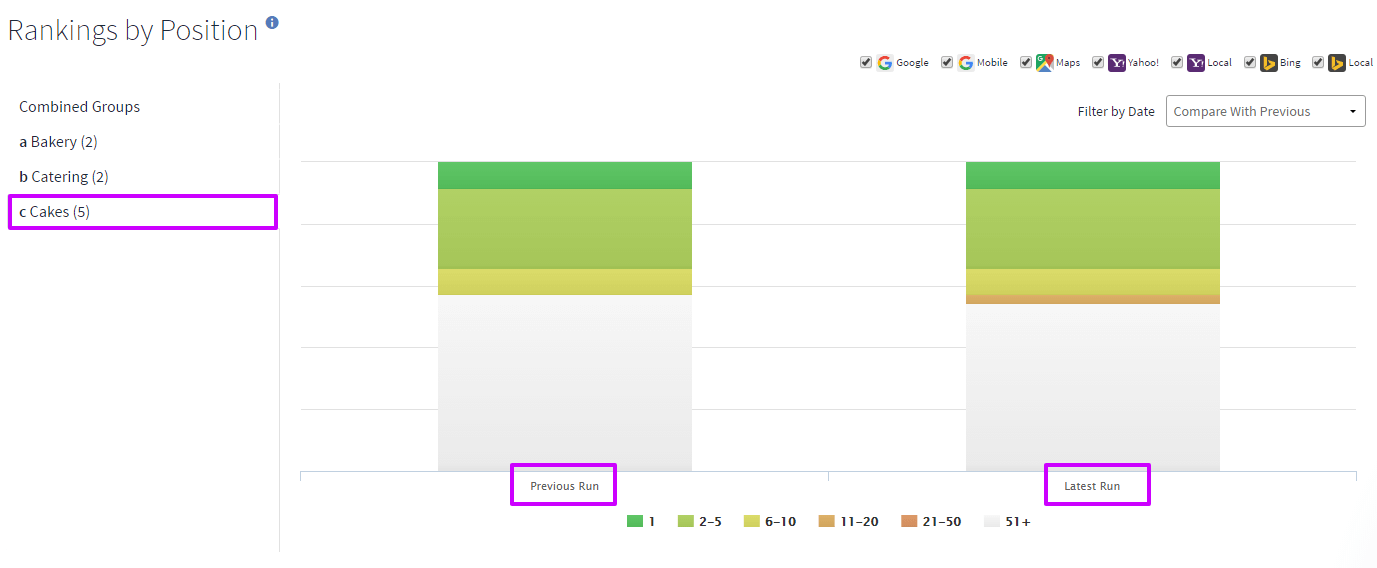 Compare Search Performance for Different Products and Services
Keyword Groups makes it easy for you to compare the search performance for all your products, services or locations.
Simply create a search Group for each Product or Service you track. Then compare the aggregate ranking positions for each group.

Adding Groups is easy. Simply create a group and then search and select the terms you want to see rankings for in that group. Each search term can belong to multiple groups.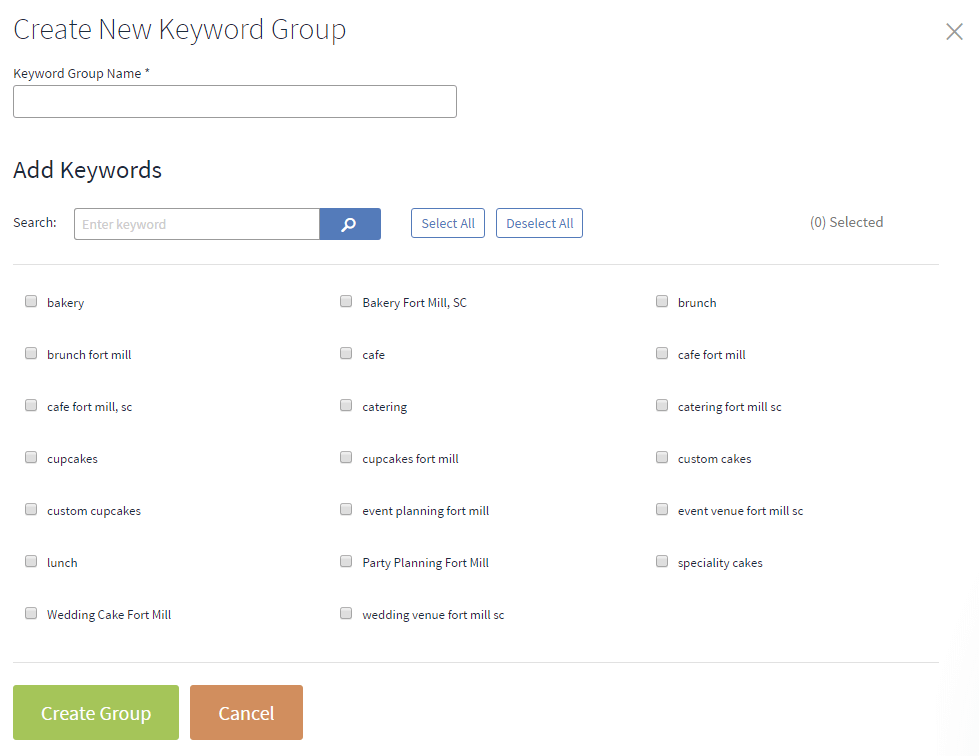 ---
We hope you like these new features! If you have any questions or feedback, please contact us via chat or email and we'll get back to you.