You can now track & report online customer reviews from both Facebook & TripAdvisor with ReviewFlow.
In a major update to our review tracking tool, we've added functionality to find & monitor reviews on both sites as part of our commitment to making the best local SEO & reputation management tools on the market.
ReviewFlow is BrightLocal's online review tracking tool, released in December 2013, with the ability to track reviews on 16 leading review sites. Users can already track reviews on Google+, Yelp, CitySearch, SuperPages, YP.com and InsiderPages.  Now we've gone one step further by adding two of the biggest & most popular review sites in the world.
---
Monitor Reviews From Facebook & TripAdvisor
As popular as ReviewFlow has been since its release, we know that one of the missing ingredients has been the ability to find & track reviews from Facebook & TripAdvisor. We have a constant flow of tool updates & improvements in development, and this particular feature has been high on our list for some time!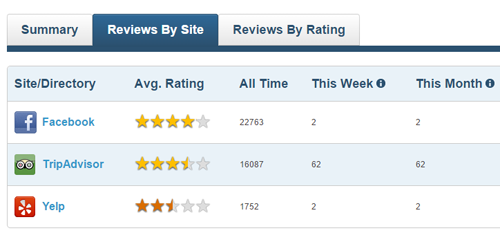 Currently ReviewFlow is only available for BrightLocal customers in the US. However, we are working on a UK release this month, so stay tuned!
---
How to start tracking Facebook & TripAdvisor reviews
Track reviews in an existing report
If you have existing ReviewFlow reports, then you will need to amend the settings in order to start tracking Facebook & TripAdvisor.
Simply go to 'Edit report', scroll down to Facebook & TripAdvisor, then select the tickbox & enter your business profile, as below:
Track reviews in a new report
If you are setting up a new ReviewFlow report, then there are no further actions required! Just start your report as usual & we'll automatically monitor both Facebook & TripAdvisor for you – as well as all these other sites:
---
Why are Facebook & TripAdvisor so important?
It's important to monitor what people are saying about you online. 88% have read reviews to determine the quality of a local business, and 72% say that positive reviews make them trust a local business more.
As well as being one of the most popular websites in the world, Facebook has been growing as a customer review platform. With 1.4 billion users, many consumers like the convenience & ease of leaving customer reviews from a site that they are comfortable with, and often already logged into.
We discussed the rise of Facebook reviews on a recent InsideLocal Webinar: 'Making Reviews & Reputation Work for Local Businesses'.
A post from Mike Blumenthal last year, showed that Facebook was the second most popular choice in a poll to find out which review site users are most likely to use when leaving a review for a local business.
The users had all previously classed themselves as occasional or frequent online reviewers. The results show that Facebook & TripAdvisor are all important sites for any local business to track.
TripAdvisor is one of the world's biggest travel resources, attracting over 40 million users per month, and currently featuring 40m reviews of hotels and restaurants worldwide. The tracking of TripAdvisor reviews is absolutely essential for any local business in the travel, hospitality & catering industries.
---
What is ReviewFlow?
ReviewFlow is a comprehensive review tracking tool that allows you to easily monitor the quality & quantity of your online reviews.
ReviewFlow lets you find & monitor online reviews on 18 of the leading review sites. As well as Facebook & TripAdvisor, you can track reviews from Google+, Yelp, CitySearch, SuperPages, YP.com & InsiderPages. ReviewFlow pulls all of your reviews into 1 report and presents the data in a clear set of tables & charts.
---
Custom reports that visualize review growth
With ReviewFlow you can set up reports to update every day, week or month. We'll seek out your reviews, and as soon as your report is complete we'll send you an email alert. We'll also notify you of any new reviews you have & any changes to your star rating.
With our existing White Label reporting feature, your ReviewFlow reports can be customized with your own logo & branding. Reports are available in PDF format and include all charts, tables & snippets of your most recent 20 reviews.
---
Track reviews by site & star rating
Using ReviewFlow it's easy to see which sites you have reviews on, and which sites have the best & worst ratings for your business. We group your reviews by Star Rating so you can quickly see & respond to any bad reviews, or alternatively, bask in the glow of the good ones.
ReviewFlow reports are included in our 3 standard tools packages. However, if you need extra reports to track more locations it costs just $5 per location – making it one of the most affordable review tracking tools on the market.