Local link building is the backbone of any local SEO strategy. Your rankings depend on the quality of your link building campaign, your capability to identify backlink opportunities, and your ability to network your way into link providers' hearts!
But local link building is notoriously tricky and time-consuming. And, without the right tactics, it can prove pretty fruitless. It's also very different from traditional link building and requires an altogether different approach. So, what can you do?
Enroll in our brand new BrightLocal Academy course—How to Master Local Link Building— by the local SEO master himself, Greg Gifford.
During the course, Greg will teach you:
the difference between traditional and local link building;
tactics for local link acquisition;
how to do outreach the right way; and
how to structure your link building efforts to be more efficient and effective.
Watch this video to find out more…
Who is this course for?
This course is a great fit for agency professionals and business owners who are new to local link building and want to learn more. Or for those who want to brush up on their skills and find a more efficient and successful process.
How can I join?
Whether you're a BrightLocal customer or not, you can get access to this course. You can also be among the first to find out when new courses drop by enrolling for free. Here's how…
If you're a BrightLocal customer, you can access the academy via your BrightLocal account. Simply log in, click 'Learning Resources' at the top of the screen and select 'BrightLocal Academy' from the dropdown menu.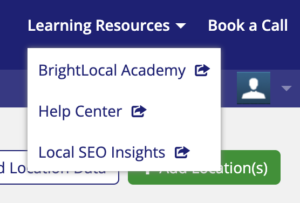 You'll need to create a free BrightLocal Academy account before you can enroll in the 'How to Master Local Link Building' course.
If you're not a BrightLocal customer, you can join BrightLocal Academy for free here and follow the steps above to enroll in the course.
Want to know more about BrightLocal Academy?
Check out the official BrightLocal Academy FAQs here:
What is BrightLocal Academy, how does it work, and how can I enroll?
What courses does BrightLocal Academy offer and how long do they take?
We hope you find this fresh new course useful, and we can't wait to hear how it's helped you improve your local SEO reporting skills.
If you have any questions of your own, feel free to get in touch with us or leave a comment below.