We've been working hard behind the scenes and are thrilled to announce the arrival of BrightLocal Academy: a free online school dedicated to teaching you all about local SEO.
Built with busy professionals in mind, it will help you to:
Make the most of the time you have to learn with short interactive videos.
Fill your knowledge gaps by letting you learn what you want, when you want to.
Make what you learn really stick, through regular quizzes.
Stand out from the crowd with certificates you can add to your CV or LinkedIn profile.
The first course we're launching is Level Up Your Local SEO with BrightLocal which uses the power of interactive content to guide you through the theory of local SEO and shows you how to put its awesome powers into practice with confidence. 
So if you're not sure where to start with BrightLocal, or want to uncover new insights in your data to improve results quicker, then this is the course for you! 
We've got some other great courses from industry experts in the works, too. Each will tackle a different aspect of local SEO so that the BrightLocal Academy will ultimately bring all the local search knowledge you need under one roof. 
How can I join?
Whether you're a BrightLocal customer or not, you can get access to the first course and be among the first to find out when new courses drop by enrolling for free. Here's how…
If you're a BrightLocal customer, you can access the academy via your BrightLocal account. Simply login, click Learning Resources and select BrightLocal Academy from the dropdown menu that appears.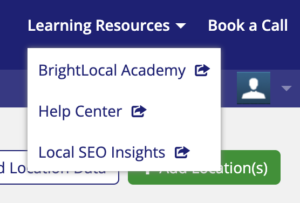 You'll need to create a free BrightLocal Academy account before you can enroll in the 'Level Up Your Local SEO with BrightLocal' course.
If you're not a BrightLocal customer, you can enroll in BrightLocal Academy for free here.
Want to know more?
Check out the official BrightLocal Academy FAQs here:
If you have any questions of your own, feel free to get in touch with us or leave a comment below. We hope you find BrightLocal Academy useful, and we look forward to hearing your thoughts.