Active Sync is here, and with it, the local listings management game has changed for good.
We're thrilled to announce the full launch of Active Sync and unveil the first-of-its-kind hybrid listings management solution.
This is a significant moment for us, and our customers, and we've had an interesting journey to get here. Before we dive into what Active Sync is and how it can help you manage listings more effectively, let's start by taking a look at the local listings landscape.
Shift Happens
Over the past decade, the local listing landscape has undergone a significant transformation. Previously, consumers used hundreds of sites to discover local businesses. But now, just a few major players dominate consumer engagement.
Our research shows that Google, Bing, Apple, and Facebook account for 92% of online engagement with local businesses. That's quite a seismic shift.
All that seismic activity meant the local listings landscape split into two distinct layers. We have dubbed them the Engagement Layer and the Authority Layer.
A New Listings Landscape
The Engagement Layer is made up of Google, Bing, Apple, Facebook, and the places these publishers push their data. They're your primary digital storefronts where customers discover, evaluate, and engage with your brand.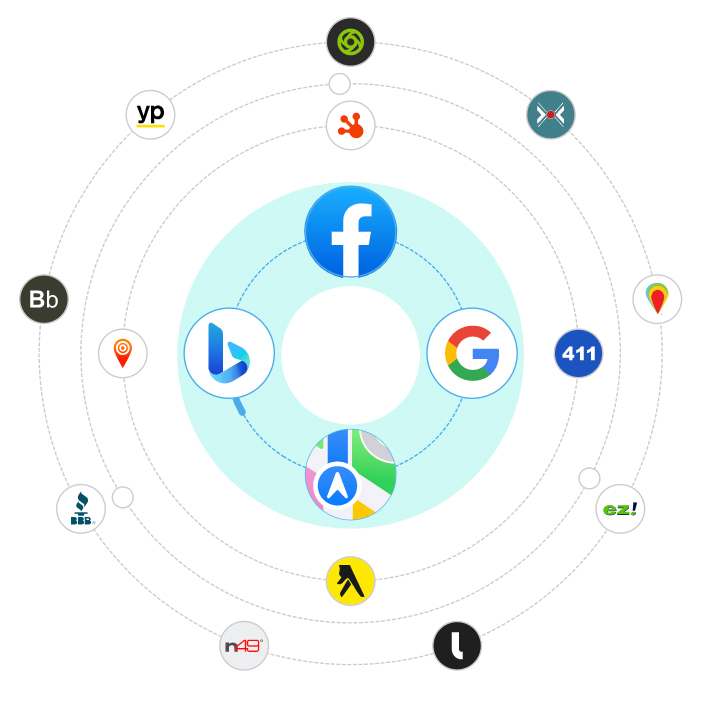 The Authority Layer comprises hundreds of listing sites that still exist on the web today, including Manta, Merchant Circle, Hotfrog, and Superpages, among others. While customers rarely visit these sites directly, they still help you build authority and trust with search engines.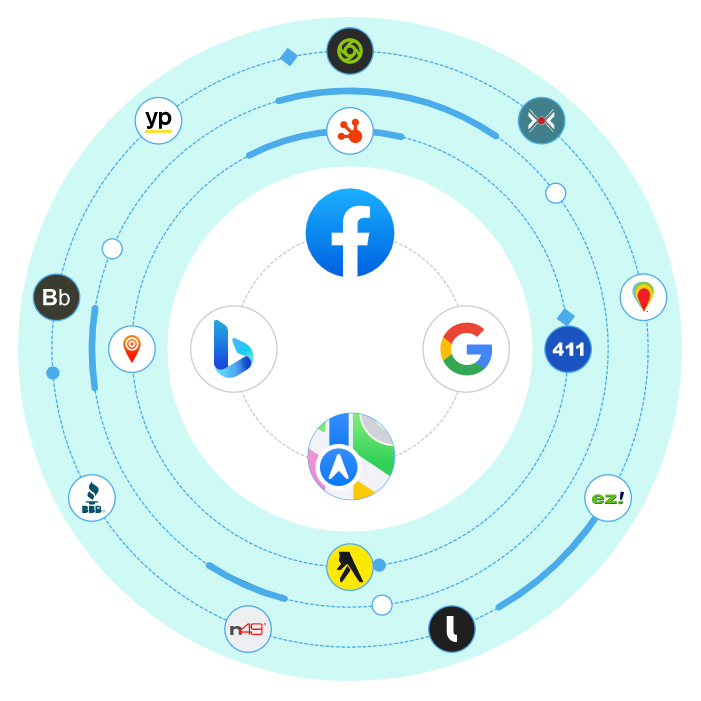 But there's a problem: the technology designed to help marketers manage their local listings treats both layers identically.
Traditional API Solutions Got Stuck in the Past
Traditional API solutions offer the dream of managing your data on every imaginable site from one place. But it's just that, a dream. They often come with a one-size-fits-all network, charge huge fees, and force you to "rent" your listings. Not only do you struggle to get ROI, but you also risk listings reverting back to inaccurate data if you leave.
They can be an expensive trap that's tricky to escape.
Citation Builder, our manual submission service, has been a successful alternative for many businesses, offering a broader network of sites in different niches, control over site selection, and no recurring fees – all at a fraction of the cost. Last year alone, our team handled over 1.4 million site submissions for over 72,000 locations.
Still, we understood the appeal of API solutions, with the speed and protection they offer. Making updates is quick and easy. And they're the first line of defense against external edits.
As the local listings landscape changed, we realized that the technology needed to change too. 
That's why we're excited to announce the launch of Active Sync, our very own API solution that's purely focused on the sites that actually matter to consumers.
And the best part? It's designed to work in combination with Citation Builder. You get the speed and control of an API solution, with the reach and flexibility of a manual submission service, at a fraction of the cost of traditional API solutions.
How unbeatable?
Consider this: if you're a marketer working for a 10-location business and you go with Yext, Synup, or Moz, you could end up spending anywhere from $2,000 to $5,000 per year. 
With BrightLocal, you'll likely pay just $1,800 in the first year (which covers a Citation Builder campaign) and as little as $800 each year after that. 
Over the course of five years, you could save anywhere from $5,000 to $20,000 – that's up to 75% saved.
See how much you could save
Use our calculator how much you could save by switching to BrightLocal.
Now that you know why we're excited about the launch of Active Sync and how it'll benefit you, let's talk about how it all fits together.
A Smarter Approach
Remember the "Engagement" and the "Authority" layers we introduced you to? Well, Active Sync and Citation Builder are specifically designed for each of them.
Because the Engagement Layer is where most consumers will discover and interact with your business, it's vital to keep the sites updated and protected at all times. These sites are prone to external edits, like users changing your opening hours. Bad information on these sites can really hurt your brand reputation and customer experience.
That's where Active Sync gets to work.
With Active Sync, you'll be able to:
Block rogue edits from external sources
Keep your listing data synced and consistent across Google, Apple, Facebook and Bing
Update all listings in one go when you need to
So, say you had holiday hours you needed to update, it's just a matter of making your updates in BrightLocal, and letting Active Sync push them out to your listings. This is a great time-saver if it's just one location, but it's a massive game-changer if you're making updates across hundreds of locations in one go. You'll save hours, if not days, of work.
The Authority Layer covers the sites outside of the Engagement Layer. On these sites you generally only need to worry about having a presence, accurate NAP information (Name, Address, and Phone Number), and no duplicate listings causing confusion.
This is where Citation Builder comes in.
Our team of experts will:
Build new listings on relevant, authority-boosting sites,
Clean up existing inaccurate listings 
Remove any duplication listings that are causing confusion
There are no recurring fees, and the listings are yours to keep forever. If you need to make significant changes to listing information down the line, you can simply run another campaign.
How does Active Sync work?
Managing your business's listings can be a daunting task, especially if you have multiple locations to keep track of. With Active Sync, we've streamlined the process to make it as simple as possible.
To get started, enable Active Sync for a location and ensure the information you want to push to your listings is accurate and up-to-date in Location Manager. 
Once that's done, connect Active Sync to your listings on Google, Bing, Apple, and Facebook.
You can then easily push out new updates to your listings whenever necessary. For example, if you need to update your holiday hours, simply make the change in Location Manager and push the update to all your listings.
Active Sync also protects your listings from external edits. It will automatically detect and alert you of any proposed or actual edits to your live listings, such as a user changing your phone number. You can then accept or reject the edit right away via email or manage it through the Alerts Inbox.
For brands with multiple locations, managing listings at scale can be a significant challenge. We've developed bulk update workflows to make managing hundreds of locations more manageable. 
How can I start using Active Sync and how much does it cost?
Active Sync is available as an addon on all our subscription plans. 
It costs $8 per location per month for monthly plans, or $80 per location for the year on annual plans, which is two months free. We also offer custom plans for businesses managing over 50 locations.
This is a fraction of the cost of other API solutions and a small price to pay to keep your listings protected from external edits.
Our research shows that 63% of consumers would stop using a business if they encounter incorrect information.
For just 25 cents per day, you can ensure potential customers see only the most accurate and up-to-date information about your business.
If you're subscribed to a plan, you can enable Active Sync today. Go to "Location Manager" on one of your locations and follow the steps to get set up.

And if you're managing over 50 locations, speak to our Enterprise team to learn more about our custom options.
Two layers. One hybrid solution.
With the launch of Active Sync, we're thrilled to introduce the first-of-its-kind hybrid listings management solution. It's something that many customers have been eagerly requesting. They want the speed of an API solution but can't justify the high costs. They appreciate the customization and breadth of Citation Builder but also require the ability to make quick updates periodically.
With our hybrid solution, you can have the best of both worlds.
The local listings landscape has evolved, and finally, the way to manage listings has evolved too!