Texting has now become our number one communication channel in all aspects of life. It makes communicating easier and faster, and we desire that efficiency whether connecting with friends or finding a contractor for a home repair.
Business text messaging is here to stay, and businesses that adopt it now will have an early advantage over competitors late to the party. With that in mind, let's explore the benefits and considerations of business texting.
What the Numbers Say
A recent survey showed an eye-popping 89% of consumers want to initiate and reply to two-way conversations with brands via messaging channels and apps. 76% of consumers currently receive text messages from at least one business they work with.
Leadferno's survey of 2,000 consumers surfaced that SMS is the most popular communication channel — topping calls, emails, and other messaging channels.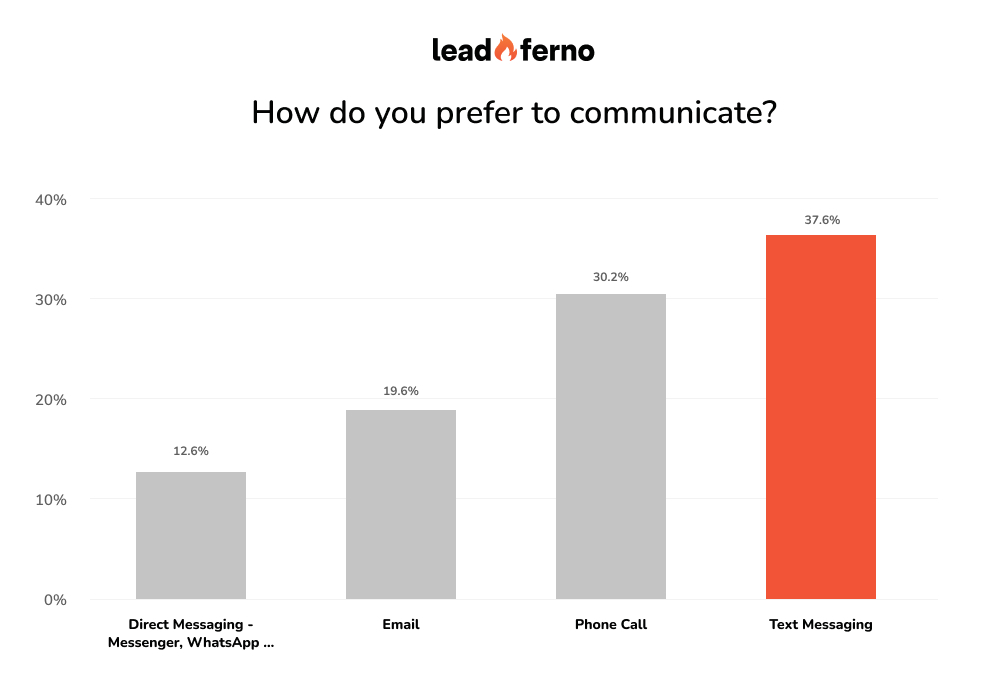 The adoption numbers and trends show that it's time to leverage text messaging to grow your local business and for your agency to recommend it to clients.
7 Ways Your Local Business Can Benefit From Text Messaging
The benefits of communicating with your prospects and customers using SMS are many, but let's focus on the seven that can have the most impact on businesses. The great news is that it's not just your customers that benefit, it's your team and company too.
1. Real-time Communication
Text messaging allows businesses to communicate with their customers and team members in real-time, enabling quick response times and faster decision-making. Compared to email, SMS replies, on average, are 60 times faster. Just 90 seconds for texts and 90 minutes for emails.
Text messages also boast an open rate of 98% so leveraging this real-time communication channel is important. It's always with customers on their phones, and in the app they use most.
2. Lead Capture With Web-to-text
You're already spending time and money on driving traffic to your website with SEO, local SEO, social media, paid ads, and traditional marketing. You want to maximize conversions of that traffic to leads and a web-to-text widget can help you. 
A web-to-text widget allows your visitors to immediately start texting with your business. Connecting via SMS might be the lowest barrier to entry for prospects to ask questions and start a conversation.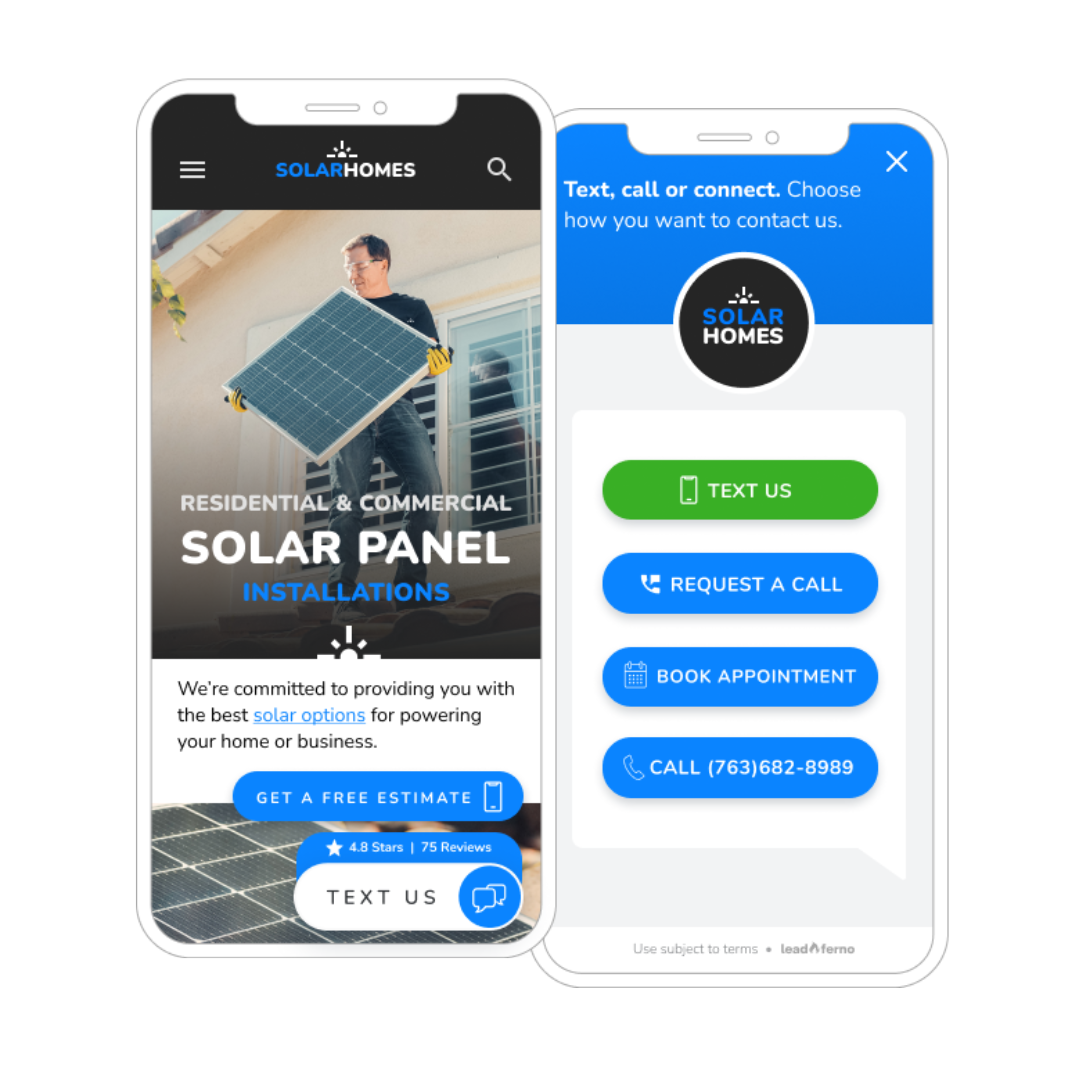 Web-to-text offers advantages over live chat for many businesses because it's familiar to your customer, personalized, fast, and easy to manage. They're not stuck in a chat window on a web page where they started the conversation, and they aren't waiting for an agent to help them. 
It's an easy-to-manage asynchronous conversation where they get reply notifications, can think through responses, and engage on their schedule.
A web-to-text widget is always available to collect leads on desktop, tablet, and mobile websites. There's no "Agent offline" message typical of chat widgets. Our survey found 57% of users left a website when clicking a live chat button that then stated the chat agent was offline or unavailable. That's an incredibly leaky conversion funnel.
Texting is also easier to manage for your staff. As consumers' reply expectations move from just minutes with live chat to same-day responses with texting. That leaves your team more time to delight your prospects and customers and use a channel both sides are already familiar and comfortable with.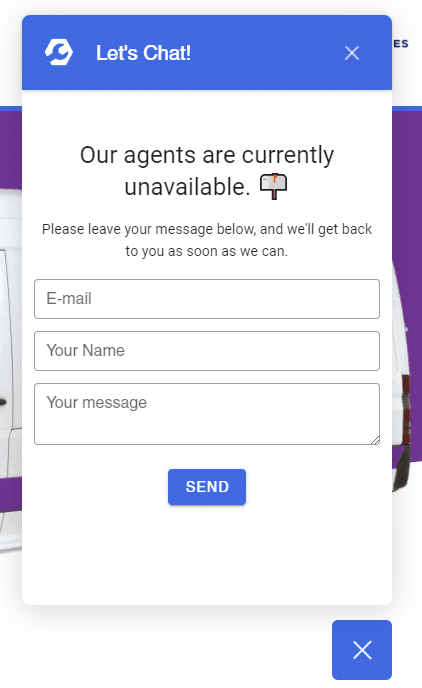 Lastly, texting, unlike chat, allows you or the customer to restart the conversation at any time. Texting becomes an ongoing connection, live chat is just a session that has to revert to email once the moment has passed. 
3. Updates and Reminders
Reminders are where SMS proved its value early on for business communication. Appointment reminders from your dentist or an update on your appliance delivery have been very handy. Don't limit your business use case to just reminders. You can grow to accommodate two-way communication and reminders.
Texting is a great way to keep customers updated on any process. An email might get lost and a phone call might be an inconvenience all the way around. Texts are a fantastic way to keep customers updated on any meeting, needed information, or other details.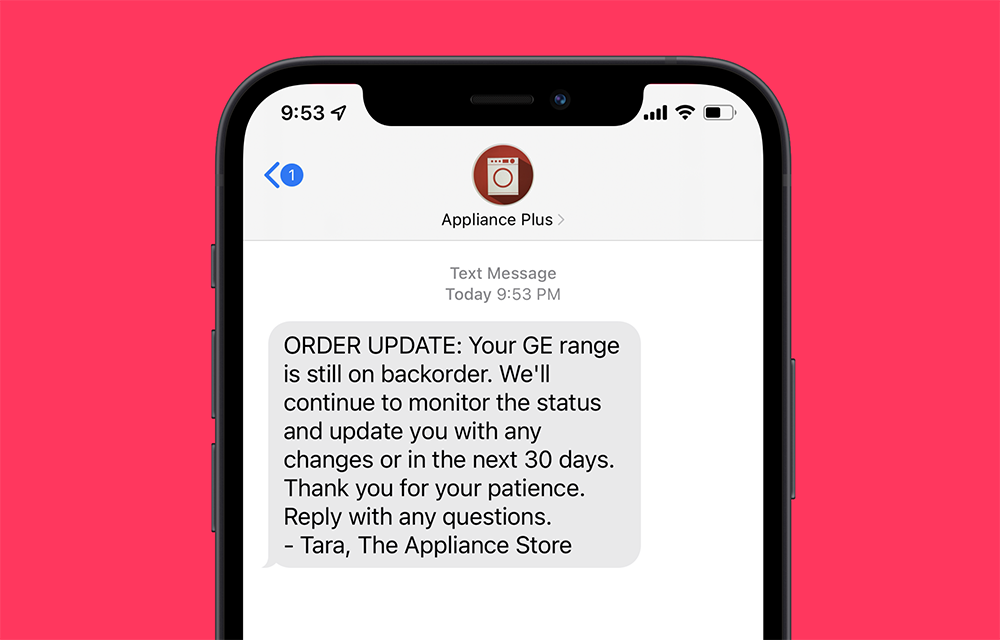 Texting can increase the quantity and quality of your customer touchpoints and processes. Better yet, as you're using them for reminders, with a two-way texting solution, your customers can start a conversation with you about the reminder you just sent.
4. Customer Experience
When you're easy to work with you become a business that customers want to rave about, refer, and review. Being easy to work with is the new golden rule of business. Offering 2-way texting for your customers makes working with you easy and supports a solid customer experience. Just look at this review: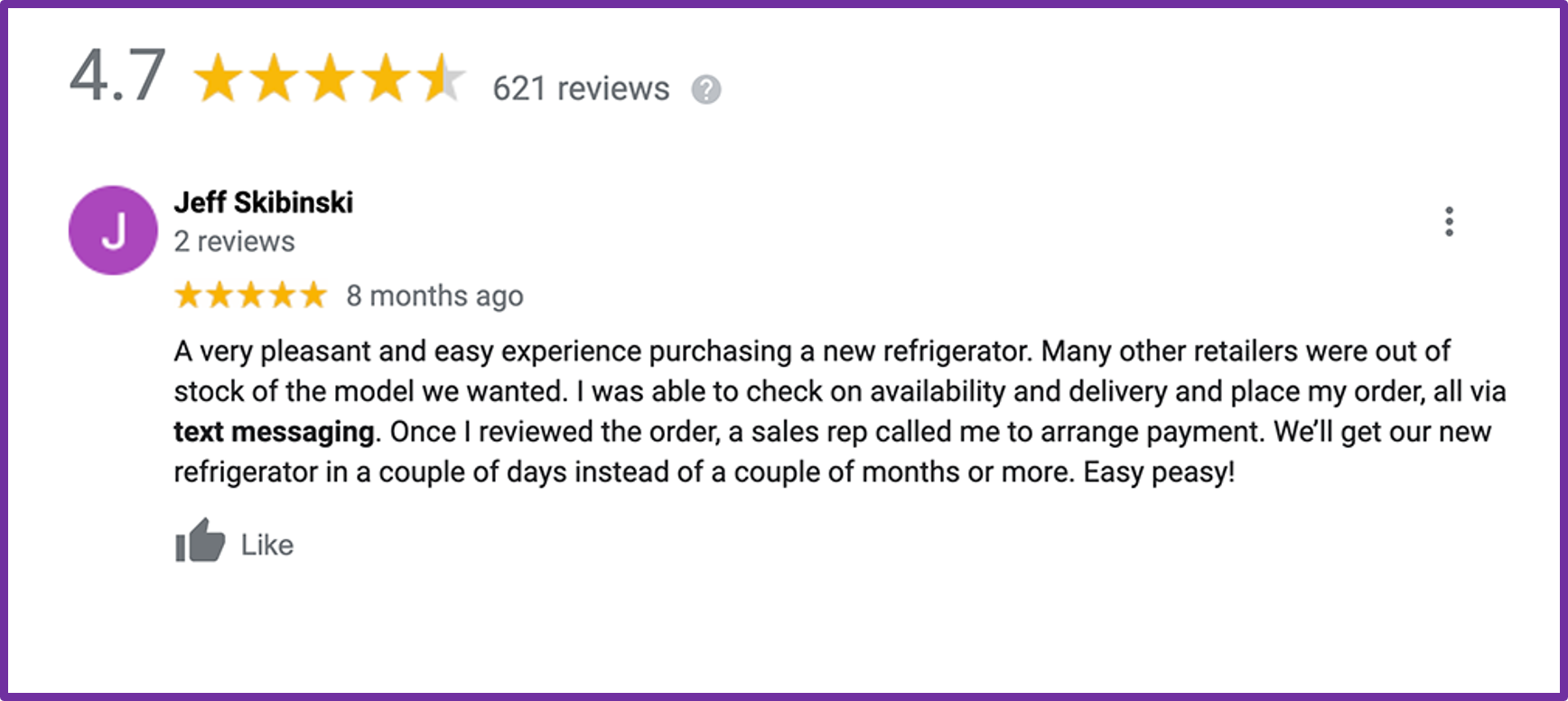 When users are willing to note the benefits of texting in a review, you can clearly see the impact. Great communication is a differentiator that can bolster your reputation and brand, especially as a small business. 
5. Connection
Humans crave connection, text messaging can help to improve connection with customers by providing a convenient, personalized, and instant form of communication that can help to build stronger relationships and increase customer satisfaction.
Building and maintaining a great connection with your customers is especially important during an economic downturn. As many businesses found out at the height of the pandemic, being connected to your customers is a lifeline. Connection can help rally the support of your customers and take their loyalty to new levels.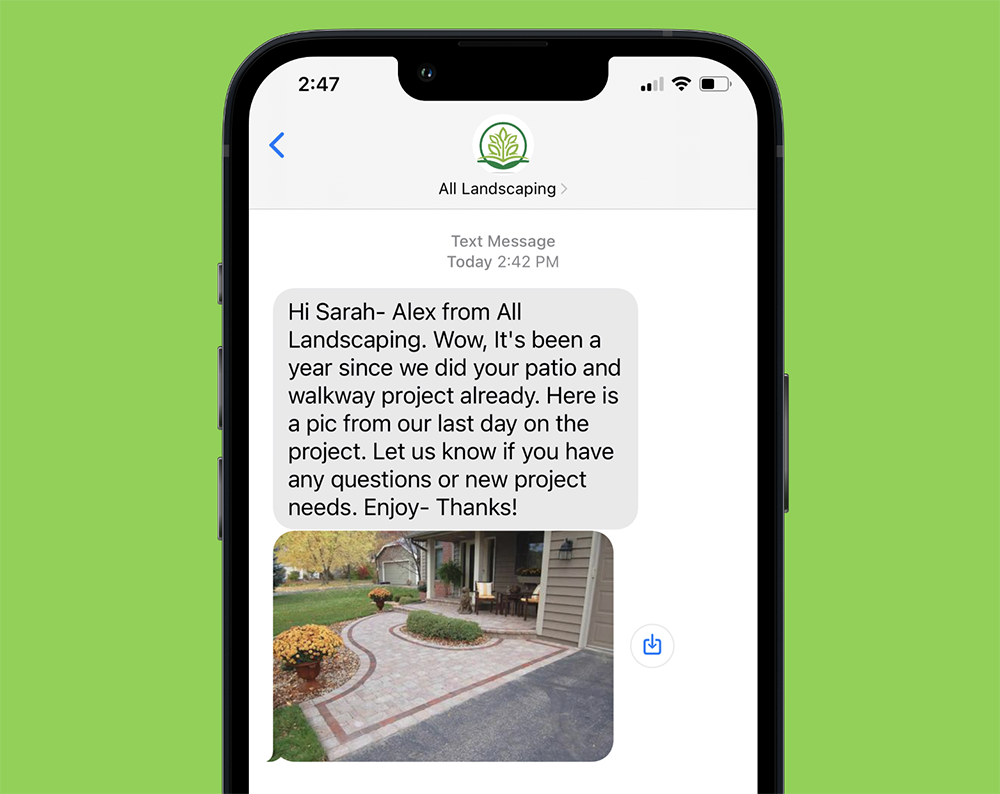 These strong connections to your business will lead to repeat purchases, referrals, social media mentions, positive reviews, and more.
6. Requesting Feedback and Reviews
Online reviews and customer feedback are incredibly important to local businesses. They build trust with prospects, improve Google rankings, influence decisions, and help businesses understand their customers better.
Following up with customers and asking for reviews with a text message is both easy and efficient for the business and the consumer.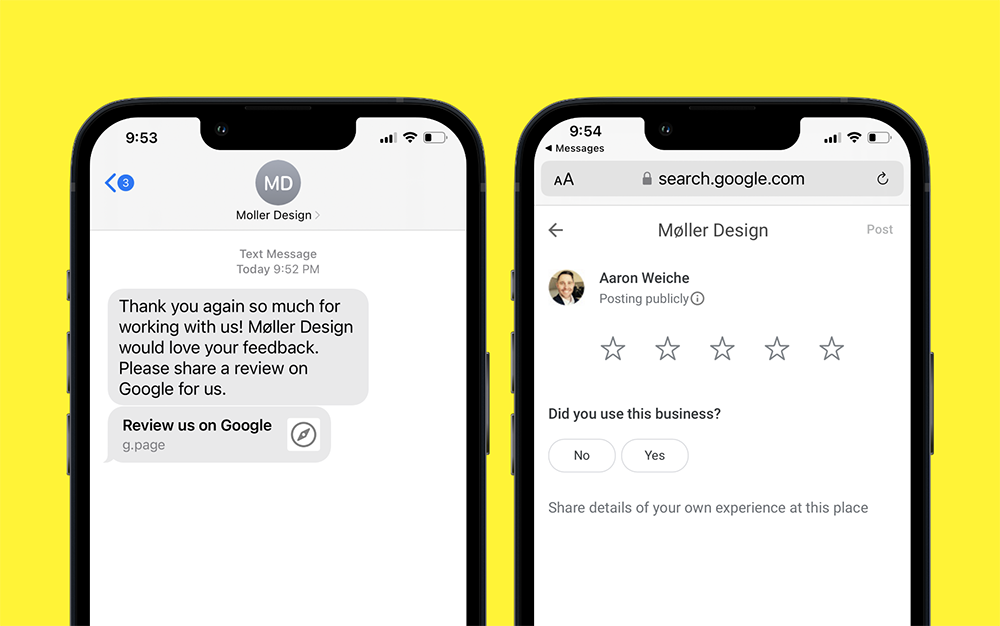 When you have already been communicating by SMS with your customers, requesting a review over text is both personal and natural. They've already communicated in this channel with you, and you've likely delivered a great experience, leading to that 5-star Google review.
7. Improved Staff Efficiency
Businesses look to technology and software to help save time and increase productivity for their teams. It's a double bonus when it saves your company AND your customer's time.
With text messaging your customers win by communicating in their most familiar way, and the channel is easy to manage for your team. A true win-win scenario for both.
Sales teams can engage with more prospects, service reps can handle more customer needs, and technicians and installers can spend more time on their work than tied up on calls.
A study from Benchmark Portal showed that the average sales and services call time is 5 minutes and 58 seconds. In that time frame, a team member can engage with anywhere from 6 to 10 text conversations. All without a decline in service levels or customer satisfaction. 
The increase in productivity with texting compared to emails as well as phone calls is similar. On average text replies are 60x faster than emails averaging just 90 seconds for a text reply, compared to 90 minutes for email replies.
Text messaging as a channel and business through software like Leadferno offers features that scale communication and save time.
What Do I Need to Know to Start Texting With My Customers?
Permission and Opt-in For Texting
First of all, you need to get permission to text your customers.
If you are planning to send text blasts or do SMS marketing (more on that next), you absolutely need to get permission. These text campaigns are often sent in weekly or monthly intervals for special offers, sales, and updates. Because you are sending to many recipients at an interval you decide, you need consent.
If you are texting using 2-way text messaging where the prospect or customer has initiated the communication, consent is now implied, and you don't have to do anything special in the US. Many web-to-text widgets that allow consumers to text you from your website have a disclaimer that sending the first message is consent. 
The standard of implied consent was upheld in a recent legal ruling involving Facebook where the US Supreme Court unanimously ruled that companies engaging in text messaging from their website or platform when the customer initiates the communication don't violate the TCPA in the United States. The TCPA protects consumers from auto-dialing and mass messaging when they have not given consent. 
Getting permission is still your best move in texting. Here are the most popular ways to get permission to text your customers:
Web-to-text-widget with a disclaimer that sending the first message is the same as giving consent for SMS communication.
Written consent on your intake forms or other customer paperwork.
Checkbox for consent on a web or contact form.
Consent via text by directly asking the customer to respond with approval to receive text messages from your business.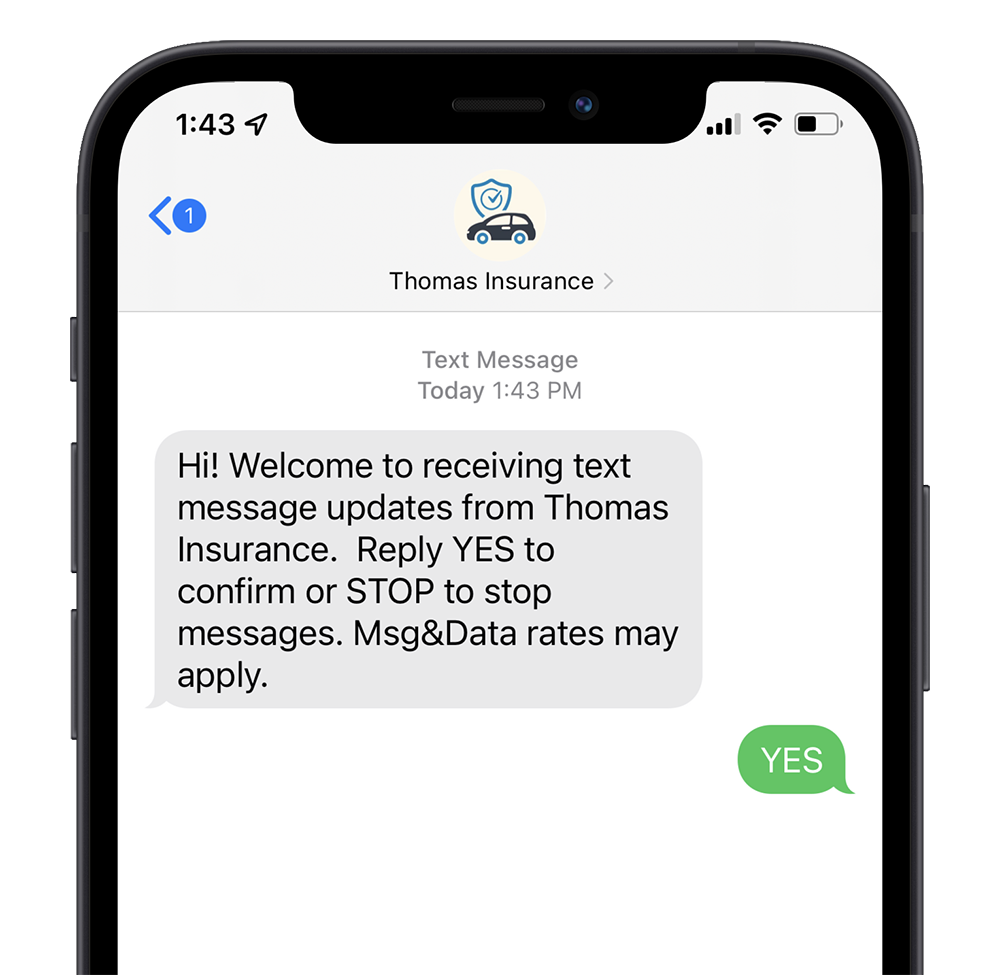 Once you have received consent you want to store it in case you would ever need to review it or prove that you obtained it.
If you are gaining consent for text marketing or blasts you will also need to provide an automatic way to unsubscribe, just as you do with email marketing. For SMS, this is most often letting the consumer know they can reply with STOP or QUIT to stop receiving your messages.
Lastly, keep in mind that regulations and laws vary by country. For example, Australia requires a double opt-in process for business texting, so do your research on consent before starting.
SMS Marketing Blasts 
SMS marketing or text blasts is a way of sending a message to many recipients at once. It's similar to email marketing but sees a higher open rate and engagement when done right. SMS marketing is popular in retail and e-commerce to drive interest and purchases with offers and sales.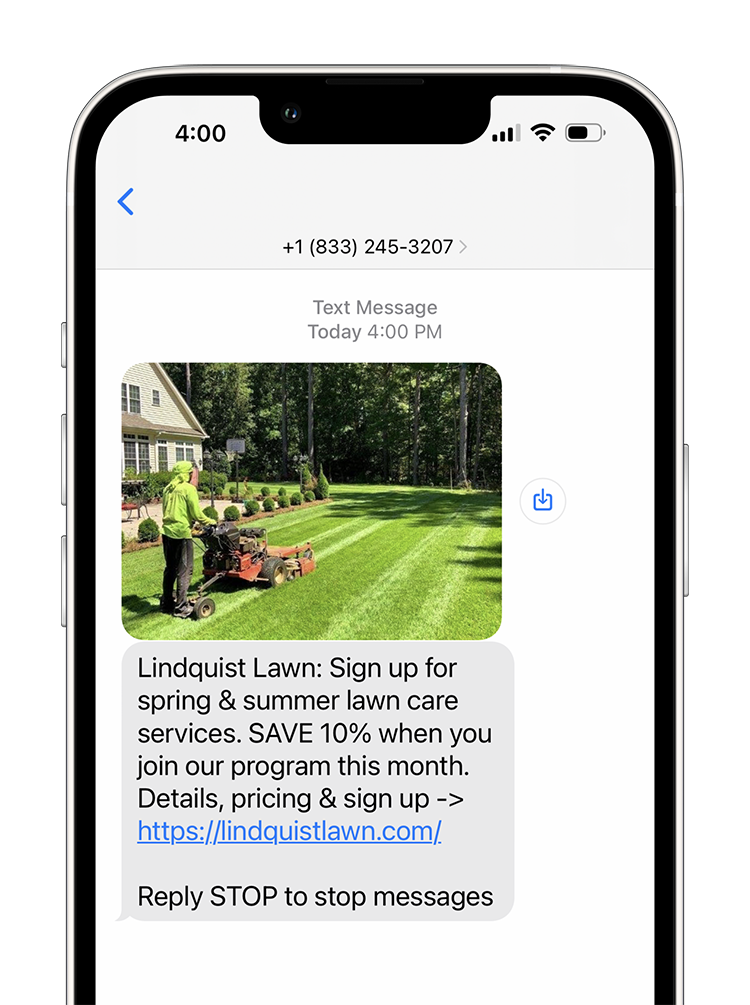 One thing for sure is that your business needs to have permission from your customer to send them marketing texts as we outlined before, along with the ability for subscribers to opt-out. Your consent process and policies need to be airtight.
Is SMS marketing right for local businesses? That answer has a few layers to it, so let's take a look at them. 
On the pro side, the ability to reach many customers at once is always appealing. A local business with the right content, offers, and timing can be successful with text blasts.
On the con side, there is a very real risk of our customer unsubscribing or worse marking your text as spam. Your direct connection is cut off. Many small businesses are challenged with actually delivering valuable content and offers. Just like email marketing, campaigns without value eventually are unsubscribed.
While the business feels it's the message of "buy now and save 10%" that will generate new business, the consumer might feel annoyed and opt out of you being able to text them.
A local business should strongly consider these strategic items when deciding on whether to send text blasts or not:
An SMS subscriber consent and compliance process
The ability to deliver valuable content and offers
Timing of blasts that meets customer expectations  – too frequent should be avoided
In the end, if you can't succeed with the elements that SMS marketing requires, focusing on 1:1 text communication will be far more effective, without upsetting your customers.
Data Security
It can be hard for small businesses to plan for data security, but they are just as vulnerable to data breaches as larger companies. While it might not make the news, the impact of a breach can be just as devastating.
Instead of employees using their own SMS app on their phones and having conversations, contacts, and customer data outside of your control, a business texting app centralizes and secures your data.
In addition to the physical security of customer data, protecting valuable customer and prospect contact information centralized when a salesperson or team member joins or leaves the company is a must. 
Data security and centralization are a big benefit to using a business text messaging app when using text messaging for business. 
Industry Regulation and Verification
The text messaging industry continues to evolve quickly. One can only look at the abuse and spam of email and phone calls to see why the SMS industry is looking to work faster to prevent and manage spam and bad actors. 
In the last year, both local (10DLC) and toll-free numbers that wish to text now have to go through a verification process when activating the number for SMS use. Carriers like AT&T, T-mobile, Verizon, and others continue to tighten their delivery of messages from unauthorized numbers and are trending to zero tolerance. 
The number verification process should be part of any business texting solution you utilize. Depending on the number type and other factors this third-party verification process can take a few days or up to many weeks, but once completed it ensures delivery of your text messages to customers.
This space will continue to change and ultimately is for the good of the industry to preserve texting as the valuable business communication channel it is. 
This is Your Notification, Business Texting is Here
There is no doubt that consumers desire and some even expect text messaging to be a communication channel option with your business. How and where you deploy it can make a big impact in growing your business.
SMS can help you capture more leads, and improve communication, connection, and customer experience. These benefits can be had and even reduce effort and workload on your business and staff when planned and executed right. 
So all that's left to do is check your text messages because business texting has arrived.