Google may claim the lion's share of search traffic, but it's not the only search engine in existence. Several other search engines can also claim to handle billions of searches each month. Knowing what those other engines are, who their users are, and how you can maintain a strong search presence could lead to more traffic, more inquiries, and more sales.
A good search marketer who specializes in local SEO won't simply put all their eggs in one basket. It's called 'Search Engine' Optimization rather than Google Search Optimization for a reason.
What Do We Mean by an Alternative Search Engine?
Quite simply, an alternative search engine is one that isn't Google. There are around 160 search engines in existence today. Of course, you probably won't be developing a local SEO strategy for every search engine in the world, but several alternative engines are well worth a second look.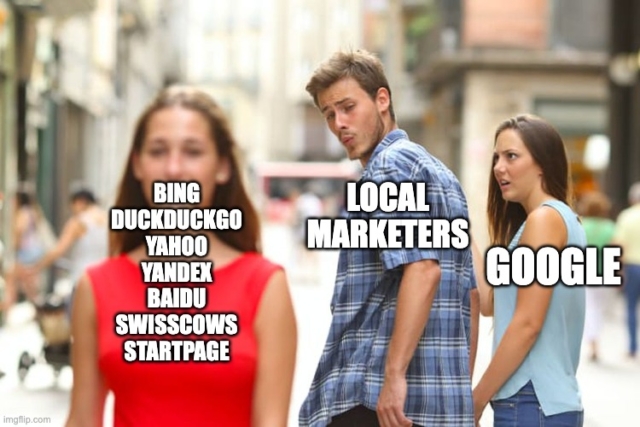 The most obvious example of an alternative search engine to Google, is Bing. Out of all of the other search engines, it should be the next in line for your attention. And it's become even more important with recent developments.
Since the launch of ChatGPT, Bing has surged in popularity and now welcomes more than 100 million daily active users. Although that may be small compared to Google's market share, consider what an enormous difference even a tiny percentage of that traffic would make to your local business.
Other mainstream examples include Yahoo! (yup, it's coming back), Baidu, Yandex, and DuckDuckGo. Alternatives you may not be familiar with include You, Naver, Yep, Startpage, and Brave.
Why These Google Alternatives Matter
There are several reasons why it's advisable to incorporate alternative search engines into your marketing strategy. 
They Have Unique User Types
Different search engines have different types of users. Understanding those user types and aligning your local SEO activity to their needs is essential. Understanding where your users are searching, and how, offers you the chance to grow your presence in the right places. 
As an example, Bing is becoming more popular with users who want a cutting-edge search experience thanks to its AI innovations. As a result, if you provide tech-led products or services, you'll naturally want to boost your Bing search visibility so you appear more prominently to those users.
Similarly, SwissCows is a G-rated search engine. It omits results that may cause offense or be unsuitable for some audiences, including adult content. If you're a family-friendly local business, targeting enhanced search visibility on SwissCows could result in more high-quality traffic to your website.
Trust and Privacy Considerations
A growing number of Internet users are jumping ship from Google to other engines because of trust issues and privacy considerations. For those who don't want their search history to be tracked or stored, several engines are built specifically to offer users anonymity.
Geographical and Demographic Preferences 
Google isn't the number one search engine for all countries and demographics. In China, for example, Baidu is the most popular engine. So if your local business is targeting a Chinese demographic in your local area or wishes to sell to Chinese consumers in China, you'll need to have a strong search presence on Baidu to be in the running. 
Likewise, Yandex is the most visited search engine in Russia, with Google second and Ya.Ru third. If reaching Russian consumers is a priority, you must ensure a solid organic presence on those two engines.
Too Many Eggs in One Basket 
Relying too heavily on only one search engine for website traffic makes little sense when other engines also handle billions of monthly search queries. If you only focus on Google, you could be placing all your eggs in one risky basket.
Should your site suddenly fall foul of a new Google algorithm, your rankings would plummet. This could mean a total loss of search traffic if you focused only on Google rather than building organic visibility on other engines such as Bing.
The same can be said of almost any marketing tactic. Over-reliance on one tactic makes for weak foundations.
Do I Need to Invest Lots of Time in These Search Engines?
If you're concerned that optimizing your search presence for alternatives to Google could be too time-consuming, don't be. You don't need to invest lots of time to achieve results, as there will be a lot of overlap in the tactics and algorithms between options such as Bing, Yahoo!, and others. 
That said, be mindful that specific engines will have their particular quirks. Especially for local.
For example, you'll need to claim your Bing Places for Business listing, even if you already have your Google Business Profile optimized. Likewise, understanding how to claim your Apple Maps listing will ensure you can compete for Apple search traffic. On Baidu, you'll need to obtain verification. 
The good news is that many of the best practice tactics you're already using to rank well on Google will aid your rankings elsewhere. Things like unique page titles, good quality content, reviews, and a non-spammy link profile are pretty much universal, regardless of which search alternative you're focusing on.
Alternative Search Engines to Google You Should Consider, and Tips for Local Businesses
Bing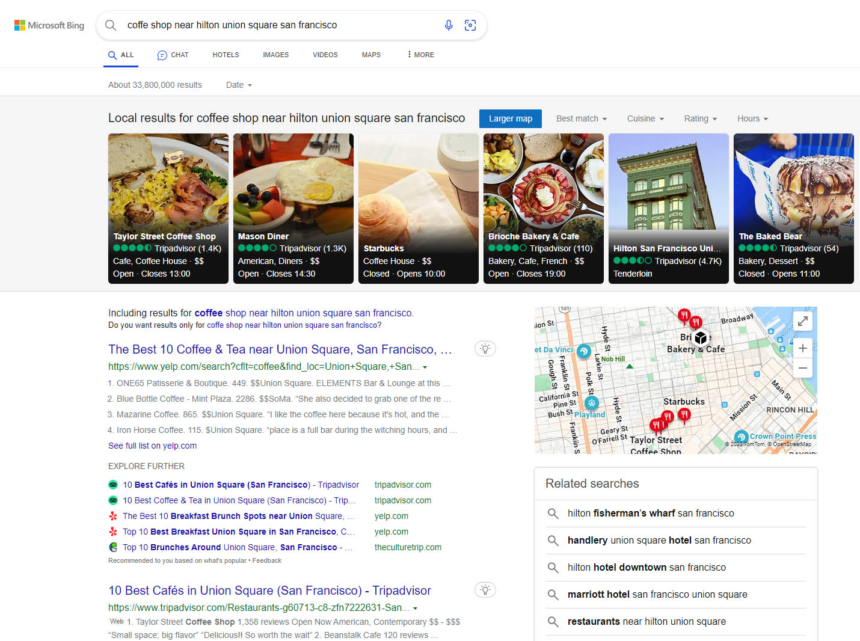 Local search on Bing looks and operates similarly to the Google local pack but there are a few notable differences in ranking factors. Results are displayed on a map, with features such as images, star ratings, and opening times.
Local Search Tips for Bing 
Learning how to claim your Bing Places listing is one of the most impactful things you can do to maximize your Bing local visibility. Be sure to choose the category that best describes your business and add as much information as possible, including multiple images. 
As on Google, reviews are a crucial component of better local visibility on Bing. Tripadvisor and Yelp reviews feature prominently on search results pages, so it's a good bet they heavily influence rankings, too. You can apply your existing Google review management practices to Bing, such as responding promptly to all new reviews via your Bing Places listing. 
Backlinks from other local websites help to reinforce your local standing. Target your local link-building efforts in your neighborhood and the immediate local area. 
Be sure to check in regularly with Bing Webmaster Tools. This will tell you if there are any issues with Bing accessing your site. It also provides useful keyword data and suggested keywords.
Create locally focused content to upload to your site. Bing advises, "Develop rich content based on keyword research that shows what search users the information they are looking for." 
A key way that local optimization differs for Bing is its use of social media as a ranking signal. While Google denies social is factored into its algorithms, Bing explicitly says an active social presence can boost search visibility. It says, "Social media plays a role in today's effort to rank well in search results. The most obvious part it plays is via influence. If you are influential socially, this leads to your followers sharing your information widely, which in turn results in Bing seeing these positive signals. These positive signals can have an impact on how you rank organically in the long run." 
With Bing starting to implement ChatGPT for AI-powered search, you need to be aware of how that works too. We're still in the early days of AI search, however, with changes coming almost weekly. This means that, right now, trying to make a deliberate play for something in Bing's AI search is difficult. As it stands you currently have to use Microsoft Edge to access their AI features.
Yahoo!
Yahoo! exited the search landscape a few years ago and has been powered by Bing since 2018. That all looks set to change as it has been teasing a big return in recent months. A reactivated Yahoo Twitter account hints that the engine is working on a new search product behind the scenes. It's also been actively recruiting so stay tuned for a new Yahoo engine in the future.  
Local Search Tips for Yahoo!
Yahoo! search is currently powered by Bing so just follow the tips above for now. If and when Yahoo! brings back its own search engine, we'll let you know.
Yandex
Russian search engine Yandex has the fourth largest market share globally, behind Google, Bing, and Yahoo. However, a large chunk of those users is based in Russia. While it's also very popular in Eastern Europe, it's not an engine to necessarily dedicate huge amounts of time to if you're a local business in somewhere like the United States.
Its local search function is also map-based. One of the major differences with local optimization for Yandex is that you can tell the search engine which geographic region you're targeting via its webmaster tools interface.
Yandex strongly emphasizes geotargeting, and its search results are split between geo-independent (location doesn't matter) and geo-dependent (location is important).
What's more, a 'leak' in January 2023 revealed a full 1922 ranking factors, which gave SEOs an unprecedented look beneath the hood of one of the major search engines.
Local Search Tips for Yandex
If you're targeting a particular region, you can log in to your Yandex Webmaster account and set it as such.

The emphasis placed on geotargeting means that it is harder to rank for multiple locations in Yandex than on Google. 
It's essential to submit your business information to the Yandex Business Directory. From here, you can specify up to seven regions.
If you have a presence in Russia, your website should include the complete address along with your telephone number. 
Yandex is much slower at indexing than Google, so you'll need to manually submit your local business website's sitemap via Yandex.Webmaster.
Yandex algorithms do factor in meta tags, so make sure that your site has unique, descriptive meta tags in place for each page you want to see ranking. 
The Yandex algorithm factors in user behavior metrics to determine if your site is useful to visitors. Focus on sharing helpful, good quality, and relevant content to answer search queries. Consider how your page performs too, and look for ways to improve navigation and page speed. Finding ways to keep visitors on site longer can boost your engagement rating, which can lead to higher search positions.
Use Yandex Metrica (the Yandex equivalent of Google Analytics) to understand how users interact with your site. It provides heat maps, form analytics, and session replays so you can examine user behavior and refine your site accordingly – this will assist with the user behavior point above so you're eligible for higher rankings.  
Back in 2011, Yandex revealed that it had additional requirements for commercial websites. These include credibility, interface, product range, prices, payment methods, and delivery. These criteria boil to trust. Ensure contact information is easy to find, maintain a strong social media presence, and offer clear product descriptions and clear shipping information.
Baidu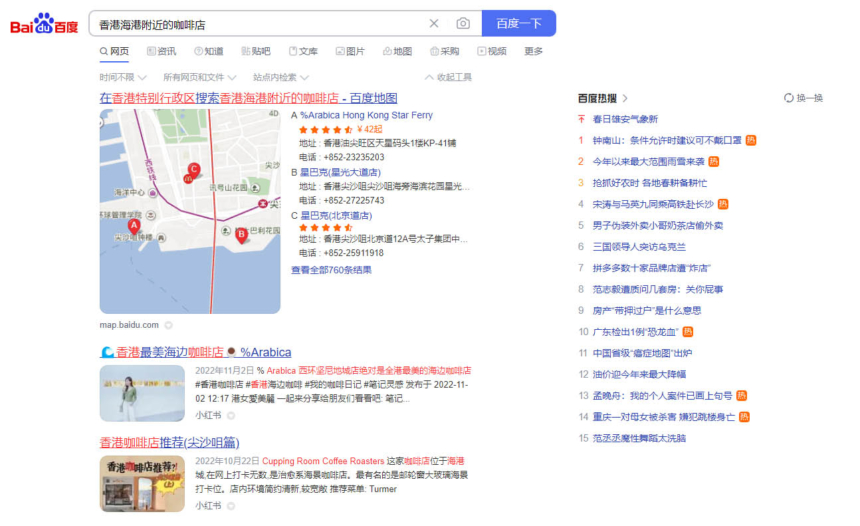 Baidu is unequivocally the number one search engine in China. It handles more than three billion searches daily but differs significantly from Google on local ranking factors. You'll need to pay a fee to improve your domain ranking. You'll also need to avoid sharing any content on your site that could be considered to be anti-government sentiment or adult themed, as that would result in your domain being blocked from search results. 
Local Search Tips for Baidu
To unlock higher rankings, you'll need to have your site verified by Baidu. You'll need to pay a fee for this and provide business information. Once achieved, your site will have one of three labels; V1, V2, or V3. V1 is the most basic, V2 is more expensive, and V3 is earned. Verification is obtained via Baidu PPC and applies to paid and organic results. The basic V1 label costs around $100 per year. 
Baidu censors search results, so you'll need to be very mindful of your web content to avoid being blocked. You'll need to avoid anti-government sentiment as a matter of course (including in any outbound links on your site) along with other sensitive material such as adult content or gambling-related information. 
Some words can also trigger blocklisting and make your site ineligible for local search rankings due to their political connotations. To ensure you stay on the right side of the censors and don't hamper your chances of local rankings, it's recommended that all content is created or checked by native speakers. 
Content localization (rather than a standard translation) can also help you build higher local visibility. This ensures your content sounds natural and authentic to a native Chinese visitor. This can lower bounce rates – high bounce rates can be taken as a sign of mistrust which can hamper rankings.
Place your most important local keywords at the top of the page. It's thought Baidu will only index the first 100KB so having local keywords at the beginning of your content is essential for improved local rankings.
Chinese search users heavily favor mobile search, and the ranking algorithm considers mobile friendliness. Ensure your site is optimized for mobile devices, not just to unlock better rankings but to ensure you can convert search users after they arrive on the site. 
Other Search Engines to Consider
DuckDuckGo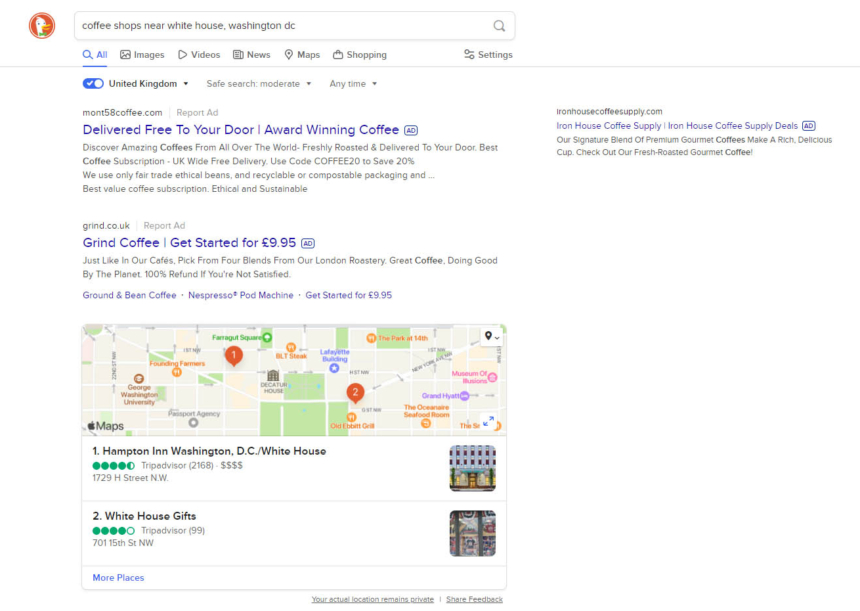 DuckDuckGo was one of the original pioneers of private search. It promises no tracking and is popular with more tech-inclined search users. It crawls over 500 sources to return search results that closely match the search intent, so the standard rules of optimization apply. 
One important thing to note: because DuckDuckGo doesn't collect data about its users, it doesn't know where a search user is searching from. You'll therefore need to add clear location markers to your website. This includes having your full business address and contact information present, plus using locally related keywords in your page titles, meta descriptions, and website content. 
Swisscows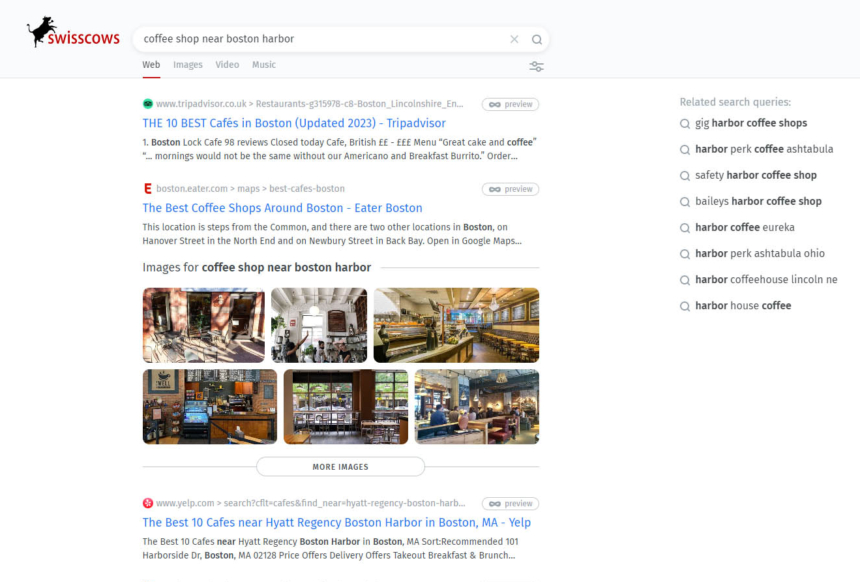 Swisscows is another search engine allowing users to search anonymously. It doesn't use cookies or tracking technology or record search history. One thing that sets Swisscows apart is its position as a family-friendly engine. It won't return any offensive or potentially objectionable content, such as pornography or gambling, in search results, so it's safe for the whole family to use.
Swisscows uses Bing to serve search results, so you'll need to rank well in Bing local search for Swisscows visibility.
Startpage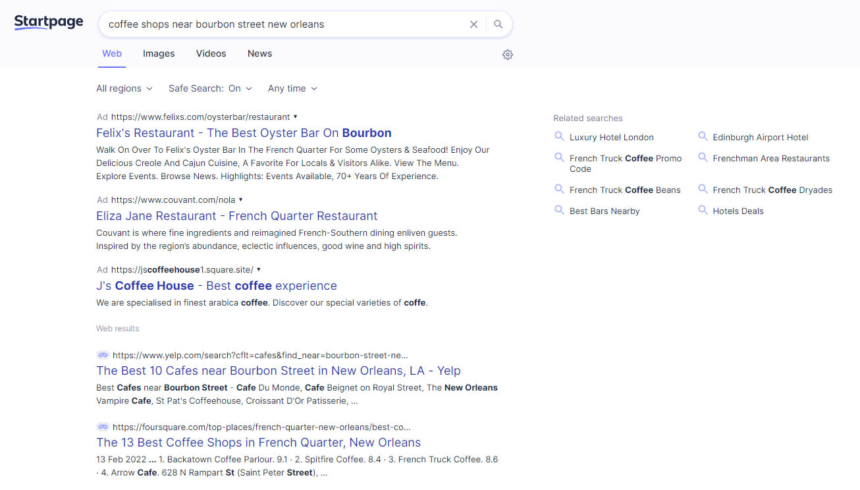 Startpage is another privacy-forward search engine that doesn't track search users. Instead, consumers looking for local businesses and services must specify a location with their search term, for example, "coffee shop near Bourbon Street, New Orleans". The standard local SEO rules for Google local search optimization apply. 
Gibiru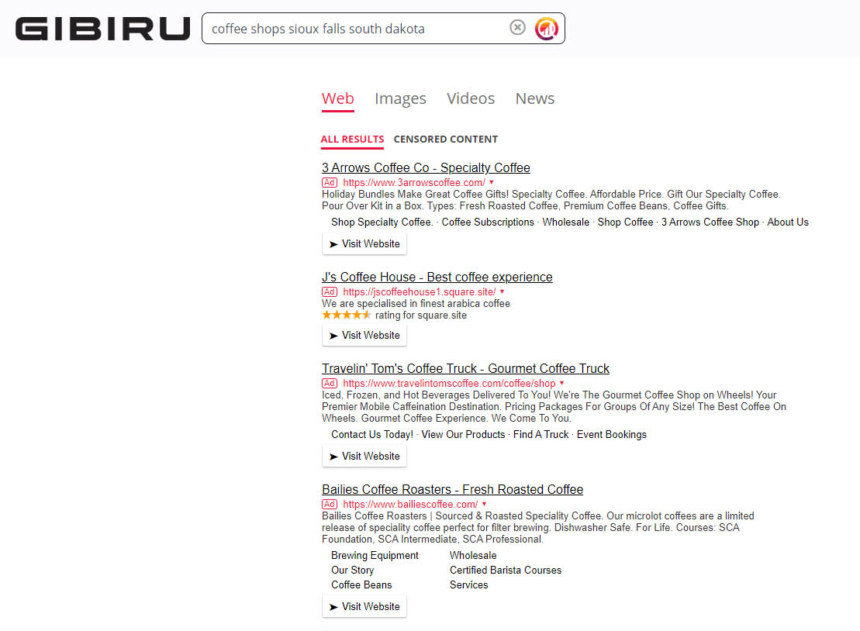 Launched in 2009, Gibiru doesn't use cookies, log IP addresses, or record searches. As a privacy-first engine, it doesn't share its ranking factors. But, having a similar mind for visitor security will likely help. It's advisable to activate HTTPS, use secure encryption for form processing and payment process, and follow Google best practices.
Naver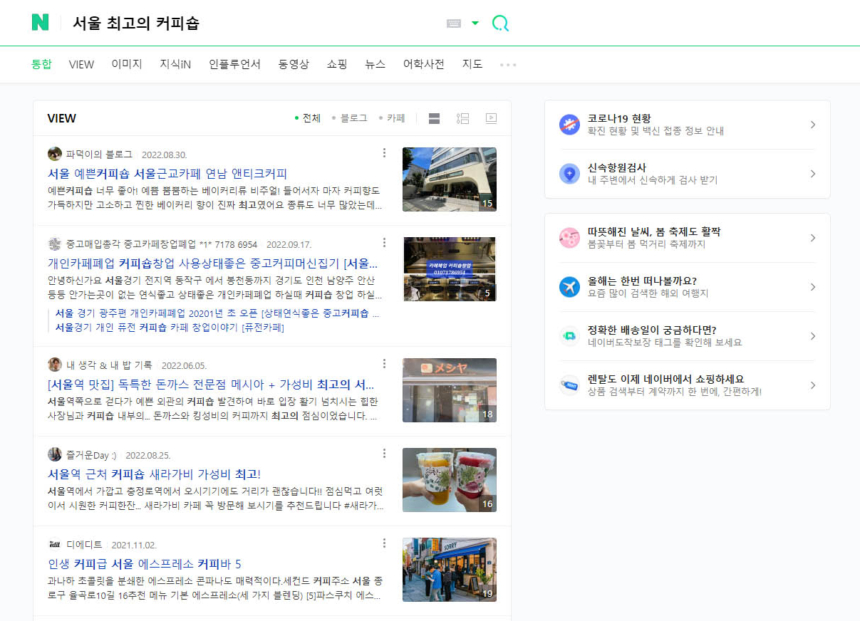 Naver is South Korea's search engine of choice and that's because it's highly focused on South Korea. Its search results are localized because Naver spiders don't crawl the whole of the Internet.
If South Korea is a key market for your local business, you'll need to create a strong pool of unique content, written in Korean. Your site should also be very mobile-friendly, easy to navigate, and load quickly.
Ask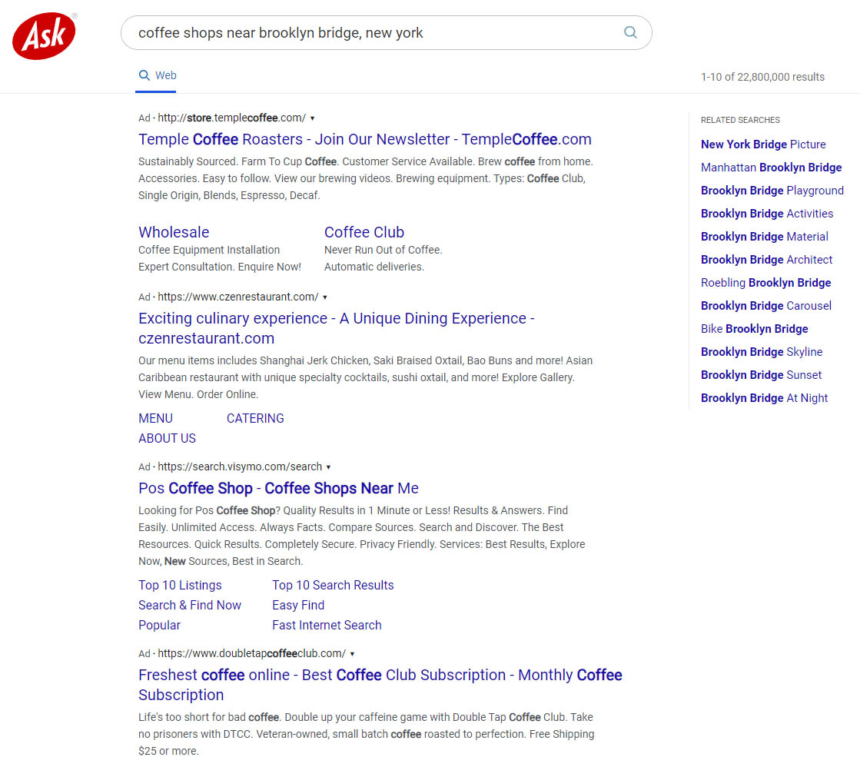 Previously known as Ask Jeeves, the Ask algorithm works a little differently from other search engines. Intended to be the engine users visit when they need a question answered, Ask prioritizes expertise in its search results. Local listings aren't presented on a map, they're simply included in the main search results.
In addition to the standard SEO tactics of using localized keywords on the site and growing your link profile, sharing knowledgeable, useful content can help to boost search visibility.
Dogpile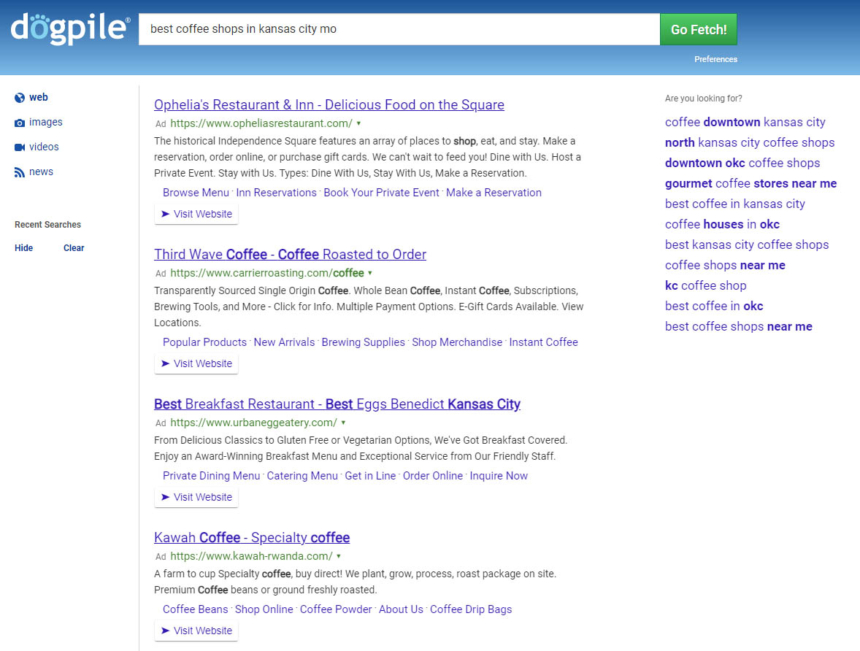 Growing your local business presence on Dogpile depends on your rankings elsewhere. Dogpile pulls the top results from other search engines to create its own search results. That means you'll naturally gain good visibility on Dogpile if you rank well on alternative search engines such as Bing and Yahoo.
Diversify Your Options
As you can see from this list, there are plenty of other search engines for potential clients to discover your business through. The good news is that you don't need to worry too much about lots of fiddly optimization that's unique to each one. We'd definitely recommend spending some time making yourself familiar with other search engines to Google though, because you could be missing out on customers you were previously ignoring.