If your Google Business Profile (GBP) listing falls into a category that would be considered an 'attraction' by Google, you might see buttons like this appearing in your New Merchant Experience (NMX):


The 'activities' module has been spotted on a range of business profiles including hotels.
Google Business Profiles now shows the Add "Acitivies" option for Hotel Category businesses. #GBPupdate #LocalSEO #SEO #googlebusinessprofiles@googlemybiz@rustybrick pic.twitter.com/qEBK9Byhnv

— Sohan Jain (@sohanjain) November 3, 2023
Though, personally, I have not yet seen this rolled out to hotels or accommodation categories.
If you have these buttons, lucky you! By adding your tickets or your activities, you'll be able to secure a presence in any of the free 'Things to do' units that Google might be adding to your local knowledge panel. We'll talk you through what this means below.
What is Google's 'Things to do'?
Google's 'Things to do' program is part of Google Travel. It aims to make it easier for searchers to find and book tours, activities, and tickets based around Points of Interest (POIs).
A 'Point of Interest' is a place that someone might find interesting. For example, if you are on holiday you'll find restaurants and places to stay of interest. If you're looking to relocate to a new geographic area you'll find schools, libraries, and hospitals of interest. 
Google Maps (as well as other platforms like travel apps, event apps, food and drink apps) uses POIs to help searchers find places that they are interested in. Your business on Google Maps (and indeed any of those other platforms) is a POI.
Since 'Things to do' is part of Google Travel, the POIs will consist of the types of business locations that have relevance—attractions, experience providers, restaurants, and hotels. If you're involved with the Google Business Profile listing of any businesses like this, Google's 'Things to do' program could very likely be making an appearance in your SERPs of interest.
There are both 'free' and 'paid ad' elements to 'Things to do'.  This is how Google describes it:
"With Things to do, partners can surface their inventory via free listings and through a dynamic ad format. We encourage attractions, tour operators, and activity providers to work directly with their restech provider to take part."
'Things to do' products are displayed in various formats across several surfaces. To simplify requirements they can generally be split into four different modules, 
the Ads module, 
booking module, 
experiences module and 
the operator booking module
It's the 'booking module' ('tickets' in the NMX) and the 'operator booking module' ('activities' in the NMX) that we'll focus on in this post. Both are free and can be populated by the business using the NMX.
'Things to do' and Third-party Listings
If you've been involved in digital marketing for hospitality businesses like restaurants and hotels you'll be aware that OTAs (online travel agencies) and third-party platforms (such as DoorDash) can make paid or organic appearances in our business's local knowledge panels:
Below: Ads in a hotel's local knowledge panel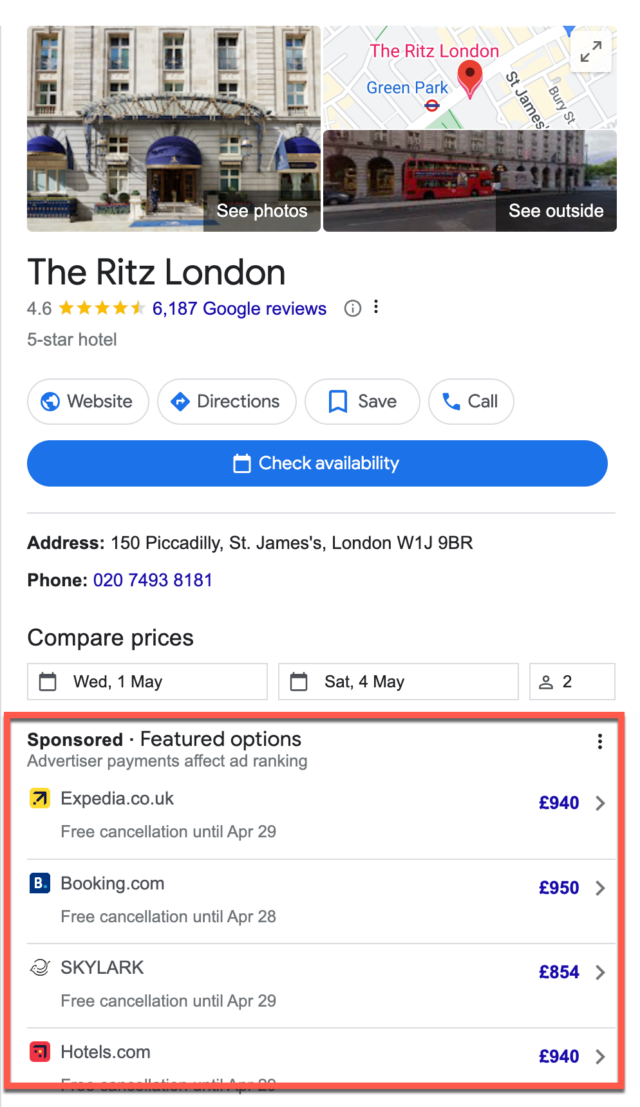 Below: Third-party providers making an appearance in Alinea's local knowledge panel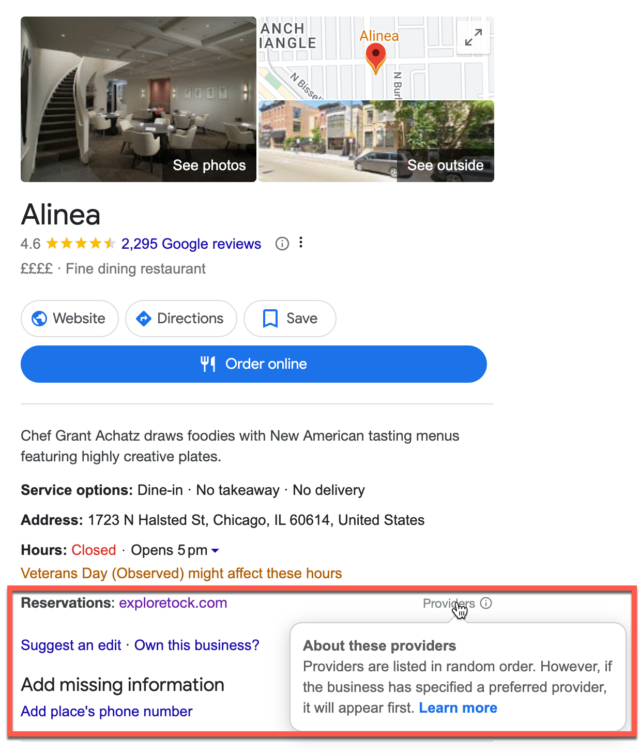 It's worth noting that there isn't much we can do about the ads—if you have a third-party partnership and Google chooses to show third-party provider ads then beyond no longer working with third parties you don't have much of a choice (check out the work of Tim Capper for more details on how hotels pull the short straw when it comes to free and flexible functionality).
At the time of writing, there is something that a business can do when Google includes an OTA or a third party in one of the 'not paid for' units. 
Businesses need to proactively monitor what is appearing in their local knowledge panel and make sure that they make the most of all opportunities to add their own content. In many cases, adding their own content will push those third-party listings further down and reduce the number of eyeballs and clicks that those third-parties can earn. The same can be said when they add their tickets or activities. Moreover, Google will add an 'official site' badge to the activities or tickets that you add: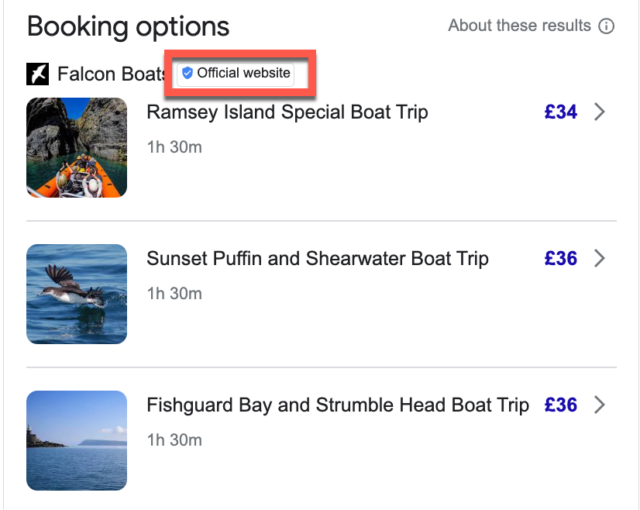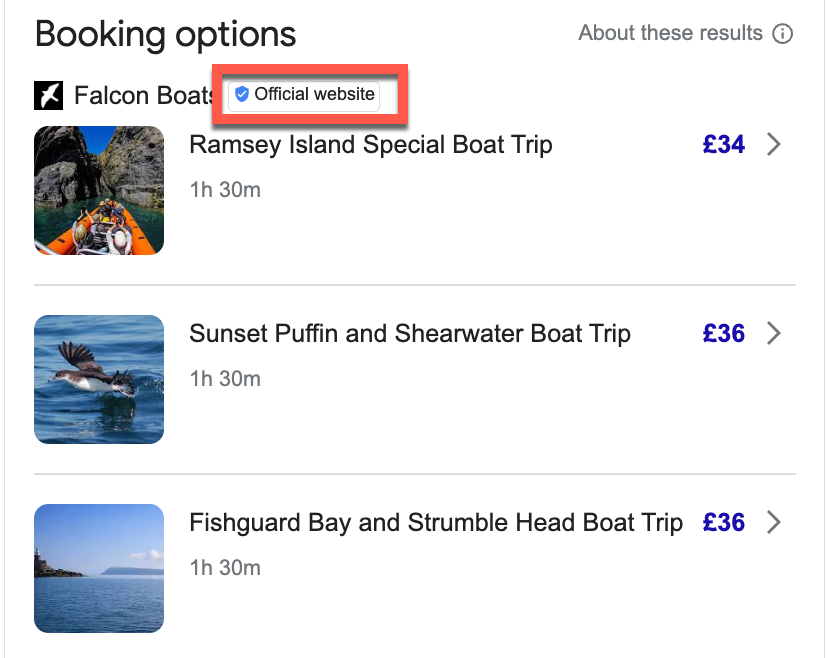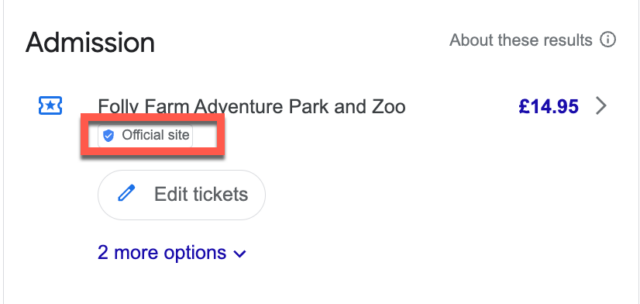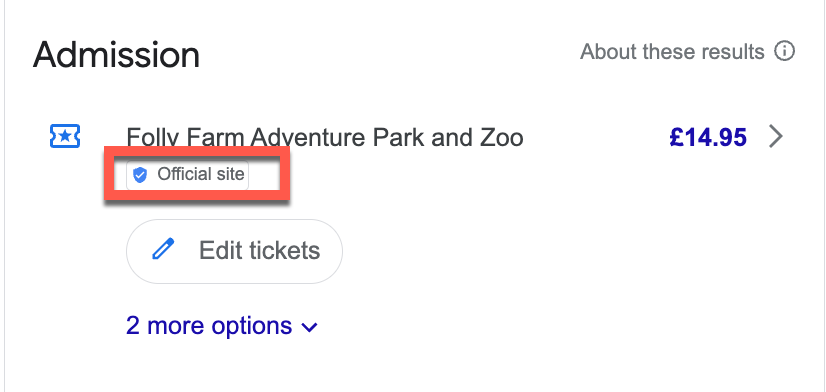 Ticketing/Admissions: The 'Booking Module'
The local knowledge panel for many attraction-type businesses will include a 'ticketing' section.
On a desktop it can look like this: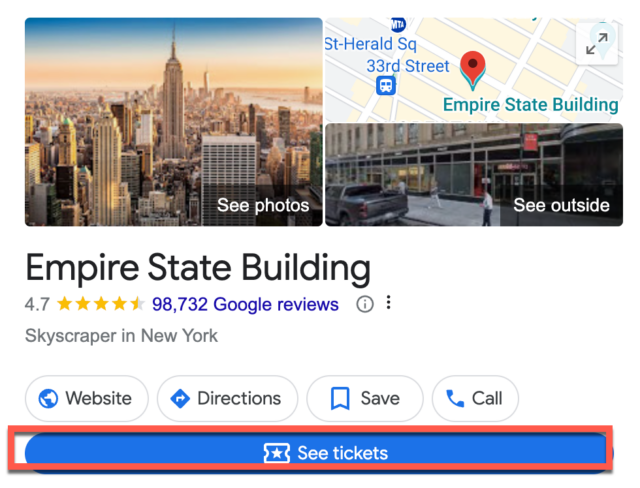 Click on the tickets link to see all of the ticketing options: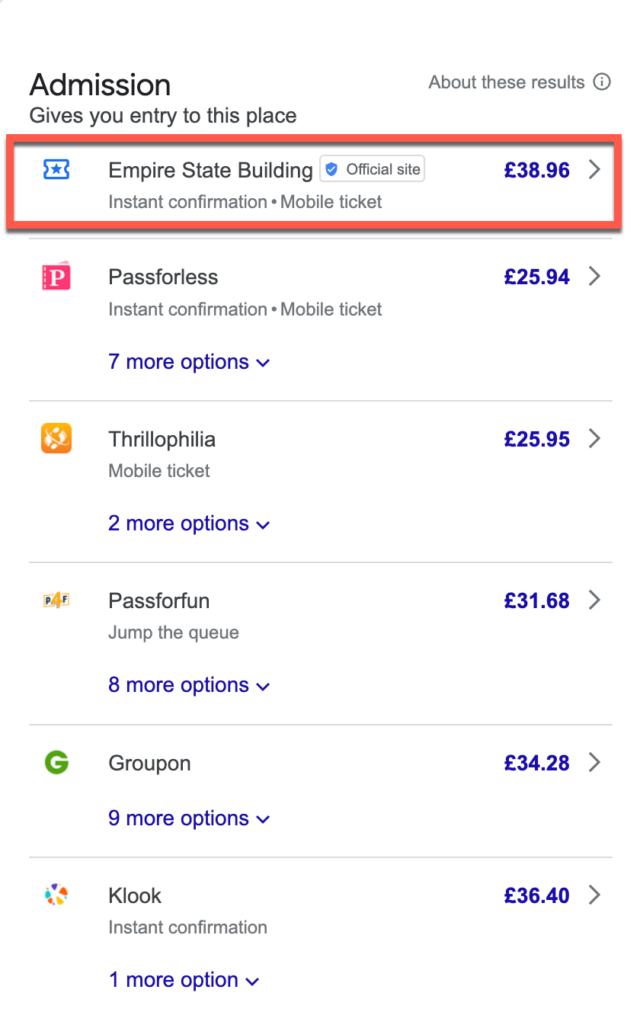 Note that if you have added your own activities, you'll appear right at the top of the list, above the third-party listings that can populate this section.
Be aware that this module in Google search allows potential customers to quickly and easily compare entry ticket prices between the official ticket provider (you, as a business) and the OTAs. So, if you're offering discounted rates to OTAs this won't look appealing to potential customers, who are likely to click on a third-party listing if it appears to offer a cheaper rate.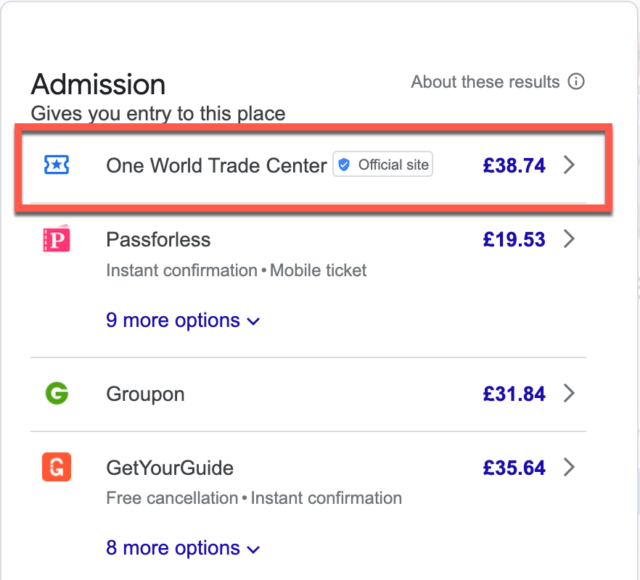 This is what Google tells us about how these results are displayed:
"Tickets are ranked based on several factors, but mainly by price. Official tickets are given preference in the ranking. Ticket suppliers don't pay Google to appear in these search results and can't pay to influence their ranking.

Prices are based on standard adult entry and may vary depending on the specific ticket types, dates or eligibility for other discounts. Displayed currencies may differ from the currencies used to purchase tickets."
All attraction businesses are eligible for 'tickets'. If you are an attraction and you don't have the option to add tickets you should contact Google Business Profile help. You'll need to make sure that you're following Google's 'Things to do' general policies and price policies.
How do I add my own tickets?
Click on 'tickets' in the NMX. 
From here you can add your ticket options in these fields: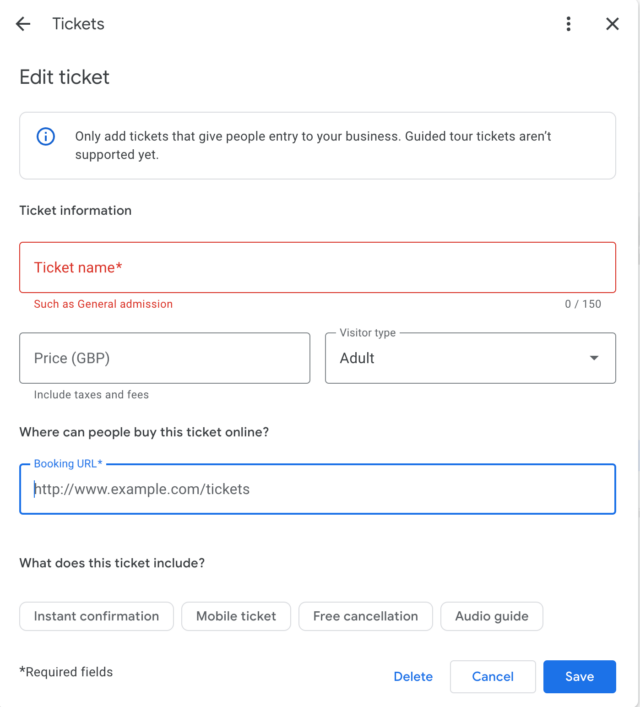 All of the data here must match what is on your product landing page—so make sure that the ticket name and the price are correct.
At this point only the 'Adult' visitor type is supported: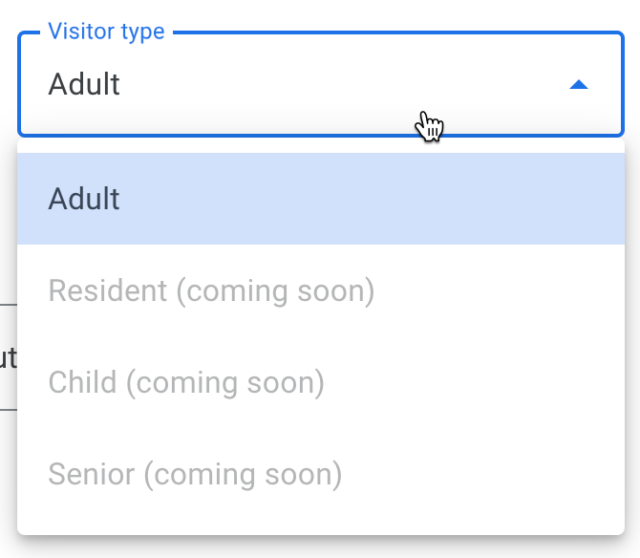 You'll need to add a link to the relevant product landing page. Make sure that you add UTM tagging so that you can use Google Analytics to track visitors to your website from your ticketing links and any conversions that they go on to make.
Activities and Bookings: The 'Operator Booking' Module
The 'Things to do' operator booking module provides a way for tour operators to display their products on their own Google Business Profile entry. Alongside the tour operator products, tours provided by this operator via different OTAs are also displayed.
If you have activities showing in your local knowledge panel they'll look like this: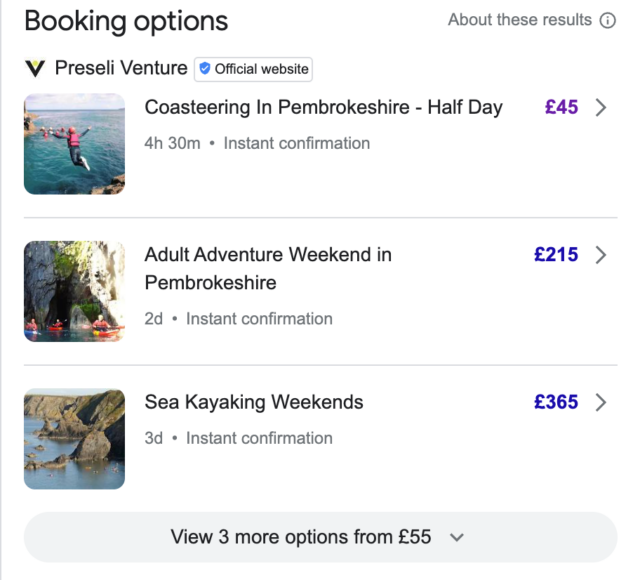 Note that if you have added your own ticketing you'll appear right at the top of the list, above the third-party listings that can populate this section. You'll need to monitor your local knowledge panel to see which third-party listings are being pulled in. Click on 'view more' to see any additional options: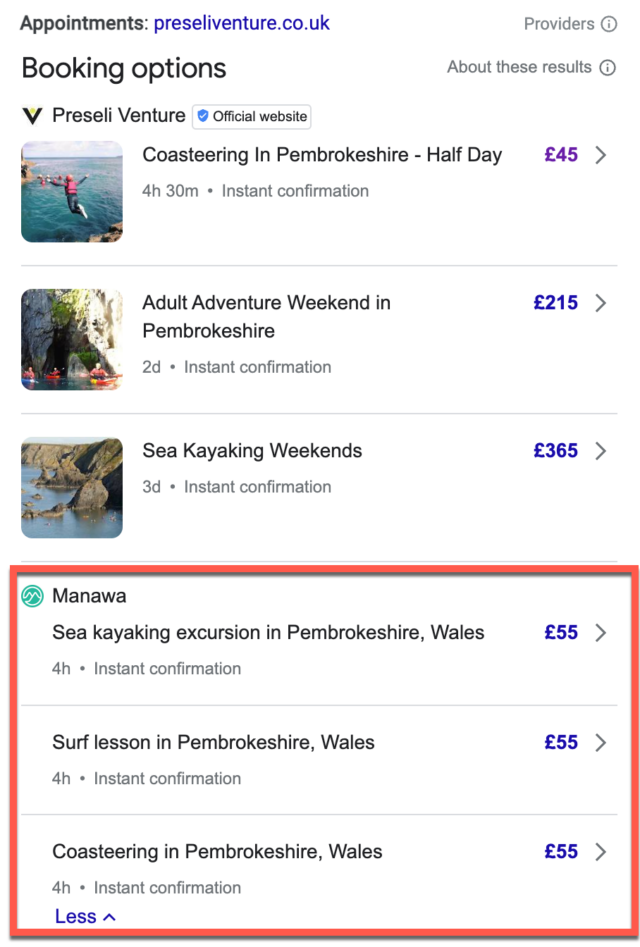 If you see the 'activities' button in your NMX or in your local knowledge panel, you can go ahead and add your own activities:

Just click on the 'activities' label and you'll see this: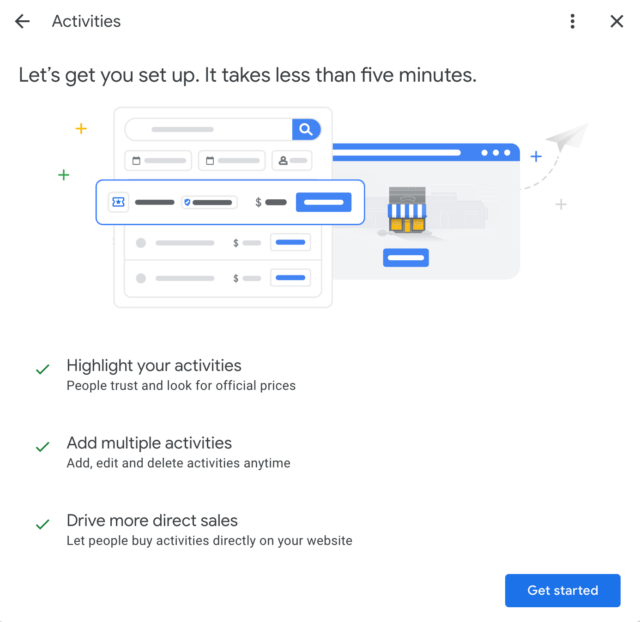 Click 'get started' to go to the first of 2 screens: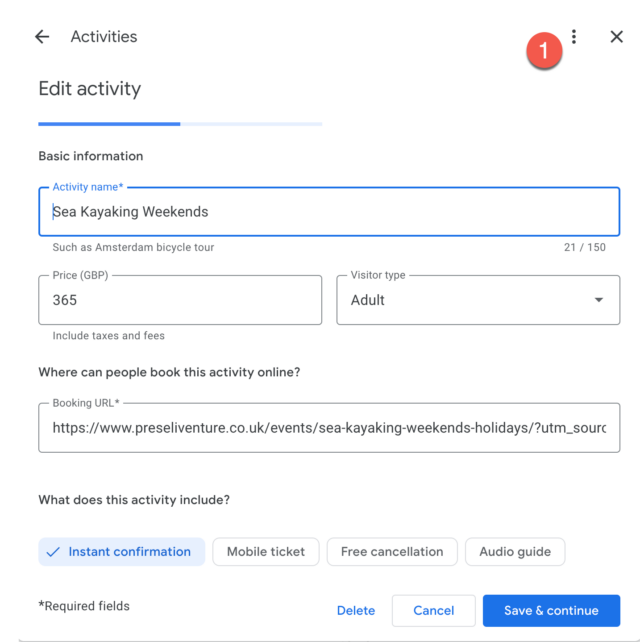 Complete all of the fields according to your product. Remember to UTM tag up your Booking URL link so that you can monitor visits and conversions in GA.
On the second screen: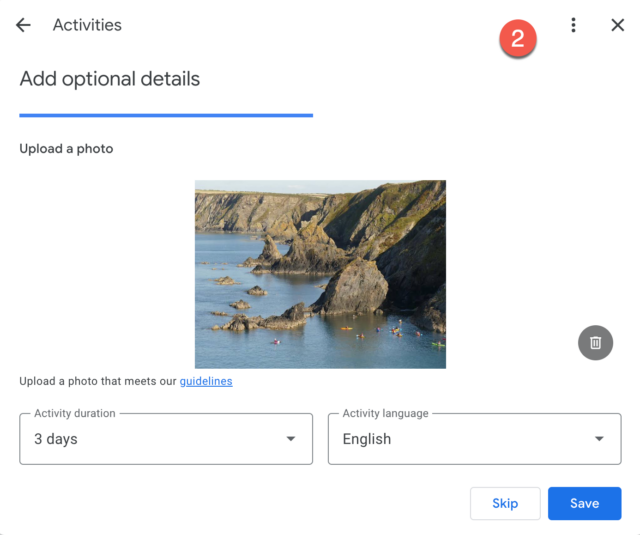 You can upload a photo according to these guidelines (see full image guidelines here):
Format: JPG or PNG. No animation.
Recommended dimension: 2048 x 1366 px (or 1024 x 683 px)
Minimum dimension: 300 x 300 px
Maximum file size: 16MB
Recommended ratio: 1:1 or 4:3
Quality: Make the attraction or activity the focus of the photo. Use images that are sharp, well-lit, and true to life.
And, at this stage, you'll also add the activity duration and language.
An Essential for Hotels and Attractions
Adding these 'Things to do' is a quick way to show both Google and potential visitors the options they'll have. Not only that, but it gives you a chance to own the whole booking journey for your customer, helping skip those pesky third-party resellers and allowing you to drive more website visitors from your GBP.
For POI businesses in the relevant categories, it's now a 'not to be overlooked' part of the Google Business Profile optimization.