How Do Citations Help Local SEO?
Jamie heads up BrightLocal's content team, ensuring we produce insightful articles, research and resources that enable businesses and SEOs to...

7 min read
What exactly are the benefits of citations and how does NAP consistency help boost your local SEO presence?
Citations are one of the pillars of local SEO and are often mentioned as a local optimization tactic for any business in need of a local pack boost. A citation is simply a mention of your business name, address and phone number (NAP) online. Citations can be found all over the internet, from obvious sources such as online directories and websites to social media platforms and even apps.
Whether you're building citations on a local business directory, an event website, a social platform like Yelp or an industry-specific platform such as a trade body, the citation in its most basic form will include your business name, its address and phone number as a minimum. Depending on the site, you may then also be able to include other more detailed information such as a business description, hours of operation, types of payments accepted, reviews, images or directions.
So, we know that local citations appear on sites where local business information is featured. But why do local citations matter?
Building good quality local citations for your business is often recommended as a first step in any local SEO strategy. The reasons for this are threefold:
Citations can help (or hinder) your search ranking
They can aid local business discovery
They can make or break a new customer's trust in your business
How do citations help local SEO specifically?
Local citations are an important part of a successful local SEO strategy. According to Moz,
Citations are defined as mentions of your business name and address on other web pages — even if there is no link to your website… Citations from well-established and well-indexed portals (i.e., Superpages.com) help increase the degree of certainty the search engines have about your business's contact information and categorization."
In practice, this means that Google and other search engines use data they have gathered about your business to determine your ranking. A large number of accurate citations on high-quality platforms encourages Google to trust the data it holds about your local business. This positively impacts your local pack visibility.
If Google encounters inconsistent NAP data, can't amass enough data or doesn't have a sufficient amount of data from respected platforms, trust in your business can waiver, resulting in lower local SEO rankings.
The directory site Yell in the UK is one source of local business citations. It explains how citations affect SEO as follows;
Citations are critical because search engine algorithms use them as a ranking metric for local search queries. So a business with numerous citations from relevant websites is likely to outrank one with few citations, assuming other factors are roughly equal. Citations also act as evidence to search engines that a business is credible and real. A listing in a trade or city directory, or a mention in an online news hub, can't easily be faked, and so the more such mentions a business receives, the more a search engine considers it legitimate (and thus may rank it higher). Having lots of citations also suggests that your business is prominent, active and popular. Plus a high volume of citations means you're more likely to get seen and thus more likely to be contacted by potential customers."
Citations as a ranking signal
The Whitespark Local Search Ranking Factors study classes citation signals as the sixth most important ranking factor for local search positioning.
Google trusts popular citation sites, as we have seen above, so these local directories often dominate the first page of Google search results when a local business search is performed. If you've ever turned to Google to find a local plumber or electrician, for example, the first page of results was more than likely dominated not by websites owned by local plumbers or electricians, but by sites like Yellow Pages or Yelp.
Many people will go directly to popular online directory sites like Yelp to search for a local business, but typically the local search is done on Google or Bing with these citation sites appearing very highly in local search results.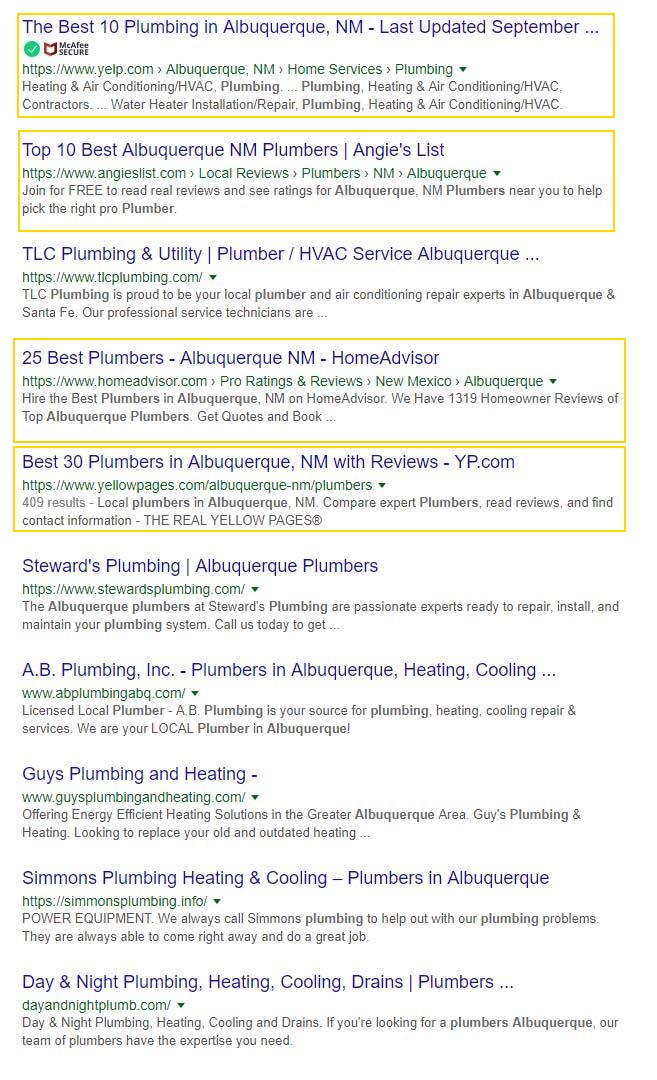 How to find good quality, popular local citation sources
There are hundreds, if not thousands, of online directory sites which you'll come across as part of your citations research for local SEO.
There are lots of good quality, highly trusted citation sites—but there are also plenty of poor online directories that have no credibility with the search engines. Building citations on those sites could actually harm your local search rankings.
There are several ways to sort through the large pool of potential targets and hone in on the better quality options.
1. Download Moz's toolbar for Chrome
The Moz toolbar allows you to see the Page Authority, Domain Authority and Spam Score for any site you visit. When you start to build citations using this tool, look for sites with a high Page Authority and Domain Authority number and a low Spam Score.
2. Do a Google search
You can use Google to aid with citation building for local SEO. Simply perform a search for relevant business types. The citation sites that show up on the first few pages of the search results are generally good quality online directories that you should strive to get your business listed on.
In addition to the main business data platforms such as Yelp, look for industry-specific or geographically relevant platforms. This should include sources such as a local chamber of commerce listings, trade bodies and professional member associations.
Once those two avenues have been exhausted, turn your attention to the web in general. You can build good quality citations across a range of website types, including blogs, government databases, apps, maps and local media outlets.
3. Use BrightLocal resources
BrightLocal conducts extensive research and has created a number of lists, keeping in mind the effects of citations on local SEO, which showcase top-quality citation sites. You can use these lists to build citations, safe in the knowledge they will help rather than hinder your local SEO rankings.
Our top 50 online directory sites for the USA, UK, Canada and Australia is a good place to start. These lists detail the domain authority for each of the citation sites and can be downloaded for ease of use.
In addition to "general" online business directories, there are niche/industry-specific citation sites that you should get your business listed on if appropriate. We've collated a list of more than one thousand citation sites by niche—all of which have been vetted for quality.
Here you'll find popular citation sites for a variety of industries like insurance, healthcare, real estate, and restaurants. If your industry has quality citation sites online, make sure your business is listed correctly on as many of those niche online directories as well.
The importance of NAP consistency details when citation building
Now that you have a list of citation sites to get stuck into, you can begin building citations for local SEO purposes. Before you get started, it's worth highlighting the vital role that NAP consistency plays.
When you're checking your business listing or want to claim your listing on a citation site, it's important that your company's Name, Address and Phone Number (NAP) is consistent across as many online directories as possible. This means using exactly the same address and inputting in the same format each time, because while Google is getting better at understanding common abbreviations, it's not perfect.
For instance, Google could see these two addresses as completely different locations:
201 1st Street NE vs. 201 First St. NE
Even though those two addresses would lead you to the same building, they aren't the same in the eyes of the search engine. Because Google might not know which information (in this case, the physical address of the business) is correct, a red flag is raised.
Since search engines only want to show users high-quality and accurate information, this potential "confusion" of having inconsistent addresses on a variety of citation sites could prevent your business from showing up in local search results.
Before you begin to build citations, it's worth sitting down and deciding:
What is the "official" name that you will list on online business directories? (i.e. Roger's Realty LLC or Roger's Realty)
What is your address? (i.e. 101 Blairsferry Road or 101 Blairsferry Rd.)
What is your phone number? (It's best to use a local area code versus a toll-free number on citation sites, since these sites are all about local businesses.)
To help with this process, it's worth checking how Google has your business' NAP information listed already and then use that same format for your new citation building efforts.
It's also wise to check to see how your post office has your address listed and use that variation. The main goal is to get your company's NAP information consistent on as many of the popular online citation sites as possible to eradicate confusion and build trust.
The added benefit of NAP consistency
Championing NAP consistency isn't just important in terms of local SEO. BrightLocal's Local Citations Trust Report 2018 also found that it has a marked impact on customer relations too, with 93% of consumers saying they get frustrated by incorrect information in online directories.
DID YOU KNOW? 8 in 10 consumers say they will lose trust in a business if information is incorrect or inconsistent, while 71% of shoppers say they've had a bad experience within the last 12 months due to incorrect local business information.
How many citations do I need for better local SEO?
This is a question many local businesses owners ask but the answer is simple: as many as possible, but only on quality sites. The more high-quality citations your business can build, the better.
When you create relevant, credible and localized citations on local online directory websites, you increase the odds of your site ranking higher in local searches—which can help generate more leads and ultimately, more sales.
This will require a serious time investment as it's no quick job to build dozens of accurate citations on good quality sites. A tool like BrightLocal's Citation Builder can help make the process a little easier.
There are no quick fixes, though, and citation building should be seen as an ongoing task. The more consistent you are with citation building and NAP information, the more you provide search engines with credible backlinks and data to rank you with.
How can BrightLocal help me build or clean up citations?
BrightLocal has been expertly handling the creation and updating of local SEO citations for local businesses, multi-location businesses and agencies for nearly a decade. Our team of citation builders is solely dedicated to manually updating or cleaning up listings, meaning that accuracy is high and speed is unrivalled in the industry.
Find out more about BrightLocal's Citation Building Service
Not only can our citation-building service submit manually and via data aggregators, but Citation Tracker actually shows you the citations your competitors have and that you don't, showcasing opportunities to compete in citations and also giving you an overview of your citations profile.
Find out more about BrightLocal's Citation Tracking tool
The coupling of building and monitoring citations with BrightLocal means you can be fully confident that your all-important citations profile is growing while ensuring that it's up to date and accurate.