As a professional in local SEO, you need no introduction to its importance or its value to clients – but can your customers say the same?
In the last 12 months alone, Google has increased its commitment to local search with a raft of new features and significant updates to Google My Business. The way that service area businesses (which are inherently local enterprises) are treated by Google My Business has changed, review signals have become more important to local rankings, a 'Follow' button has been developed for Google Maps which allows local businesses to remain more prominent to local consumers, and the 'near me' search has evolved beyond recognition.
According to one delegate at the 2018 Secrets of Local Search conference at Google HQ, an official Google presentation stated that 46% of searches now have a local intent. What's more, according to the 2016 US Census, around 90% of all purchases are made at a brick-and-mortar store, with HubSpot reporting that more than 92% of consumers will travel a maximum of just 20 minutes to purchase their day-to-day essentials.
With these statistics to hand, you'd expect local business owners to be falling over themselves to invest in local SEO, right? Unfortunately, that's not always the case, and selling local SEO services can be an uphill struggle.
Despite the obvious value of a local search presence, it's not always easy to explain the importance of local SEO to local business owners—some of whom won't have a working awareness of local SEO or how it differs to traditional methods. Here, we show you how to explain some of the core concepts of local SEO to potential clients who aren't SEO-savvy, in order to win more business and grow your client portfolio.
How to explain the difference between Local and 'Traditional' SEO
As recently as just a couple of years ago, there wasn't a marked difference between local SEO tactics and traditional SEO strategies. Sure, there may have been some variations but the basic principles were broadly the same. Today, local SEO is a different beast entirely and an optimization specialism in its own right.
With changes to the local pack, dedicated local search algorithms, the evolution of Google My Business, the advent of machine learning and AI, the impact of mobile, and, of course, the growing relevance of online reviews, local and traditional SEO are now wholly distinct.
This can pose a problem when you're trying to sell local SEO services to a business owner who's built their online profile using traditional techniques. If your potential client has an awareness of 'traditional' SEO but knows little of local SEO, you might find it a struggle to convey a different approach is needed because you're essentially asking them to forget or unlearn a lot of the SEO concepts that have served them well thus far.
For example:
Relevant, 'nofollow' links to a local business have a great deal of impact, whereas for 'traditional' SEO, only 'dofollow' links carry direct ranking weight.
It's less likely that you'll have a link from a major site like The New York Times to a local business, so link building tends to focus on less premium sites. Whereas these may be considered low quality in traditional SEO, they're important for local SEO—a link from a local newspaper won't rival a link back from NYT in quality when directly compared, but it's considered as such in local search.
Citations are very important for local SEO as they validate the physical location of the business—a key tenet of local search visibility.
Reviews are most valuable when they mention the keyword and city being targeted for local SEO—but this wouldn't be enough for traditional visibility.
So how do you package this up and explain the difference to a client stuck in their traditional SEO mindset?
The first point to make is actually counterintuitive, as you need to explain that local SEO doesn't actually have a great deal to do with the client's site. Our own research shows that visits to local business websites are declining.
Analyzing the results of our Local Consumer Review Survey, BrightLocal's Head of Content, Jamie Pitman noted,
While 97% of consumers looked online for a local business last year, fewer people are following up that research with a website visit. In fact, there's been a 17% drop in the number of people visiting a website after reading a good review—it's becoming more likely that they'll get in touch another way… One element that may have affected this change in 2017 is Google's growing ability to replace the business website. With so much business information now available in SERPS and the Google environment (including opening times, location, bookings, Q&As, show times, and much more), the necessity of visiting a website is decreasing."
Thanks to the addition of Google My Business features such as call-to-actions, clicks-to-call, offers and events via GMB Posts as well as enhanced profiles with service information and images, there are fewer reasons than ever for a local consumer to go to a website. They are more likely to get all they need from the local search results themselves.
Whereas 'traditional SEO' really only happens at an on-site level, local SEO requires the use of external sources such as local citations, Google My Business profiles and review sites. The factors influencing local rankings are very different to those used to determine organic search position.
For the business owner with a keen understanding of traditional SEO, it's well worth playing up the declining role of the website from a local perspective and the increasing importance of offsite factors such as reviews, citations and local links.
How to prove the worth of local SEO
Now that you have shown the difference between traditional and local SEO, you need to clearly demonstrate the worth of local SEO.
Taking a cue from Greg Gifford's simple math formula, let's break it down into figures that any business owner, in any industry, will understand.
Let's say your client runs a pizza joint. They reckon they serve up the best slice in town. The problem is, there are 20 other pizza places making that same claim in the same suburb. Everyone wants to be on page one of Google. There are only 10 positions on page one of the SERPs plus three local spots up for grabs. Eight pizza slingers are going to be disappointed.
But, of those ten spots on page one, the big chains like Pizza Hut, Dominoes, Papa John's and California Pizza Kitchen have already staked their claim. That's six spots left and 12 disappointed local doughs. At those odds, 10 of those pizza places might get on to page two, but two will be pushed back to page three.
Now factor in the wider metro area and an additional 20 pizza places for each big town or city. If there are four big cities in your area, that's another 80 local pizza places you need to beat.
What if you leave the suburbs and factor in the city itself? There's maybe another 40, 50 or 100 places that sell pizza by the slice or by the pie. Each one of those pizza places is fighting to be on page one. At least 120 (if not more) are going to be disappointed.
All of a sudden, it pays to invest in local SEO.
How to explain local citations
According to Whitespark's Local Ranking Factors Survey, local citations are a local pack ranking factor. This can be a hard sell to a client stuck in their traditional SEO mindset because citations sound suspiciously like the early 2000's craze for worthless directory listings. The key here is to show the specific value that citations have for local consumers.
Citations on business listings and directory sites are critical for local businesses. They don't carry the same ranking weight as they used to, but getting in the right business listings sites is still fundamental to local SEO success. This can seem like a waste of time and effort to some business owners, but you can win that argument by explaining that local citations are effectively the super-charged version of the physical Yellow Pages book.
Not only is the online listing far easier to access and browse than the dusty old paper book; the digital listings provide Google with information that makes the business seem more trustworthy. This isn't specific to Google—this consistency is important to winning over local consumers, too. Seeing several listings with consistent address, telephone number and website details across familiar sites like Yelp and FourSquare can be a strong indicator of trustworthiness, while getting these wrong can be risky.
Whereas the analog household may only have had access to the Yellow Pages directory and local paper, today there are countless directories easily found online, for any industry you can think of. This means brick-and-mortar business owners need to be a lot more prolific, with many more citations and as many niche citations as possible.
Yell explains this perfectly, saying,
Having lots of citations also suggests that your business is prominent, active and popular. Plus a high volume of citations means you're more likely to get seen and thus more likely to be contacted by potential customers."
How to explain Google My Business
Google My Business is one of the most important tenets of any local SEO activity, so the way that you explain this to an SEO newbie can make or break your sales pitch.
One easy way to get this part of the conversation started is to liken a Google My Business listing to a shop window. This profile includes all of the essential information that any brick-and-mortar store would place in their window to attract passing trade;
Opening times
Promotional offers and seasonal discounts
Products
Along with this, Google My Business also houses several digital alternatives to real-world visibility, such as contact information, photos and videos. Google Reviews act as social proof, which can drive shoppers into store, Google Posts can be used to showcase new arrivals, special events or special offers similar to in-store merchandising and point of sale displays, while the Google My Business service menu performs a similar function to physical catalogues or leaflets.
The difference with Google My Business is that potential local customers can access all of this information 24/7, whatever their location, meaning they can easily make a choice based on what they find online without having to physically visit every business or service provider on their shortlist.
Another key selling point for local business owners is that Google My Business listings are used to populate the local pack. This is great news if your local SEO newbie also happens to be one of the estimated 45% of US small businesses without a website. It is absolutely critical that the first thing any local business owner does therefore is to set up their Google My Business listing.
That said, Google My Business signals (such as proximity, categories, keyword in business title) are the most important local search ranking factors according to the Local Ranking Factors Survey referenced above. Especially for those without a site of their own, having expert help in the form of a specialist local SEO consultant is absolutely vital to ensure success in this area. A key point to drive home is that a Google My Business profile sits above a website in terms of local visibility—meaning it should be the first port of call when business information needs to be updated.
Forbes Contributor Jason DeMers says Google My Business has lots of additional value for business owners:
It ensures accurate and consistent information across the web—many third-party apps and sites use Google My Business to access business details so a completed profile means that widely-available business contact information is accurate. This makes it easier for customers to get in touch and gives them a better idea of what a business does.
The ability to upload images and videos to a Google My Business profile helps to create a positive first impression for the local business.
Google My Business Insights give lots of useful information about customers and their discovery mechanisms. This data can be used to better target specific customers or make improvements if something isn't performing effectively.
Customers can make bookings directly through a Google My Business profile, so places like spas, salons, and restaurants can win new business directly from their listing.
Google My Business Posts basically act like free advertising.
How to explain the Google Local Pack
Next up on your list of topics for SEO newbies is explaining what the local pack is and exactly how it works. This is a critical juncture in selling local SEO services as it underpins the whole point of your offer.
The trick here is to keep it simple and use a live search to show exactly which part of the results page you are targeting. Try a simple explanation such as,
The Google 'Local Pack' (also known as the 'three-pack) will appear on the search results page with local results when a search user conducts a Google search with a local intent. For example, if they tap into their smartphone something like "barbers near me", "barbers" or local barbers" a small number of local businesses will be displayed in the search results."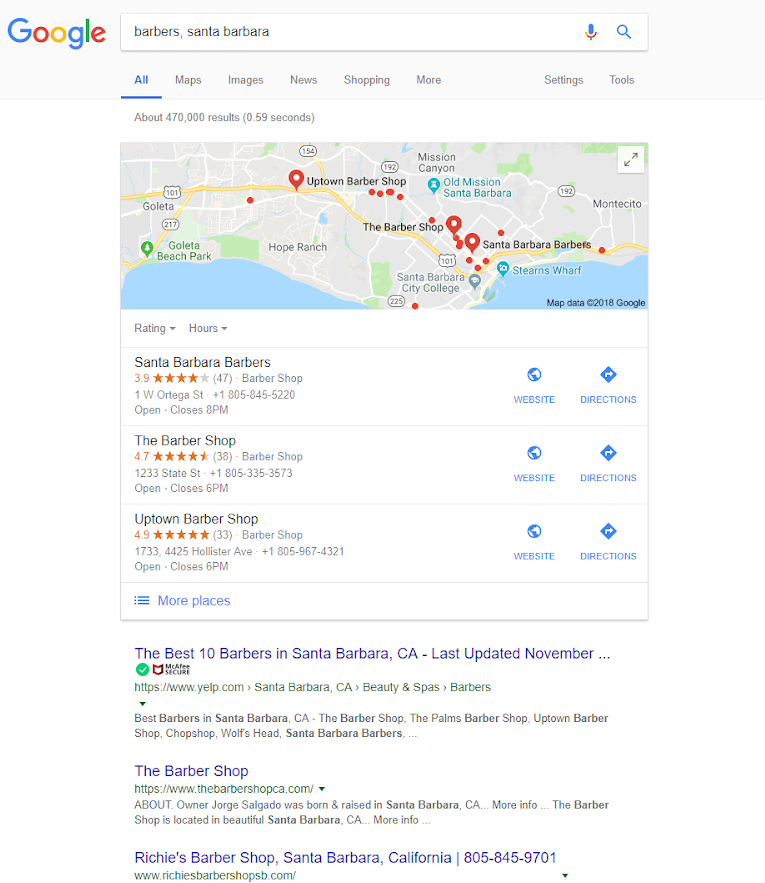 As you can see, the local pack appears above the main search results, meaning it's more visible to search users than a traditional SEO placement would be. The results are determined by local ranking factors, with Google dipping into everything that it knows about the businesses it indexes and the information it gathers from citations, Google My Business listings and other sources to pick out those organizations that best suit the search being made.
As with the traditional SEO placements, local search results are very changeable. What's different (and perhaps superior) to traditional results is that local search results are also highly interactive, so there is plenty of opportunity to convert search users into customers directly from the search engine.
It's well worth painting a picture here for the SEO newbie and showing them a rich local search result. Explain that Google My Business feeds information to Google, which it can then display in the search results to better aid the user. This could be a star rating from reviews, photos, or information such as opening times. Any information covered in the Google My Business listing should therefore be backed up fully on the local business website, and any changes made on either should be reflected on the other.
How to explain Local Ranking Factors
There is some convergence between traditional SEO signals and traffic and local ranking factors, but the more prominent local pack signals are much more specific to local businesses than traditional metrics.
Things like reviews containing the relevant location, citations, links from other local sites and Google My Business signals all matter a great deal in local SEO—which can make explaining ranking factors to a local SEO newbie tricky.
To begin this part of your sales process, we'd recommend that you highlight the fact that the more important local ranking signals have nothing at all to do with the business website.
Communicating the three core pillars of local ranking—proximity, relevance and prominence should help here.
Proximity: This is a simple one. How close is the business location to the user and what are they looking for? This is a vital consideration for local search results, of course, because the user is looking for something in a specific area. If the business is located in that location, then it ticks the proximity box. Note here: this has little to do with the business website and everything to do with the street address and zip code shown in Google My Business.
Relevance: The second of the three core pillars of local SEO ranking is relevance. How well does the business match the user's search query? If the user is looking for a tire change near them and the business in question is a mechanic, it's relevant. If it's a laundromat, it's not.
Relevance is determined in lots of different ways—local SEO feeds Google with this information at multiple junctures; by selecting a category in Google My Business, by building citations, writing a business description, creating content with keywords and phrases related to the main search phrase and accumulating reviews that prefer to specific products, services and locations.
Prominence: Prominence really means profile. Is the business a celebrity or a wannabe? Does the brand stand out online because it has lots of buzz or is it more of a wallflower with very few mentions to its credit?
Local SEO prominence is the digital equivalent of being well-known in real life. In the real world, you might have people talking about your business at the bus stop, on the radio and in the newspaper. In the digital world, this may translate to links from blogs, coverage in journals, online reports in local media, lots of social media shout-outs and mentions on other websites.
Reviews, citations and backlinks are all great ways to build prominence. The more mentions and references to the business, the more prominent it is and the more credible and trustworthy it appears.
There's more on relevance, prominence and proximity in Kyle Goodchild's guide to the Google local algorithm.
How to explain Reputation Management
According to the American Express 2017 Customer Service Barometer, the average American customer will tell 15 people about a poor experience with a brand, but just 11 people about a good experience. Online reputation management amplifies this, as negative reviews have the power to spread much further, much more quickly. By the same token, though, consumers are increasingly turning to online sources to tell others about positive experiences with brands, too.
The American Express study says that Millennials are more likely to tell more people about a good experience than a bad (an average of 17 and 15 people respectively) while our own Google Reviews Study found that average star ratings for most industries are really high, meaning more and more consumers are leaving positive reviews rather than negative.
With just 5% of businesses having an average star rating lower than three, and 61% riding high with 4-5 star averages, there's really nothing for the local business owner to be afraid of when it comes to the reputation management portion of local SEO services.
If the business is confident that they deliver a good service and offer good customer support, pro-actively asking for reviews is a chance to not only build greater online visibility and be seen as more trustworthy to local shoppers, it's also a chance to try and outshine the competition.
With many sites having review guidelines, having a local SEO on hand can also help the business to stay on the right side of the rules. The same is true of negative reviews—while many local business owners shy off review solicitation because they fear a negative review, a truly annoyed customer will often vent their complaint online with a poor review anyway, whether or not they have been asked to review the business directly.
Negative reviews require tact and diplomacy online, just as they do in person. The process for dealing with a poor review on a review platform like Google or TrustPilot is essentially the same as dealing with an irate customer in store. While in real life, the customer may be asked to step into the office to discuss further, online it's easy to ask the complainant to continue their discussion over email or via DM.
It's impossible to get away from the fact that online reviews are becoming more and more important to local businesses—whether they are striving to get traffic to their website or footfall in store. With around half (49%) of customers requiring at least a four-star rating before they'll choose to use a local business, and 30% of consumers saying a business response to reviews is a key consideration, it's virtually impossible to sit out online reputation management and continue to thrive.
Read more: visit our Review Management learning hub or find the top review sites you need to be on.
How Can BrightLocal Help Me Generate Leads for My Marketing Agency?
BrightLocal offers a completely unique and highly sophisticated way to generate leads from your agency website without you having to lift a finger.
Our 'Lead Generation Widget' allows your website visitors to request an automated Local Search Audit via data capture, after which you can follow up with the potential client, audit in hand, to offer your services.
In the back end, you can fully manage the leads generated through this tool, building a process pipeline that delivers results immediately. Learn more about BrightLocal's Lead Generation Widget.