Local SEO: What Is It and How Does It Work?
Published: May 17th, 2022
Last Updated: November 20th, 2023
If you want to be more visible to local consumers online, you'll need to get to grips with local search engine optimization (SEO). BrightLocal's 2023 Local Consumer Review Survey found that 87% of consumers used Google to evaluate local businesses in 2022—an 81% increase from the year before.
Stats like this show that improving your local search presence can clearly benefit your business. In this article we're going to talk you through exactly what local SEO is and how you can go about doing it.
So, what is local SEO?
Local SEO is a marketing technique that helps businesses improve the visibility of their locations or branches in Google's local search results.
It's carried out by businesses that want to be more easily found online by consumers within a geographical or local area. If you're looking to sell products or services to consumers located in a certain town or city, you need to be familiar with local search marketing.
Then how does Local SEO work?
The local search algorithm doesn't just differ from traditional SEO in what's shown on the page; it's a different algorithm altogether, reliant on specific local ranking factors.
To carry out SEO for a location or multiple branches, you'll perform a series of actions intended to raise local search visibility. Best practice strategies include tasks like: 
Claiming and optimizing your Google Business Profile (formerly Google My Business) 

Reputation management 

Website optimization

Citation building

Adapting to Google search changes

Local link building

Spam fighting
Done right, this type of SEO helps a local business to appear more prominently in the Local Pack, the Local Finder, the localized organic results, and on Google Maps. This is referred to as 'local ranking' and tracking local rankings is done a little differently to traditional rank tracking.
Local SEO vs SEO: What's the difference?
If you're already investing heavily in optimizing for search, the idea that you need to start doing a whole load of additional work can be daunting. The good news is that while there are a number of items specific to local that you'll need to concentrate on, there are still plenty of crossovers.
A simple way to break it down is to understand that while SEO focuses on improving all organic rankings for your website, local SEO is aimed specifically at improving local rankings. With local SEO you don't technically even need a website, as your Google Business Profile (Google's own business listing) can rank without one in the local pack.
Think of it like this:
SEO (whether it's national or international) is the act of improving your website so it can rank for broader terms either nationally or internationally. Think of this as purely e-commerce brands or national papers—sites that offer a service or product you can buy from (almost) anywhere.
This is optimizing to rank for terms like 'midi dress' or 'online mortgage broker'.
Local SEO, on the other hand, is the act of improving various factors to give your website and Google Business Profile the best opportunity at ranking for products or services in a specific area. This is ideal for things like restaurants, local trades, or franchises.
Wait, the local search results are different?
Yes, they are. The local search engine results pages (SERPs) for these searches with local intent look different to a traditional SERP.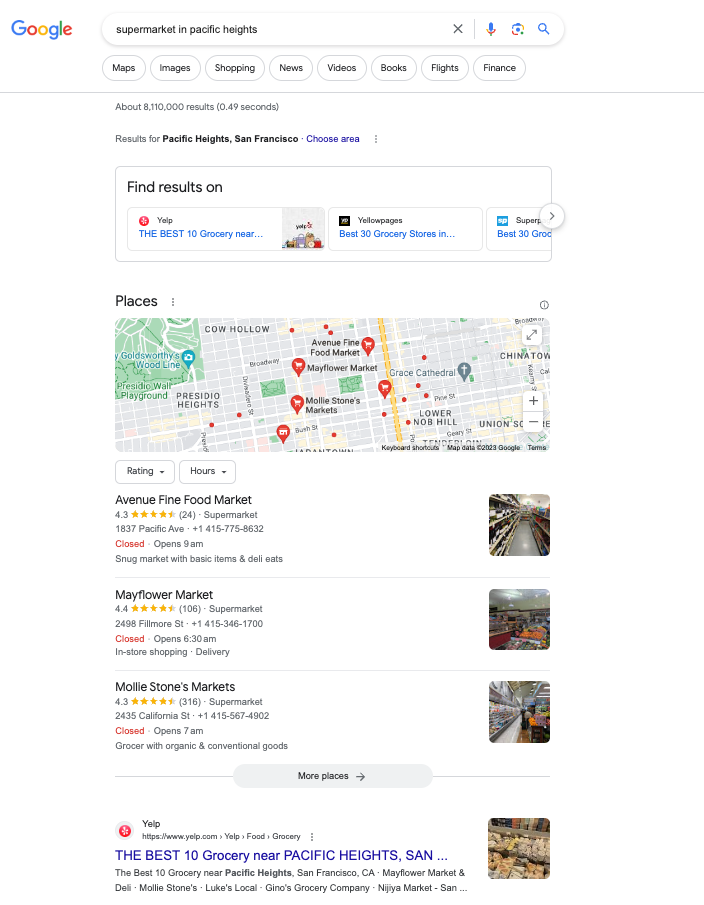 Local SERPs are made up of:
Google's Local Pack

:

The Local Pack appears at the top of the SERP for a local search. Listings appear alongside a map with pins marking the location of each business. The information is based on your

Google Business Profile

, which is prime for optimization.

Local Finder

: The Local Finder is an extended list of Business Profiles for local businesses relevant to the search. Clicking on the 'More places' button at the bottom of the Local Pack will take you through to the Local Finder.

Localized Organic Results: The localized organic results appear below the Local Pack. The listing order is decided by the local search algorithm and is based on a range of

local ranking factors

including on-page optimization, reviews, and inbound links.

Google Maps: You'll see a much longer list of local businesses on Google Maps.
The rest of this guide will focus on the optimization part of SEO, if you want to learn more about local search itself, you'll find more information in The Simplified Guide to Local Search.
For local SEO, it's still best practice to do all the things you're doing for traditional SEO. You want your website to be as technically sound as possible, for instance. But there are a few other things you'll need to consider, and this article will cover all of those.
Who needs local SEO marketing then?
Why do you need to do local SEO?
Local SEO marketing raises visibility within the local search results. 46% of all Google searches are performed by people looking for products, services, or information in their local area.
It's helpful if you want to reach more people in your local area, attract more foot traffic drive more conversions, build your reputation, and grow your business.
1. Reach More People
Better visibility in the local search results means more people are likely to discover your business. From here, the searcher might go to your website, call you or decide to visit your business in person.
2. Drive More Conversions
Taking action to increase search visibility will naturally lead to more people visiting your business website—and more web traffic can result in more conversions (such as sales, subscriptions, or service inquiries).
Since online consumers can often find the information they need within the search results, they won't always need to visit your website. 
As you can see in the image below, a searcher can get directions to the business and make a phone call without leaving Google Search. They can also see the opening hours and other details about the business:
3. Enhance Your Reputation
Regardless of business type, a positive reputation is a prerequisite for long-term success. Carrying out local search marketing can help you to cultivate a positive public profile. 
Regularly acquiring new online reviews is one of the most important aspects of your online reputation as they are known to play an important role in consumer decision-making. A steady influx of new reviews is also a proven local SEO ranking factor, making this a win-win activity. 
Our guide to Google Business Reviews provides more information on why reviews are beneficial and offers tips for getting more of them.
What tasks does local SEO involve? 
To improve your local search visibility, you need to carry out a series of marketing activities regularly.
Managing and Optimizing Your Business Profile
Setting up a Business Profile is an important part of any successful local SEO strategy. If the business hasn't claimed its free Business Profile, it will be impossible to feature in the Local Pack, Local Finder, or Google Maps.
Once the profile is set up, initial optimization tasks, such as adding photos and writing a keyword-optimized business description, need to be completed.
Moving forward, ongoing monitoring of your GBP and optimization tasks will be regularly required:
Developing Your Reputation
As we have just seen, reputation management is a key component of a strong local SEO strategy. This is largely achieved through earning reviews and expressing your brand personality online, such as through your social media activity and email marketing.
When it comes to earning reviews, this starts with consistently delivering excellent customer service. If you know that you don't truly deserve five-star reviews, then you shouldn't expect them!
The example below shows Yelp reviews for a cafe in New York. We can see that good service has prompted customers to leave glowing reviews. Additionally, in the first review, the customer points out that they visited the cafe because it already had so many good reviews on TripAdvisor, proving that positive reviews can easily lead to more customers:
As the reviews begin rolling in, it's essential that you respond to them in a timely and professional manner. If you're unsure how to accomplish this, try our review response templates.
Your social media and email marketing activities also power your brand reputation. Make sure your brand and your message are always front and center, and that you maintain a professional but friendly tone when interacting with your online community.
Optimizing Your Website
Optimizing your website for the local search algorithm is essential. To do this, you'll need to:
Create valuable content

Build internal links

Have a mobile responsive design

Optimize image and content metadata

Provide a positive user experience
Basically, you can't ignore your website if you want to own the local SERPs. While you don't have to have a website to rank in the local pack, it can still help. Plus, your website can still rank in the local organic area of the results page.
Creating Valuable Content
Creating high-quality, relevant content for your website is a critical component of local SEO. Your content can take many forms, such as blog posts, videos, podcasts, animations, and more. It should be useful to your audience, so you'll want to undertake some local keyword research first and have a clear understanding of what your audience needs from you.
Great content will also help you to generate inbound links to your site, which is another local search ranking factor. 
Building Internal Links
Building internal links across your site is a simple yet powerful action, but one that's easily neglected. Internal links are those that go from one part of your site to another. They help Google to better understand your website, making it easier for your site to be accurately represented in the local search results pages.
When you're adding internal links, make sure that each link points to a relevant page of your site with sensible anchor text.
Mobile Responsiveness
A mobile responsive site is one that looks good and works perfectly across all screen sizes, including smaller cell phones. 
You can use Google's Mobile-Friendly Test to check how responsive your site is on mobile. As of December 1st 2023 you'll need to use Chrome Lighthouse to make this check.
In 2021, Google rolled out the page experience update, which considers a number of factors relating to the user experience. Site owners should check their 'page experience score' within Google Search Console. An important aspect of this update is Core Web Vitals, and this should be prioritized when considering mobile responsiveness. 
Optimizing Image and Content Metadata
Using attractive images makes your website visually appealing. As well as choosing high-quality, relevant images, you should always optimize your images for search.
Image optimization involves using keywords in the file name, as well as adding helpful alt text and a description—this is great for search discoverability and helps with web accessibility. You'll also want to make sure your images are the optimum size and format to avoid slowing your website down.
Content metadata helps to explain your site content to search engines. This involves the use of attributes such as title tags and meta descriptions.
It's a wise idea to spend some time going through your website to make sure you've optimized your images and your content.
Providing a Positive User Experience
Providing a positive user experience should be at the heart of everything you do on your website. This isn't just beneficial to your local SEO campaign. If someone can't find what they're looking for on your site because the layout is confusing, for example, they're almost certain to return to the search results and visit a competitor instead. 
Building Local Citations
Local citations are mentions of your business name, address, phone number, and website (NAPW) on third-party sites such as review platforms and business directories. 
In addition to helping Google verify certain details about your business, you may also get a potentially beneficial backlink to further boost your local search engine visibility.
Local citations can drive more traffic to your business too. As you can see in the image below, these listings provide a range of useful information, such as reviews, driving directions, opening hours, and images. This helps a business to create a more comprehensive profile and helps a searcher find the best fit.
Get your business listed where it matters
Monitoring Your Competitive Search Landscape
Keeping an eye on your competitors will help you to understand what they're doing well and whether you should adjust your own strategy.
Focus on the kind of content they're creating, the keywords they're targeting, and where they're getting their backlinks from. It's also a good idea to check out where they have citations and what their review profile looks like.
Monitoring Changes in Google
Google is consistently making changes to its search algorithms, often without any official warning. Monitoring volatility in the search results is a great way to stay informed about any potential algorithm updates. Lots of ranking changes can signal that something has changed, which means you might need to change your SEO strategy. LocalRank Flux is an efficient tool for this purpose and is free to use.
Local Link Building
Link building is one of the most important ranking factors for local SEO. It helps search engines understand the local relevance of a business, while also demonstrating the value of the content that's generated the link. 
To get started with building local links, prioritize good quality content creation, check where your competitors are getting theirs from, reach out to other nearby businesses, and build local citations. 
Spam Fighting
To boost their local search visibility, less scrupulous businesses may engage in spammy tactics. This might involve keyword stuffing in the business name, listing inaccurate location information, or creating entirely fake accounts.
Although it can be frustrating when you're outranked by a spam profile, you do have the opportunity to fight back. If you believe a business is violating Google's guidelines in any way, you can report it. 
Fighting spam is time-consuming, but it can also be extremely worthwhile if it pushes your profile up the rankings.
Local SEO Reporting
If you're a marketer working with local clients, then creating reports to document your progress is essential. This is a simple way to keep clients up to date on your actions as well as to demonstrate your value.
Your reports might include key metrics such as web traffic, conversion rate, search rankings, new links, and bounce rate. However, the data that you track and report will vary from client to client depending on what their specific goals are.
Learning how to create relevant and engaging reports will help you to produce fantastic insights for your clients that prove your worth.
Getting Started with Local SEO
You should now be able to confidently answer the question, "What is local SEO marketing?" and understand its value to any local business. 
If you're ready to improve your location marketing, our local SEO Learning Hub contains all of the information you need to elevate your local search performance.