How to Craft Unique and Helpful Location Pages
Location pages are essential for many multi-location businesses. With unique and valuable content, these pages can rank in search engines and attract customers. In order to do that, though, they need to be backed by a robust SEO strategy. Otherwise, they run the risk of bloating the site with low-value, duplicative URLs. In this guide, we'll be walking through how to make sure your site's location pages are optimized for local SEO success.
What is a location page in local SEO?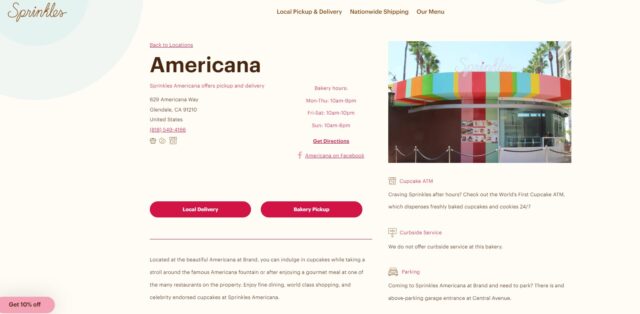 Location pages are web pages that give detailed information about a particular business location in a specific city, county, or state. They help potential customers find the nearest physical location of the business, as well as provide search engines with enough info to index and rank the page for "near me" and "city name + industry" keywords.
You may also hear location pages referred to as 'local landing pages' or 'location landing pages'. These are essentially the same thing.
Why bother with location pages? 
Location pages are a worthwhile effort because they give valuable information to customers, which in turn adds value to your local SEO strategy. Without location pages, multi-location businesses can struggle to get found in search engines like Google.
If you want to create a location page that stands a chance to rank in SERPs and convert customers, you have to justify each new page with unique and valuable content. In other words, the amount of value on your location page has to merit its own URL.
How to Make Location Pages Valuable
Value on a location page comes from information that only applies to the specific location. If you copy and paste content to another location page and it remains true, it's not unique. Yes, it's okay to Include non-location-specific information (such as the brand mission statement or service descriptions), but let those be the exception rather than the rule.
Bottom line: Your location page should be largely comprised of information that only applies to that location.
Exactly how much content on the page should be unique? 
Try to make more than half of the page content unique to that location. But, a margin of 40% to 60% should be a safe enough bet to justify the unique URL for the location and showcase its value to Google.
The short answer to this question is "as much as possible." While that may not be the most helpful insight, it is more helpful than "it depends." (Even though it does, in fact, depend.)
Location Pages vs Geo Pages
There's an important distinction between location and geo pages.
In short, location pages are tied to actual, brick-and-mortar locations while geo pages are not. A location page is about a specific location; a geo page simply describes the services offered by a business in a specific location.
Often, geo pages are used when a business wants customers from a specific region but doesn't have an office there. Service area businesses can find it particularly tricky to rank in an area when they don't have a physical store or office, for instance.
Ranking Geo Pages is Difficult
Ranking geo pages is challenging because it's difficult to prove that a business is relevant to an entire area if they don't have a physical store/office there. Even if the business typically serves clients from far away (e.g. attorneys), this may still be difficult to show on a geo page that isn't tied to an address, Google Business Profile, etc.
Geo Pages Can Easily Become Doorway Pages
Another concern with geo pages is that they can slide down the slippery "is this a doorway page?" slope.  
What is a doorway page?
Simply put, a doorway page is a type of spam that uses slight variations of a similar page in an attempt to rank for many variations of many queries. As you can probably tell, a few hundred pages sans actual locations and addresses targeting small cities in the same county could, ostensibly, fall into this category. Proceed with caution.
You can see what Google has to say about doorway pages here.
Differentiating Between Nearby Locations
Locations under the same brand in close proximity to one another create a unique challenge. Not only are they providing the same (or similar) products & services to each other, but offering those services to the same pool of customers.
The truth is some element of competition will always exist between these types of locations. That said, there is one way to help differentiate them: content with unique value.
In other words, you'll want to provide as much information as possible on these locations that only applies to each individual location. This is the goal of any location page but is especially important for ones in close proximity.
Sure, NAP information (Name, Address, Phone Number) is a great start, but try to find other ways to differentiate the pages. This could include:
Staff bios/profiles

Location-specific reviews

Inventory or services (if unique)

Driving directions

Parking information

Accessibility information

Pet friendliness

Anything else you think is useful to the customer and

truly

unique to that location.
The more information you have about each location–its features, services, amenities, etc.–the easier it becomes to differentiate between them and create a unique set of pages that add value to customers and search engines alike.
Things to Avoid and Common Mistakes
1. Saying the Same Thing with Different words
One of the biggest and most common mistakes you can make when creating location pages is thinking your content is unique when it really isn't. For many business types (plumbers, cleaning services, lawyers, chain restaurants, etc.) location pages run the risk of being rewritten home pages or service page content.
If you find yourself creating location pages with a unique address and phone number but content that isn't really saying anything new, it's not really unique.
This type of content – I like to think of it as "diluted-value content" is bad because it takes time to create but doesn't give anything new or helpful to the humans and search engines you're hoping to impress.
2. Making It Hard for Customers and Search Engines to Find Your Location Pages
In order for people to find your location page, Google (or your search engine of choice), needs to find, crawl, render, index, and rank it.
Google needs to be able to find your pages, which means they should be included in XML and HTML sitemaps. It's also helpful to link to the page internally, as this makes it easier for Google to discover.
Unfortunately, internal links aren't always easy to create for location pages. From an SEO standpoint, we tend to prioritize linking between pages of content that are topically related (as we should). But, if the topic of your page is a location, linking to it from another page can feel stilted or unnatural.
Here are a few tips for creating internal links to your location pages:
For businesses with just a few locations
Create a "Locations" dropdown in your top nav and link to locations from it

If location pages are standalone and do not have their own service pages/child pages, link to the locations from the business' service pages by mentioning the areas the business serves

If locations are nearby (or even within the same state), include links to the other locations via side navigation in the location page template

For businesses with many locations
Use a location finder to make pages accessible to humans via search

Link the location finder in the top navigation of your home page (and throughout the site)

On each location page, add a module with "nearby locations" and link to other locations in the vicinity

Consider a separate XML sitemap for location pages. This allows you to easily check the indexation status of them in Google Search Console and ping the sitemap when new locations are added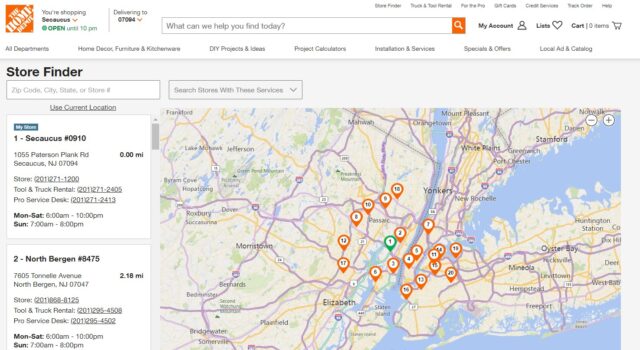 The goal is to avoid creating location pages that are "orphaned" from the rest of the site (e.g. inaccessible via navigation from other pages). Not only does this make it harder for humans to find your content, but Google as well.
Search Intent and Why it Matters for Location Pages
Search intent refers to what someone is looking for when they type a search into Google. At the most basic level, location page search intent can be broken down into two categories:
People looking for a service or product

People looking for the brand
Someone looking for a service, for example, might type "plumber in Seattle" into Google. If done right, your location page should rank for that query because it is relevant to the search intent–someone looking for a plumber in Seattle.
On the other hand, if someone was typing "ABC Plumbers Seattle" into Google, they would be looking for information about ABC Plumbers specifically. The search intent is different, and the content of your location page should reflect that–it should be focused on ABC Plumbers and how they are different from their competitors in Seattle.
In the grand scheme of search query intent, both of these are pretty close to the bottom of the conversion funnel. Someone looking for "how to unclog a drain without calling a plumber," for example, probably won't land on a location page because the query is more easily satisfied by a video or how-to article.
So, it's pretty safe to assume that location pages are almost always targeting bottom-of-funnel searches.
Search Intent and Page Structure
By understanding the search intent of location pages, you can create content that speaks to what your potential customers are looking for and then prioritize the right content on the page.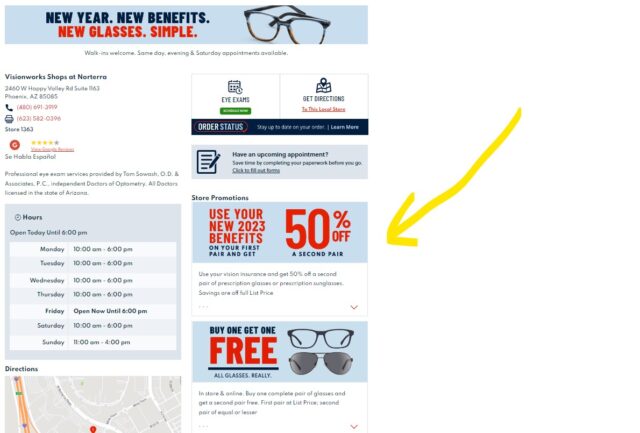 Branded searches benefit from "conversion" focused content like unique selling propositions, coupons, or information that distinguishes the brand from competitors. If the majority of your location page content is branded, it may be wise to structure your page to focus on conversion-focused content items.
Searches like "plumbers in Seattle" should focus on informational content like where the business is located and what types of products and services they offer. If your page attracts more clicks from these types of queries, be sure to focus your page structure accordingly.
Conclusion and Takeaways
Creating location pages isn't difficult, but building pages that are truly helpful to humans can be a challenge, much less ones that stand a chance to rank in search engines. That said, well-crafted location pages can provide the value customers are looking for if your strategy focuses on the right things:
Try to make the majority of content on location pages unique and location-specific (aim for 40%-60% unique-value content)

Geo pages are more difficult to rank than location pages and are easily mistaken as doorway pages

Unique value content is especially important on pages that compete with nearby locations from the same brand 

Saying the same thing with different words doesn't make the content more valuable – it's essentially duplicated 

Make sure people and search engines can find your location pages via sitemaps and internal links

Optimize your page structure to accommodate the search intent of your most-searched queries