Google Business Profile Insights and Performance
Published: May 19th, 2022
Last Updated: November 17th, 2023
As a business owner or marketer for a local business, harnessing, analyzing, and then acting on data can be a daunting prospect.
It's not just a question of knowing where to look to access the most useful data, but how to interpret it and use that insight to plot a suitable course of action. 
Google Business Profile Performance Insights (formerly known as Google My Business Insights) offers an easy place to start. It provides accessible analytics that gives information on your search presence. Plus,  useful metrics that demonstrate how often customers and potential customers are taking action on your listing that might lead to a conversion.
What are Google Business Profile Insights?
Google Business Profile Performance shows you data related to your local search performance such as:
the number of views your listing has received

what search queries triggered an impression of your listing

the types of interaction searchers have had with your listing (clicking through to your website, calling you, or requesting directions for example) 
As GBP Performance metrics are focused entirely on your Google Business Profile and the actions that searchers can take on the profile, it differs from Search Console and Google Analytics.
Search Console allows you to monitor and maintain your site in search, along with troubleshooting potential problems.

Google Analytics is the most comprehensive of the trio. It offers extensive data from all of your online marketing activity, plus comprehensive reports and data modeling.
How do I access Google Business Profile Performance Insights?
Whether you access insights via the NMX (New Merchant Experience) or the bulk download option you have the option to view/download up to 6 months of data.
Single locations
Single locations will probably find it easiest to access their GBP Performance data via the NMX:

Click on 'Performance' and then you'll be able to choose your time frame: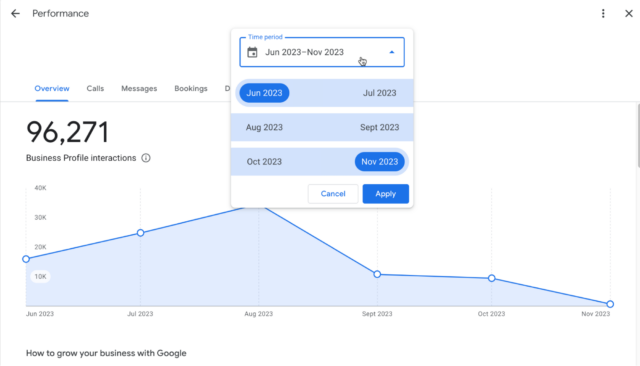 Multiple Locations: Access Insights in Bulk
You can bulk download Insights for multiple profiles to a spreadsheet. Then you can view how different chain locations are performing on Google Search and Maps.
To do this:
1. Sign in at https://business.google.com/
2. Select the location that you wish to download the insights for.
3. Click on 'insights' in the drop-down menu under 'actions':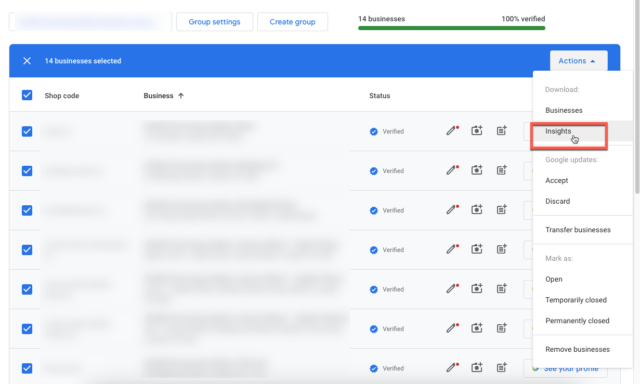 4. You'll see the following screen, where you can choose your time frame.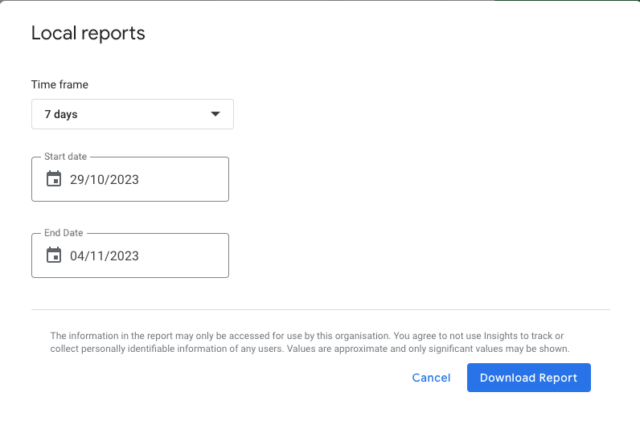 If you'd like to see a sample of the Google Business Profile insights metrics that can be downloaded in the bulk report you can see a sample that we have added to a Google Sheet here.
Show Me the Metrics
As with any metric, in any platform, it's worthwhile knowing where they come from. This can help give you a sense of how this thing is actually measured. Google gives an overview of the metrics and how they are calculated here and here. 
It's always important to compare like for like when you're using metrics to assess your business performance. So, be aware of when and if Google changes the way that they measure. You must be sure that you're not drawing conclusions based on comparisons of metrics that have been collected in very different ways!
These are the metrics that you'll currently see in GBP Performance:
Business Profile Interactions
Total Number of profile interactions

Profile interactions by action type (calls, messages, bookings, directions, website clicks)
How people discovered you
Platform and device breakdown – the platform and devices that people used to find your profile

Searches breakdown – the search terms that showed your Business Profile in the search results
If you've had a Google Business Profile for a while you might know that Google deprecated a number of metrics in early 2023. So, if something is missing, it may be worth checking the list of sunsetted metrics.
What do the metrics actually mean?
Now, we know where the metrics actually come from. Next, we'll want to explore the question 'What does this actually tell me about how my business is performing'?
Business Profile Interactions
These metrics are great at indicating how engaging searchers are finding your profile. 
Things to look out for:
Is the total going up or down? 

Do the totals reflect what you would expect to see in view of the seasonality of your business?
Note also that the interface will only give you data for a whole month. Keep this in mind if you are comparing the data part way through a month.
You'll see a number of tabs along the top of the dashboard. Below, we'll cover what each of these actually shows.
Overview
This is what you'd expect. It shows the total number of interactions, per month, with your business profile.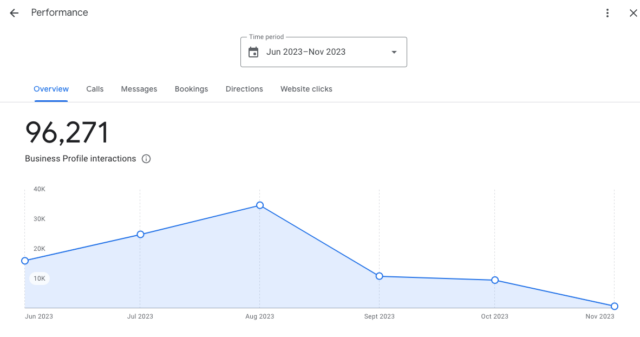 Calls
This tab shows the total number of calls to a business made by people clicking 'call' on a business profile. Again, these are monthly totals.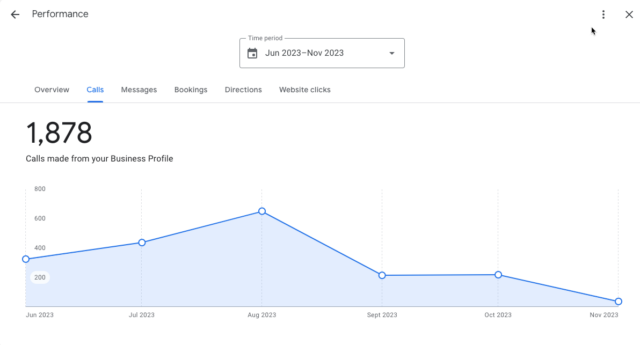 Messages
You'll have to have enabled messaging on your profile to get this metric.
This dashboard shows you the number of people who have clicked 'message' on your business profile and information on responses.
Google Business Profile Performance Insights also gives you the message response rate and average response time.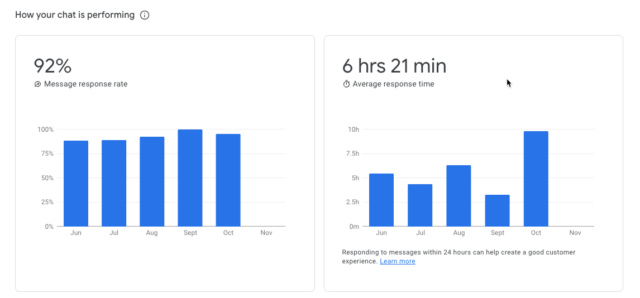 You'll need to monitor these to ensure you're giving your potential customers the best messaging experience.
Bookings
This tab shows you the number of bookings made directly through your business profile.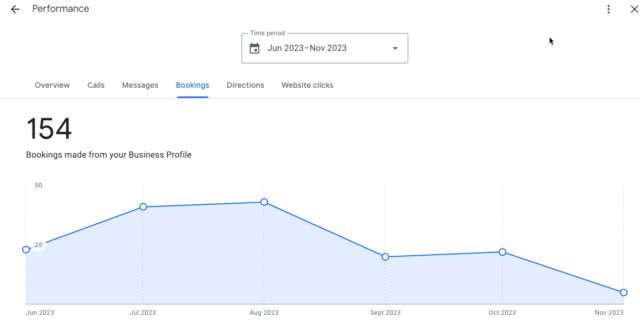 You have to be working with a third-party booking provider that has an integration with Google Business Profile to see this data.
Directions
The directions tab shows how many searchers requested directions to your location via your business profile.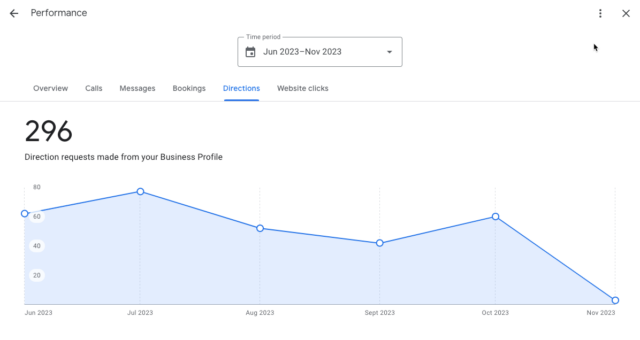 Website clicks
If you have your website linked from your business profile, as you should, this metric will tell you how many people clicked through to it.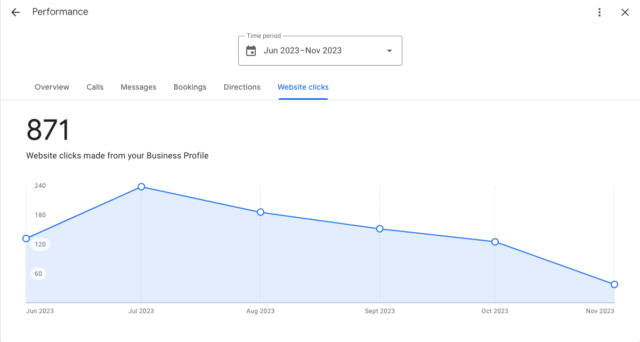 How Your Products Performed
If you have added Google Products to your business listing you'll want to know whether people are actually looking at them. 
This tab will tell you exactly that, as well as the ones that perform the best.
If you have 'Google Products' in your Google Business Profile you'll find some data here: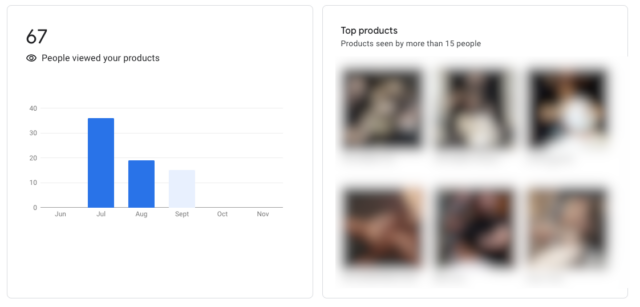 Product views show how many people saw your products on Google Search or Maps.
How People Discovered You
If you want to answer a question like "Do more people find me on a mobile or on a desktop?" then this one is for you.
This will break down the platform and device that people have visited you from.
This section shows you how many unique visitors viewed your profile, plus the type of device and platform that they used.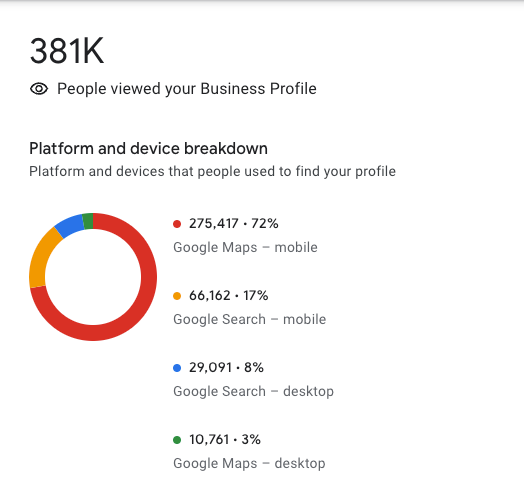 In this section you can also check what queries people are using to find your business profile in the first place.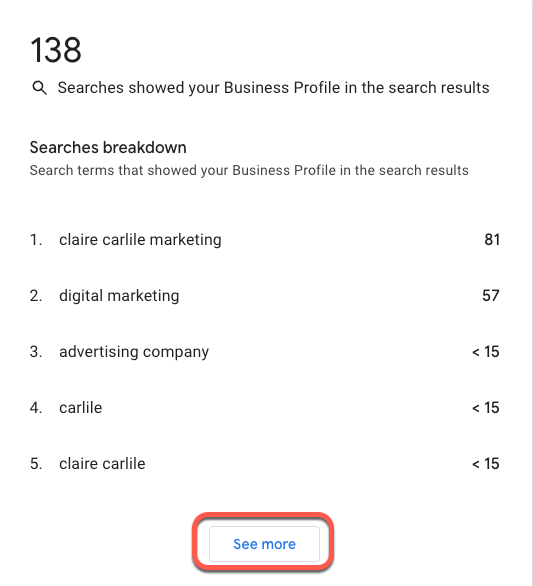 You can click on 'see more' for a more comprehensive list.
This section shows the terms that people used that returned your profile in results. This data is useful for your keyword research, so don't forget to check back on this regularly!
Some metrics need to be enabled!
The following counts can also be found in Google Business Profile Performance Insights if you have these enabled:
'Food orders' – number of Food orders placed for pick-up or delivery from your Google Business Profile with an Order with Google Provider.

'Food menu clicks' – Number of Food orders placed for pick-up or delivery from your Google Business Profile with an Order with Google Provider.

'Hotel booking' – Number of interactions with the hotel supplier's free booking link.