What are Google Business Profile Attributes?
Published: August 22nd, 2022
Last Updated: November 21st, 2023
Google Business Profile (formerly known as Google My Business) attributes have long been a feature of Google Business Profiles, used to convey useful details about a local business to search users. 
It can be helpful to think of attributes as short statements that say something about your business to help searchers decide whether your business is what they're looking for. Think, 'outdoor seating', 'family friendly', or 'wheelchair accessible.'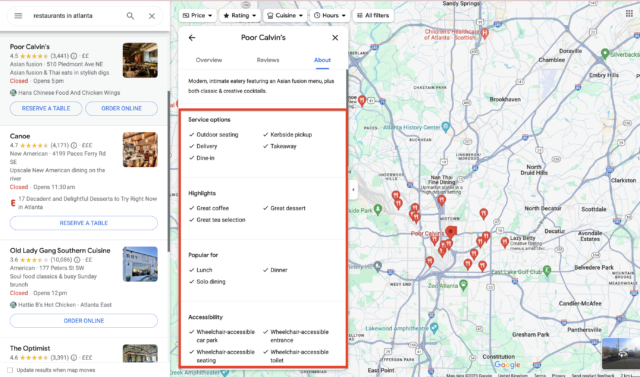 Here's a bit more on what to expect from this helpful feature.
Where do business attributes show up?
Attributes appear on your Business Profile on Google Search, Google Maps, Google Pay and other Google products and services. If you add certain attributes to your profile, your business might show up in search results when people search for places with those attributes on Google Search, Google Maps, Google Pay, and other Google products and services.
Google is constantly changing and tweaking how it surfaces information to the searcher across platforms and devices. Oftentimes, this is based on how they think the searcher is best served in terms of information, but it can also be influenced by other factors. For instance, on a mobile Google Maps search, attributes may show up as 'highlights' with corresponding graphics as opposed the list format that sometimes appears on desktop: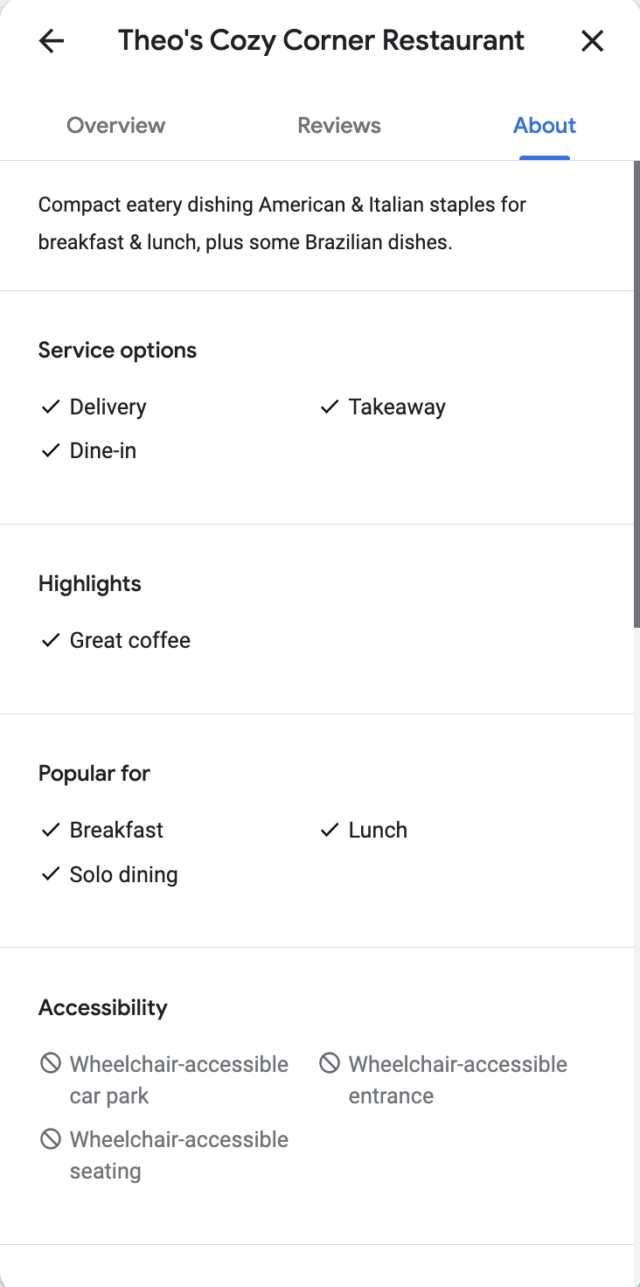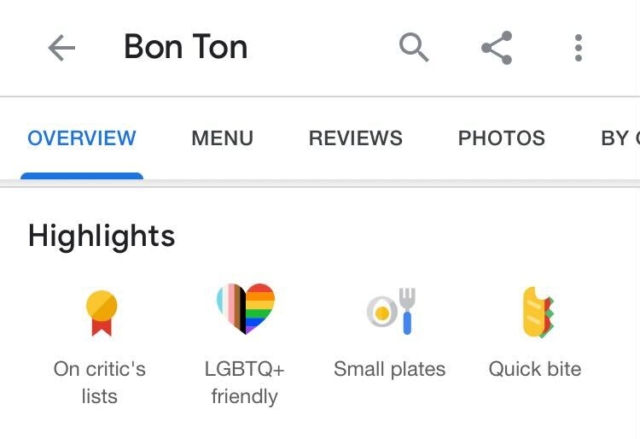 Or, they could show up as a mix of both: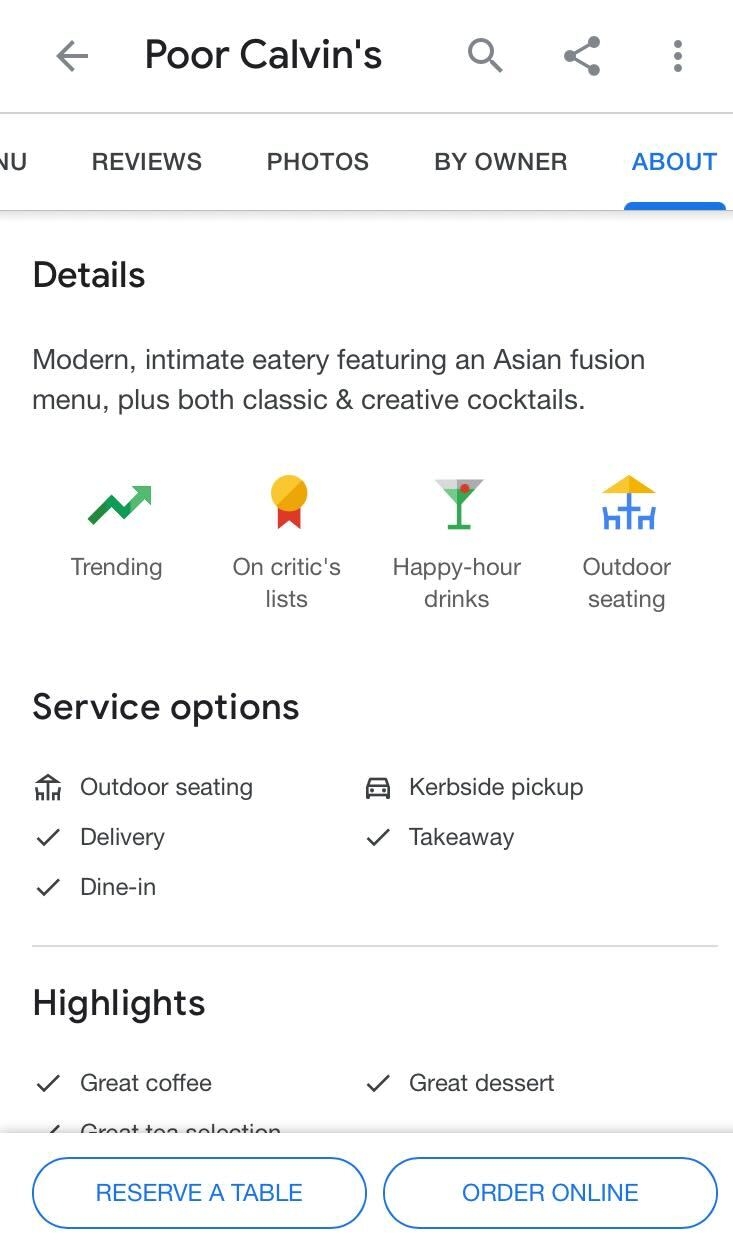 If attributes aren't showing up on the main section of the local knowledge panel, they are likely under the 'overview' or 'about' tab.
So, it's important to note that just because you might not be seeing your attributes show up in one particular place, it doesn't mean that other searchers aren't. Google is constantly tweaking where and when they show things, so don't neglect attributes just because you don't immediately see them. 
It's also important to make sure that you keep your attributes up to date so that Google can show the most compelling information about your business when your potential customer is comparing your attributes against those of your competitors.
Do business attributes change?
The attributes that Google displays change over time and can be influenced by world events, consumer demand, and other factors. Be aware that the attribute names may also change over time for the same reasons.
A prime example of attributes changing with the times was the addition of several health and safety attributes that appeared during the COVID-19 pandemic. In a time where information such as whether staff were required to wear masks or if a location offered curbside pickup were crucial to consumer decision-making, Google put forth new attribute options that allowed businesses to accurately reflect their current practices.
2023 also saw the addition of 'small business', 'asian-owned', and 'disabled-owned' attributes, reflecting evolving consumer values. The 'small business' attribute seemed to come just in time for the holiday season, when Google knew that shoppers would be looking to support local businesses rather than the typical big players like Walmart. 'Asian-owned' and 'disabled-owned' both speak to the ongoing trend of supporting minority-owned businesses. 
Make sure that you check the attributes that are available to your business regularly so that you can make sure that you take advantage of any new opportunities to highlight the characteristics of your business.
How to check your available attributes
If you're managing your business profile via the NMX then you should log in regularly and check the attributes section.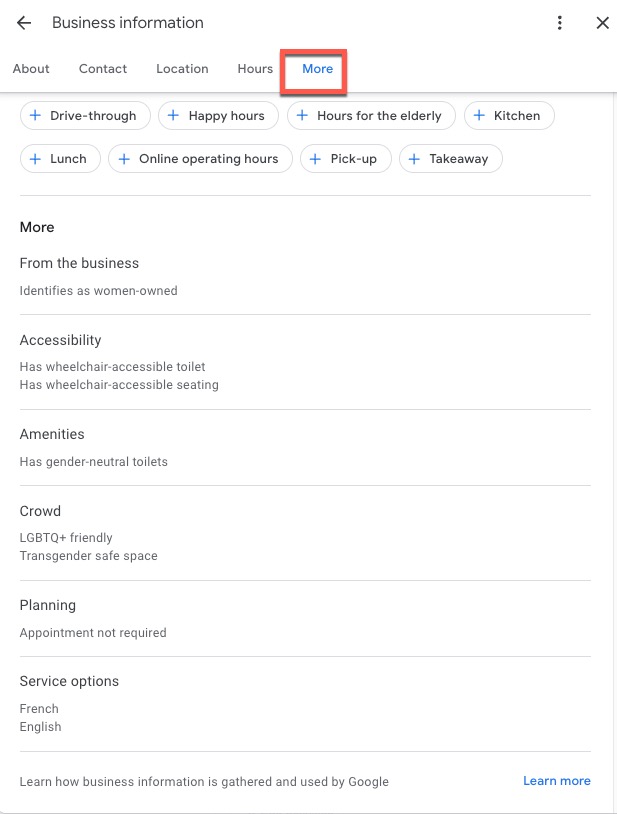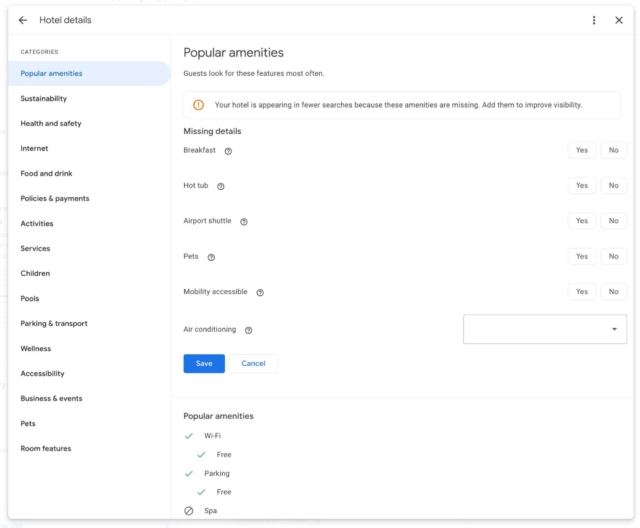 If you have access to the GBP API via a third party tool like BrightLocal, check with your provider and ask how they surface new attributes.
How do I update my business's Google Attributes?
You can update your business's Google Attributes via the NMX, via a third-party tool like BrightLocal, or, if you have multiple listings, via bulk upload.
Note: accommodation type businesses cannot upload attributes via bulk.
Can I control what business attributes show for my business?
Business attributes vary by niche and are influenced by your business category choices, as well as by the country or region in which you are located.
Attributes editable via the NMX
If an attribute appears that is editable in the NMX or a third party tool, then you have the option of selecting 'yes' or 'no' in the interface. 
Some people call these 'objective attributes', in the sense that they are based on facts rather than opinions.  
Some of these attributes that are editable via the NMX are objective in the traditional definition—for example, the attributes in the 'payments' section: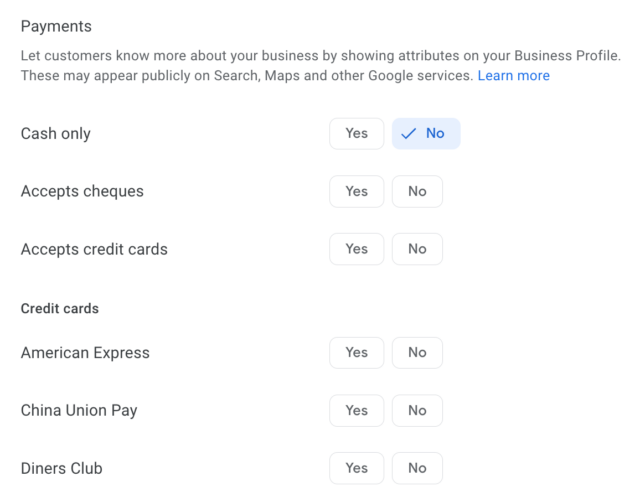 But others—less so. For example, there are no Google guidelines about what constitutes an 'LGBTQ+ friendly' or 'Transgender safe space'. Of course we can read around those topics and come to our own conclusions about what might make a space exactly that, but there's no firm checklist. Instead, this selection is instead based on opinion (and is therefore subjective).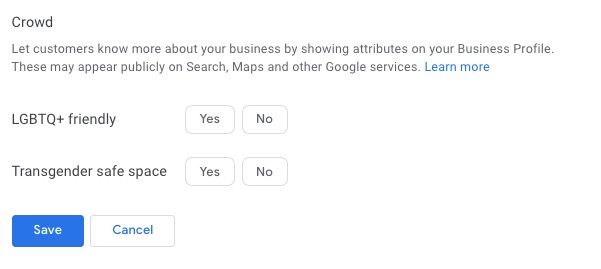 Attributes that are not editable via the NMX
Attributes that aren't directly editable by a business via the NMX or the GBP API are referred to by some as 'subjective attributes'. Essentially, these are attributes that Google has collected from maps users and they are based on map users' thoughts and opinions.
Google has been collecting data from users for many years, and Google tells us that " …many attributes also rely on input from customers who visit your business."
For example, Google harvests user feedback via the 'know this place?' button in the business profile and on Google Maps: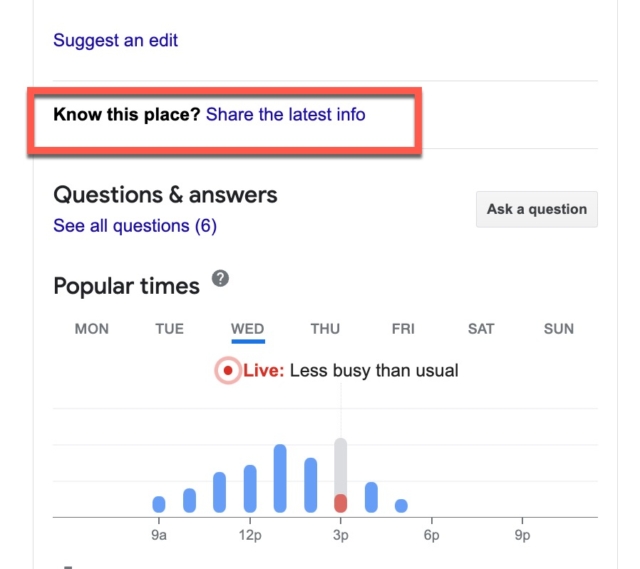 Click on it and Google will have a host of questions for you: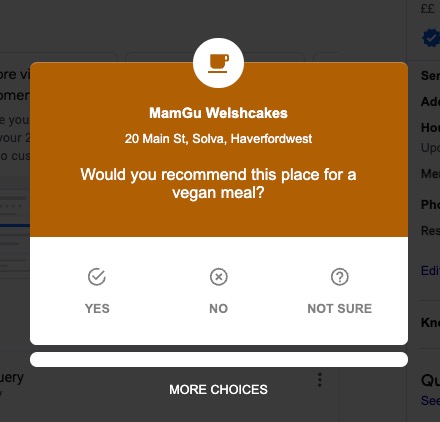 It's likely that feedback from such sources will shape Google's understanding of your business's 'subjective' attributes.
You should check in regularly on your own Google Business profile as well as your competitors and other notable businesses in your vertical to see what type of questions Google is asking users about businesses. This can give you a good insight into what Google might think is zeitgeisty in your niche.
How are attributes being used?
It would make sense that Google uses all types of attributes to feed into its knowledge of the business entity in order to serve the searcher with the results that would best meet their needs and requirements.
And what about searchers—how do they use them? Well, if a searcher sees an attribute that confirms that what they are looking for is going to be available at your business, then this will quite likely increase the click through rate or increase the number of actions (think calls, direction requests etc) on your listing. A family with two little kids might be more likely to book in a table at a 'family friendly' spot with 'outdoor seating' than a 'upmarket' joint with a 'romantic' atmosphere.
Utilizing attributes
Attributes are an important feature that offer detail about the experience customers will have at your business. As a business, it's important to know what they do and how to change them, as well as where they might be appearing in front of searchers. Be sure to keep an eye on them to maximize their utility and continue to drive traffic to your business.