How to Access Google Business Profile Support and Get Help
We've all been there… a dreaded 'your listing is suspended' email, rejected Google posts, 'not approved' products, verification issues, or a weird glitch in the business profile—a ghost in the machine.
Who you gonna call? Not Google Business Profile (formerly known as Google My Business) support, as phone help was retired in 2021.
But don't fret—there are a plethora of other places (both official and unofficial) to turn to for GBP help.
Whose job is it to solve issues?
A business listing that disappears from Google Maps… fake listings that push your one down in results… a run of negative reviews that you suspect aren't real—any of these things can result in lost enquiries, bookings, and revenue. 
And while it's understandable for these things to cause frustration (and even anger), we need to keep in mind that Google Business Profile is currently a free product.
As such, Google support staff are thin on the ground, and Google Product Experts that support GBP via the Google Business Profile Help Community do so for free.
So if you're experiencing an issue, the first step is to be proactive in finding a solution for yourself. Start with guidance available from the Google support team and the GBP community.
After that, it's time to turn detective—below we'll run through a range of alternative GBP support channels, outline what they're best for solving, and look at how to get the best out of each of them.
And remember! Karma reigns supreme—be straightforward, polite, and help others if you can. And, of course, always say thank you!
Google Business Profile Help Center
As I mentioned already, support from the actual GBP team is limited and has been for a number of years.
In the help center, you can browse information and GBP guidelines, all of which are organized by topic areas: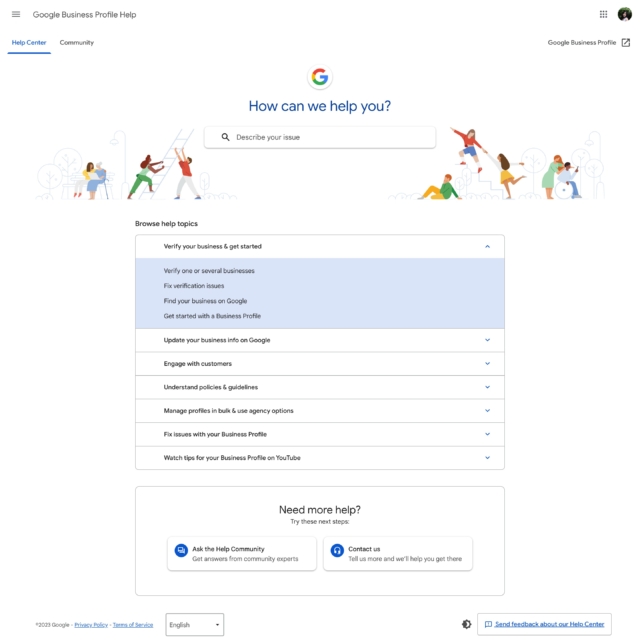 I'd suggest becoming familiar with these pages and checking back if and when you have an issue. The GBP landscape is far from static and Google will change their documentation as needed.
It's particularly important to understand if you're doing something that contravenes Google's Terms of Service, for example:
You should always check Google's official guidelines first—please don't waste others' time by asking questions you could have answered yourself.
Google Business Profile Community
When you make a search describing your issue, Google will return results for both help center documentation and community forum posts.
Items marked with (1) are help articles, and items marked with (2) are community forum posts. Look out for 'recommended answers' as these have often been supplied by Google Product Experts or active and experienced community members.
If you can't find an answer to your question, then Google suggests adding a new community forum post:
However, before you do this, I recommend first checking out the following potential avenues for solutions.
Also, don't be tempted to tack your own issues onto an existing post. If you need to post (once you've exhausted the resources below) then you should create your own post with your own unique information.
Browse Local SEO Peeps on Twitter
You're probably already following a bunch of Local SEO people on Twitter—if not then be sure to check out BrightLocal's list of local SEO experts. If there's a GBP bug going around, you'll probably hear about it there.
You could ask a GBP expert for help on Twitter, but honestly, I'd go to the local SEO community first. I don't envy Joy Hawkins (or indeed anyone else from the helpful local SEO community) for the number of tweets she gets asking for help, so do the nice thing and ask for assistance in the right place!
Check the Local SEO Content Archives
I've written in the past about the hubs of excellent content that are being produced around GBP issues. For example:
Once you're familiar with primary sources of great information, you can search within those sites using an advanced search operator:
site:brightlocal.com OR site:sterlingsky.ca "GBP" or "GBP" suspension
This asks Google to give me results from the BrightLocal or Sterling Sky websites for pages containing either "GBP" or "GBP" keywords, plus content related to suspensions.
You can use my custom local SEO search engine to search within my own carefully-curated list of trusted sites, or create your own search operator as needed.
Google Business Profile YouTube Channel
Google Business Support does have a reasonably active channel with some useful videos. I recommend taking a look to see if there's a solution to your problem, for example:
Google Business Profile Social Channels
In the olden days, you could tweet or Facebook message GBP support and expect a reply. Sadly social support is now very limited, and you're unlikely to get a reply from the social teams.
Google Business Profile Forms
Google has a number of task-specific forms that you can complete without having to contact support:
Google Business Profile 'Contact Us'
If you can't find a solution via any of the sources above, then the next step is to contact the Google Business Profile team to ask for their direct support: https://support.google.com/business/gethelp
Alternatively, you can log into your GBP dashboard and select 'Support' from the left-hand side menu.
You'll be asked to select the business you need help with and to describe the issue. Google will then give you a list of articles and community posts that it thinks might be helpful.
Click 'Next step' to continue with the process. Google will present you with one or more contact options, that—for me—currently only includes 'email':
You'll then need to fill in a form with the following details:
Issue type (select from drop down):
Your relationship to the business
Your email address
Your phone number
Business name
Business address
Maps link for the business
Business website
Describe the issue
Add related case IDs (it might be that you've already been in touch with the same issue)
Be sure to keep a copy of your requests, as there's no way to access this information after you submit the form to Google.
Once you've submitted the form, you'll usually be given a case ID—make a note of this somewhere so that you have a record. You'll also receive an email from Google to confirm their receipt of your support inquiry.
Read to the bottom of this email… don't just file it away thinking they'll get back in touch with you:
That's right, you're going to need to actively contact them again! If you've already written up your notes into a Google document then you can use this to shape your email reply and (hopefully) get the help you need.
Ask the Google Business Profile Help Community
If you haven't found a useful answer or potential solution, then now's the time for you to make your own community forum post. Be aware that if you go to the help community without following the 'support' steps above, they will send you there first.
Don't be tempted to tack your own issues onto an existing post. If you need to post be sure to create your own post with your own unique information.
You'll need to be logged in for this, and in order to get the best help possible I'd suggest using the following points to compose your post:
Always make sure that you adhere to the Google Help Communities Content Policy.
Make the subject line (1) brief and descriptive of your issue.
(2) Explain your issue in full with clear details—but be concise! Show that you have read and understood Google's guidelines, if applicable.
If you need to include screenshots or links then it's best to include this in a Google doc (named appropriately) that is viewable by anyone with the link. Just write a brief message outlining the issue in field 2 and then include the link to the Google doc.
Include full details of your business name, your address if relevant, and your CID number (a unique identification number for that business on Google Maps) of the business listing. If your concern is about reviews, then include the account names of the persons leaving the reviews in question.
For (3) choose the most relevant category for your post:
Run through the final steps (make sure there isn't already an answer on the forum, specify which platform the problem is occurring on) and then you can go ahead and post.
See this example of a forum post that was quickly and expertly answered by a Gold Product Expert. You'll be able to see all of the questions you've previously asked in your profile's 'Post history' area:
Wrapping Up
There are a lot of options for getting help with your Google Business Profile… some via official Google help channels and some outside of them.
It's up to you to fully investigate a solution before you contact official support—in this way, you'll help protect limited resources so that they can deal with bugs and help everyone enjoy a better future experience.
Go forth and prosper!