Many questions are posted on the Google Business Profile forum. They range from the simple to the advanced, with varying amount of detail mentioned. But due to the sheer volume of questions, some posts go unanswered, leaving business owners frustrated. What can posters do to increase their chances of getting a response? What information attracts the eye of Product Experts and other helpful volunteers? Let me share my take as Product Expert with many hours spent helping on the forum.
What is the Google Business Profile Community?
The community (most often referred to as 'the forum') is a support message board hosted by Google. It's a place to ask general and specific questions about Google Business Profiles. It's also, and this is its most important purpose, the place where concerns may be escalated for manual review by Google. For most, this is the final place to get action on a concern that affects their business.
What types of questions are asked?
Some questions are relatively simple, like where to find an element in a listing, like "where can I find my Business Profile ID?" or how to update categories. Others get more involved, like how something should be done to comply with Google's guidelines. But the most detailed questions are from those whose listings have been suspended and are seeking reinstatement ("Google is claiming profile is not eligible for display," or "Kindly remove this suspended tag; we are following your guidelines").Those threads often require documentation and photos, and may become rather lengthy based on the information needed.
What are the most common topics on the forum?
These are the primary topics I see most often:
A listing has been suspended, and reinstatement was denied. These can usually be appealed, but sometimes business owners either have questions about the process, or they are told to contact the specialist team.
Short-term issues based on current problematic elements. At this time, verifications are a hot topic.
A listing has been negatively affected by an attack, and reporting the situation didn't get the desired response. 
Reviews are missing or were never published.
Who answers forum questions?
The forum is staffed by volunteers from around the world. Some log in occasionally to help out as they can, and others do so quite often. Those who give the most time and who demonstrate the widest range of knowledge are designated by Google as Product Experts (PEs). There are four levels, from Silver (new but knowledgeable) to Diamond (have demonstrated a thorough knowledge of the platform). PEs at these Silver, Gold, Platinum, and Diamond levels may escalate issues to the Google team for manual review. 
Forum volunteers have a wide range of knowledge, of both Google resources and their applications, and workarounds to ongoing problems. They are often given access to the newest information from Google on current bugs, as well as hearing about new innovations. As a result, they often have the best solutions to new issues. 
It should be remembered that Product Experts are not Google employees, so they don't have access to user accounts to make changes, updates, or fix issues. They can, though, help by suggesting solutions or escalating to Google when needed. 
Also, it should be remembered that PEs are volunteers, so being polite and responsive really helps your case. Providing requested documents, photos, and other proof will help get your problem resolved efficiently. Interaction with PEs may save your business, so working with them should be a top priority.
What should users keep in mind before posting?
First make sure you've exhausted all efforts on your side. Have you reported that fake review? Have you contacted Support and received their response? Has Google published a resource page, and did you follow their directions? Many issues can be addressed using Google's resources, so that's always the best place to start.
On a more personal level, keep in mind that those who respond are volunteers, not Google staffers. Their goal is to help businesses, so the more information you provide, the easier it will be for them to provide accurate responses.
Also, Product Experts cannot access individual account information, so they cannot make edits or reinstate listings. Instead, they help answer user questions, offer guidance, and escalate to Google when there are no other options.
What should be included in the title of a post?
The best way to attract help is to include your specific concern, like 'My listing was suspended.' More helpful is if you mention further details, like 'Profile has been suspended because it does not meet the eligibility criteria.' Laying out the details in the title helps Product Experts understand what's going on before they start working on your situation. 
This post's title was very specific about their question: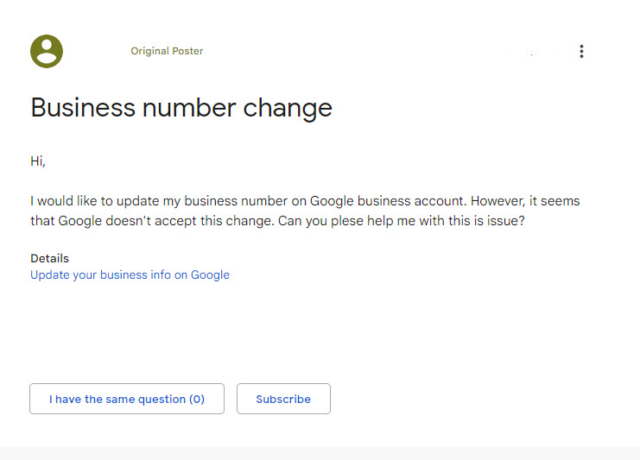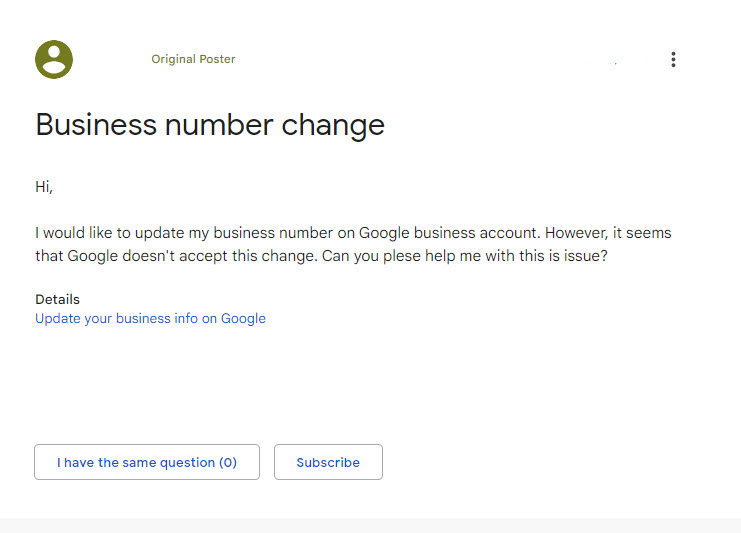 That's not always the case. This post's title didn't offer any clue to what they needed help with, and their message content was a duplicate of the title. Not the best way to request help.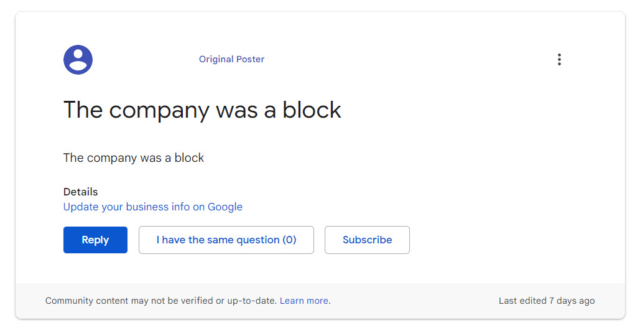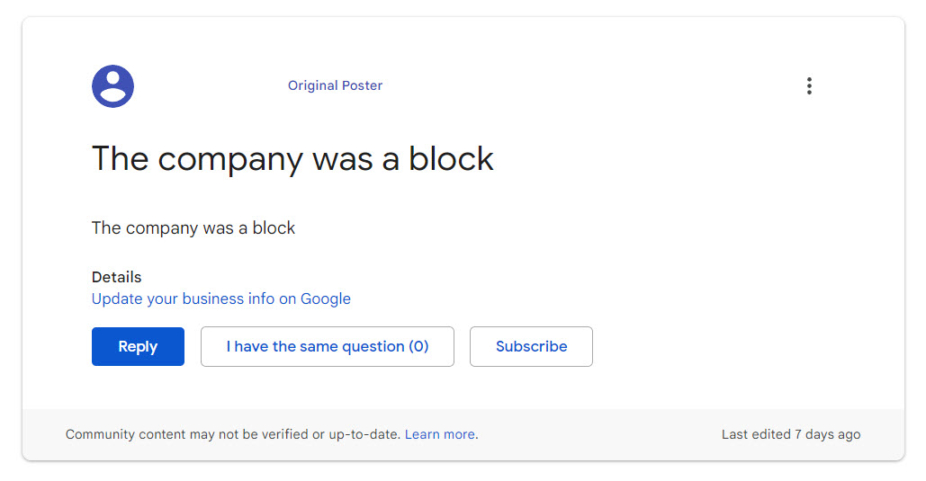 For this post to be answered appropriately, information will be requested, like what they mean by "block," what listing this affects, and what they hope to achieve by posting.
What details should appear in your first post for an issue?
Be as specific as possible, outlining the problem, explaining what's been done so far, and the results you've seen that were not what you'd expected. Then offer details about your listing, noting the title, the address (even if it doesn't show on the listing), and the Case IDs of any prior communications with Google. A link to the listing is also helpful. If you've applied for a reinstatement, you will also be asked for supporting documentation and photos, so have those ready.
If the listing has suffered a review attack, it's especially helpful if you offer the suspected cause, and links to proof (like social media posts or news coverage).
Many businesses like to keep control of their business's online visibility. If you don't want your information to appear in searches for your business name, instead of posting your info in a post, mention the problem, but then add your specifics to a document in a Google Drive folder, then share the URL in your post. That way your information is in one place, can be viewed by both the PE and Google, and can be updated easily. 
What you should not add to your first post
Because those who respond are volunteers, being polite and succinct definitely helps. Also, you want to include details, but only those that pertain to the actual situation; extraneous information may not help, and walls of text are difficult to read. Posting in capital letters isn't helpful either.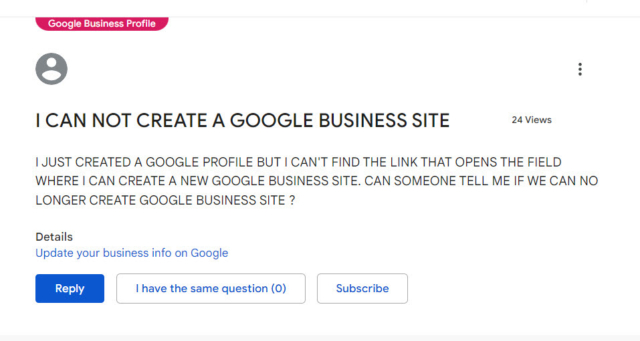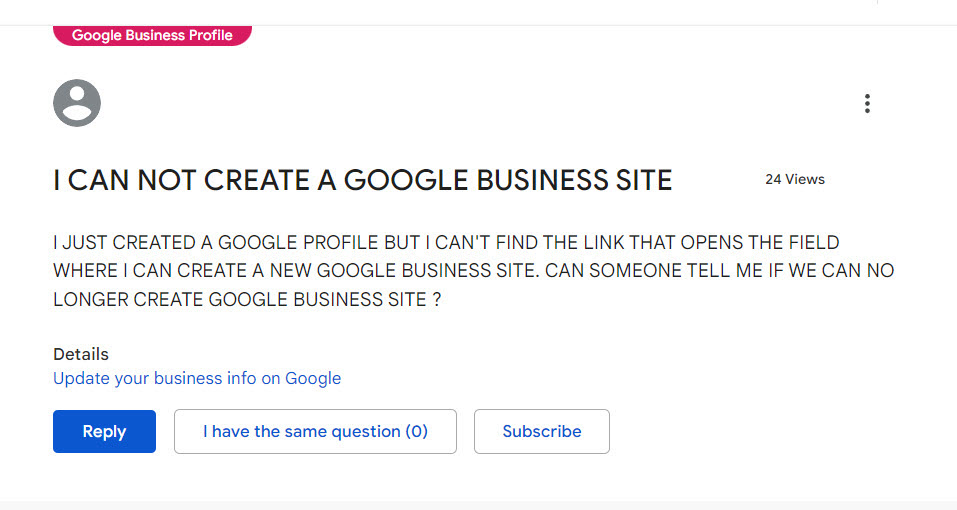 What happens next? 
In their response, a Product Expert may ask more about the initial situation, request to see your supporting documentation, or may even answer your question right away. Many times they provide a final answer, and that will be the end of that thread. But if they escalate a concern, you must be patient and wait for the response. A smart move is to keep an eye on the listing you mention; you may see action before the PE gets back to you.
If you don't receive the response you expect, you may want to ask the PE if there's anything more you can do, or any further documentation you can provide. While Google's word is final, you may want to offer further proof or circumstances to better illustrate the situation. In the end, though, the PE's response is usually final.
What happens if I don't hear back?
Google's response times vary depending on many factors. If you don't see a response from the PE within a week, respond to your post asking for an update. Again, you should also be keeping an eye on your listing in case Google takes action before you're notified.
The Google Business Profile forum can be a wealth of information, whether helping with research, or solving concerns outright. But getting an answer in the forum is not always guaranteed. By posting your question in a concise but detailed manner upfront, replying with additional details or supporting documentation as requested, and being polite toward the volunteer who's helping you, you'll strongly increase your chances of getting a response and a resolution to your concern.