97% of consumers looked online for local businesses in 2017, with 12% looking for a local business online every day
85% of consumers trust online reviews as much as personal recommendations
Positive reviews make 73% of consumers trust a local business more
49% of consumers need at least a four-star rating before they choose to use a business
Responding to reviews is more important than ever, with 30% naming this as key when judging local businesses
68% of consumers left a local business review when asked - with 74% having been asked for their feedback
79% of consumers have read a fake review in the last year, but a worrying 84% can't always spot them
Yelp & Facebook are local consumers' most trusted review sites, followed by Google & BBB.org
People are becoming less likely to visit businesses' websites after reading positive reviews - a 17% drop from 2016
32% of consumers read local reviews on mobile apps this year (a growth of 14% from 2016)
Consumers read an average of 7 reviews before trusting a business - up from 6 last year
Welcome to BrightLocal's 2017 Local Consumer Review Survey
You can read about customer reviews in the 2018 report here.
Since the introduction of the Local Consumer Review Survey in 2010, we've seen significant shifts in the ways that consumers seek out and use online reviews when choosing a local business.
More people are looking for reviews than ever before, and we've found that nearly every consumer has searched for a local business online at least once this year. Consumers are becoming more review-savvy, preferring businesses that receive high volumes of high-scoring reviews on a regular basis.
Consumers are also changing their habits regarding what they do after reading a positive online review. People are now less likely to go on to visit a business' website straight away — but they're far more likely to get directly in touch over the phone over via email, or by visiting the business.
In today's post-truth climate, in which the authenticity of online content can be questionable, trust is now a critical consideration. 79% of people have seen a fake review in the last year, but even more are likely to be bubbling under the surface, with 84% of consumers admitting they can't always spot these.
---
Questions
Local Business Review Habits
---
Local Business Review Habits
How many times have you used the internet to find a local business in the last year?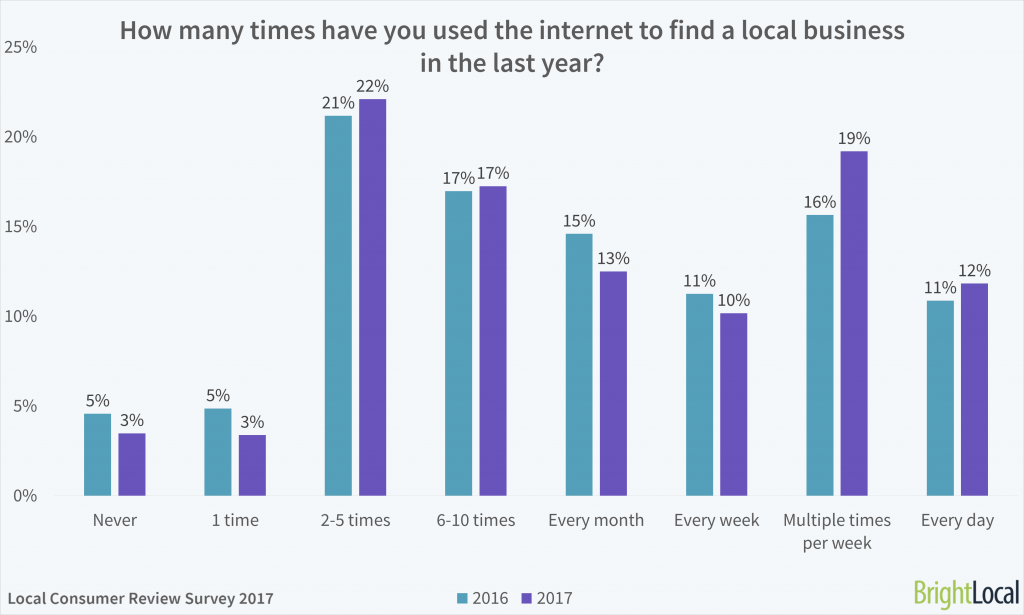 Key statistics
97% of consumers used the internet to find a local business, up from 95% in 2016
12% of consumers searched for a local business every day
54% of consumers looked for a local business online at least once a month
Checking consumer reviews has become a key part of choosing a local business, with more consumers than ever turning to the internet for help with everyday decisions. Whether it's choosing a new restaurant to visit as a tourist in a new town or finding a reliable plumber to fix a leak at short notice, reviews have become the way of life for nearly everyone.
Nearly every consumer (97%) used the internet to search for a local business in the last 12 months – a slight increase from 2016, when 5% had not. 12% searched each day, up from 11% last year. 54% are now looking at least once per month – up from 52% in 2016, and 43% the year before.
These incremental increases suggest consumers are seeking out local businesses more than ever. Nearly every consumer now conducts regular local searches, placing expectations on businesses to be visible online. Some businesses can struggle to differentiate from their competitors, so a positive online reputation is useful to help customers make a choice.
---
Which business types have you read online reviews for?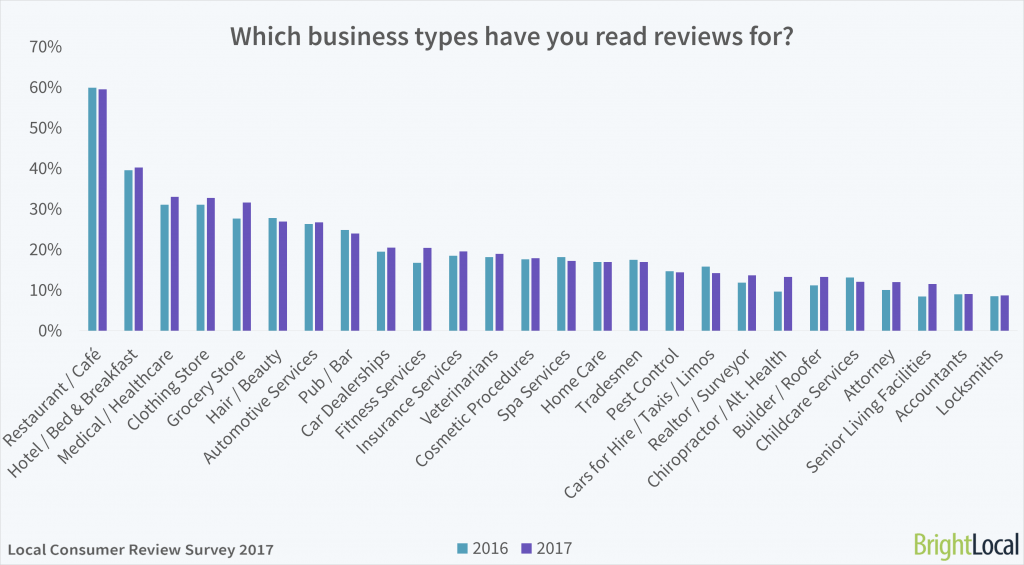 Key statistics 
60% of consumers searched for a local restaurant or café online
The biggest rises in review-reading have been seen for grocery stores, gyms and senior living facilities
In 2017, consumers continued to read reviews for each business type at similar rates as in 2016. Restaurants, hotels and medical providers again lead the pack as the sectors in which most reviews are read. A massive 60% of people read a review for a restaurant or café, 40% for hotels and B&Bs, and 33% for healthcare professionals.
Here we see a clear correlation between regularity of service use and review-reading. How often we need to find a good nearby restaurant, grocery store or bar far outweighs the frequency that we need locksmiths, accountants and chiropractors, for example.
It's up to businesses to understand the behaviors that lead to the checking of reviews, and to make sure they have sufficient reviews to help consumers feel able to trust their service. If your customers require your service on a less frequent basis, it's all the more important that you deliver a great service and encourage reviews, because it will be harder to push negative reviews down the page otherwise.
---
Which devices have you used to read consumer reviews in the last year?

Key statistics
80% used a desktop or laptop to read reviews in 2017, up from 78% in 2016
The use of mobile apps to read reviews has increased 14% from 2016 to 2017
The use of mobile browsers to search for reviews declined from 2016
The fact that you don't need to be bolted to a computer to search for reviews means that finding a local business can be done anywhere — whether you're planning a holiday well ahead of time on your home desktop or using your mobile Yelp app to find a quick place to grab a bite before a meeting.
This ability to find reviews on the go has led to the growth of review-reading on mobile devices, but interestingly these haven't replaced the viewing of desktop reviews; instead, they're in addition to them. In fact, 80% of consumers used a desktop or laptop computer to read reviews, a slight growth from 78% in 2016, and 73% in 2015.
The use of tablets and mobiles to read reviews has increased every year. This year, 32% opted to use mobile apps to find reviews — a huge jump from 18% in 2016. With those using mobile internet browsers slightly dropping by 6% over the last year, it seems consumers are moving towards using review sites' own apps instead of searching for reviews via mobile browsers.
---
Which popular consumer review site is most trusted for local searches?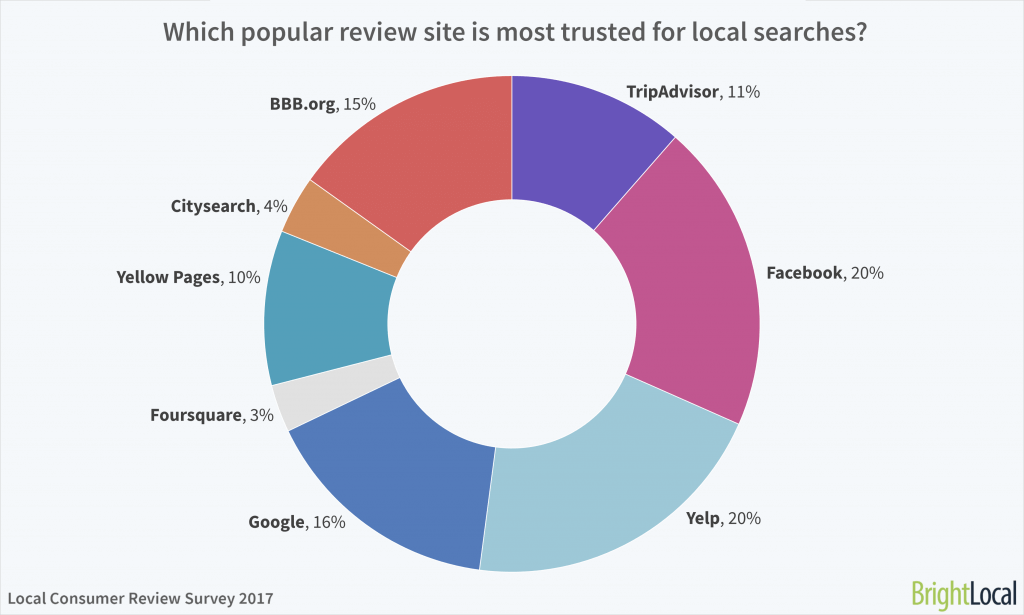 Key statistics
Yelp and Facebook are the most trusted consumer review sites in the US
BBB.org is the review site of choice for 15% of US consumers
Foursquare is just 3% of consumers' most trusted site for reviews
In a question new to this year's survey, we asked consumers to pick their top review site from a selection of the most popular cross-sector local business review sites. Yelp and Facebook lead the pack as consumers' most trusted review sites with 20% apiece choosing them as their favorite — followed by Google and BBB.org. With Yelp attracting 40.47 million in US traffic each month, and Facebook 85.57 million (as of October, 2017), it's no surprise they are so respected.
With Yelp's status as a long-established review site, and Facebook's unparalleled access into the lives of its billions of global users, Google is doing well to be the first choice for so many consumers, coming in third place with 16% of the popular vote. While it leads in monthly traffic, there is still some work to be done to cement it as the trusted source of second opinions. This will likely come as Google puts more emphasis on encouraging business owners to collect reviews and consumers to leave them.
BBB.org is a surprise high-ranker, sitting just behind Facebook with 15% of consumers' votes. Despite getting just 6.15 million monthly visitors (October 2017), the marketplace's mission, 'Start With Trust', is clearly resonating with consumers.
Trailing in the rankings is Foursquare, which is just 3% of consumers' review platform of choice. After moving away from its consumer platform, Foursquare now focuses more on being a data provider with broader business services. Consumers have clearly noticed the switch and are placing their trust elsewhere. Could Foursquare reviews be close to the end?
To read more about reviews on Google, Facebook, Yelp, TripAdvisor, and Foursquare, read our Comparison of Local Review Sites.
---
How do online customer reviews influence your decision to actually use a local business?

Key statistics
In 2017, 68% of US consumers said that positive reviews made them more likely to use a business
Reading negative reviews makes 40% of consumers not want to use a local business
*Consumers were allowed to select a maximum of two answers.
Reading a positive or negative review is one thing, but what really matters is what the consumer does next. Do they take the review on board? Do they ignore it? Do they read more reviews? Do they take immediate action to use the business?
On the one hand, 68% of respondents said that positive reviews made them more likely to use a business, which is a significant growth from 50% in 2016. However, the same conclusion can't be reached when it comes to negative reviews. In fact, that number has decreased significantly in 2017, with just 40% saying they'd refrain from using a business after reading negative reviews, down from 68% in 2016. This trend corroborates with the findings in Q8, where negativity is becoming less of a driver.
The results suggest that, while people are now more likely to take action after reading a positive review, negative reviews are less likely to put them off using a business. This is good news for businesses who already have a strategy in place for encouraging positive reviews and managing negative ones. This result may be an anomaly of this year's panel, so take these findings with a pinch of salt and wait until 2018's study confirms this trend before ignoring the importance of negative reviews.