We've given Local Rank Tracker a major upgrade, and when we say major, boy do we mean it.
Say hello to Local Rank Tracker 2.0.
That's right, it's so major we've cracked out the two-point-oh, something we don't do lightly at BrightLocal.
Now you've got the same unbeatable accuracy of Local Rank Tracker with even more insights and a whole new look.
What's new, at a glance:
All-in-one dashboard: Easily view all your local ranking insights in one place.
Ranking comparisons: Effortlessly compare your website and Google Business Profile rankings side-by-side.
Local Pack insights: Track Local Pack performance with greater clarity.
SERP Features: Identify which SERP Features you need to target to claim more visibility.
Landing page visibility: Quickly view which landing pages are ranking for each keyword.
Game-changing insights
Discover 6 ways Local Rank Tracker will make tracking and understanding rankings easier than ever.
This is the biggest single update to Local Rank Tracker since its launch over a decade ago, but that doesn't mean it's been gathering dust on a shelf.
A lot of the recent updates have been under the hood, with performance in mind. We cut average report run times from 14 minutes to a speedy 4 minutes, for starters. Then in recent months, we added brand new metrics like Average Google Position, Keyword and Positional Movement, and Local Pack Coverage to offer even more insights.
These changes helped improve the foundations of an already solid tool. But, for Local Rank Tracker 2.0, we rolled up our sleeves, took your feedback on board, and took a running jump forward.
All Your Insights in One Place
Over the years we've added numerous features to Local Rank Tracker. Some you might have completely missed. And that's on us.
We hid powerful features and insights away in modals and tabs. But not anymore.
Now we've bought all your ranking insights into a single dashboard.
Your new local rankings dashboard gives you everything you need at your fingertips. View keyword groups and benchmark against competitors without leaving the dashboard. And, if you don't want this visible in external reports, just select "Hide section".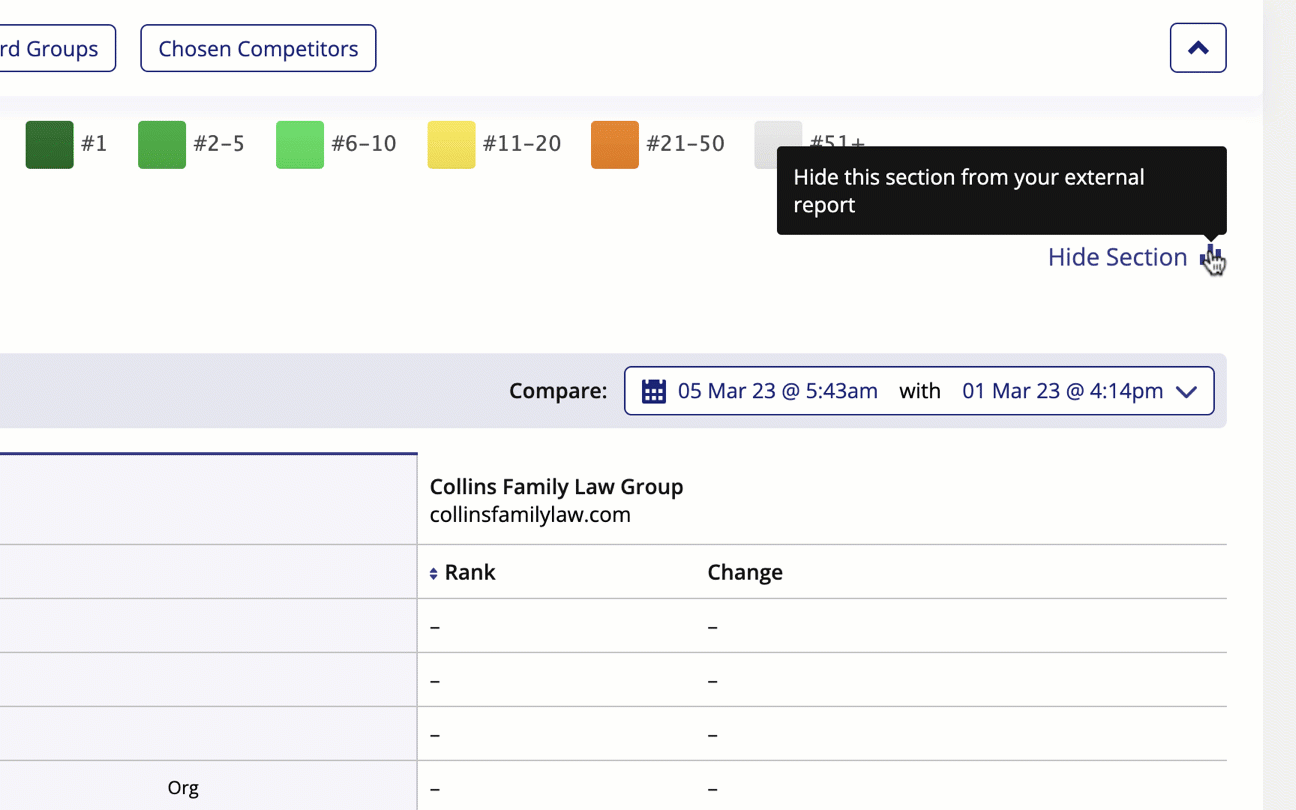 Not only that, but we've improved how we display your data. Now you will see historical ranking performance for each keyword in a handy graph. Spot fluctuations or trends at a glance.
Simplified Data
Local Rank Tracker tracks a lot of data!
There are Google Organic, Local Packs, and Google Maps rankings. Plus, Desktop vs. Mobile rankings.
It lets you track rankings for your Google Business Profile and websites. And the visibility of your listings on third-party sites.
That's already a lot of data, and we haven't even mentioned Bing yet!
While all this data is essential for gaining a deep understanding of a business's overall search visibility, we realized that it was too much information to digest at once.
Rather than trying to cram all that information into a single rankings table, we've split out ranking types to provide more clarity. You can still quickly compare rankings across each result type. And now you can get a deeper dive into each tab, which has allowed us to surface even more insights than ever (more on that in a minute).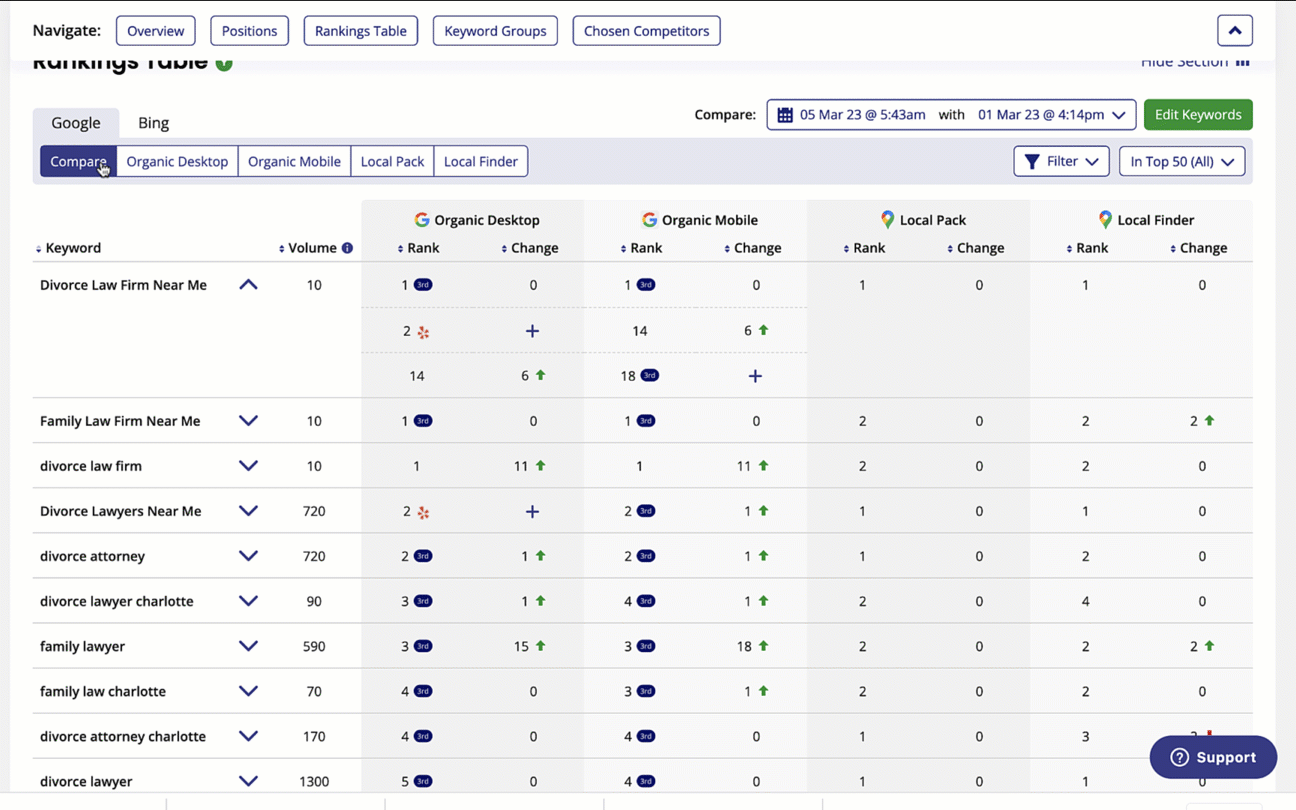 Clearer Results: Compare Website vs GBP Rankings
The Local Pack can cause all sorts of ranking confusion. Does it count as organic? Is it your website, or your GBP? Historically we reported Local Pack rankings as part of organic results. But, we realized this caused more confusion.
We mixed together the rankings of two entirely different entities; your website and your Google Business Profile.
Both of these have completely different local ranking factors, using their own unique algorithms. Local Rank Tracker 1.0 muddied the waters by blending the Local Pack with organic, making it tricky to compare and analyze rankings. This made spikes or drops from algorithm updates hard to dissect.
To make sure we got this right, we talked to you, our customers about how you wanted to see your results.
When asked, 66% of our customers said they'd prefer to track rankings by splitting out their GBP and website, as opposed to by the search engine (e.g. Organic Vs Maps).
So we did!
We've now created a clear distinction between your GBP rankings in both Local Pack and Local Finder Results, and how your website is ranking in organic desktop and mobile results.
Now you can quickly assess whether your GBP or website ranking more accurately. Check whether one is lagging behind, and prioritize your efforts accordingly.
This has also allowed us to offer much deeper insights across each ranking type.
Track Local Pack rankings more easily
Local Pack is now its own search result type in Local Rank Tracker 2.0. We know how important it is to claim these positions to increase traffic and leads so made it easier for you to track.
This pairs well with our recently added 'Local Pack Coverage' metric.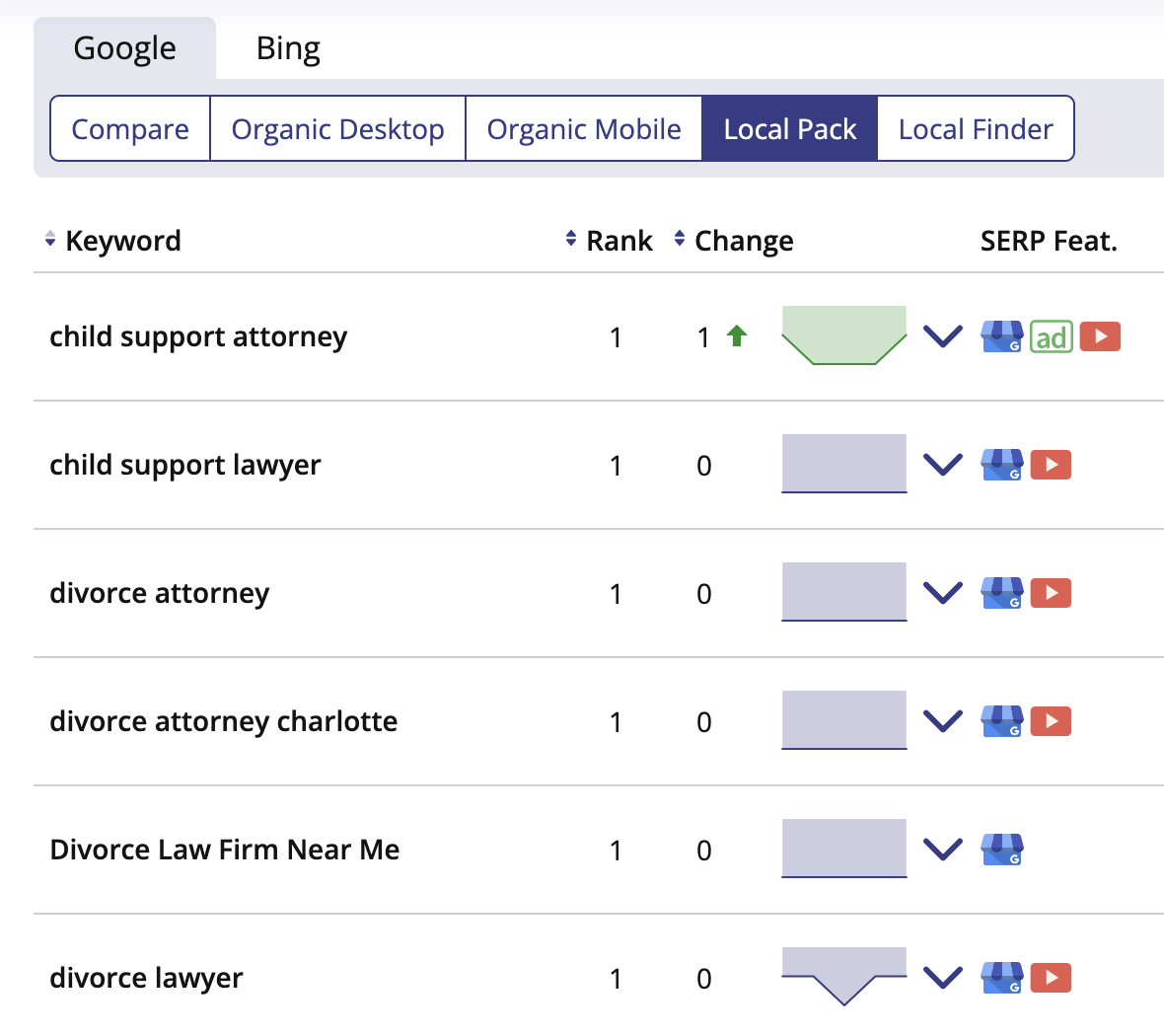 Now you'll be able to quickly see which Local Packs you've already claimed, which you might have lost, and which you need to target.
Go deeper into your website ranking insights
You'll also get even more insights on Organic SERPs and your website rankings.
Know which SERP features to target
See exactly which SERP features are shown for each keyword in organic results.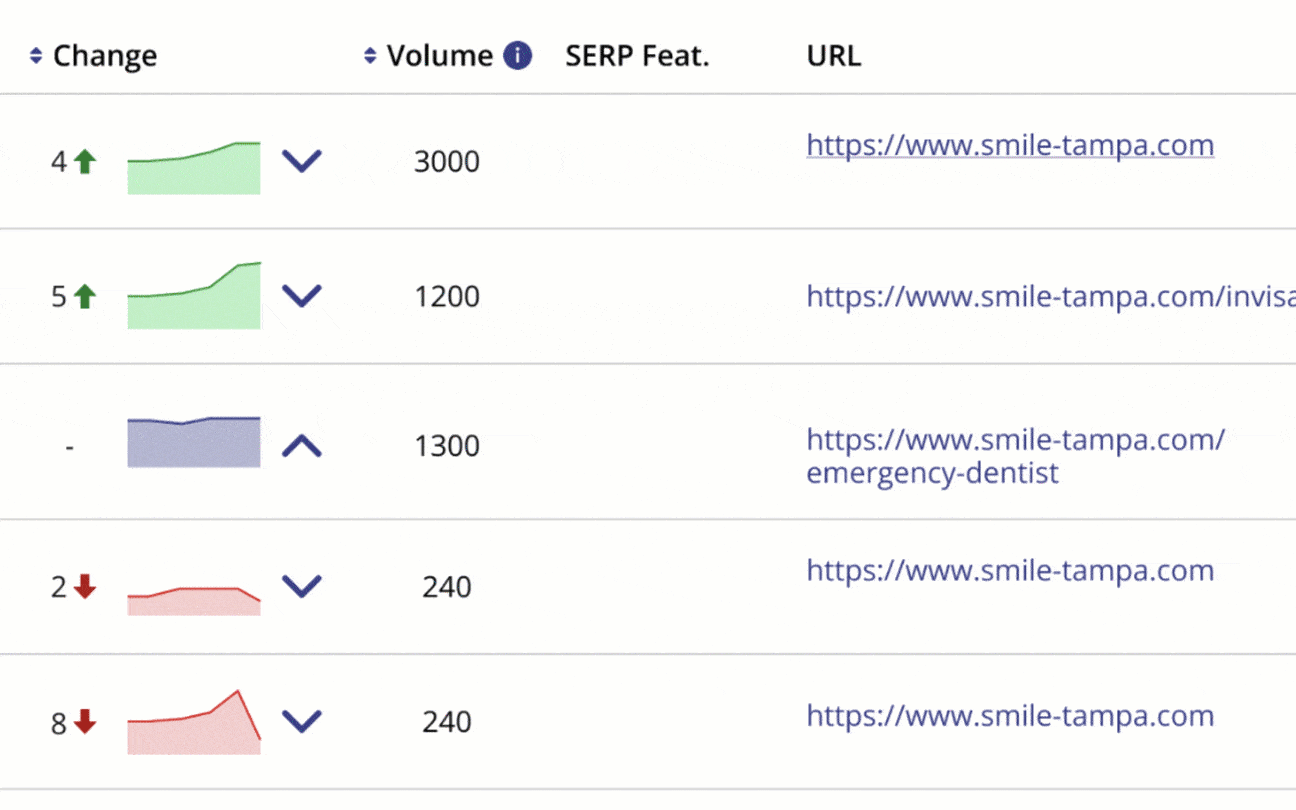 You'll know precisely which queries trigger a Local Pack, knowledge panel, video result, or ads. And we've added filters so you can isolate the keywords for each SERP feature and come up with a plan of attack to claim more of them.
See which pages are ranking
You'll now clearly see which page on your website is ranking for each keyword.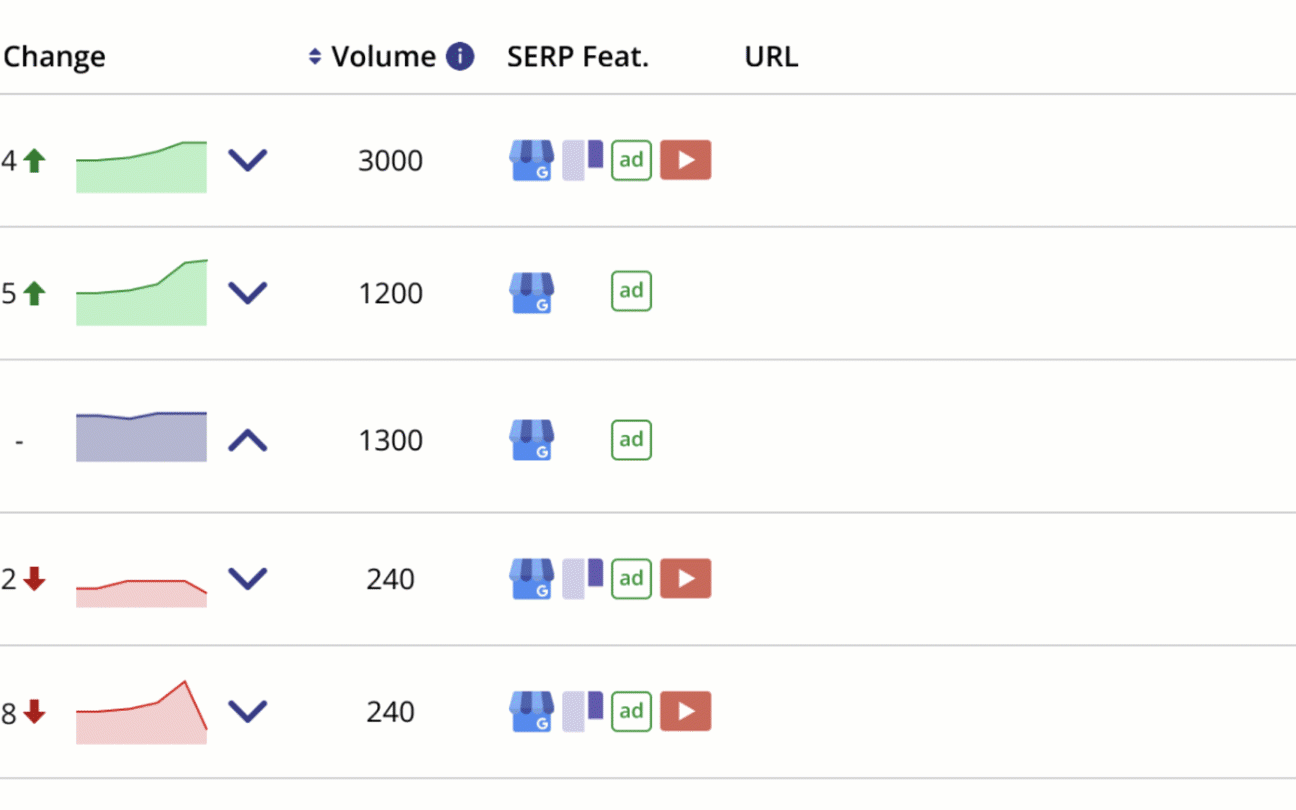 Spot issues where the wrong page is ranking and focus your efforts. For example, you might see that your homepage is ranking for service-related keywords instead of your dedicated service pages. This can be the springboard for further investigation and on-site optimization.
More intuitive and insightful
At BrightLocal, we take pride in providing the best tools for local SEO. That's why we've put in the hard work and taken your feedback to heart to create Local Rank Tracker 2.0, a tool that's more intuitive, insightful, and valuable than ever before. You can see the benefits of all these improvements from today.
And we're just getting started! Our team is committed to continuous improvement and is already working on exciting updates to make Local Rank Tracker even better.
New to BrightLocal? Try Local Rank Tracker and all our tools with a 14-day free trial.