Developing an effective SEO strategy is a process that requires time, knowledge, and the right tools. It also requires an adequate amount of insightful preparation!
Before getting started with a new strategy, it's important to conduct an SEO audit. This audit will be the foundation of your marketing efforts and will help you to develop a full understanding of the project.
When there are multiple locations of the same business to consider, there will also be additional considerations for your ongoing SEO strategy. In this instance, compiling a comprehensive local SEO audit will enable you to approach your project with confidence and expertise.
Our new BrightLocal Academy course—How to Perform Local SEO Audits for Multi-location Businesses—will teach you all you need to know to develop a winning process for auditing the SEO of tons of locations at a time.
This course—which is the only professional training available on this topic—has been created in collaboration with local search expert, Amanda Jordan. 
During the course, Amanda will teach you:
the key questions to ask to get to know your clients;
how to identify search terms and keywords;
which local SEO elements to audit, and why;
how to audit each local SEO element; and
what to include in an audit report.
Through the ten video lessons, you will learn how to create actionable audits, whether the company you're working with has two locations or two hundred! 
You'll also learn how to use a variety of free and paid tools, including some of those available from BrightLocal. 
Watch this video to find out what it's all about…
Who is this course for?
This course has been created for anyone who works with, or for, a multi-location business. It will be helpful for those who are new to local SEO as well as for advanced marketers who want to brush up on their skills. 
How can I join?
Whether you're a BrightLocal customer or not, you can get access to this course. You can also be among the first to find out when new courses drop by enrolling for free. Here's how…
If you're a BrightLocal customer, you can access the academy via your BrightLocal account. Simply log in, click 'Learning Resources' at the top of the screen and select 'BrightLocal Academy' from the dropdown menu.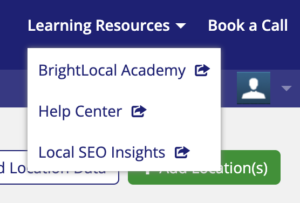 You'll need to create a free BrightLocal Academy account before you can enroll in the 'How to Perform Local SEO Audits for Multi-location Businesses' course.
If you're not a BrightLocal customer, you can join BrightLocal Academy for free here and follow the same steps above to enroll on the course.
Want to know more about BrightLocal Academy? 
Check out the official BrightLocal Academy FAQs here: 
What is BrightLocal Academy, how does it work, and how can I enroll? 
What courses does BrightLocal Academy offer and how long do they take? 
If you have any questions of your own, feel free to get in touch with us or leave a comment below. We hope you find this fresh new course useful, and we can't wait to hear how it's helped you improve your local SEO skills.