How do consumers find the best places to buy what they need? To eat? To relax? To have fun? They search for 'near me' recommendations.
When a user searches for something that Google believes has a local intent, it will show local results. And because users with a local search intent are looking for something they want or need right now, you want your business to show up in these search results. That's why you should have a location page for each of your locations or service areas. 
These location pages are an important part of building a successful local SEO strategy and deserve a different approach to other types of landing pages. 
Our new BrightLocal Academy course—How to Optimize Location Pages—will teach you all you need to know about what to include on location pages and how to optimize them to make them truly effective. 
We've created this course in collaboration with Local SEO expert, Claire Carlile, who during the six lessons will teach you: 
what a location page is and why we need them;
what to include for an awesome location page, rather than an average location page;
schema for location pages;
tools and tips for scaling location pages;
and how to monitor these pages and keep them updated.
Here's Claire with an overview of the course:
Who is this course for?
This course is for anyone that works with local businesses that have bricks-and-mortar locations or that service customers in a very hyperlocal context.
How can I join?
Whether you're a BrightLocal customer or not, you can get access to this course. You can also be among the first to find out when new courses drop by enrolling for free. Here's how…
If you're a BrightLocal customer , you can access the academy via your BrightLocal account. Simply log in, click 'Learning Resources' at the top of the screen and select 'BrightLocal Academy' from the dropdown menu.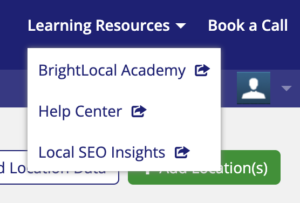 You'll need to create a free BrightLocal Academy account before you can enroll in the 'How to Optimize Location Pages' course.
If you're not a BrightLocal customer , you can join BrightLocal Academy for free here and follow the same steps above to enroll on the course.
Want to know more about BrightLocal Academy? 
Check out the official BrightLocal Academy FAQs here: 
What is BrightLocal Academy, how does it work, and how can I enroll?  
What courses does BrightLocal Academy offer and how long do they take?  
If you have any questions of your own, feel free to get in touch with us or leave a comment below. We hope you find this fresh new course useful, and can't wait to hear how it's helped you improve your local SEO skills.