Key 'Takeaways' From This Post
Conversion rates saw 300% improvements when push notifications were personalized

Triggered mobile push notifications are over 2700% more effective than batch push notifications
You work tirelessly to get visitors to your website. However, getting someone to visit your website is just half the battle. Getting that person to come back to your site is a whole other matter. Many first-time visitors to your site don't take you up on what you have to offer. Depending on what you're selling, it may take several visits before a person makes the decision to spend money with your company. So when a person leaves your site, it hurts and you have very few options to bring them back. That's why it's so important to have ways to re-engage with those visitors again.
Engaging visitors with offers, quality content, training/webinars, product demonstrations, news, etc. is a great way to get someone to come back to your site. But how do you let those past visitors know about news, content or special discounts you may have? There are several ways to get a past visitor's attention. For most digital marketers, email marketing and retargeting come to mind first. Using an email opt-in form or dropping a retargeting pixel so you can market to them later and re-engage are both great ways to get people who have visited your site to come back for more. Push notifications are another way.
What are Push Notifications?
Push notifications are alerts that pop up on a person's computer screen or mobile phone. (Think of push notifications as the 'middle child' to email sign ups and retargeting.) These notifications can let people know about a new blog post, a special offer, new product announcement, coupon, upcoming webinar…the sky's the limit. These push notifications are a great way to get a past visitor's attention — with the hopes that they'll click on the notification and head back to your site.
Push technology isn't new. It's been used on the internet and on mobile devices for a while now, but many digital marketers haven't added this powerful marketing strategy to their arsenal yet.
One of the reasons why push notifications are growing in popularity is because it fills the gap between email marketing and retargeting to drive traffic back to your site. Asking a visitor to click a button is much easier (especially on mobile devices) than asking them to enter their email address for email marketing purposes.
BrightLocal is a great way to organize your clients and execute a plan to help you work through your SEO tasks. Their tools are an important part of our daily routine.

Andrew Leonard
Palm Beach Gardens, FL
How To Use Push Notifications to Drive Traffic Back to Your Site
First, you have to select which push notification software you want to use on your site. There are a lot of push notification software out on the market. Capterra has compiled a list of the most popular push notification software. Firebase (from Google), PushCrew and PushEngage are some favorites.
Once you've selected your push notification software, your next decision is to determine when people see your push notification signup option.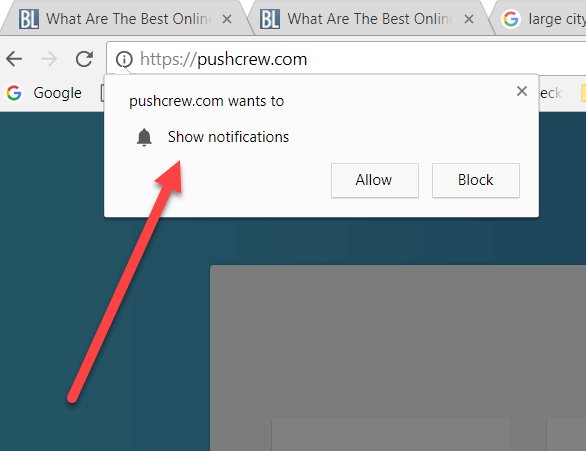 Typically, you want to set it up so the push notification signup option appears to visitors after they've been on your site for so many seconds – say, six seconds. You can also wait until after a certain action has occurred, like after they've visited your blog, for instance.
Once you have a person signed up to receive push notifications, you'll next need to determine which strategies you want to use to reach out to these visitors again.
One way is to use targeted broadcast notifications. These notifications are sent to people that have certain interests and are segmented. You should group your audience into various segments based on interest, geography, etc., so you can send them targeted notifications. By segmenting your list, you will send push notifications that you know will be of interest to that group.
For instance, if a person has read a blog post about local SEO, then when you write a new blog post about how to select keywords, you'd want to send a push notification to those visitors. Since these individuals have already showed an interest in a certain piece of content, you'll get a higher click-through rate vs. sending the notification to your entire list.
According to GetBlueShift's Cross-Channel Trigger Marketing Report, triggered mobile push notifications are over 2700% more effective than batch push notifications. This means that when you are sending push notifications, you want to make those notifications tailored to individual users – or groups of users.
Additionally, research from Localytics found that conversion rates saw 300% improvements when push notifications were personalized according to user preferences.
How to Increase Push Notification Conversions
There are several ways you can increase conversions with your push notification campaign. First, turn off the "auto close" option. This means that the push notification option stays on the screen until the visitor either allows your notifications or blocks them.
Next, use images in your alerts. If your push notification software allows, add an image – like a picture of yourself, your logo or an emoji – to help grab a person's attention. It's known that images help conversions and click-through rates, so go ahead and use them in your push notification campaign.
When you send out a push notification, make sure the visitor is taken to a specific page that relates to the notification – don't just send them to your home page. (Now this may seem obvious, but marketers make this mistake all the time on Google AdWord ads. Instead of sending people to a landing page related to the ad, they direct them to their home page.) Make sure your push notifications are set up for deep linking. Your visitors will be happy that they don't have to hunt around for the information and you'll be rewarded with better engagement.
Just like any good marketing campaign, include a call to action on your push notifications. Tell your potential visitors exactly what you want them to do next. Don't make them guess.
If you have an RSS feed on your blog, set it up in your push notification software. That way whenever you publish a new blog post, these interested people will receive a notification and be sent to the blog post.
When you're doing push notification marketing, think cross-channel. The most successful marketers are combining a variety of marketing strategies. Syncing these efforts up will improve your overall marketing campaign. Also, go beyond the basics. Really dig in deep to understand the push notification software's capabilities and personalize your campaign as much as possible.
Adding push notifications to your digital marketing arsenal is a great added layer to help get past visitors to come back to your site again!
Have you had success with push notifications recently? Let us now in the comments section below.