Key 'Takeaways' From This Post
Video drives a 157% increase in traffic from organic search engine results
Videos improve landing page click-through-rate
Local businesses are starting to wise up: The Internet may give you more reach, but that doesn't mean you should just focus on expansion. The real boon to small-to-medium sized companies is the ability to more effectively reach a local audience, those who are already within your local geographic area but may not have been converted into customers yet.
Content is still your best bet in this regard. You want to drive high-quality backlinks from good sources spread out among multiple websites. Thankfully getting a link from an authoritative local site is much easier than a national or international one. Not to mention the too-often untapped resource of locals themselves.
It's even easier to get these quality backlinks with videos, for several reasons:
Video content has been on the rise for quite a while now, so if you are not there, you give the other guys the competitive advantage over yourself
Demand for video is rising while not many small businesses have started producing videos yet, so there's still that nice spot to easily get noticed
Lots of social media platforms have jumped on the video production bandwagon, including giants like Facebook and Twitter, so you have lots of channels to market and promote your videos on
Videos have huge re-packaging potential, so your video can be turned into a new marketing campaign strategy
Video drives a 157% increase in traffic from organic search engine results, so it's a good way to get more clicks, too
Videos improve landing page click-through-rate
Now that you see the value in creating videos for your company, here are five ideas for creating effective video content for your local business, so you can start bringing in new customers.
5 Ideas for Creating Video Content for a Local Business
1. Become The Go-To For Local Guides
You know your local area, so why not show it off? You can let people know about hidden gems in your city. Recommend restaurants or things to do if you are visiting. Review hotels or the best AirBnB accommodations.
Talk about entertainment venues, upcoming concerts and events or point out hiking trails and camping spots. Making good local guides will give you traffic from both locals and those who are traveling to your area.
If you want to go a different route, try creating some videos that explain interesting facts or the history of historical spots near you.
Try to find your own unique voice and style! For example, Peace Collective, a Toronto-based lifestyle brand, post videos "to spotlight beautiful landscapes across the country as seen through the eyes of an influential Canadian." The idea is that those videos are not about tourist destinations but rather feature well-known artistic Canadians that share their favorite things in Toronto.
You can then work with local directories and city guides like Dirjournal and Goop to work some kind of a deal for them to feature your video guides in your city section.
2. Post "Behind the Scenes" Team Videos
Are you doing a company retreat or a fun committee meeting? Are you taking your employees for your company anniversary celebration or arranging a company picnic? Those are all video opportunities.
Look at how Vent Fitness does that featuring their team events in a separate playlist.
Another cool example is Hunt Real Estate: They post videos from all their team "community days" showcasing how much they do for the local community:
It's a good idea to brand your own hashtag for these events too: Going forward, you will be able to turn the hashtag into a company talent attraction medium.
3. Cover Local Events
A conference or event is awesome because it gives brands a chance to be seen out on the expo floor while rubbing elbows with potential business contacts. But you don't have to go across the country for one. Make sure you are looking for local conferences coming to your expo halls.
Meetup.com and Eventbrite are two great tools to both discover and market events in your area – and Google, of course. Find your local city's calendars of upcoming festivals and conferences and see if there's an opportunity for you. You may not have a budget to sponsor those events but you can still benefit from them by becoming the local journalist covering the events through video.
4. Celebrate "Fun / Weird" Holidays
You'll be surprised how many funny and goofy "holidays" that exist. Every day features at least several of them and many of them can be your content opportunity.
For example, the local Clark Institute celebrated Derby Day by creating a video collection of the artworks featuring horses:
Here's a solid calendar of fun holidays to include into your video editorial calendar.
5. Tell Your Unique Story
There's always a story to tell and video is the perfect format for a memorable storytelling strategy. Tell the story of how you founded the company, who inspired you and which challenges you overcame. Tell the story of your employees, how they found you and how that change their life. Tell the story of your happy customers, etc.
Stories are easily picked up by local media. Most cities have independent newspapers and websites that are totally focused on a small part of the region. You can almost always get a review from them if you send out a friendly invite to one of their writers and offer a video for free. A single review on an independent blog, a local radio station's website or a visit from a television crew for the local news can go a long way.
Plus it will end up on social media, which will lead to more shares and more traffic. Start putting in tips and offering service at every corner and see what sticks. It might take a few months for them to get to you but it is a great opportunity that is totally worth waiting for. Once you have gotten one positive review you can usually leverage it to get more reviews from other sources.
Video Tips for Local Business Marketing
If you feel inspired now, here are just a few tips to make your video marketing campaign even more effective!
Optimize Your Video Content
Include location name in the video name (video file name as well as title of the upload)
Include the location name in the video description and tags (where possible)
On Twitter, use your location name as a hashtag
When uploading a locally-focused video, don't forget to label its location inside "Advanced Settings" within the video editor:
Here are plenty of examples for your inspiration. Also, check out more video marketing tips we discussed earlier.
Create a Solid Editorial Calendar
This is not often put on lists for content ideas because it is considered a step in the process rather than a trick or bit of advice. But I believe it should be stated because so many people don't do it. Having a solid editorial calendar is like having a blueprint to marketing success.
It lets you plan out the best topics and when they will be most effectively published to get the most views. It applies to backlinks because readers mean embedded links in other people's posts as social media shares. Plan your editorial calendar at the very least four weeks in advance with enough flexibility to be able to put in unexpected posts when an event or bit of news becomes relevant.
I use Coschedule for all types of editorial calendars including video. I like the tool because I can monitor different content development stages and different team using it, including:
When and who starts creating videos
When and who will edit them
When and who will upload to different channels and optimize
When and who will spread them on social media and do blogger outreach
Research Local Keywords
I mentioned keyword research in my previous guide for BrightLocal. Basically, I run keyword research for anything I do because nothing opens my eyes on what my target audience wants like the information on which words they type in the search box.
I use Serpstat for keyword research because I think they provide the most in-depth selection of keywords. Type your city name and then play with different sections of the site to see which phrases you can target with our video campaign:
Go through keyword selection (Try playing with filters and sorting options to find less competitive keywords)
Explore related queries
Search for questions
Create a Video Directory on Your Site
Your website is the central point of all your content marketing efforts. You need to find ways to showcase all you do there to create archives, earn links and refer your customers to.
No matter how much video content you produce, all of your videos should be linked to from your website. This will help videos rank higher and it will also add valuable content to your content. As an example, First Site Guide produces tons of video content but each video is a separate blog post with a helpful summary underneath. There's also an index of all videos linked from the footer.
I have used Bright Local for over 5 years with my small agency in Denver and have found it to be an excellent tool to help manage my clients website and SEO health.

Mark Mitchell
Centennial, CO
Moz has a separate category for their videos and they publish the full transcript of each video on their website.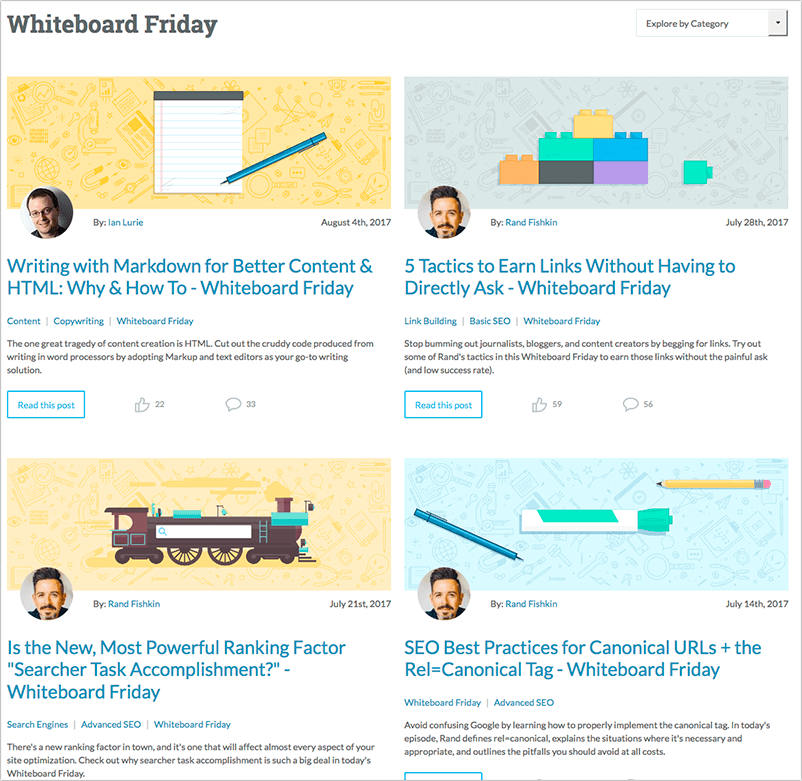 We feature all our videos on a separate page where we also invite readers to subscribe to all kinds of channels where we feature them including YouTube and iTunes:

Have a tip to add to the list? Found the secret to local video marketing? Let us know in the comments!