Google recently announced their Search Generative Experience (SGE), a new way of integrating generative AI into search. SGE works to personalize and innovate the search journey, pulling key information from a variety of sources and presenting it in a snapshot. This snapshot is designed to allow users to make detailed searches from the beginning. 
Now that SGE has been made available to those on its waitlist (currently in the US, and hopefully worldwide soon) it is set to shake up the search world in multiple ways when it finally rolls out. 
In fact, Greg Sterling of Near Media has suggested that "local and products may be two of the most affected segments". 
We've gone ahead and compiled what we know so far about SGE for local search, what the experts say about it, and how it might impact both users and businesses in the future. 
So, what is Google's Search Generative Experience?
Put simply? Say goodbye to 'hairdressers near me', say hello to 'mens hairdressers offering traditional wet shave and trim package in Boston'.
The snapshot returned to the searcher is designed to offer a comprehensive, detailed response to the user's query—no matter how complex the question (within reason, of course… but, hey, who are we to doubt Google?). The response is generated using a variety of Large Language Models (LLMs) such as MUM and PaLM2, allowing users to, in the words of Google:
• Ask entirely new types of questions that you never thought Search could answer
• Quickly get the lay of the land on a topic, with links to relevant results to explore further
• Ask follow-up questions naturally in a new conversational mode
• And get more done easily, like generating creative ideas and drafts right in Search
But don't fret—this isn't the end of shortt-tail searches. Google SGE seems to respond just as thoroughly to classic searches like "brew pub near me".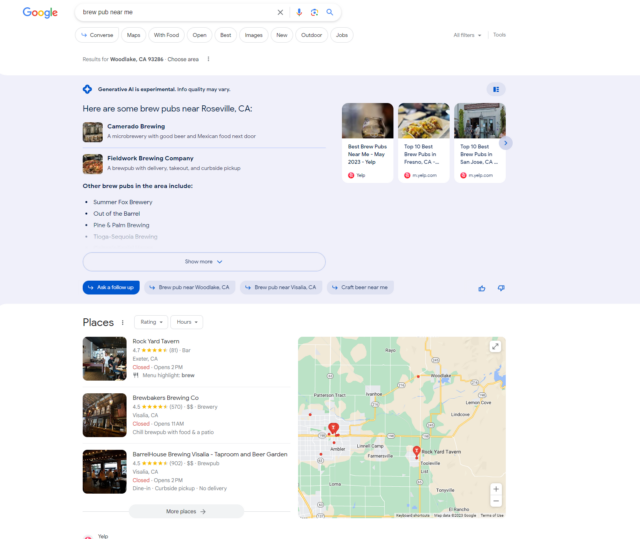 These results can then be expanded upon, through what Google has dubbed 'conversational mode', where users will be prompted with further questions that follow the natural line of questioning (or, at least, what Google's AI predicts it to be):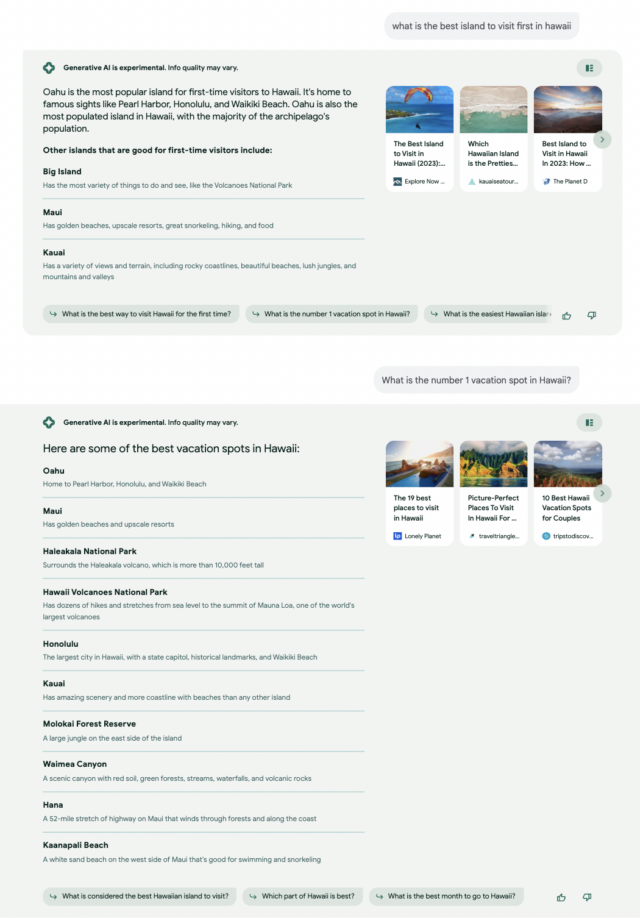 Google SGE v. Bard
Previously, Google launched Bard, an "experimental conversational AI service" which helped users make sense of search by answering user questions.
Bard relied upon "draw[ing] information from the web to provide fresh, high-quality responses." It sits separately to Google's search engine, and is described as a "helpful, and creative collaborator, here to supercharge your imagination, boost your productivity, and bring your ideas to life."
Essentially, Bard is a creative AI assistant to help generate content and ideas for you, much like OpenAI's ChatGPT. SGE, on the other hand, is a completely new take on search, designed to change the user's search journey from the very first click. 
What does SGE look like for local search results?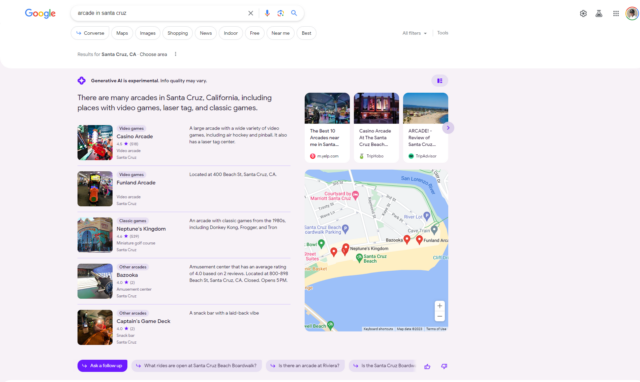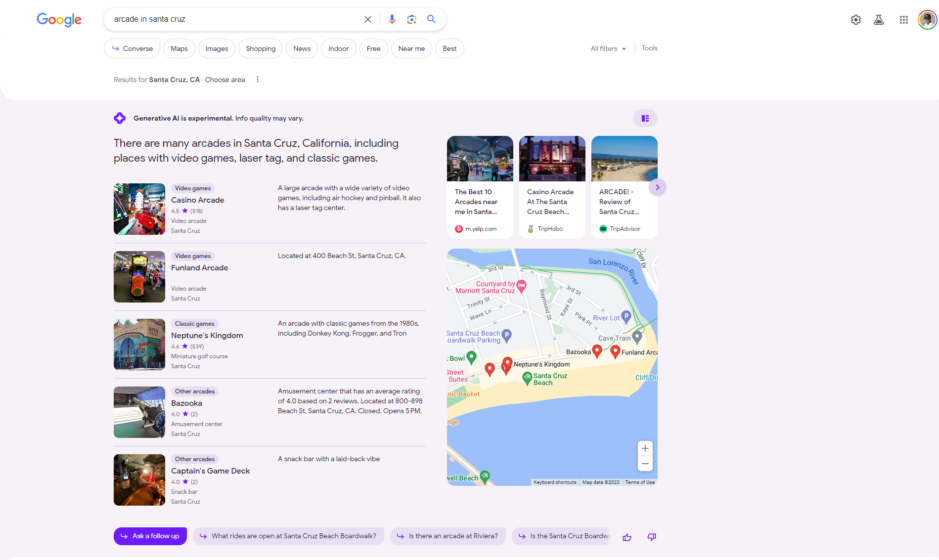 While SGE won't be available to the public for a while yet (there's no consensus on when), it has been made available for use by those who joined the waiting list in the USA.
We've had a quick play around with some local searches in the US and have noticed a few key things:
SGE results appear in a colored box, with the caveat "Generative AI is experimental. Info quality may vary."
Results show a 5-pack that looks similar to the existing local pack.
The 5-pack has a short description next to each pack result; this sometimes includes reviews.
It also shows a carousel of cited results, above a view of a map with pinned locations. 
At the bottom of the SGE results, we see the prompt to 'Ask a followup' with additional prompts to continue the conversation.
In some cases, Google will offer the traditional local pack accompanied by a prompt offering the user an AI-powered response.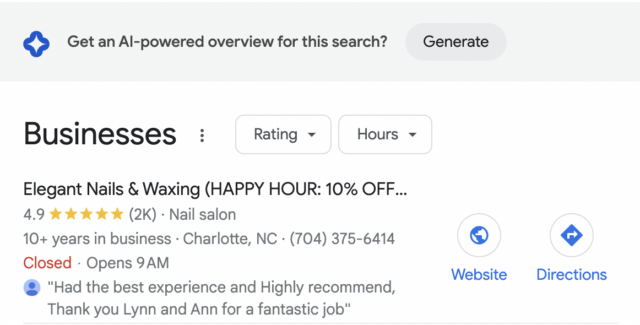 What are the experts saying about SGE and local search? 
SEOs have jumped at the chance to delve into SGE to find out what it looks like, how it works for the end user, and what it could suggest for people working in the SEO space. 
RicketyRoo's Amanda Jordan has noted that results vary between Google SGE results and the local pack:
I'm seeing multiple opportunities for local here. You get very different local business recommendations if you ask your query outright vs converse with AI.

— Amanda Jordan (@amandatjordan) May 26, 2023
Others pointed out the significant overlap that exists between SGE results compared to traditional local pack results.
In her piece for Local U, Sterling Sky's Joy Hawkins noted that SGE results give visibility to businesses that show in the local pack already. However, she has found that "the two lists don't match up identically. Sometimes the map in the AI box has a wider map view which shows different businesses than the local pack."
Aleyda Solis commented with a similar point in her own piece, saying, "The SGE provides the least useful result I've seen: pretty much a duplication of the map pack that Google is already featuring below the first two organic search results anyway. Not useful."
How will BrightLocal respond to SGE?
As a local business, understanding your ranking in search has always been complex. Your business can appear in multiple result types including traditional organic results, the local pack, knowledge panel, maps results, video results, and even in local service ads if you monitor those. 
For local businesses, it's not as simple as saying "I rank #4 in Google". With the introduction of SGE, we have a whole new set of results to monitor and report on. The monitoring aspect is pretty straightforward and we'll be updating our ranking tools shortly to include these new result types. We are seeing different businesses, and different ordering of results, in the SGE pack vs local pack; even the quantity of local results showing in the SGE varies for different queries. 
All of this increases the complexity faced by marketers in determining how their clients are performing in search, and our team is focusing hard to reduce this complexity and provide clarity. 
Overall, I think that your ranking will remain a valuable data point to monitor, but the ultimate proof of success is in lead and revenue generation and the clarity of these metrics is less distorted by changes in Google's interface.
  
What does this mean for local businesses?
With the heart of SGE being comprehensive results, Google has placed an emphasis on vertical experiences, including local search. According to Google, "SGE will provide context about local places, using AI-powered insights that make it easy to compare and explore options." 
Preliminary research by Near Media revealed that most local searches seemed to return a snapshot featuring five or more listings as well as a carousel. Clicking on individual listings prompts a knowledge panel; clicking on one of the carousel items brings the user to the business's website. 
SGE also allows for more specific comparisons of businesses: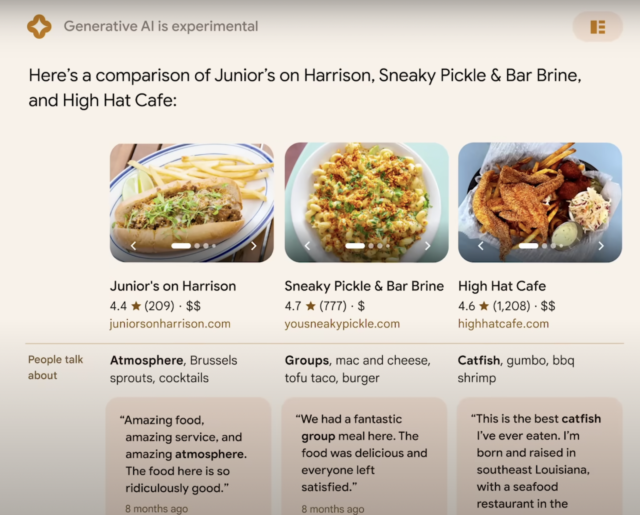 Andy Simpson, Digital Law Marketing, has even found that SGE uses content from Google reviews in its answer, meaning that processes like review management may be more important than ever: 
🧐 SGE using text from GBP reviews to help answer follow up questions.#LocalSEO #SGE pic.twitter.com/7lcXm3WUgU

— Andy Simpson 🇬🇧 (@ndyjsimpson) May 26, 2023
The takeaway? Local businesses shouldn't be scared about SGE. In fact, it's still distinctly possible that SGE will give small businesses more opportunities to get in front of customers due, at least in part, to the duplicated local pack.
While that also potentially leaves more opportunities for your competitors, we'd suggest continuing to keep your listings optimized and keep your business as visible in organic listings as possible. 
We know that SGE shows business descriptions, images, and reviews in results, so make sure these are up-to-date and relevant. 
So, in essence, while SGE may be something to keep your eye on, for now, the best thing to do is continue on with best practices for local SEO while Google continues to experiment.