For gyms and fitness centers, outmuscling the opposition and owning the top spots of Google whether in the organic results or the local pack can be crucial for attracting new members.
Gyms, personal trainers, and instructors want to own crucial local searches like "gym near me" or "cycling studio in [location]." However, as the fitness landscape continues to evolve, emerging franchises and locally owned gyms alike need to create educational content that not only entices users but explains what makes their workout unique.
Because here's the thing, there's a good chance you're not the only one in your area with that class.
Local SEO is a must for the success of any gym owner. With this SEO guide for gyms, you'll be well on your way to growing organic visibility in your market, and getting in front of new potential customers when they're ready to kickstart their fitness routine.
It's time to whip your Google Business Profile (GBP) into shape.
Your Checklist: Local SEO for Fitness Centers
Keyword research lets you know what people are searching for
Competitor research will help you take on the opposition
Local page optimization can help you get those gains
Create a content plan just like you would a fitness plan
Get your GBP into shape
Create citations and optimize your listings to add an element of trust
Reviews help you position your services as the best in town
Build local links to help get the word out
Local SEO Basics for Gyms
Local SEO is essentially the crucial work you put in to make sure your local businesses are found on the search engine results page. Local Search is unique because there are two main components that make up the results—your organic listings and the local map pack.
Local Pack
The local map pack is displayed in Google search results when users search for a local business or search for a query with a local intent. The local map pack is displayed prominently towards the top of the search engine results page and typically features three businesses. 
Organic Results
The organic search results or "blue links" are the list of websites that are featured below the Local Map Pack results. These are more in line with the typical search results that you see with any search on Google.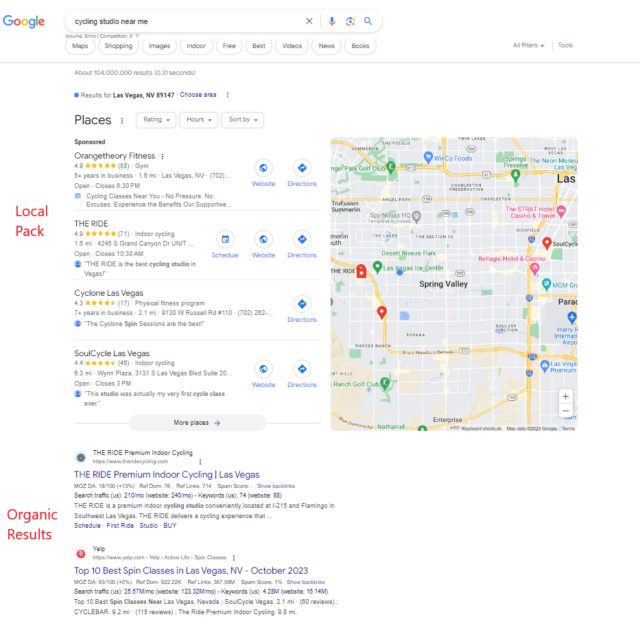 A robust local SEO strategy enables businesses to grow their online visibility and improve traffic. On the user end, it ushers customers within their local market to connect with their business either through visiting the business, making a phone call, or performing a desired action on their website, such as submitting a form.
The Importance of SEO for Fitness Centers
Local SEO helps local businesses connect with their customers online. According to Google, 76% of people who search on their smartphones for something nearby visit a business within a day. Whether someone is jumping into a new fitness routine or looking to make a switch from their current gym, having an optimized presence online can help to get your business in front of prospective customers who are searching in your area.
Individuals who are searching with local intent are potential customers who are actively looking to get information about a product or service, which means they are more likely to convert than someone who is just looking for general information.
In a crowded space like fitness, local SEO is more important than ever to make your gym, class or center stand out from the crowd and bring in new customers.
Differences in local SEO for Gyms and Fitness Clubs
Local SEO isn't a one-size-fits-all though. Many industries have slight quirks that mean they either display differently or have certain ranking factors that help a little more than others.
In the fitness space, a couple of these key differences include your Google Business Profile category and practitioner listings.
Choosing the Right GBP Category for Your Gym
There are many different types of gyms and when it comes to defining what your fitness center offers, choose your primary category on Google Business Profile carefully. Be descriptive about what your business offers and choose a category that reflects what your fitness facility is/offers.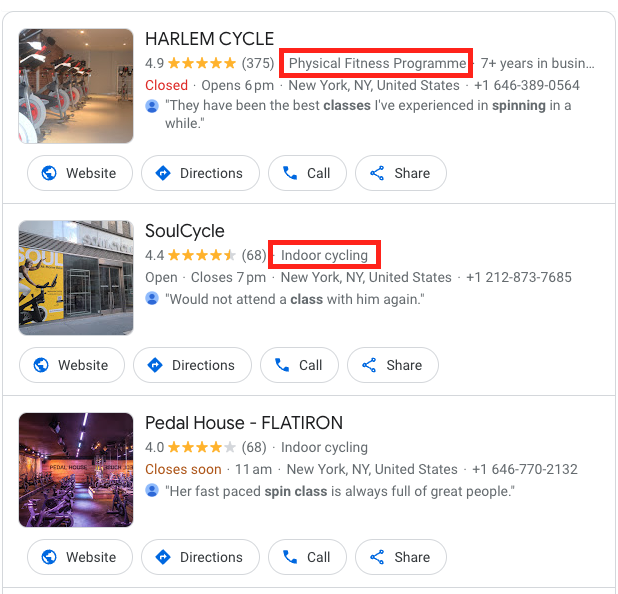 GBP offers a robust amount of categories including things like:
Or, more focused ones like:
Indoor cycling
Boxing studio
Bikram yoga studio
The above are just examples. There are many, many more.
If your business is centered on a specific type of workout, focus on that as your primary category. Relying on the catchall of "gym" or "fitness studio" may mean Google considers you as a more general fitness center, and it could affect your rankings for your more valuable keywords. Remember, these can always be utilized as secondary categories.
Don't forget to keep an eye on attributes. Google has recently rolled out a list of new attributes specifically for gyms, including 'has basketball court,' 'has gender-neutral bathroom,' 'has sauna,' and more. Keeping your attributes updated and accurate ensures that you're showing potential customers all that you have to offer.
Consider Practitioner Listings for PTs or Instructors
Additionally, personal trainers who also work as staff at your gym can be eligible to claim what is referred to as a "practitioner listing."
This will essentially allow them to create and optimize their own GBP outside of the main gym listing and promote their offers to users.
These listings can share similar information with the main gym (like a physical address) however, be sure to choose a different primary category such as "personal trainer" or "yoga instructor" to ensure that you're accurately reflecting the business on Google. You also want to make sure you avoid your practitioners clashing with your main GBP in the rankings.
These listings should be fully optimized the same way that you would treat the main gym profile. However, specific information such as the description, services, photos, etc., should reflect anything unique to that individual.
Having a practitioner listing can help to increase online visibility when potential clients search for those specific types of instructors or services in your local area. Plus, these customers could come in for a personal training session and end up becoming full gym members in the long run.
Gym SEO Strategy: Lay the Groundwork
There are a few things to keep in mind when thinking about SEO for fitness studios.
Establishing Goals
First, you'll want to understand your (or your clients) goals.
For example, if your client is looking to drive more memberships you'll want to review their website to ensure that they have proper conversion points such as a phone number displayed or a form fill.
Additionally, you'll want to make sure event/conversion tracking is set up so you are able to monitor efforts.
Perform Keyword Research
Your keyword research and keyword planning are going to help you put together a game plan for what types of search queries you want your website to show up for in search results. When it comes to local SEO for gyms, there are a few variations of keywords that you'll mainly want to focus on local and educational queries.
Local Queries
When it comes to local SEO for fitness clubs you're going to want to focus on your local queries. These typically consist of geo-modified queries or "near me terms." These are the queries that have a local intent and more than likely will trigger the Local Map Pack within search results. Examples of these include:

Rock climbing gym near me
Workout classes near me
Cycling studio in Nashville
Denver boxing gym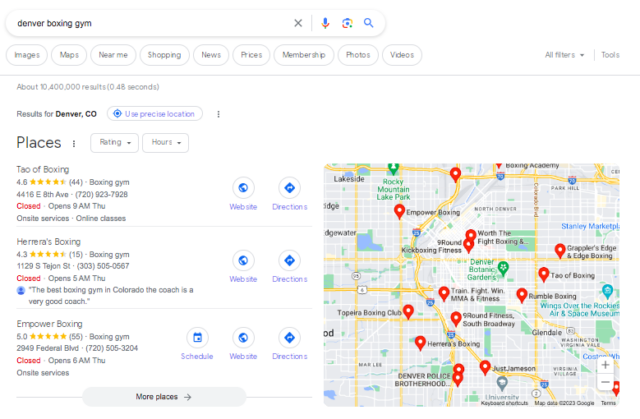 For large metro areas and cities, you'll want to not only target the wider location but can get more granular and target different neighborhoods or areas within the city.
For example, if you were a fitness studio in New York City, you not only would want to include content that contains terms that include a geographical modifier for New York City, but would also want to target "boxing gym in SoHo" for example. This is especially important for chain gyms that have multiple locations throughout one geographical area.
Educational Queries
Your informational or educational queries are going to be the type of queries that are related to questions or people who are in the beginning stages of their buyer's journey.
These are the people who are likely just starting the process of researching different types of gyms or workouts and are looking to learn more about what your gym offers. Although they might be in the very early stages, it's important to provide high-quality content that can bring these individuals to your website.
These informational queries are perfect for developing a blog or content strategy that can help Google understand your expertise.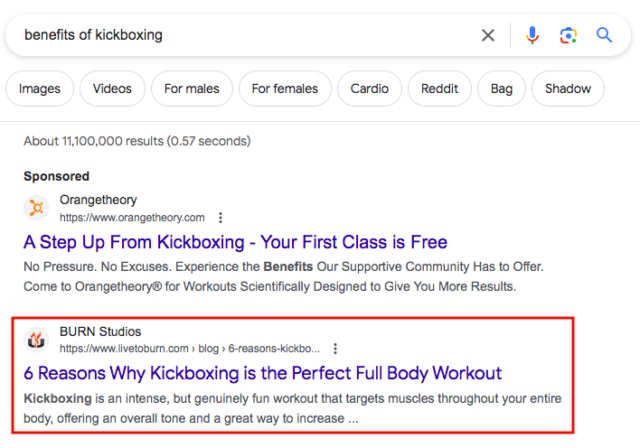 Control Your Local Presence
To optimize your local presence you'll need to work on making the most of your Google Business Profile and other local citations.
For GBP, this means ensuring that your profile not only consists of accurate information about your business but is as complete as possible. According to Google, customers are 70% more likely to visit and 50% more likely to consider purchasing from businesses with a complete Business Profile.
You'll also want to ensure that your website content is optimized for the keywords that you are targeting and provides valuable information for your users.
Create Your Content Strategy
Lastly, to target your informational queries, you'll want to create great fitness content on your website and blog.
Over the past few years, Google has been putting more emphasis on content being truly helpful and E-E-A-T (expertise, experience, trust, and authoritativeness). As I said in BrightLocal's "Overlooked and Underused Tactics' for Local SEO Success' article:
"For content, take advantage of the experts within your business. This is a great opportunity for small businesses, especially with the continued evolution and emphasis of E-E-A-T. Make the time to do interviews with the individuals that are doing the ins and outs of various jobs within the business. For example, a plumbing company could interview their lead plumber about common problems and then create a blog series."
Gyms are a perfect example of where this can work. When it comes to creating content for gyms, leveraging the in-house experts that you have on hand is essential to create high-quality content that is unique, full of expertise, and helpful for users. This can include answering common questions about workouts, busting misconceptions, or providing insights about various techniques used at your gym.
Local SEO Tactics for Gym Owners
Once you have your goals and strategy developed, it's time to shift focus to the local search results.
Maximize Growth with Google Business Profile
First and foremost, when it comes to optimizing your Google Business Profile, start with the basics: NAP. Ensure that your profile contains accurate information regarding your business name, address, and phone number, and check the website field as well. You want any information your audience finds online to be up-to-date, consistent, and accurate.
Additionally, be sure to keep the following in mind when optimizing your profile whether you're a fitness studio or utilizing a practitioner listing:
Optimize Primary Categories
Select the primary category that best describes your business.
Don't forget to look at what competitors are also using for their primary and secondary categories to help determine what can be featured on your profile or to identify future tests for your profile. 
Select the Right Services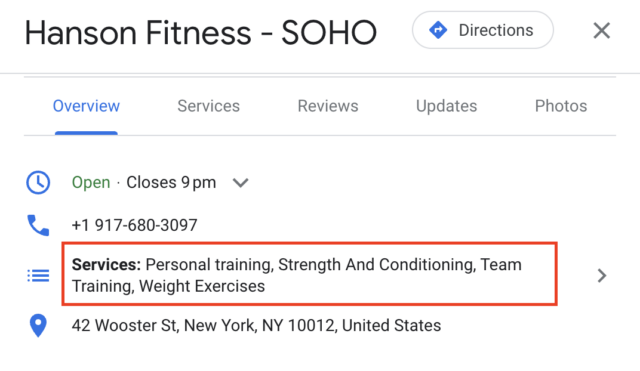 List out any relevant services that are offered at your location.
Oftentimes Google will provide some recommendations of pre-polulated services, if these are offered at your business then add them.
Add any custom service offerings that can make your business stand out. 
List Your Products
This includes things like membership offers, classes offered, and merchandise available at your location, all of these can be highlighted in the product section.
Include a photo that represents the product and is eye-catching for users. 
Craft the Perfect Description
Provide an overview of your business including the services you offer and any unique differentiators.
This is your chance to showcase why someone should try your gym. 
Use Posts and Updates Regularly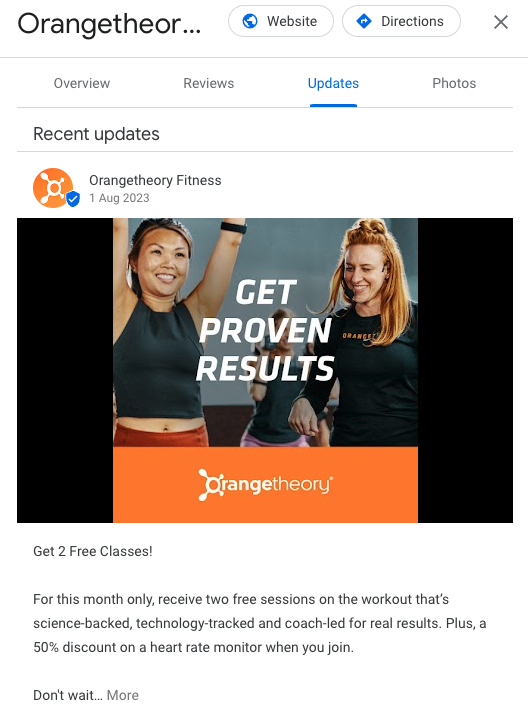 Utilize posts to highlight information about your business this can include promotional offers, member spotlights, events, and more. Remember, your GBP is your shop window.
Upload Photos
Give people an idea of what to expect when they come visit your fitness center. These should be photos that are unique to your business and not generic stock photos. Include internal/external photos, signage, trainers, and more. 
Add Q&As
Utilize this section to answer popular questions about your business for users. Think of this as an off-page FAQ where you can catch a user's attention. 
Get and Respond to Reviews
Stay up-to-date on responding to reviews and addressing any concerns that come through. We'll get more into reviews later on!
And That's Just the Beginning of GBP…
Keep in mind that some of the information that is shared on your profile can also be featured in different ways.
For example, attributes and reviews can show up as various justifications on your profile that highlight unique information about your business in an eye-catching way.
Also, always utilize UTM parameters on URLs that are featured on your GBP profile to ensure that you're able to track your efforts. This will help to understand how people are engaging with your profile and landing on your website. You can include UTM parameters on any URL that is shown on your profile, including your main website button, posts, and products.
Tip! Getting Ahead On Local SEO With Founding Member Specials
For GBP it's important to get your profile created, verified, and optimized prior to your grand opening, not only is this a way to start gaining organic visibility, but it gives your business a way to engage with your audience.
You can set your opening date within the backend of GBP to have your profile display an "opening soon" message directly on your profile to show users that you aren't open now but will be shortly.
A lot of gyms run different types of specials or events to gain a membership prior to opening. These can include anything from "Founding Member Specials" or a week of free classes. Businesses can also start utilizing posts on GBP before they open to display information about upcoming events for their grand openings or share information about upcoming promotions. 
Information about when your business is opening, events, or special offers should also be displayed on your website. This information can be on the main site or featured prominently on a location page for chains.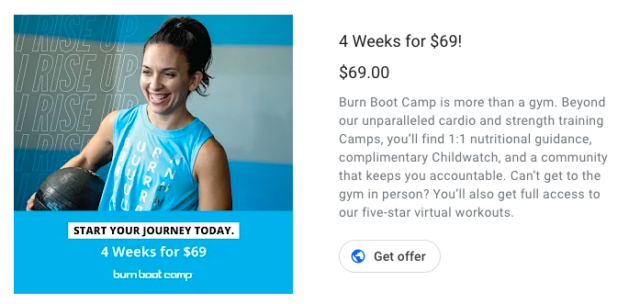 Put in The Work To Create Quality Website Content
Whether you're a chain or a single-location gym, ensuring that the content on your website contains relevant information and keywords is essential to any local SEO strategy.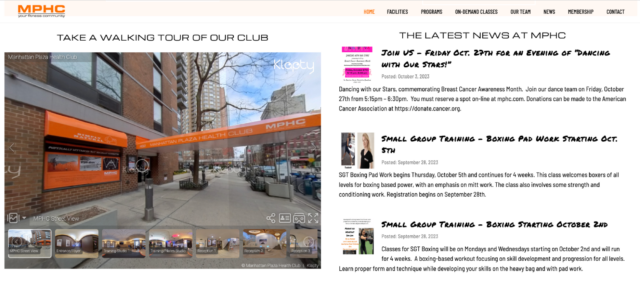 Your website should include information about your products, services, and location. This includes contact information and unique value propositions. Metadata and headlines should be optimized based on your keyword research and the geo-modified terms that you're targeting.
Content that is developed across these pages should accurately reflect information about your business and be written with the user in mind.
Create Content That Lets Your Trainers Flex Their Expertise
Most trainers are the ones that are shaping the experience for your members and potential customers. From showing someone the proper form for a specific exercise or encouraging them to hold that plank for just "10 more seconds" your trainers are the face of your gym.
Leverage their expertise by taking their knowledge and turning that into on-site content whether it's an Q&A style blog post answering specific questions about your workout, or multimedia videos.
Share Your Gym Fam's Success Stories
Outside of your trainers, your members are going to be your biggest cheerleaders—who better to share their experiences at your fitness center than the people who show up every day? Leverage the success stories of your members by creating unique content on your website that highlights your member's fitness journey and includes before/after photos when possible. These success stories can also be highlighted elsewhere like on GBP posts or turned into graphics for social media marketing.
Tip! Breaking the Routine with Unique Content for Multi-Locations
When it comes to creating website content for a franchise or multi-location businesses it can be a challenge to create unique content for each location. Most of the time, you'll have to include some boilerplate information in accordance with brand standards to describe aspects of the workouts, different classes, mission statements, etc.
However, to win at local SEO and stand out against competitors, gyms need to get creative with how they describe their location and create unique content on their local pages (and subpages). Here are some ideas:
Provide details about your gym's physical location including neighborhood details, parking information, etc.,
Highlight unique classes or events
Highlight local partnerships such as running clubs or a gym that isn't seen as a direct competitor. For example, maybe your cycling studio partners with a yoga studio once a month for a mobility and stretching class. 
Trainer bios
Member success stories
Fitness tips or ideas unique to that location. For example, you could call out any free equipment in local parks or local sports teams and clubs.
Encourage Your Members to Pump You Up
Let your reviews work for you by encouraging your members to share their experiences with others by posting a review on GBP. When it comes to local SEO getting reviews is essential.
High star ratings, number of reviews (compared to local competitors), quality of reviews, and review recency can all increase the likelihood of your business landing in the local pack.
Additionally, reviews can help to influence others to engage with your business and can show up on your profile as justifications that can highlight different aspects of your business! It doesn't stop there—focusing on reputation management online can also translate to a positive offline reputation.
Take control of the narrative around your business and make it a priority to respond to both negative and positive reviews to connect with your customers in a meaningful way.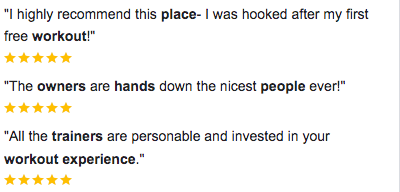 Consistency Pays Off with Local Citations
Aside from GBP, gym owners should also focus on other high-quality citations such as BingPlaces, Apple Business Connect, and Yelp.
Additionally, focus on ensuring that NAP information is consistent across your listings. Make sure you're building listings on the top citation sites for gyms and fitness centers. Not only will this help niche audiences find your business, but having accurate information across the web is beneficial in promoting trust signals about your business to search engines and providing a positive experience for users who are looking for information. 
Building up Your Backlink Portfolio
Links remain an important ranking factor both in traditional SEO and local SEO. In fact, for local SEO you need to really make sure that you're getting excellent local links.
Create a unique backlink portfolio that consists of industry directories, local citations, partnerships, event sponsorships, earned links through content creation, awards, and mentions in local publications such as being featured within the list of top gyms in your area.
Bonus Round: Cross-Channel Collaboration
When we think about marketing in general, we know that it's truly a team effort. While your focus might be on SEO—remember that a true team works together to meet the ultimate goal which is driving memberships or class signups for the gym or fitness center that you're partnering with. 
Keep in mind that pairing your local SEO strategy with other marketing channels like PPC, social media, or marketing automation can help in the long run. Once you're able to secure rankings and get organic visitors on your site, you'll want to ensure that users keep being marketed to. Anyone who shows an interest in a particular article can be remarketed to through social media marketing or Google ads. Plus, users who sign up for newsletters or a free trial offer are being nurtured through marketing automation.
Keeping potential customers engaged via a newsletter or ongoing communication can help turn free trials into members!
Remember, local search is just one of the channels you should be targeting with your marketing efforts. But it's certainly one of the more important ones.