What is Google My Business?
Jamie heads up BrightLocal's content team, ensuring we produce insightful articles, research and resources that enable businesses and SEOs to...

6 min read
We all know Google, and how it has its fingers in every part of the online pie, but what is Google My Business?
Google My Business (commonly known as GMB, and formerly known as Google Local and Google Places) is a business listing on Google, not unlike listings on online business directories such as Yelp. It's also a core element of local SEO.
The key difference between Google business profiles and other directories is that your GMB listing can be incredibly detailed, and information from it can be output by Google into a variety of very important places with high online visibility, including:
Google Knowledge Graph
The box containing business information that appears in the top-right hand corner of Google search results on desktop, and near the top on mobile, when someone performs a branded search for your business (i.e. when they search your business name).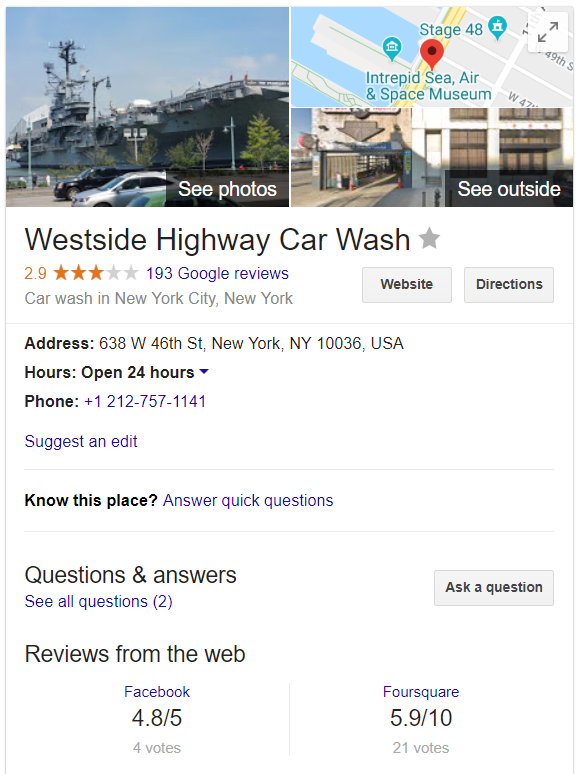 Google Local Pack
The three Google listings that appear beneath the map when someone searches for businesses in or around a particular location (e.g. 'plumbers San Francisco').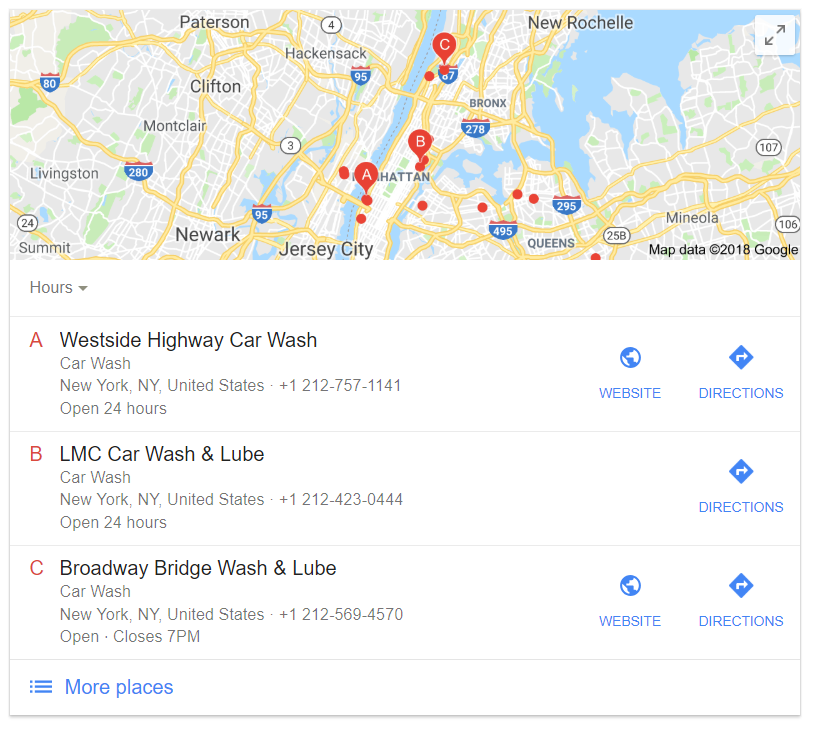 Google Maps
The app used to get directions and discover businesses and locations, available on pretty much all devices, mobile or desktop.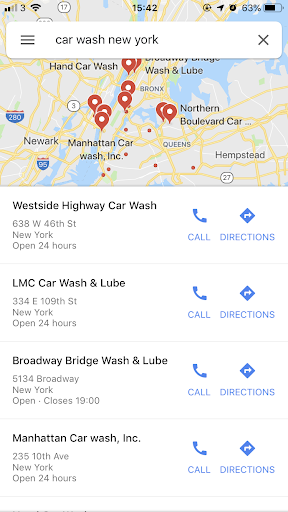 Google My Business listings offer everything you need for a potential customer to find and use your services, buy your products, or visit your business. Once you've registered or claimed your Google local listing, you can respond to customer reviews, add images, and much more to help your business stand out in local search.
Put simply, if you don't have a Google My Business profile, you literally cannot compete in local search, so GMB is one of the very first places you should start when working on local SEO for your business or a new client.
What Are Google Listings Useful For?
When users search for localized keywords or terms using Google, they're presented with relevant local business results, all tailored to the search term used. These searches can happen in a variety of places, including:
Google app search
Google search in third-party browser or Google Chrome (mobile/desktop)
Google Maps in mobile/desktop browser
Google Maps app
Google Home voice search
Google Assistant voice search
Let's assume you have a car wash business on the Lower East Side of Manhattan, NY. When someone searches for 'car wash lower east side' you're going to want your business to appear in the results provided by Google, as this is someone who is looking for a business like yours in your area. This is where your Google business listing (as a completely separate entity to your website) comes in.
It's also worth noting that, if Google has access to a searcher's location, local results will be triggered by anything that's seen by Google as a search with a local intent, which could be as simple as 'car wash' or 'barber' (without the need to add 'near me' or 'in new york')
Depending on where they're searching, the consumer will see local pack results, Google Maps results, or even have the local pack results read out to them by a Google Assistant.
While the businesses surfaced by the search should be the same, what actually shows in the Google listing depends on the search type. For example, Google will show just a few elements of GMB in your Google Maps listing, but results in the local pack are much richer, including review stars, photos, and sometimes even a snippet of a review.
When you set up and optimize your GMB listing, in addition to the wider visibility you get, you'll have access to Google My Business Insights, which provides detailed information on how and where consumers are searching for your business, as well as how far away they are when looking for directions, and much more. Find out more on GMB in our Google My Business Insights Study. Combining this with your website's Google Analytics data creates a powerful overview of how people find your website and listing and the actions they take afterward.
Google My Business Profiles are Only Getting More Sophisticated
Google My Business is getting much more sophisticated, and no longer simply relies on the information you provide to build your listing. If you're a restaurant, for example, it may attempt to find a web page containing your menu (potentially even from an unverified, third-party site) and add the link to your profile. This shows that it's important to keep an eye on unsolicited changes to your listing.
Google also uses User-generated Content (UGC) to populate your Google business listing, including 'subjective attributes' defined by your customers and the photos they take of your business premises.
Some features have a lot of interactivity built right into the profiles, too. These include:
Google Posts, which allow you to promote offers and services directly through Google Maps and the Knowledge Graph (and even reach people who 'follow' your business).
Google Q&A, which lets consumers ask each other questions about your business on your GMB profile.
Google Reviews, probably the most important of these features, as generating quality reviews and responding to them has been shown to significantly impact rankings and clickthrough rates.
Suggest an Edit, the ability for customers of your business to submit edits some of your business details, such as names, opening times, or addresses.
And Google seems to be just getting started. More and more tools and features are being added to Google My Business all the time, so there's plenty of good reasons to get yours set up pronto.
You can find out more about where Google gets information for your Google My Business profile and what it does with it in their helpful guide here.
How Can I Qualify for a Google My Business Listing?
To qualify for a Google business listing, you must personally interact with your customers during the business hours you include in your listing.
You can work with your customers at your physical place of business or at the customer's location. That means that even Service Area Businesses (also known as SABs), like plumbers, house painters and pest control experts, for whom physical address isn't as important, can claim their Google My Business listings and define the area they serve without it being tied to their address.
Bear in mind that while most businesses which interact face-to-face with customers can claim a Google My Business listing, there are a few exceptions.
So, Does My Local Business Still Need a Website?
Yes, it does. While Google My Business is now the most important touchpoint in a local search, and many local business transactions can happen without the searcher ever visiting the business's website, a website is still crucial to getting across your brand's personality and provide examples of excellent customer experiences, amongst other things.
A local business website's requirements will shift drastically based on the industry type, with hotels needing high-quality design and photography, and plumbers needing prominent contact info, lists of services and customer testimonials. So we'll admit that some businesses definitely need a website more than others.
However, no matter what industry you're in, Google is likely to find a way to use information on your site to feed new features in SERPs, the Local Pack, your Google business listing and more. Just look at on-site review star ratings now appearing in SERPs. This is a taster of what Google can do with information from your site, provided you create it and keep it up to date and consistent with all your other business listings.
Finally, although we haven't touched on it here, we have to keep the power of organic traffic in mind. We know that on-page signals and organic traffic can still impact your local ranking, so try to optimize and update your website with great local content.
Our advice to any local business is to create a good website that represents their business well, then shift focus to their Google My Business profile, ensuring that's the first to be updated with new business info and the first to be checked for customer interactions via Google Reviews and Google Q&A. After all, consumers can still find your business if you have a Google listing but no website, but they sure won't be able to if it's the other way around.
Boost your local marketing with BrightLocal
Setting up your Google My Business profile is just the start of your local marketing journey. Competition is rife, no matter how niche your business is, so it's crucial that you have the local SEO tools on hand to help you understand your local search presence.
That's true of your website as well as your Google My Business listing (remember that the Local Pack appears above organic search results for local searches and is only made up of Google listings), so you'll want a toolset that gives you an overview of how both are performing.
BrightLocal's Local Search Rank Checker, Local Search Audit, and Google My Business Audit are great ways to get this up-to-date and accurate performance data for you or your clients. Get started with a free 14-day trial today!