Whether you're looking for a mechanic to fix your car, a restaurant for a family dinner or a plumber for your 3:00 a.m. burst pipe emergency, you rely on search engines to provide you with information about local businesses. Your customers are doing the exact same thing when they search for a business like yours.
But how do you get your business to show up in search engine results when potential customers are searching? By using Local SEO strategies…
Local Search Engine Optimization (SEO) is the use of on-site and off-site search marketing strategies to help a local business rank higher in the search engine results.
Why is it important for local businesses to create a Local SEO strategy?
According to Go-Globe:
The Google Local 3-Pack appears in the top spot for 93% of local searches
60% of consumers who performed a local search on their smartphones visited a store within a day
18% of local mobile searches lead to a sale within one day
50% of local mobile searchers are looking for local business information, like a business' address
71% of people surveyed say they look up and confirm the physical location of a business before going to it for the first time
46% of all searches on Google are local
86% look up the location of a local business on Google Maps
76% of local searches result in a phone call
Now more than ever it's important for small- to medium-sized local businesses to start optimizing their marketing efforts for local search. Rankings towards the top of search engine results is limited and local competition is getting fierce. To successfully do local SEO, though, you should understand what it is and how local search works.
Local SEO is a set of search marketing practices aimed at helping a local business appear higher in search results when a potential customer searches for a business or business type (i.e. restaurant, furniture store, dentist, etc.) near their physical local area.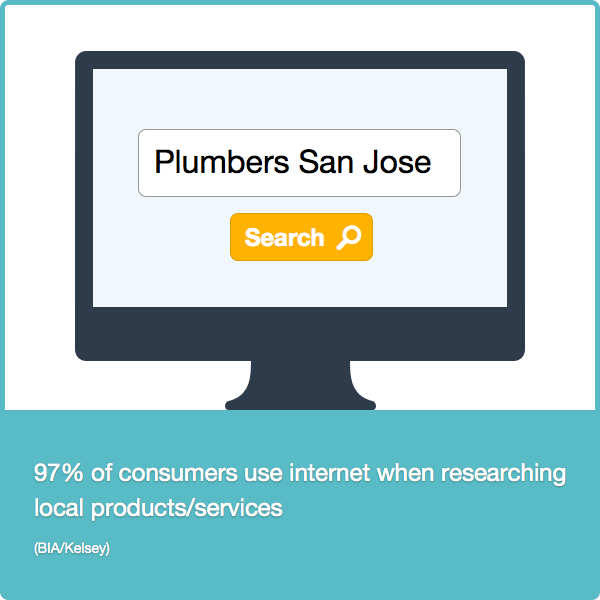 If you're a local business, engaging in local SEO practices increases your chances of being found when potential customers search online for businesses or services in their local area.
Local Customers Search for Your Business or Business Category
According to comScore, the number one reason people search online is to find a location of a known business.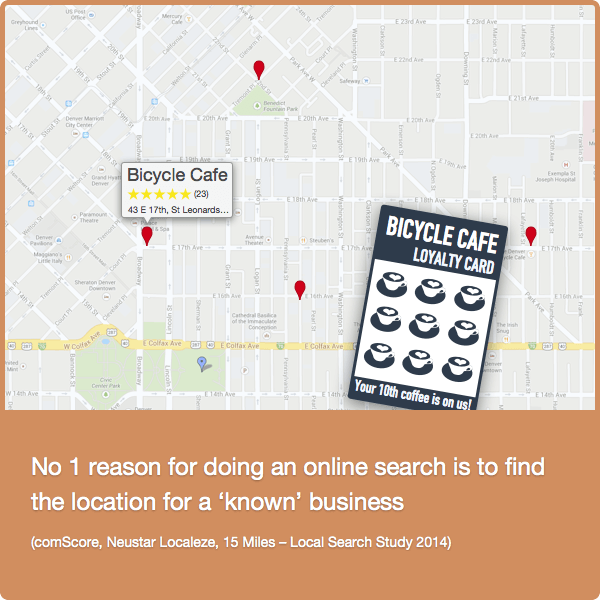 Customers (and potential customers) may search for your company name because they have heard of your business from other marketing efforts you're doing (like TV commercials, newspaper ads, billboards, etc.) or through a friend's referral, but they don't know where you're physically located, what your phone number is or are just looking for more information about what your business offers.
Potential customers also search for categories or types of businesses when they're faced with a problem – like they have a toothache, a leaky roof, need a new chair for their office, etc. By implementing local SEO strategies, you can increase your chances of appearing in Google search results when potential customers look for your services or products. People are searching for a variety of things like:
Type of business
Phone number
Products or services
Hours of operation
Driving directions
Coupons and special offers
Ratings and reviews
Sometimes local search results are grouped together into what's known as the "Local Pack" or "Local 3-pack" (like in the image below).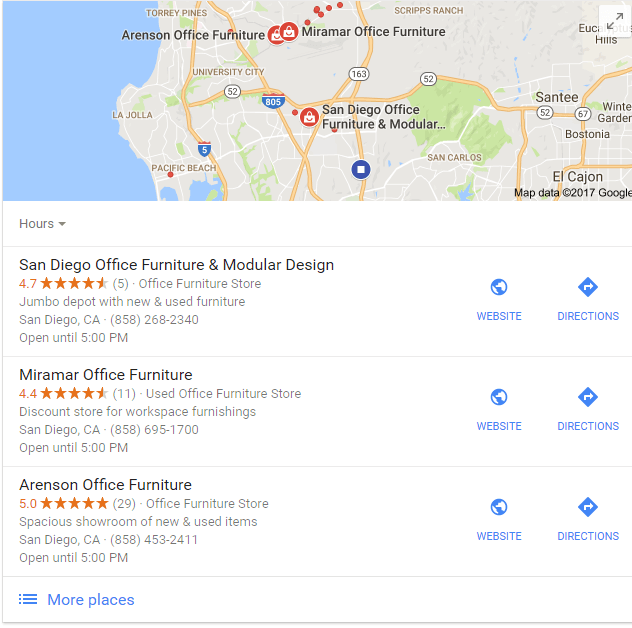 Other times local result listings appear by themselves among "organic" search results (which are typically located under the paid/sponsored ads and the Local 3-Pack):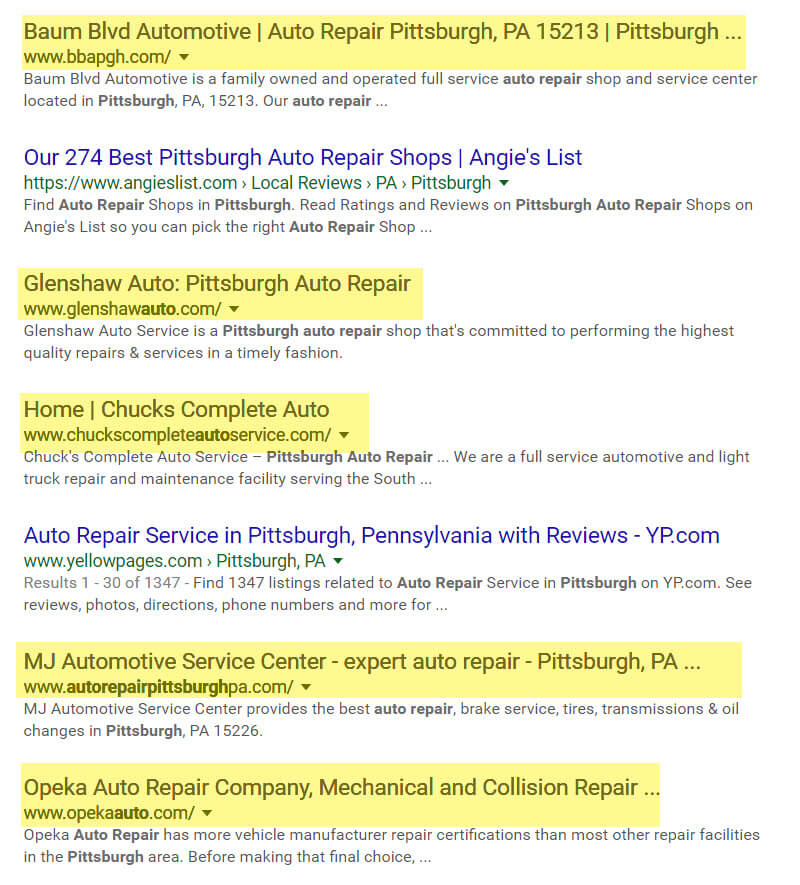 What Factors Influence Local Search Rankings?
Each search engine has an "algorithm" they use to determine which sites should rank where when someone searches for a phrase. Just like traditional organic SEO, to rank in local search your business must perform well on certain search criteria. You can find out more information on the various local search ranking factors on Local SEO Guide's Local SEO Ranking Factors. In this article we're going to discuss some strategies that will help give your local SEO efforts a boost…
Here Are Some Local SEO Strategies to Get You Started
'Localize' Your Website
A website is your company's storefront on the Internet. Local customers will use it to find out about your business and what you offer. They will also be able to find your phone number and contact details, download a menu or price sheet, check your opening times or book an appointment.
And to 36% of consumers a clear and "smart" website gives a local business more credibility. Consumers (32% of them) are also more likely to contact a business if they have a website. A website should not only be easy to find in search engines but should also be attractive and easy to use for local customers. But just like a website makes a first impression, the content is what convinces customers to hire a company. 
Your content therefore should deliver the information customers are searching for and answer any questions they have about your company, products or services.
First, make sure your website is mobile friendly. Why? According to Smart Insights, more than 50% of searches are done on a mobile device. You can check to see if your website meets Google's criteria for a mobile-friendly site by entering your URL in the Google Mobile-Friendly Test. (Google can penalize sites that aren't mobile friendly by not showing those results in searches that are done on mobile devices.)
If your website is more than five years' old, chances are you'll probably have to get a new site built. A mobile-responsive website is typically the best option, but depending on the type of business you have, you may want to go with a mobile site (a.k.a. "m dot" or "m." site) that shows different information on a mobile device than on a desktop computer. Some good examples of "m. mobile sites" are auto repair garages, locksmiths, restaurants – the types of businesses where people don't need to see the entire site when they're "on the go" on their mobile device. When people search for businesses like these, they probably only want to see the local business' address, phone number and menu/services, for instance. Check with your local website designer and SEO specialist to determine which type of mobile-friendly site you should develop.
(NOTE: Additional mobile local search strategies will not be covered in this article, but keep an eye out for future content pieces that discuss local mobile marketing strategies.)
Once you have a mobile-friendly website, it's important to "localize" the pages on your site by integrating your city's name (or service area) in content throughout the site (subtly, of course – don't overdo it), discuss local/community events, feature coupons or specials that include your business' address, if you have more than one location, create individual local pages for each location (a good example of this would be a bank with multiple branches. The bank should create a separate localized page for each location) and other local content strategies. You may even want to find guest bloggers from other nearby cities that you'd like to reach and have those people write guest blogs for you. You can then use the author's city in their bio. For example:
Susie Smith, from Concord, CA, is a professional business consultant serving the East Bay area. Owner of Smith Consulting, she frequently gives training and workshops to local businesses in the Concord, Walnut Creek and Pleasanton, CA, area. You can reach Susie by emailing her at xyz@gmail.com or call 555-555-5555.
Get creative! Whenever you write or add content to your website, always "think local."
Online Business Directories/Citations
Major search engines (Google, Bing or Yahoo!) aren't the only places to find local business information. Customers also look for local companies on their in-car GPS systems, digital maps (on smartphones or computers) or in business and industry online directories like Yelp, FindLaw.com or Hotels.com. Local SEO helps businesses get featured in these sources too.
First you need to understand a few local search terms:
Citations are online references of your company's name, address and phone number (a.k.a. NAP) on the Internet. These listings don't always contain a link to your site but they can still help with your rankings on local search.
Online Business Directories are the modern-day equivalent of the local Yellow Pages and contain your NAP and often extra information, like your business' description, business category, a link to your website, photos/logos, business hours and more. You should get your business listed on as many quality online directories as possible. Not only because people search on sites like Yelp or Hotels.com, but also because these online directory results show up in search results, too!
In the example below you'll see that the top-ranking websites for this search phrase are online local directories: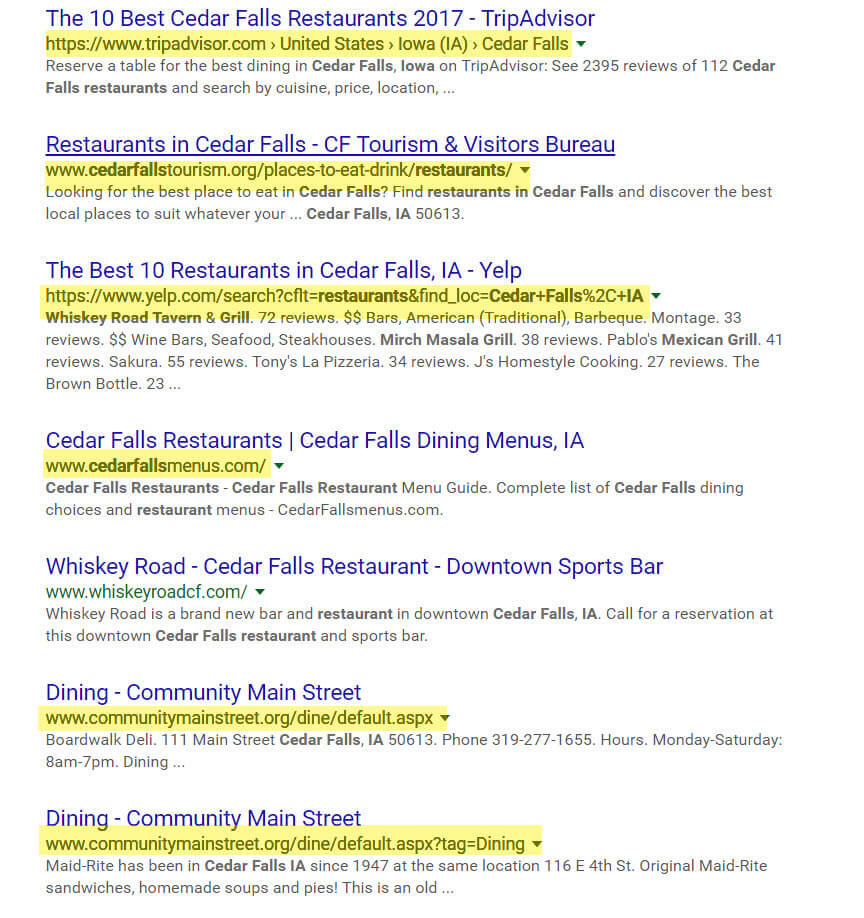 Online directories are one of the key search ranking factors influencing a company's visibility in local search results. So with all other factors being equal, a business with more quality (and accurate) citations should rank higher than its competitors. You can find out more about online business directories and citation sites on Duct Tape Marketing's website.
So how do you start claiming your company's online business directory listings? First, check out this list of some of the best online directories/citation sites. You can get your business listed on these online business directories and citation sites by manually going to each site, search for your business to see if you're already listed and then verify that your business' information is correct. If there are inconsistencies you will want to correct them. That typically involves setting up an account by providing your email address and password. If your business isn't listed, then you can generally submit your site for inclusion.
It's crucial that your business' information is consistent across ALL online business directories. This means that you need to select your official address (typically the one the Post Office has) and use that. Don't deviate (i.e. 104 6th St. vs. 104 Sixth Street). Make your NAP the same on all online business directories. (Typically it's best to see how Google has your business listed and then use that address on the other directories.)
Don't want to do all this busywork? There are services that can take the hard work out of claiming the top 150+ directories. BrightLocal's Citation Tracker is just one local search software/service that can help automate this process by finding citation opportunities and auditing your existing listings for consistency.
To see a list of some of the best online business directories/citation sites, check out the Top 50 Citation Sites in the U.S. list.
Google My Business and Bing Places for Business
Google My Business
One of the largest (and best) online business directories is Google My Business (GMB). Google My Business allows local business to claim, optimize and manage a listing for their business. Claiming your Google My Business page can help your business show up on a variety of Google properties, like Local Search, Maps and Business Google+ pages. This should be the first online directory that you claim/check.
With Google My Business a company can claim and set up your Google business listing, populate it with information, associate it with business categories, upload images, read and respond to Google reviews and create a Business Google+ page.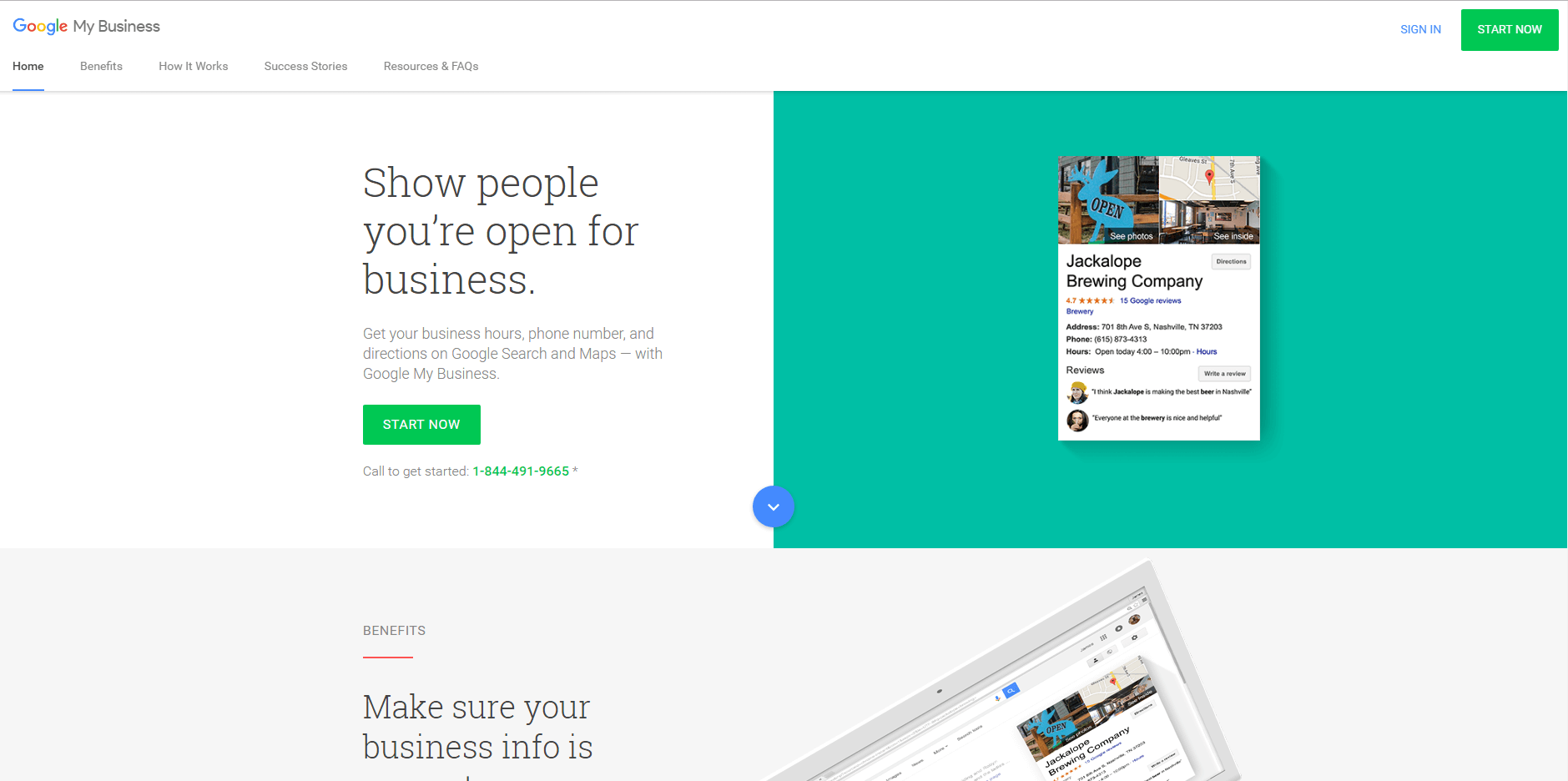 Getting your business listed correctly on Google My Business is a great way to get your business to show up in the local 3-pack. The more detailed information you provide about your business the better. That includes things like your official business name, address, phone number, category, hours of operation, types of payments you accept and other details.
Bing Places for Business
Microsoft offers a similar local business directory called Bing Places for Business. Bing Places for Business is very similar to Google My Business in that it can help you rank higher on Bing's local search engine results. Again, this should be one of the first online directories you claim and optimize for your local business.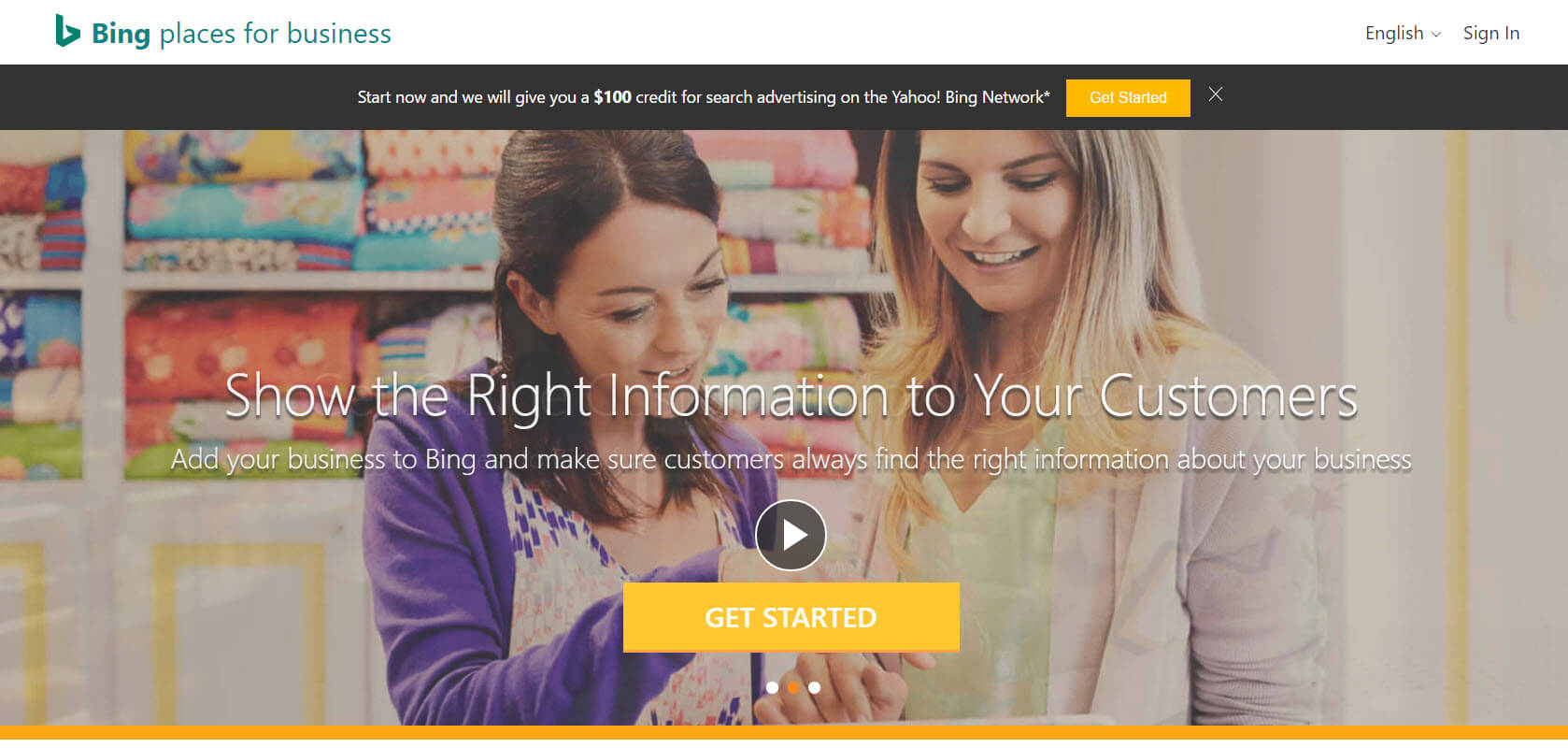 Reviews and Ratings
Your customers' voice plays a crucial role in shaping your business' success.
88% of consumers consult online reviews before they purchase local services. And 90% of them say that their buying decision is influenced by online reviews. But quantity, quality and authority of sites on which reviews are present are also key local search ranking factors. 
For that reason encouraging your customers* to review you and managing them is a crucial aspect of local SEO. ReviewFlow is software that helps find, track and manage online reviews from multiple sources in one place.
*Note: Some websites, such as Yelp, don't like businesses incentivising their customers to review them. Reviews should be honest and genuine. So please bear in mind that over-zealous requesting of reviews can backfire.
Inbound Links to Your Website
Earning quality backlinks from authoritative sources/websites can also help increase a company's visibility in Google's local search results.
For a local business, these links can come from a variety of places:
Newspapers (both local and national)
Local bloggers
Local and national business associations (i.e. local chamber of commerce, national industry association etc.)
Industry profiles
Local business listings (a.k.a. Citations)
Chamber of Commerce's, Local Small Business Association (SBA), economic development groups, etc.
Local businesses can also earn links through content and social media. Just like with organic link building, the more authoritative sources those links are, the better the chance they will help you increase the visibility in local search.
Now We've Covered the Basics
Hopefully now you have a good idea of what Local SEO is, why it can benefit your business and the elements that can influence a company's local search rankings.