If you work on digital marketing for your company or are a digital marketing agency doing work for local clients, you've probably seen the term 'citations' or heard about the importance of claiming citations (often referred to as 'online business directories'). But what are local citations and how can getting a local business listed on online directories help them rank higher on search engines?
It All Started With a Book…
First, a little history of online business listing directories/citation sites… Years ago we would receive a big, thick telephone book with yellow pages delivered to our house. Those books contained a list of all the businesses and contact info (including addresses and phone numbers) of almost every business in our local city or town. The famous "yellow books" are still printed today — but in much smaller quantities. Instead, the majority of people now turn to the internet for information about local businesses instead of using the printed phone book to find businesses.
Think of the printed phone book as the old-fashioned equivalent of today's modern online directories/citation sites. Citation sites are any site that has a company's name, address and phone number (NAP) listed.
Directories and citation sites go out and scrape business information from the web – in mass quantities. They then pull business info into their database and share it with the world! Google My Business, Yelp, Foursquare, Merchant Circle, CitySearch – they're all examples of citation sites.
The Search Engines Love Quality Directories
The reason it's important to get your business listing on as many quality citation sites as possible is because Google loves these directories! Just check out the results when you do a search for "organic food in San Diego":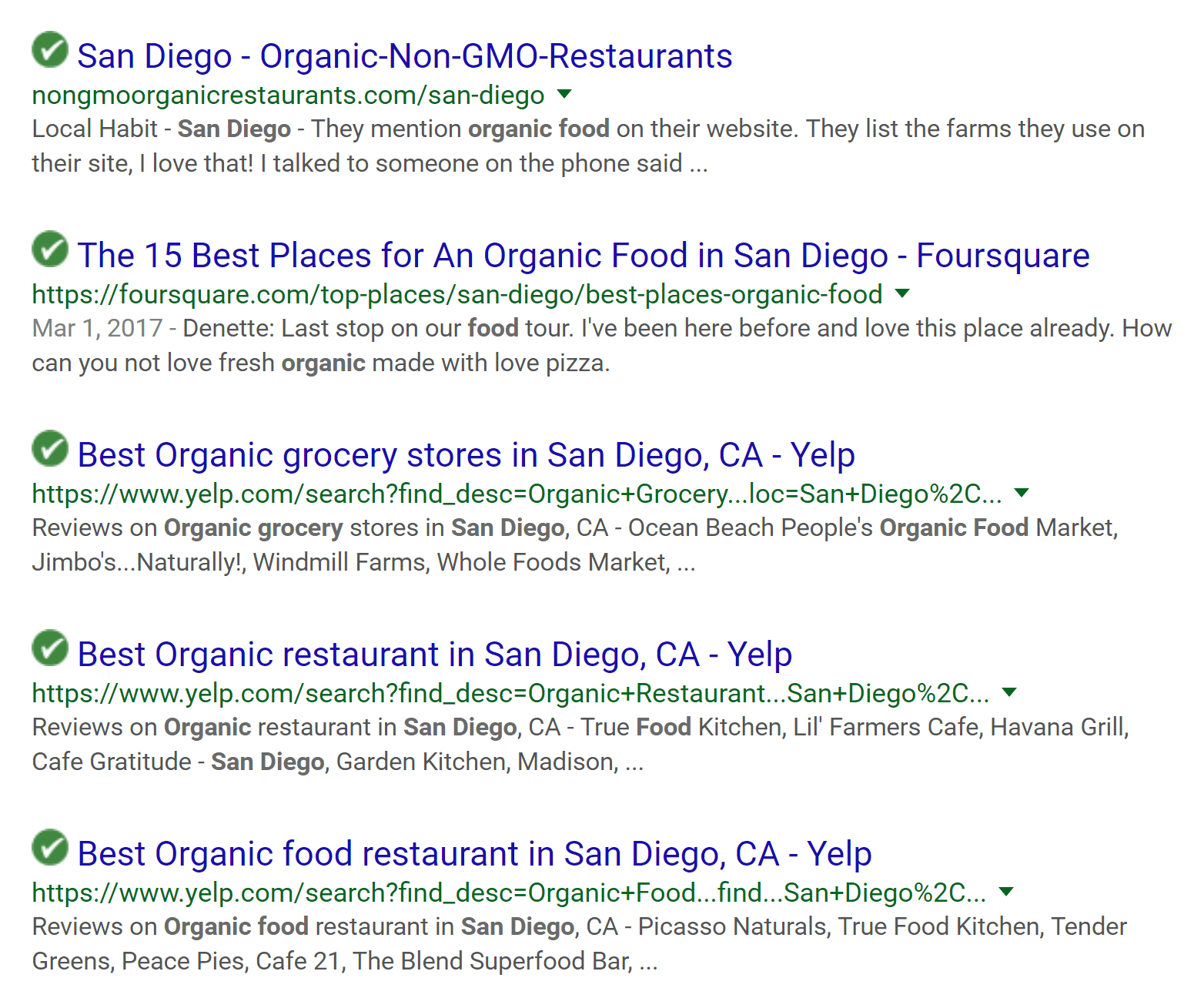 The top results on Google are all citation sites! If your business isn't on these citation sites/online directories, your competitors probably are (and then they'll get your customers.)
Every directory that you verify and/or submit your business listing to is another chance for your business to be found online. For local SEO purposes, it's important to get listed in as many high-quality directories as possible.
You do want to be cautious about low-quality citation sites that may not have the ranking power. Stay clear of any directories that aren't well-known. There are some great lists of some of the best national online directories as well as city-related citation sites. You may also want to download the Moz Bar which will show you the domain authority of a website – so you'll know which citation sites to stay clear of and which ones can help your rankings.
As you can see from the Moz bar at the bottom of a Foursquare page, this page has a domain authority of 92 (which is great!) and a spam score of one (meaning it's NOT a spammy directory.)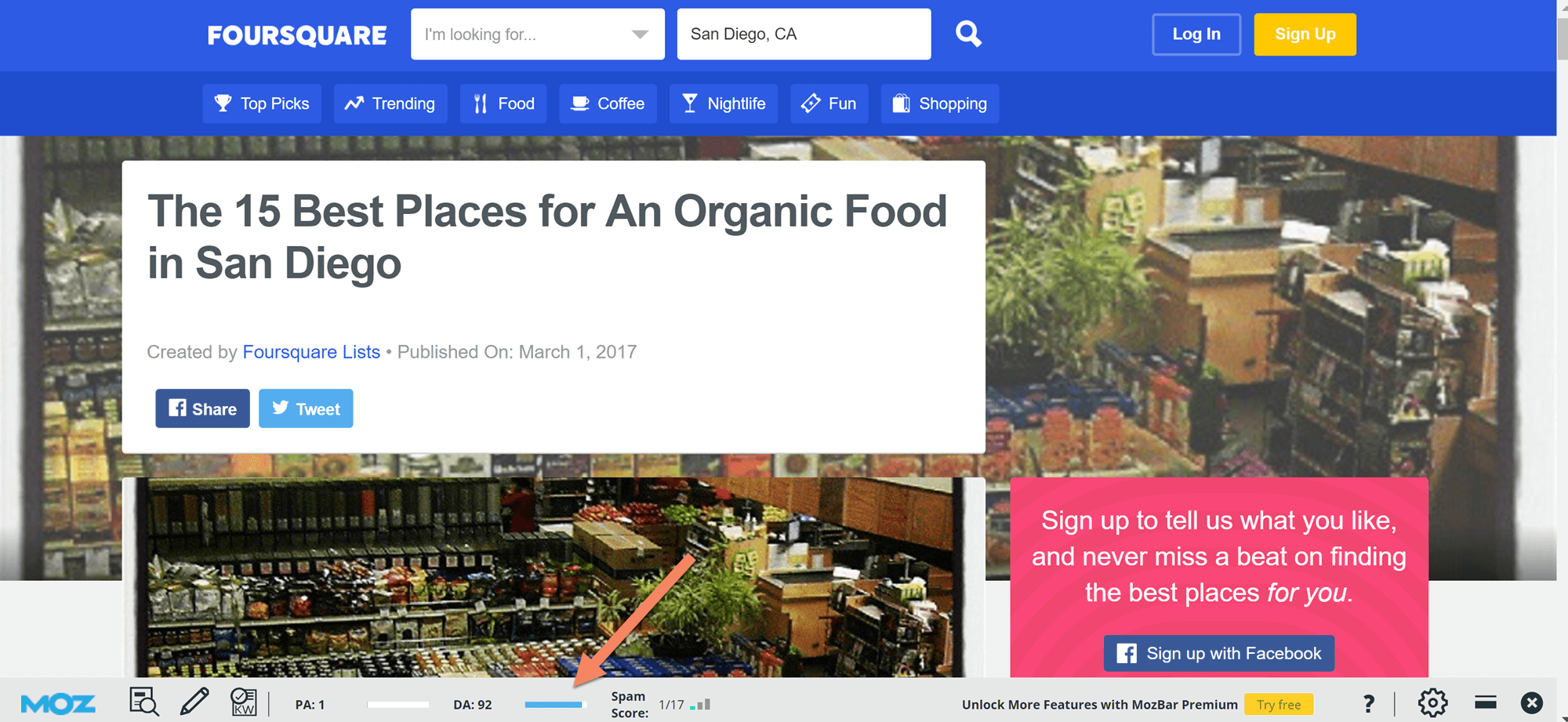 Claiming and Fixing Your Citation Listings
Sometimes citation sites allow business owners to claim their business listing and/or verify the accuracy of the information. When you're claiming citation sites you must consistently use the exact same name, address and phone number. For instance, the search engines would see these two addresses as separate locations because they're not consistent:
1450 5th Street
1450 Fifth St.
Your first step should be to check your Google My Business page and see how Google has your NAP listed – and then use the same info in all future citations that you claim or set up.
You will find that some citation sites allow you to add more business listing information (like your hours of operation, business description, photos, menus or profiles, types of payments accepted, etc.) If the site allows you to add more detailed information – complete as much of the information as you can.
Ongoing Effort
Claiming and optimizing citation sites is a big job and can be very time intensive. Many business owners or agencies choose to go in and manually find, claim and correct any inaccuracies in their online directories themselves. First, calculate how much time it will take you to claim and optimize the top 50 online directories (national, niche and local.) And then figure out how much your time is worth. When they think about it, most people conclude that it's a better use of their time if they have another company do this work for them. BrightLocal offers citation claiming solutions as do many other sites. Your time is money. Use it wisely.
Claiming and Optimizing Citation Sites for Your Business – Totally Worthwhile!
As you can see, getting your business listings on popular citation sites can help boost your business's online profile. If you haven't started with citation sites, this is your chance to get started!