Search engine optimization (SEO) typically encompasses international — or at least a nationwide — search. Of course, you can tailor your keyword research to a specific region. To narrow it even further, however, you can practice localized SEO. 
Local SEO includes a combination of regular SEO techniques and location-specific tactics. These tactics include localized keyword optimization, reputation management, setting up a Google Business Profile, and building local links. 
Businesses may benefit from local SEO in a variety of ways from targeted conversions to enhanced trust from consumers. Although all local businesses could benefit, one approach to local SEO doesn't work for all industries. 
Business-specific Considerations for Local SEO
Many local SEO guides provide a one-size-fits-all solution. However, there are considerations you must make depending on your business type and unique needs.
Brick-and-mortar vs. Service Area
SEO will look a bit different depending on your business model. If you have one physical location, this can be a bit more straightforward. Your business address will show up in search results, and you can tailor your strategy to your specific location. Utilize keywords that include the city name or even the street to hone in on customers searching for products or services in that specific area. Then, they can find your brick-and-mortar store with ease.
If your business doesn't have one physical location and, instead, focuses on a particular service area, you may have to adjust a bit. The keywords won't be as specific, but you can still use geography keywords. Identify your exact service area, including the counties or region name, and include those keywords in your strategy. 
Rural vs. Urban vs. Multi-location
The type of location in which you serve also impacts your local SEO strategy. For example, a rural location likely won't have as many competitors as an urban location. 
If your business has multiple locations in several types of areas, you will also have to adjust your strategy. Use keywords from each of those locations, and optimize your website to cater to each. You can even have separate pages for each location that will lead searchers to the exact business location they're closest to. 
Even if you don't serve just one location, localized SEO can benefit your business. There are ways to tap into local SEO to compete in a global market. Technological advances have allowed global businesses that rank high in local search results to rank higher in global search results as well. Working on local search engine presence across all of your locations will help your business's visibility in search engines, overall.
Service-based vs. Product-based
Similar to location-based considerations, you'll also have to take into account the way you serve consumers. Products and services will not only use different keywords, they will use different calls to action and show up differently in search results. For most industries, you can create separate pages for your varying products or services. Then, you can optimize each with content tailored to that product or service. 
Product marketing and service marketing differ slightly, inherently. This extends to SEO. For example, if you primarily provide services in your area, you will want to focus more attention on local reviews. Monitor Google reviews that pop up beside your business on a search engine results page (SERP) and respond to as many as possible.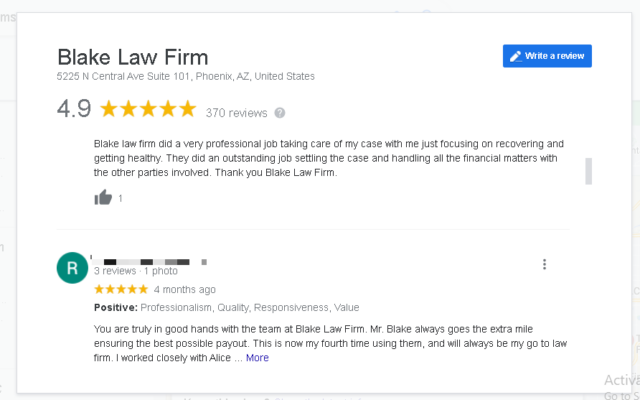 Industry-specific Terminology
Different industries will also use different terminology and jargon. Keeping abreast of the evolving word usage in your specific industry will help you boost your SEO. Do keyword research for these terms and determine which terms are getting the most search volume each month. It's possible for Google and other search engines to amalgamate similar search terms, but staying aware of terminology can only help your SEO efforts.
Google Business Profile Differences
Different products and services show up differently on Google Business Profiles, as well. Previously called Google My Business, these profiles are something that you set up on Google for your business in order to increase visibility and the chances that your business will rank in SERPs. 
The way you set this profile up will vary depending on the type of business you run or are marketing for.
GBP is different for hotels, for instance
For example, Google Business Profiles for hotels allow you to integrate booking mechanisms. This lets potential customers searching for local hotel rooms book or see availability right from the SERP.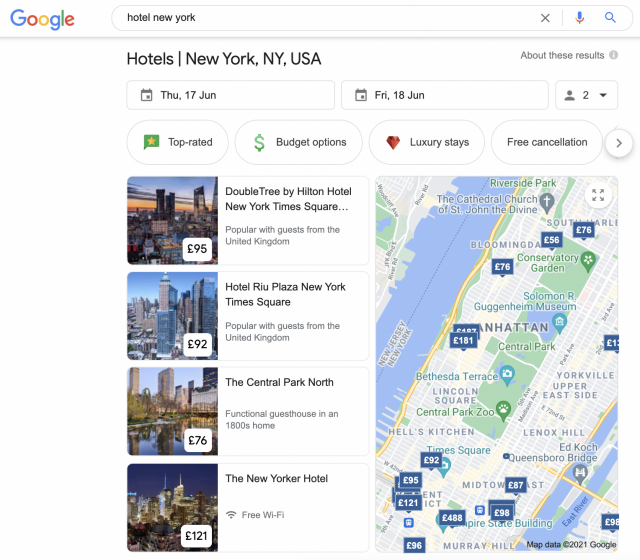 Make sure you investigate the Google Business Profile possibilities for your specific industry to get the most out of your listing and improve your SEO results. Your target audience should be able to easily interact with your business once it pops up on their SERP.
The Importance of Audience for Local SEO
Each industry will likely have slightly different target audience demographics, even if they're local to the same area. Understanding your customers and their search intent is crucial to SEO at any level. 
Particularly in local SEO, you should understand how people in your area search for similar products and services. Do keyword research and several test searches to determine how your ideal customer would search for your business's offerings. Then, optimize your pages to include those keywords and capabilities, such as appointment scheduling or room booking.
Best Practices for Industry-specific Local SEO
While each industry will have slight differences, you can still keep up with local SEO best practices. Here are some tips to remember when crafting your local SEO strategy for your specific industry:
Have clear brand positioning and messaging;
Utilize all possible Google Business Profile features for your specific products/services and remember these can differ between industries;
Make sure your GBP categories are correct for your industry—in particular, your primary category;
Create separate location pages for multiple locations;
Create separate pages for different products/services;
Keep tabs on reviews, including industry-specific reviews and listing sites;
Seek backlinks from credible, local sites through local link-building;
Create location-specific content;
Understand your consumer. 
Above all, try to put yourself in the shoes of your ideal customer. This is the cornerstone of any marketing and is key in local SEO. In local SEO you need to determine how these consumers search locally for products and services. To get a solid grip on the best practices for local SEO, here are some case studies from various industries to illustrate.
Examples of Successful Strategies in Different Industries
Below, we've taken a look at a few case studies to help give you an idea of what could work for your business:
Law 
In the law industry, it's essential to rank locally for your service-related keywords. A personal injury attorney in Wyoming went from ranking 21st to 1st in the SERP through onsite optimization, technical fixes, link building, local citations, and new content. Here are some takeaways:
In the law industry, leverage your expertise and standing as a lawyer to publish guest posts and earn links to your site.
Pay attention to page speed, an undisputed ranking factor, regardless of your industry. The Wyoming law firm increased page loading speed by over 152% with some simple adjustments.
Look at what's hurting you, technical and otherwise. This attorney's site had multiple 404 errors. And since they're an attorney, they had some backlinks from spammy sites that needed to be disavowed.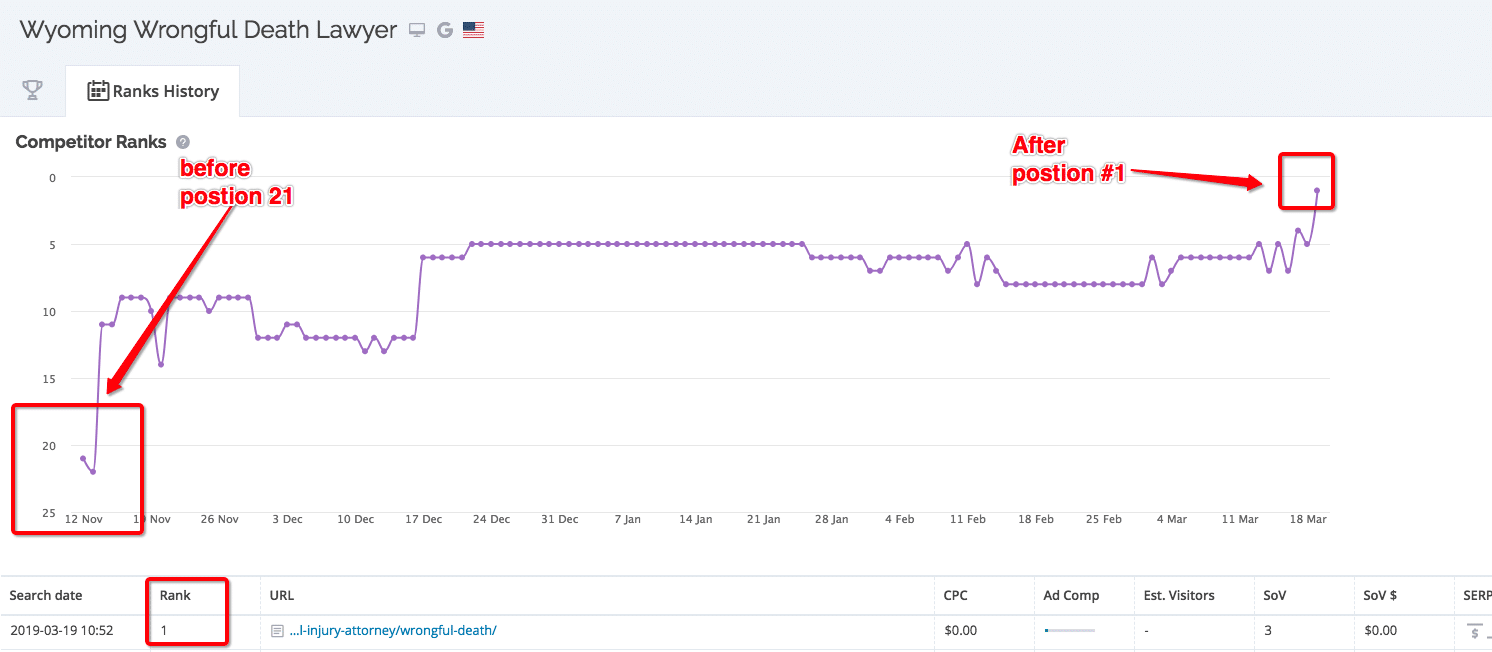 Source: On The Map
In an industry like this, focusing on Google's EEAT (Experience, Expertise, Authoritativeness, and Trustworthiness) is essential. When you're creating content you need to really ensure that you're using your industry expertise to build credibility.
Barbershop 
It might seem very niche-specific, but a barbershop's case study demonstrates what local SEO can do for a small brick-and-mortar business that sells both services and products. Over the course of eight years, the barbershop hit number one in the SERP for 500 keywords and was able to open a new storefront as a result. This came about first through onsite optimization and then through link building and Google Business Profile. Some takeaways:
When you're selling products and booking services online, provide a clear, singular CTA to make conversion easy for customers.
Don't ignore the on-page basics—particularly when you're selling products, all images must be optimized with alt text and other meta info. Schema markup, or structured data, should be crystal clear for Google to classify and detail your products/services as entities in the SERPs and maps.
Give focused time to building local citations/listings and links. Ensure good press translates to backlinks.
Keep a consistent eye on your Google Business Profile listing—configure, optimize, and manage it as an anchor in your efforts.
Reviews, reviews, reviews. Parkside Barbers converted loyal and satisfied customers into advocates through reviews.
Dentist
In the dental industry and other medical service industries, educational and authoritative information is the gateway for site visitors. Furthermore, mid-funnel content should help your local audience differentiate you from competitors, providing a clear path to conversion. 
Here are some key takeaways from a dentist SEO case study that increased page-one rankings by 267% and organic conversions by 4%:
Like the above cases, your onsite SEO should carefully focus on any technical issues and optimization opportunities. 
Your offsite focus must be ensuring that all name, address, and phone number (NAP) information about your office is accurate in directories, Google Business Profile, and review platforms.
Prioritize content creation including informative posts resolving pain points that matter to your audience. Make sure all content is properly optimized for your keywords and look for gaps—keywords your competitors are ranking for, but you're not—to inform new posts.
Subtle Differences by Industry
In all of the above case studies, the technical SEO aspects of websites play a huge role. However, each niche has a different approach.
In the medical services industry, content creation is the linchpin.
In a brick-and-mortar storefront, Google Business Profile, images, and link building are the stars.
In the law industry, manage reputation through a number of tactics, including eliminating spammy backlinks and gaining reviews, and improving credibility by publishing authoritative guest posts.
Implementing Best Practices While Keeping It Different
Local SEO best practices seem to overlap quite a bit. That's because they do, but you are able to differentiate yourself depending on your industry and your unique offerings as a business. The content and pages you create should satisfy the specific needs of your ideal local customer. 
Market research on location and industry competitors will help you formulate your strategy. However, you can remain a cut above the rest by highlighting your differences. Check off key SEO tasks and then see how you can stick out from the rest of the pack.