UPDATE: BrightLocal's Reputation Manager now offers you the ability to reply directly to Facebook Recommendations from within the platform!
Although earlier this year Facebook was testing a new 10-point review scale rather than the traditional five, the platform seems to have now turned on its heels and gone further in the other direction instead.
Currently rolling out to local business pages on Facebook is a Yes/No 'Recommendations' system, which is suspected to be completely replacing the current star-rating system. Although the average rating out of 5 shown on the page will remain, it will only take into consideration past reviews and new recommendations.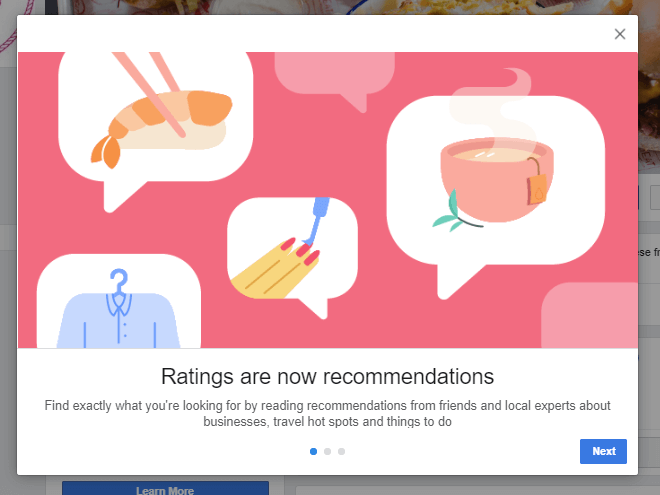 At present, Facebook haven't opened the recommendations functionality up to API, so once reviews are officially turned off, reputation management software providers across the world will be scrambling to make up for the lost data.
Facebook Rich Endorsements
This isn't the only update coming to local business reviews. As part of the recommendations process, users can leave 'Rich Endorsements', which include photos and text. This function, currently exclusive to restaurants and coffee shops but expected to roll out to other industries, makes the recommendation-leaving process easier by suggesting attributes (or 'tags') for the user to select, in a move that's remarkably similar to Google My Business' subjective and objective attributes.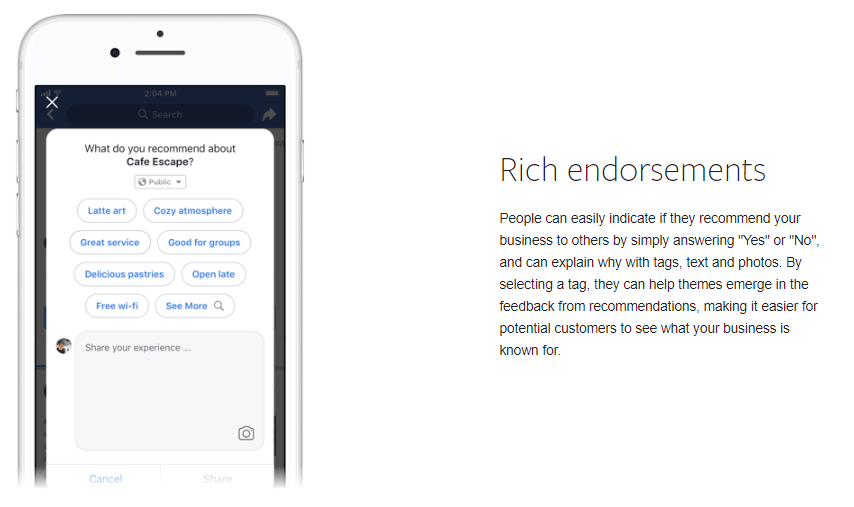 These updates will significantly reshape the way local businesses go about requesting and treating Facebook reviews. One positive is that the process of requesting a recommendation is simpler: asking customers to 'leave a recommendation' is quicker for the business and the user.

However, with the absence of gray area, Facebook recommendations run the risk of only collecting feedback from people with more severe opinions. In the past, even people on the fence about a business could leave a 2-3 star review, but in the brave new world of recommendations, those without strong opinions may refrain from leaving any feedback. The upshot of this is that local business pages could start receiving a lower rate of reviews (but this could also be tempered by rising rates due to the easier process).

With the range of quantitative responses reduced from five to two, those monitoring and acting on Facebook reviews and recommendations will need to pay more attention to the content of the recommendation, as that's where you'll fill the customer experience knowledge gaps left by the removal of neutral star ratings. Expect way more recommendations in the vein of 'I would recommend this place but…'.

Take note that none of this means that only recommendations will be shown on the page. Users are able to leave a message answering the question 'How could [Business Name] improve?' and these will be published to the page if the user chooses to do so (rather than sending private feedback, which is still an option, though a convoluted one involving adjust recommendation privacy).