No matter what you're selling, chances are that someone else is offering a similar—possibly even the same—product or service.
So, how can you effectively boost your business's local search visibility and stay ahead of the competition? 
The answer is competitor analysis.
In this brand-new BrightLocal Academy course—How to Do Insightful Competitor Analysis for Local SEO—Greg Gifford, with his years of expertise and dynamic teaching style, provides actionable insights that will elevate your competitor analysis game. 
Across the span of 9 informative lesson videos, Greg addresses the following topics:
Pinpointing the true contenders among your local competitors
Skillfully dissecting competitors' websites, reviews, inbound links, and Google Business Profiles 
Leveraging tools to streamline and simplify the analysis process
Recognizing and giving priority to promising opportunities for advancement
Here's Greg with an overview of the course: 
Similar to all courses in BrightLocal Academy, you can strengthen your understanding through interactive activities and quizzes, guaranteeing a thorough grasp of the concepts. When completed, put your knowledge to the test with a final exam, and show off your new-found skills with a shareable certificate.
Who is this course for?
Newcomers to the competitor research game can use this course as a step-by-step guide, while industry veterans should find a variety of new techniques and tools to make the process easier.
How can I join?
Whether you're a BrightLocal customer or not, you can get access to this course. You can also be among the first to find out when new courses drop by enrolling for free. Here's how:
If you're a BrightLocal customer, you can access the academy via your BrightLocal account. Simply log in, click 'Learning Resources' at the top of the screen, and select 'BrightLocal Academy' from the dropdown menu.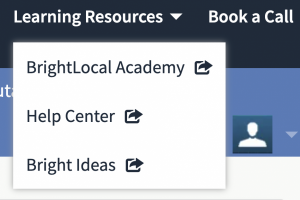 You'll need to create a free BrightLocal Academy account before you can enroll in the ' How to Do Insightful Competitor Analysis for Local SEO ' course.
If you're not a BrightLocal customer, you can join BrightLocal Academy for free and follow the same steps above to enroll in the course.
Want to know more about BrightLocal Academy? 
Check out the official BrightLocal Academy FAQs here: 
What is BrightLocal Academy, how does it work, and how can I enroll?   
What courses does BrightLocal Academy offer and how long do they take?   
If you have any questions of your own, feel free to get in touch with us or leave a comment below. We hope you find this fresh new course useful, and can't wait to hear how it's helped you improve your local SEO skills.