Competitor analysis for local SEO takes time and effort but it can be incredibly rewarding.
In this overview, we're going to show you how to use BrightLocal's tools to cut the time it takes to perform detailed local competitor analysis in half. It's time to unravel your competitor's strengths and weaknesses so you can outshine them.
For the sake of this example we're going to do some competitor analysis for a law firm. All of their reports have been set up in BrightLocal using the keywords they want to target.
Our first port of call is Google Business Profile Audit. So, let's begin.
Step One: Compare Your Google Business Profile vs Your Competitors
Google Business Profile Audit can tell us who the law firm is competing against in Google Business Profile (GBP) and possible ways to outrank them. 
Each keyword entered during the report setup process is given its own tab. 

In each keyword tab, we can see a table of the top 10 law firms that are ranking for that keyword in their location. Each table reveals nuggets of information about the law firms competitors based on common ranking factors in local searches. This includes the number of citations, links, and reviews they have, their star ratings, the number of photos on Google, the primary business category they're using, and their website authority.
This law firm is at the top of this list making it easier to compare its performance to those in the top 10, and giving us some really actionable insights.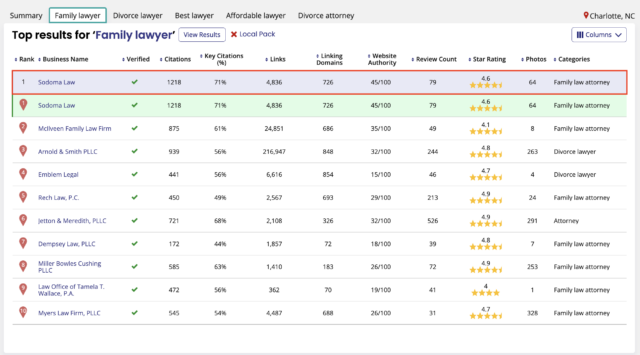 For example, in each keyword tab, we can look out for where the competitors are scoring higher and make a note of it. They're doing well for the keyword 'family lawyer' (see above), but how are they doing for other keywords?
Below, we can see they are ranking in seventh position for the search term 'best lawyer'. We can also see who their three main competitors are because they rank in first, second, and third positions.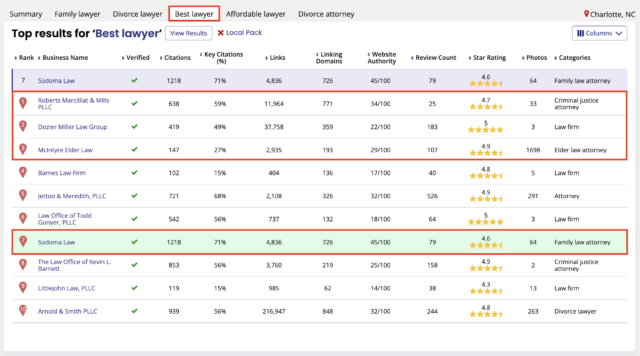 Working our way across the table we can see that our law firm has more citations and website authority than the top three companies, but fewer reviews, so they could think about running a review generation campaign.
They also have a different primary category from the majority of their competitors, so if ranking for this particular keyword was really important to them, they could consider changing their primary category to 'law firm' as well. 
Now that our law firm knows how to optimize its Google Business Profile to get ahead of the competition, let's find out how they can improve their website content to help them further. 
Step Two: Review Content Opportunities
The Chosen Competitors tab in a Local Rank Tracker report is a great way to see how this law firm's rankings benchmark against their competitors for different keywords in different search engines. 
For example, our lawyer added one competitor when they set up their report, (you can add up to a maximum of four competitors per report). We can see our law firm, Sodoma Law, in the first column and then the chosen competitor, Collins Family Law Group, next to it. 
To get a comprehensive picture of how our lawyer's competitors are outranking them for particular keywords, we can examine the table in each search engine tab for the lawyer's most important keywords. 

For example, in the Local Pack tab, this lawyer is ranking fourth for the keyword 'divorce lawyer', and the competitor is ranking first.

If they want to go after that keyword and knock one of the top ranking sites off their top spots then a good approach would be to optimize their website for the keyword 'divorce lawyer' or even create a dedicated landing page about the services they offer in this area. 
Step Three: Audit Local Citations
Local citation analysis is an essential part of any competitive analysis because local citations impact rankings. 
In a Citation Tracker report, there's a tab called Competitor Citations. Here, you see a list of citations and business mentions that are present for our law firm's top five competitors, excluding any that our law firm already has.
To discover who the competitors are, we can simply click on the red pins.

For a better understanding of the citations that are worth us registering for, we can take a look at the Citation Authority and Citation Value columns. 

Citation Authority is based on Domain Authority, a metric calculated by a third party, Moz. It's the SEO score for a website and a prediction of its ability to rank well in search engines. This is calculated out of 100. The higher the number, the more influence that site may have.
Citation Value is unique to BrightLocal. It's determined using the frequency with which a website appears in citation records. The more a website is used as a citation source, the higher its value. These values are calculated from unique research conducted by BrightLocal.
If there are any citations in the table that have high Citation Value and/or Citation Authority scores, they would be good to go after first. 
To do that, in the column called 'Actions', click the '+' icon and you'll be taken straight to the citation site. Once there, you should be able to fill in your business details to register a citation request. Keep in mind that your citation may not be added to a directory immediately. 
It's also a good idea to sort the table by 'Site Type' to find niche directories. They often have a lower Citation Authority and/or Citation Value score but their relevance to your business type means they are good to go after. 
Once citations are done and dusted we can move on to monitoring our local competitor's rankings. 
Step Four: Monitor Local Competitor's Rankings
Local Search Grid tells us how well we're ranking for specific keywords compared to our competitors, giving us an idea of who we're actually competing against so we can start to build a strategy for improvement.
In the geogrid, you can see how our law firm is ranking across the area that we set. When we hover over the dots, we can also see the main competitors for that particular spot.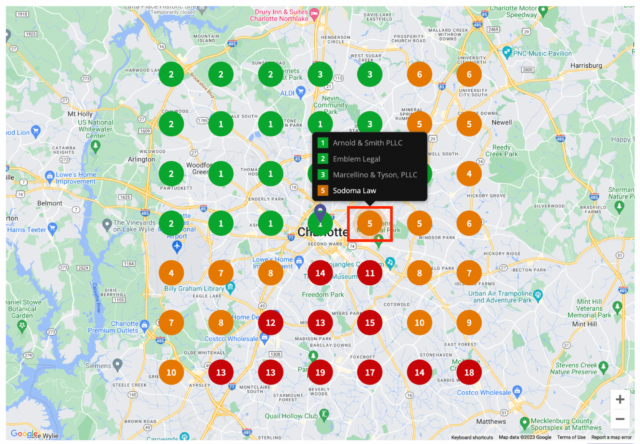 To understand how we might outrank them, we can click on the dot and get a list of the top competitors along with information on their proximity, number of reviews, and star rating. If we notice that we have a lower number of reviews and star ratings than the competitors, for example, then a good course of action for our strategy would be to carry out a review generation campaign.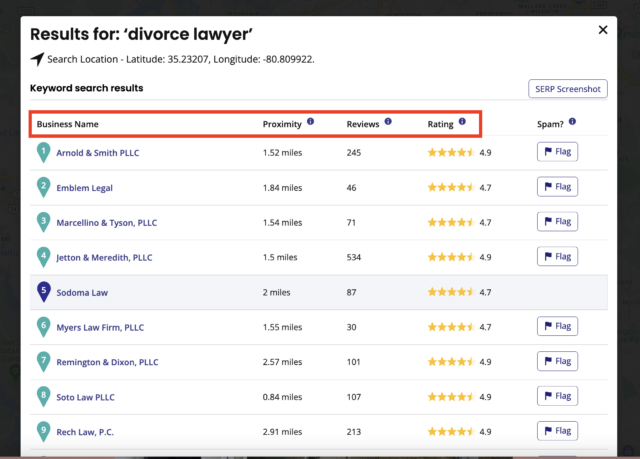 This is also a great place to spot name spam. If we notice that a business ranking above us has used emojis or keywords in their business name, also known as keyword stuffing, we can click the Flag button which takes us straight to Google's Redressal Complaint Form. If they have been using name spam then Google will penalize them. They'll move down in rankings and we will move up. 
Below the geogrid is a competitors table which shows us a list of the top 10 competitors that are ranking in the geogrid and the following information for each of them:
Avg Rank: the competitor's average ranking score
Links: the number of backlinks the competitor has (according to Moz) that point to the web domain listed as the website on their Google My Business listing
Authority: a measure taken from Moz; the higher the Authority score, the higher the ranking potential of the competitor's website
Reviews: the number of customer reviews the competitor has
Rating: the competitor's average star rating
Primary Category: the primary category a competitor is using in their Google Business Profile
Additional Categories: the additional categories a competitor is using in the Google Business Profile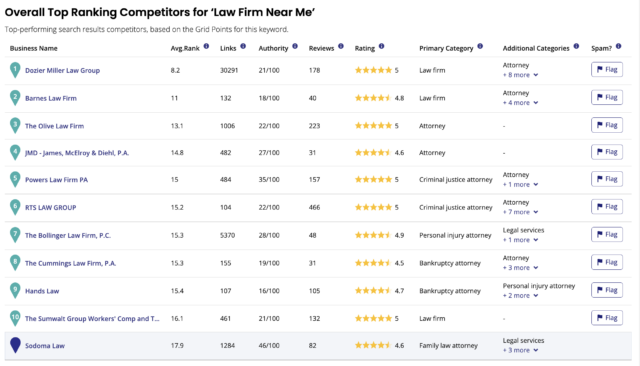 So, how can you use this Local Search Grid data?
Our law firm has considerably fewer links and reviews than the top three-ranking competitors for the search term 'law firm near me'. They're also using a different primary category in the Google Business Profile. They have 'family law attorney' and the top two competitors have selected 'law firm'. So, two points of action from this would be to update their primary category in Google Business Profile and to initiate campaigns for both link and review generation.
We can also look out for keyword stuffing here again too and report any suspicious businesses using the Flag button. 
Additionally, we can use the info in the competitor's tables to understand if we can actually expect to rank for a particular keyword across a whole grid. This is great for setting expectations for ourselves and for our client. 
We can click on each competitor in the table to see if there's a single competitor who dominates for that keyword. If not, then there's no point expecting to get green across your whole grid. 
If we notice that the law firm is not ranking at all for a keyword at their direct location on the geogrid (marked with a blue pin), then this could mean they're being filtered by Google.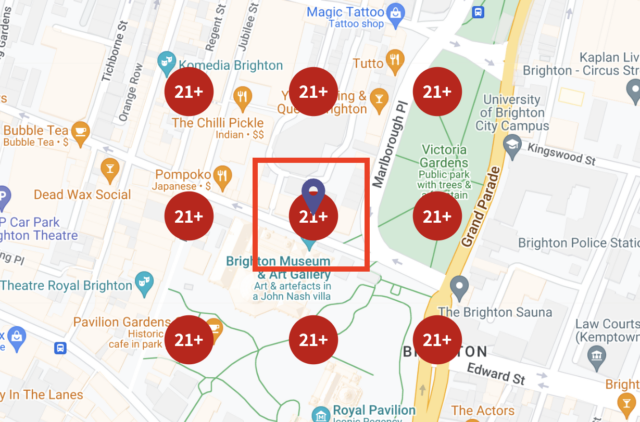 Filtering happens when there is more than one business going after the same keyword at a single address. For example, if there are multiple businesses at the same address using the same primary category on their Google Business Profile, Google will only rank one or two of them and filter out the rest. 
Let's say there's a dental practice and they have five dentists working for them. In their Local Search Grid report you notice that they aren't ranking at all at their address (i.e. the dot is red where their blue location pin is just like in the image above). When you click the red dot you see that there are two dentists from the practice ranking above them which means they have their own GBPs set up. 
When you check in Google you can see that the two dentists are using the same Google Business Profile category as the main practice and that's why Google is filtering the main practice. 
The main course of action here is to optimize the two dentists' GBPs for a different keyword. One might specialize in teeth whitening for example and so that could be their primary category in their GBP instead. 
Step Five: Link and Website Authority
Last up is Local Search Audit, a great all-around tool for auditing potential and existing clients and working out what areas of their online profile they need to work on or prioritize. 
So, how can you use it to gain information about our law firm's competitors? 
In a Local Search Audit, under the 'Links & Website Authority' heading, we can find the average score for our competitors, as well as our business scores on the following:
Google Index Count: the number of pages that Google has indexed on your site
Link Count: the number of links that lead from other websites through to yours
Linking Domains: the number of websites that link to your website
Majestic C Flow: a link-related score that's calculated based on the number of inbound links your website has 
Domain Authority: a search engine ranking score that predicts your website's ability to rank on search engine results pages

Our aim should be to rank higher than the competitor's average for each of these, so this table gives us great insight into where we might want to prioritize our efforts first and in the future.
For example, if our Link Count is below the competitor's average as it is in the above example, then embarking on a link-building campaign would be a worthwhile endeavor. 
Conclusion
As we've learned, conducting competitor analysis for local SEO requires significant time and effort, but with the help of BrightLocal's tools it can be made easier and the potential rewards make it truly worthwhile.
By meticulously examining each competitor and documenting various factors that have contributed to their success, you can glean valuable insights and overtake them in local search.