Key 'Takeaways' From This Post
More than 1 in 2 people say they're most likely to shop with a business they can message first

67% expect to message businesses more in the next two years
Do you have pages on your site that just aren't converting like you thought they would? If a page isn't performing, most digital marketers automatically go in and change a few words, use a different headline or replace an image or two. Wait. Hold on for a moment. Before you go in and make changes, you need to first analyze what's going on with your landing page. If you can, try to identify why your page isn't converting and what you need to do to improve conversions. In most cases, you just need to do more with what's on the page. Here's how…
First, How Do Your Visitors Get to Your Page?
There's a lot of things that happen before people even get to your website page. They may have found your page through your search engine optimization efforts or because of an ad you're running. First, check to make sure that the page these people are sent to directly addresses the message of the ad or the search engine results. For instance, if you are running an ad about a product offer and when people click on the ad they're taken to your home page, there's a HUGE disconnect that will impact the results. (They're expecting to see the product; right? They don't want to have to search for it from your home page.) Now, that may mean that you need to create multiple landing pages – but so be it. Do what it takes to send people to the correct pages with messaging that is relevant to your visitors and their expectations, and improved conversion rates should follow.
Are Your Visual Elements Grabbing Attention?
Images and videos grab your visitors' attention. If you don't have images or a video on your landing page, you're not doing your job. Make sure that the images and videos you use are attention-grabbing, professional-looking, relevant to the content or offer and stand out among everything else on your page.
For instance, do the main points of your landing page jump off the page? One simple (yet effective) design tip is to use colors that are different, but complementary. That one change to your landing page can make the most important messages on your page stand out and lead to higher conversion rates.
Here's an example from Unbounce. When you look at this blurred image, where do your eyes go? What color "pops"?
If you said anything red, you're right!
Source: Unbounce
That one color change can dramatically improve your landing pages' conversion results. You can also use a heat mapping tool so you can see where people are looking on your pages. Unbounce has other specific landing page design ideas that you should look at to make your page grab your visitors' attention.
User Experience Matters
If your landing page isn't working, look at the structure of the page itself. Is it easy for people to find what they're looking for? Is the navigation simple and understandable? Do you use headers appropriately and use bullets to break out important points? User experience is one of the main reasons landing pages don't work – if people are confused or don't know what to do next, they won't take action. These "micro-frustrations" add up. Sometimes it's just the simple things. For instance, if you have an image with content underneath that explains the offer and links to the next step, make sure the image is also clickable to the next phase of your offer in order to help boost conversion rates.
Simple is best when it comes to landing pages. If you have an "overdesigned" page or your navigation is confusing you will lose visitors to your competitors.
Is Your Offer The Right One?
Your offer is probably the most important element on your page. You can have the best designed landing page, but if your offer is crap, all that design stuff won't help a bit. Does your offer clearly explain the benefits to the user? Is there a clear value in what you're offering?
Make sure that the offer you make has value. Don't just ask people to sign up for your newsletter, tell them why the information you plan to send to them is worth their time and will help them.
Also, don't use words like "Buy Now," instead use "Trial Offer." Make your offer no risk to your potential customers. If you're selling something, tweak your price mechanics to make your initial offer more appealing. If people aren't interested in the offer you have on your page, use exit pop-ups to encourage them with another offer or a down-sell instead of having them just saying "No" to you. (Important note: Do not be obnoxious with your pop-ups. Use them wisely. If overdone, pop-ups will annoy people and cause them to leave your site out of sheer frustration.)
These days people are bombarded with information. Make sure that the offer you make on your landing page is one that is worth your visitors taking the next step.
Use Retargeting
If you've been in marketing for a while, you've probably heard "The Rule of 7," a marketing principle that states that your prospects need to see your offer at least 7 times before they really notice and act. If you're not using retargeting ads, you're missing an opportunity every time someone visits your site and then leaves.
Retargeting drops a special piece of code (a pixel) on that person's browser and then gives you the opportunity to reach out to that person later through paid-for advertising (like Facebook and other targeted display advertising networks.)
When you do retargeting ads, make sure that the retargeted ad, again, directly speaks to that individual customer.
Your Call To Action (CTA) Counts
Be sure to tell people what you want them to do next. An effective CTA can make all the difference when it comes to conversions. Keep your CTAs simple, but clear. Also, if your CTA involves people filling out a form, make sure that you ask for only the information that you truly need to get to know your customer better. If people have to fill out a form that has 10 fields just to get an ebook, most people will just pass. Their person information is valuable to them!
Studies show that the more form fields you have, the less likely people are to fill the form out. You should aim to ask for as little information as necessary, such as just a name and email address. You can always ask for more information later.
I have been using Bright Local for over 2 years and they are always cutting edge with their products and customer service.

Scott Brouwer
Cottage Grove, MN
Use Live Chat to Overcome Purchase Barriers
Chat is a great way to overcome issues with conversion. Any time some leaves a page, they're probably confused. Adding chat to pages (like a product page) when people are in a "buying" mode, will help them convert. People want to talk to other human. Additionally, we live in an instantaneous world – email and phone calls take too long. Live chat is a great chance for you to answer any questions your visitors may have before they get frustrated with something on your page and leave.
More than 1 in 2 people say they're most likely to shop with a business they can message first (Facebook)
67% expect to message businesses more in the next two years (Facebook)
If you ignore live chat, you'll regret it. Use chats in the right places – don't put the chat option on your home page. Put the chat feature in deeper pages/deeper in your sales funnel to overcome the barriers people might have to purchasing your products or taking you up on your offer.
Additionally, some live chat tools — like Manychat — allow you to overlay the chat option through Facebook Messenger. This is a great way for you to integrate Facebook messenger on your page.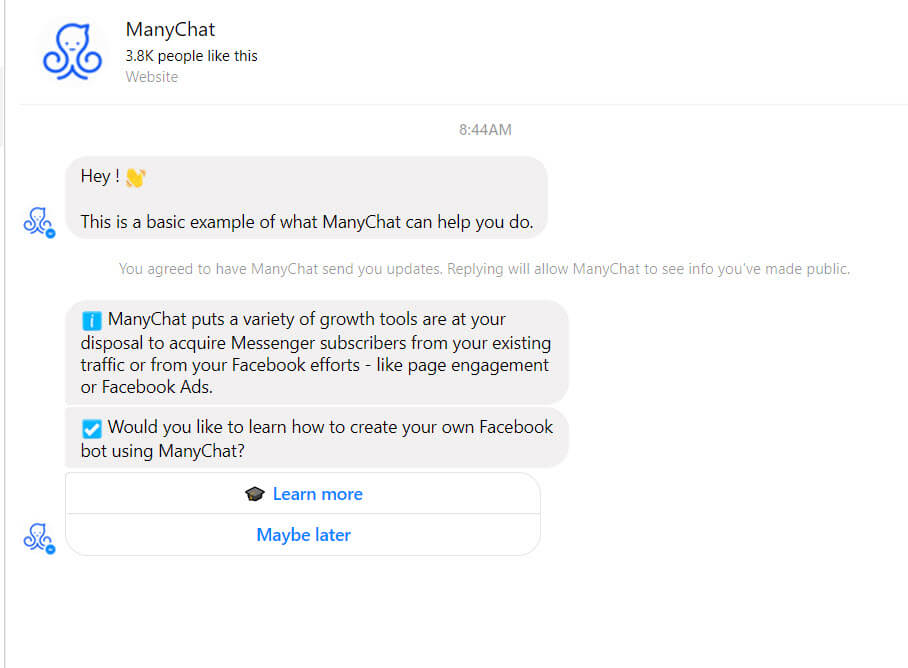 What Have You Done to Help Conversions?
So…What strategies have you used to help boost your page's conversions? Have you used any of the tips we mentioned? Can you share some of your own? We'd love to hear from you!