Welcome back to the Local Search Roundup! We're going to take a look back at the biggest, and most important updates across local marketing over the last month. As ever, it's been a busy month. So grab a hot drink and read everything that happened in February 2023.
Google Business Profile (GBP) and Google Maps
GBP Removed Emojis and Special Characters From Business Names
While Emojis in business names aren't something many would recommend in the first place, Google started removing them from GBP in February. Not only that, but they started removing special characters too, like ® and others.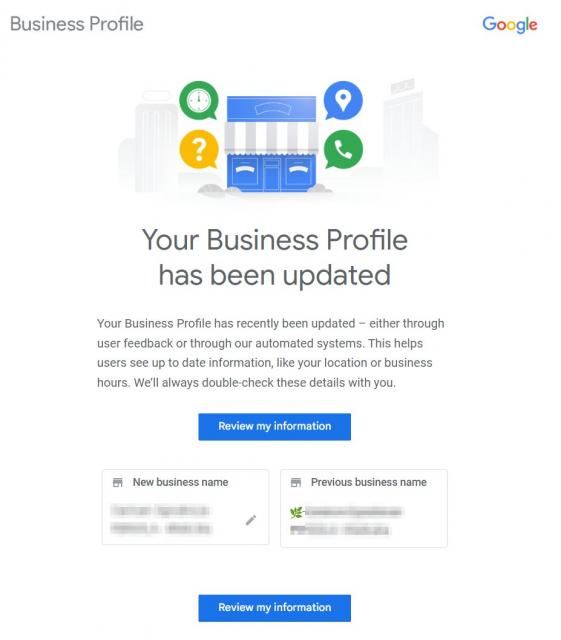 Source: SEO Roundtable
Many received notifications from Google showing them what their current name was and detailing what the new name would be. While this would make the results more accessible for users, it likely caused issues for many businesses that actually have those characters in their names.
Google Maps Removed Policy-abiding Reviews from Local Guides…
According to its own Google Local Guides Connect blog, there was an issue with moderation. Their own attempts to avoid spam and policy violations went too far and they removed completely legitimate reviews, including those from Google Local Guides.
… Then Reinstated Them
They stated right away that they were working on a fix though, and not long after they reinstated all the Google Local Guide reviews.
Crisis averted!
Updates to the NMX dashboard
Since rolling out the new, and much-maligned, NMX dashboard Google has been tweaking it left constantly.
In February alone each of these was added:
First up, Google added an 'Edit rates' option for hotels
New: Another new addition to the in-search experience, now manage hotel booking rates. pic.twitter.com/0e6HlmNtok

— Ben Fisher (@TheSocialDude) February 20, 2023
Next, they added a 'Get Started' prompt for the Merchant Center in the NMX to encourage people to list their products on Google Shopping
Google is now prompting users to "Get Started" with the Merchant Center inside the NMX dashboard if you want to "show your online products across Google". pic.twitter.com/GEL7BS8yZL

— Colan Nielsen (@ColanNielsen) February 27, 2023
Finally, they've started adding menu options for other tasks, such as 'See photos'. We think this one is just a test at the moment.
NEW: Looks like Google Business Profiles have a menu item to go to your photos. (Test) pic.twitter.com/j6usANJTLM

— Ben Fisher (@TheSocialDude) February 18, 2023
The New "Profile Strength" Label
One of these updates to the dashboard was a new 'profile strength' meter, that appeared in the top corner. We've covered what this means, and why you shouldn't panic if your score isn't at 100, in a guide to the Profile Strength Label.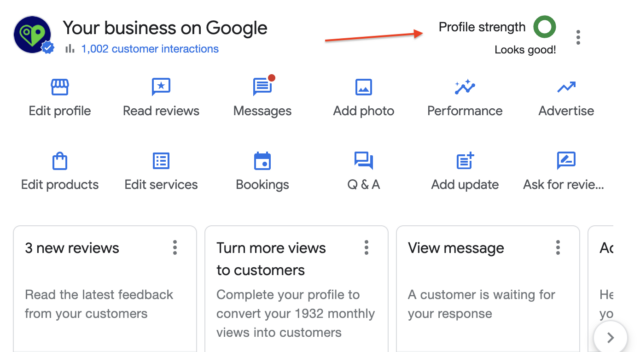 Business Tab added to Google Maps App
While you've been able to edit your GBP on the Google Maps app for a long time, they've added some functionality on Android to make it easier. Now you'll find 'Business' added to the tab at the bottom of the screen. Now you just need to click here and it'll take you to your GBP screen.
GBP Sunsetted the Old Insights API
Finally, and one that's been on the cards for a while, Google has sunsetted the GMB Insights API for GBP.
This is specifically the Google My Business Insights reporting API. It went offline on February 20th, 2023. You should have already, but if you haven't you need to update to the new Business Profile Performance API.
Local SEO
Yahoo search is coming back
Just popping in to remind everyone that we did search before it was cool.

BRB making it cool again.

— Yahoo Search (@YahooSearch) January 20, 2023
Ok, ok, this was actually announced right at the end of January, but it's something you may want to keep an eye on. Yahoo announced they were relaunching their own search engine sometime soon. There's a growing appetite for alternative search engines to Google, so it's understandable that they're considering the move.
John Mueller Says Local Businesses Don't Need to Worry so Much about Core Web Vitals
Speaking on Mastodon, John said that local businesses, "in most cases" shouldn't have Core Web Vitals at the top of their list of priorities. This mainly comes down to page experience. Google generally only shows data in Search Console on Web Vitals and Page Experience for "sufficiently popular sites".
This means that small businesses with only a few pages on their websites shouldn't worry too much. John isn't saying to ignore it, but more that you shouldn't focus as much on it as some people do.
New location snippets appearing in Bing
This is currently just a test, but Bing is trying out serving maps within search snippets. At the moment you can only trigger this map within a snippet with specific search queries.
An example of this can be seen with our own brand name below.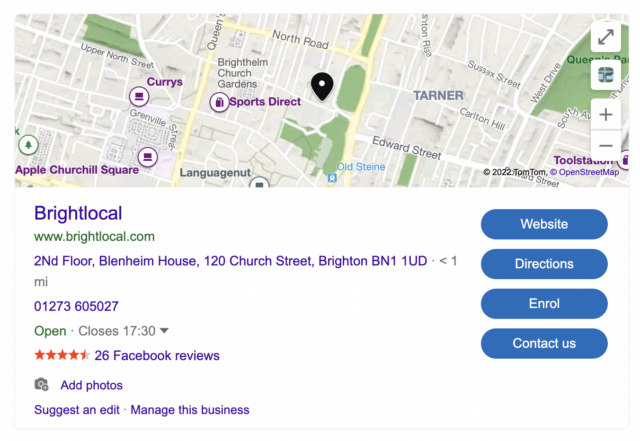 Google says embedding third-party local reviews won't help search rankings
This was another case of John Mueller being asked about a specific ranking factor. On Twitter, he was asked whether embedding reviews from GBP, Bing, or Facebook on your site through an API would provide a benefit.
Not really, at least not for search. Also, if you do that for other reasons, make sure not to use structured data markup on reviews not collected on your site.

— johnmu likes 🥚 staplers 🥚 (@JohnMu) February 20, 2023
He said that they won't improve your rankings, and re-iterated previous guidance that any review not collected on your site shouldn't use structured data if you choose to showcase it.
At BrightLocal, we obviously have some thoughts on showcasing reviews. While Google may not use them as a local ranking factor, they provide important social proof and add trust for your potential customers, so don't ignore them simply because they may not improve your rankings.
The Local Pack Disappeared, for 15 Minutes
It's been reported that the Google Local Pack disappeared in its entirety. The good news is that it only happened for about 15-20 minutes. It's unlikely that it's anything to worry about beyond a bug, but as ever, it's good to be aware of these things.
Artificial Intelligence (AI)
AI seems to be moving at a face pace lately, so there are a few things you should know from the last month.
ChatGPT is going to cost $20
We've known that ChatGPT wasn't going to stay free forever. The good news is that the paid version isn't as wallet-busting as originally thought. For now, the premium tier, known as ChatGPT Plus, is $20 a month and gets you access to a couple of features the free tier won't have, including priority access at peak times.
Google Announced Bard
After all the noise from Bing and Open AI, Google finally announced their own search AI; Bard. Bard itself is a chatbot a little like ChatGPT, but Google is aiming to combine it with their regular search engine, in the way that Microsoft intends to with Bing.
Currently, the main use for Bard appears to be to field informational queries, often without sourcing the answers it supplies. We'll keep you updated if and when Google gives us any updates on how it could affect local.
Test driving Bing
If you want to see how ChatGPT integrates with Bing then Search Engine Land has done a detailed deep dive into how AI will look on the platform that specifically uses local examples.