When a consumer is making a decision about what to buy, they often look at what other people are saying about it. So, when a consumer decides to write a review about a business/product they hold a significant amount of influence over the way that business/product is seen. This makes gathering, monitoring, and responding to reviews a crucial piece of the local SEO puzzle. 
As a marketer or business owner, it can seem like a stressful process to manage all of the reviews you get on all of the different sites they're on while gathering new reviews, and taking action against fake reviews. However, it is possible to stay on top of it all. 
In this brand-new BrightLocal Academy course – A Beginner's Guide to Generating and Managing Reviews – you can learn what review management is, how to create a strategy for your business, how to handle fake and negative reviews, and discover review management software to help you streamline your process.
We've created this course in collaboration with SEO Expert, Levi Williams-Clucas, who during the six lessons will teach you: 
What review management is and how it impacts local search;
how to build a successful review strategy;
how to generate, monitor, and respond to both negative and positive reviews;
how to handle fake reviews;
and how to use reviews to boost a business's online presence.
Here's Levi with an overview of the course:
Who is this course for?
Agency SEOs who work with local businesses and want to feel more confident generating and managing reviews. It's also an excellent fit for small business owners looking to create and execute their own review management campaigns.
How can I join?
Whether you're a BrightLocal customer or not, you can get access to this course. You can also be among the first to find out when new courses drop by enrolling for free. Here's how…
If you're a BrightLocal customer, you can access the academy via your BrightLocal account. Simply log in, click 'Learning Resources' at the top of the screen, and select 'BrightLocal Academy' from the dropdown menu.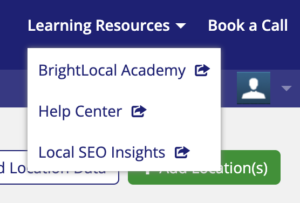 You'll need to create a free BrightLocal Academy account before you can enroll in the 'A Beginner's Guide to Generating and Managing Reviews' course.
If you're not a BrightLocal customer, you can join BrightLocal Academy for free here and follow the same steps above to enroll on the course.
If you have any questions of your own, feel free to get in touch with us or leave a comment below. We hope you find this fresh new course useful, and can't wait to hear how it's helped you improve your local SEO skills.