In a blog on June 20th, Google My Business announced a number of exciting initiatives that we believe will help local businesses maximize the impact of their listings.
The blog, 'Helping businesses capture their identity with Google My Business', identifies a number of new features to Google My Business. While GMB is busy releasing updates all the time, some of these new releases should be particularly useful for local businesses.
Below, we've analyzed how each of these will help local businesses maximize the potential of their Google My Business listings. If you have any thoughts on the impact of these features, let us know in the comments!
---
Take Control of Photos
Back in July 2018, we asked BrightLocal users which GMB issues they most want to fix, and a lack of control over photos was one of respondents' biggest issues.
Thankfully, Google My Business is releasing three new features that should have an impact on how businesses control their visual brand in a way that was never before possible.
1. Set a preferred profile cover photo
GMB users can now easily control the main image that appears in the listing. While it's been possible to upload a cover photo for some time, there was no guarantee that Google would choose to show this image. This new feature should make it easier for businesses to control which image shows in local results, potentially bringing with it the possibility of changes in line with new stock and promotions.
Being able to chose your own photo that displays in the SERPs will relieve a lot of headaches from SMBs. https://t.co/RanlSTEZoX

— Joy Hawkins (@JoyanneHawkins) June 20, 2019
2. Display logos prominently
Like cover photos, logos are not a new Google My Business feature, but with this new rollout, it appears that these will become more important. Listings that include core information (such as opening times and phone numbers) will now show the business's logo in the top-right of the profile.
3. Photo displays
A new 'photo display' module will show images uploaded by the business quickly and prominently. Google has also said that captions are also coming soon, meaning that businesses will be able to add context to images. Together, these could be useful for local businesses to promote products and services, as well as to easily let searchers understand what to expect from their business.
---
Attract New Customers with Welcome Offers
When Google's 'Follow' button was introduced in October last year, we had high hopes for how this could improve the visibility of Google Posts. Yet, our recent consumer survey found that just 3% of respondents had followed a business's GMB profile, while 13% had read Google Posts.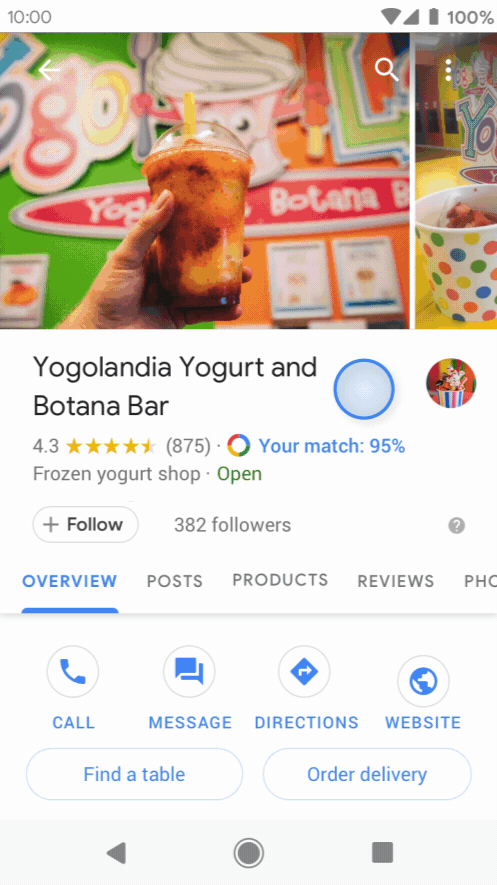 Welcome offers will allow businesses to share offers with new customers. Once a consumer follows the business, they can receive automatic offers that get saved in the Offers Folder.
This feature could be great for local businesses, with incentives to encourage consumers to follow the business (and receive promotions and offers in posts directly), as well as to claim offers if they choose to purchase. And, with consumers receiving a code that can be used offline, it could become easier for local businesses to track conversions from Google My Business through to purchase.
It may still be some time until a significant proportion of consumers are aware of the benefits of following a business on Google, but offers are a great way to get begin growing followers!
---
Bring Customers to Your Profile with Short Names
[UPDATE: As of June 2021, you can no longer create or update Google My Business short names]
Google's short names were first spotted back in April, but hadn't rolled out widely. Claire Carlile reported on June 20 that short names were now available in the UK, with another marketer replying that these were now available in Spain.
Who else in the UK has added the short name to their business profile? Only just seen this in my dashboard…#LocalSeo pic.twitter.com/MFr4EQMMad

— Claire Carlile ?️ ? ? (@clairecarlile) June 20, 2019
If you haven't yet claimed short names for your businesses, claim yours now from the GMB dashboard to make linking to listings and reviews even easier.
---
Extend your Reviews Reach with Offline Materials
Google has also launched a website where businesses can now access social posts, stickers, table tents, and posters to help promote local businesses on GMB. Much of this functionality previously existed in Small Thanks with Google, though this new site makes it incredibly easy to create assets without any design know-how.
In this, information is pulled directly from Google review content and star ratings, as well as core information such as opening hours. This then automatically generates content for businesses to share on social, or to print and display in stores to encourage reviews, bookings, and follows.
These are easily adapted, and will be particularly useful for businesses with positive Google reviews to promote their business both online and offline. As of yet, it doesn't seem like there is functionality to include Short Names to easily direct customers to the page, but we'd hope this feature appeared soon.
Of course, the businesses that will benefit the most from these new features will be those with lots of positive reviews to create assets from. If your GMB reviews could do with some attention, start with our guide on Google business reviews.
---
Get More Clicks with New SERP Features
'Local Favorites', perhaps one of the new features with the most potential, will see the top 5% of businesses per category receive digital and physical badges to demonstrate their greatness.
As found in our Local Services Ads Click Study, searchers are heavily influenced by in-SERP features such as review ratings, or the "Google Guarantee". So, those businesses being highlighted as popular in search results are likely to influence consumers' choices, and we expect plenty of local businesses to ask their marketers to work towards achieving this honor!
More information on these recognition categories are due to be announced over the next few months – watch this space for more information!
---
What's Next?
Google My Business's new features may not all have fully rolled out yet, with more functionality to come over the next few weeks.
But with new GMB features being added all the time, it's more important than ever to maintain and test out the capabilities of Google My Business listings.
To stay up to date with the latest GMB features, make sure you've subscribed to our newsletter and are following us on Twitter, and we'll do our very best to keep you updated! And, to find out how your Google My Business profile is performing against competitors, sign up for a free trial of our Google Business Profile Audit (formerly Google My Business Audit) now.